Intelligent furniture selection and layout can help you make the most of your lodge space. A cramped, disorganized lodge or dining space can mar the guest experience. Plus, flexibility is a must for lodges that are used in more than one season. That makes the "soft finishes," including furniture and other amenities, worthy of thoughtful planning. Durability, look, and feel are critical, but it's also important to consider how you want guests to utilize and move through the space.
"It's simply no longer economically feasible for resorts to build out for just ski season," says John Ashworth, principal of Bull Stockwell Allen, an architectural and planning firm. "We think of dining areas [and lodge space] as four-season event spaces. Whether it's going with modular or reconfigurable seating, selecting chairs that are stackable to save space, having items that you can dress up or dress down, etc., we're seeing more focus on space programming."
Whether you are planning a complete renovation or just looking to improve existing space on a budget, the following considerations will help you maximize your use of space, infuse your brand into the look and feel, and offer a superior guest experience.

FURNITURE SPACING
Guests need a place to sit down, eat lunch, change into their boots, etc. The furniture you select to accommodate guest needs—and how that furniture is arranged—makes a big difference, and there are several considerations to keep in mind. Among them: maximizing effective use of space without eroding the guest experience, traffic flow, and compliance with rules and regulations. Include all these considerations in your plan.
Seat Spacing
Tam Nguyen from Tam Interiors, a restaurant interior design firm based in Colorado Springs, Colo., recommends the following for seating capacities:
• For full-service, casual dining environments, allow 12-15 square feet of space per guest, or 67 to 83 seats in a 1,000-square-foot dining space.
• For a banquet or base lodge setting, plan on 11-13 square feet per guest, or about 77 to 90 chairs in a 1,000-square-foot space. (These measurements are for standard size, commercial grade dining chairs or stackable banquet chairs.)
Comfort is key, adds Claire Humber of SE Group. "You want chairs that are comfortable and compact," she says. "The magic is in finding a balance between cost, comfort, size, and flexibility. Wouldn't it be great if a chair could serve multiple needs? You might not be able to cover all scenarios, but certainly some furniture items will function better in multi-use applications."

Table Spacing
Proper table spacing allows for ease of movement. The following spacing guidelines function well, and typically meet local code:
• Allow a minimum 42" of space between the edges of square tables. This allows 6" for chairs to pull out.
• Allow a minimum 60" in between the edges of square tables with service aisles. This allows 26" for the service aisle.
• Allow a minimum 24" in between the corners of diagonally arranged tables without a service aisle.
• Allow a minimum 30" between corners of diagonal tables with narrow service aisles.

Booth Seating
Booths provide cozy nooks for guests and typically accommodate four to six people per booth. They offer privacy, a comfortable and cozy feeling, efficient use of space, and opportunities for customization to further complement your table/chair seating and overall interior décor.
Standard Booth Dimensions:
• Single booth: 30" L x 23" W Seats: 1 person per 24" of length
• Double booth: 46" L x 44" W Seats: 1 person per 24" of length
• Wall benches: fully customizable in length to fit your space
Select commercial grade products with high-rub-count upholstery (some upholstery is built to also withstand bleach cleaning), and foam suspension build. These will stand up to years of heavy use without sagging.
Booth seating is available in standard height and step up height, which can be easier for guests to climb in and out of, and can be a good option particularly for larger spaces with high ceilings. Booth seating, and particularly step-up booths, tend to be more expensive than tables and chairs.

Mix and Match
Nguyen suggests offering both multi-dimensional seating—such as a mix of high top and lower tables, booth seating, and even banquette seating—and a lounge area, if space (and budget) allow, to add contrast and variety. Since guests love to relax, congregate, and hang out in lounge areas, these can be a valuable option.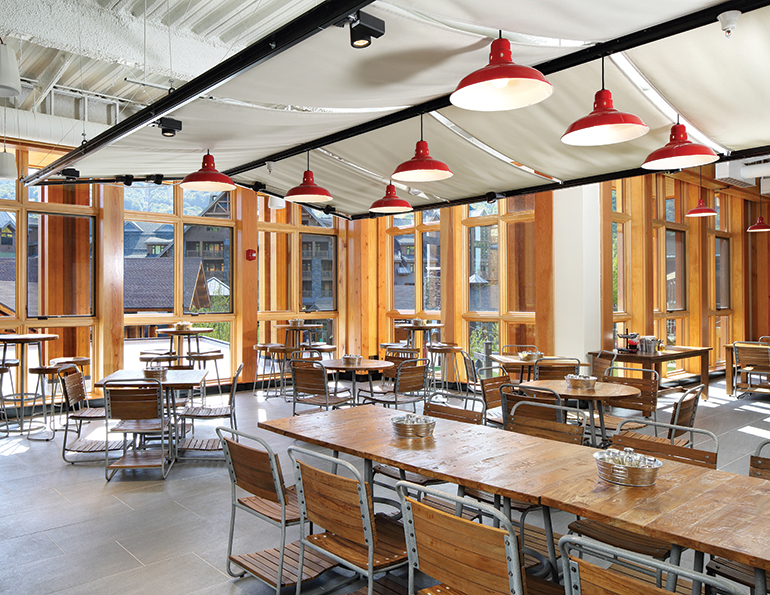 The Canteen at Stowe: note the storage underneath the chairs and multi-dimensional seating.

TABLE SELECTION
With tables, it all comes down to shape: square/rectangular, round, and/or booth tables. Each has its pros and cons depending on your space and layout.

Square and Rectangular Table Tops
PROS:
• can accommodate smaller groups individually
• easy to move
• tables can be joined together (modular) to accommodate larger groups
• can stack flat against walls
CONS:
• often have four legs, which limits guest leg space
• require slim chairs

Round Tables
PROS:
• better option for smaller spaces
• friendly and more social because everybody can see one another
• central table base creates more legroom, flexibility to squeeze in one or two more seats if needed
CONS:
• limited capacity, with a recommended max of eight people for the largest round table
• not ideal for use near walls and/or narrower spaces
• can't be joined to create larger tables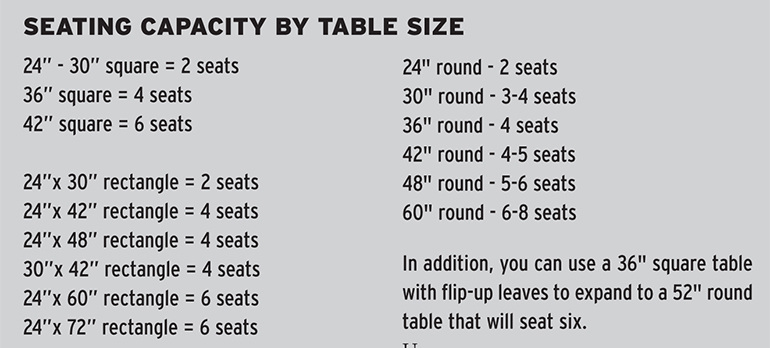 Communal Tables
Communal bar tables (high or low) are a popular option for areas where people socialize, and they're also great for accommodating single guests who can share that space.
Communal tables are part of a new dining trend in North America. The concept is to accommodate a group of people, sometimes strangers, to sit together at large tables and eat and socialize. This style of seating is popular among young professionals, but appeals to all demographics because, like the name suggests, communal tables tend to help build "community."

Modular Tables
Modular tables are useful for spaces that serve various needs, such as different events, groups, etc. They are usually long, with legs at the ends that may have locking casters. These make the tables easier to move and reconfigure, and then secure in place. Modular tables can also join together with other tables.

ADA Requirements
No matter your arrangement or space, you must have tables that adhere to ADA requirements:
• table height: maximum 34", minimum 28"
• knee clearance (from floor to bottom of table surface): minimum 27"
• clear floor area of 30" x 38" needed at seating area
• knee clearance must extend at least 19" under the table

SITE AMENITIES
Site amenities, such as trash and recycling containers, planters, space heaters, storage lockers, water fountains, etc., help enhance the guest experience and make a space fully functional.
As with all real estate, location is key.
Trash and recycling receptacles. Incorporate receptacles that go with the look and feel of your furniture. If your dining options use trays, choose receptacles that are track stackable on top. Locate receptacles so that it is easy for custodial staff to remove and replace bags. Receptacles with side-accessible openings are a great option.
The quantity of receptacles depends on the occupancy of the space and the amount of food—both quantity and frequency—served per day, and how often they'll be emptied. It's good to locate them near entrances/exits so patrons can dispose of their waste and recycling on their way out. In larger spaces, such as base lodges, also place them along the traffic flow routes.
Storage. Where will your guests stow helmets, goggles, gloves, etc.? Some lodges utilize chairs with hooks on the back or side, or with storage baskets on the back or underneath them, to declutter tables and create room for more people to sit comfortably. If people need to stash coats and gloves on an unused chair or the table because there's no other storage, that precludes other guests from sitting, which ultimately will impact the bottom line. The aim is to maximize use of space without creating a cramped feeling.
But don't make high-volume spaces too comfortable. Humber notes that guest turnover rates are important: to reach the potential of a space, turnover needs to happen.

Additional Site Amenities
Depending on your space, some additional site amenities to consider include:
Planters. Great for adding a natural, green element indoors. Real plants need natural light, so locate them near windows. Artificial plants are also an option, so long as they don't look too artificial.
Heating units. Some infrared heaters produce zero emissions and are safe (and intended) for use indoors or outdoors. They can help warm a colder space and/or reduce heat loss in a drafty location.
Living walls/green walls. These are an attractive way to add a natural element to your space. Guests like to sit next to live plants, and a living wall can be a great way to bring the outdoors inside year-round without impacting your floor plan. Self-watering units are a good choice, as they require minimal maintenance.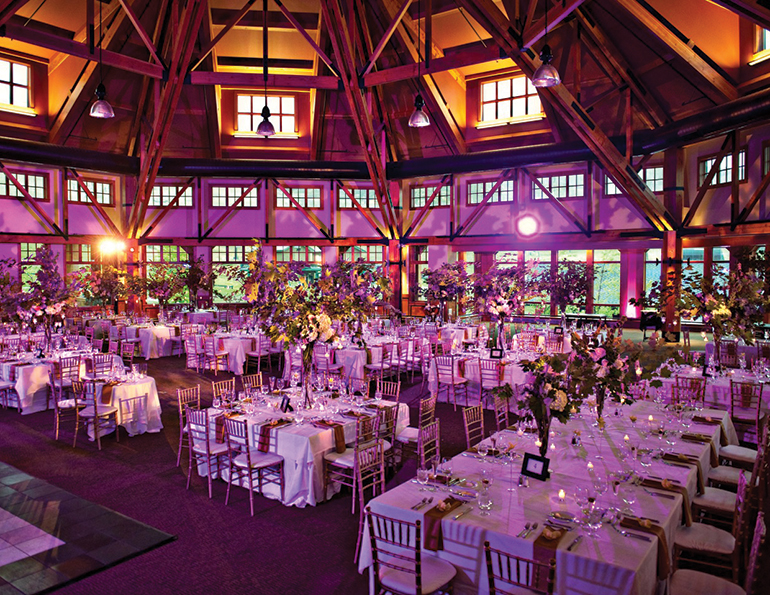 Spruce Camp at Stowe, designed by Bull Stockwell Allen, is used for special events as well as lodge seating.

TRAFFIC FLOW
Traffic flow and occupancy requirements are other key aspects to consider. Many ski area cafeterias are crowded spaces. But that's evolving quickly due to customer expectations and demand. Your guests are coming to expect the right amenities and comforts when they use your lodge.
When determining traffic flow, think about the three sequences:
1. arrival
2. lunchtime
3. departure
When guests walk into your space, are they going to first claim a table and then grab food, or vice versa? The layout of your space will influence that decision. Where will you put the condiment station for easy access? Where are the trash and recycling bins? Ensure that your circulation expedites the overall dining process for guests, and that the furnishings are placed to ease the traffic flow.
If your space has back-to-back seating, allow at least two feet of walkway between those chairs for people to pass through comfortably and safely. Then, dedicate additional square footage for the main traffic flow corridors throughout your space. Typically, the more seating you have, the more guests you can accommodate in your space, and the more circulation/pass through areas you'll need.
Many lodges offer a main dining area and a separate coffee bar/quick serve area. Think carefully about where to locate this station. It should be convenient without blocking the flow through the lodge.
Also, consider the views. These are important to your guests, so orient your seating areas toward the windows.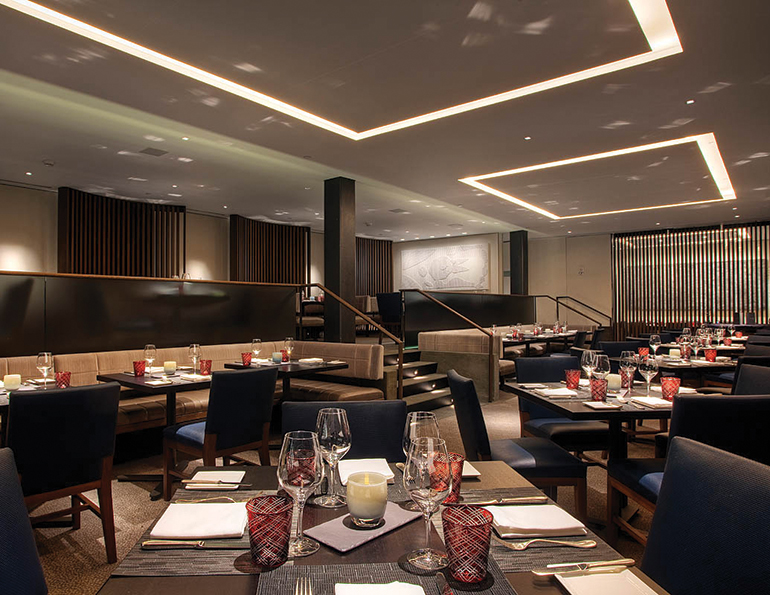 Element 47 at Snowmass mixes banquette seating with chairs and tables.

INFUSE YOUR BRAND
It's important for your dining areas to reflect your brand identity. That's true whether your resort targets a more affluent demographic expecting high-end amenities, budget-conscious students from a nearby college, Millennials seeking unique, differentiating experiences and authenticity, or families with young children. In all cases, your customer demographics should inform how you create and furnish your interior space. Thoughtful interior fit out elevates your guest experience.
In this, color palette and materials are primary considerations. For example, if your lodge is a rustic building with lots of natural wood infrastructure, bright colors and glossy finishes might not be an ideal option. Brand identity, your guest's expectations, and look and feel should all work together.
There's a lot to contemplate, for sure. But with a little time and attention, you can increase traffic flow, add versatility, enhance the guest experience, and boost the bottom line. It's worth the effort.