Does a hot dog eaten at a ballpark actually taste better than the one you grill up at home? Probably not, but the setting and the delivery matter as much as the flavor when it comes to making food memorable. This philosophy may be what has prompted ski areas to think outside the bread bowl and start serving good food and drink from unusual venues located anywhere but the base lodge. These unique establishments serve a variety of benefits, such as enhancing the guest experience, convenience, and boosting the bottom line, to name a few.
Many are housed in or on things that weren't built for cooking and serving food, adding to the uniqueness. Overall, it pays to step outside the cafeteria.

Motor Room
One of the more unique venues repurposed from something else is the Motor Room Bar at Killington Resort, Vt. When the Devil's Fiddle quad chairlift was taken offline in 2008, it left a derelict drive terminal at the summit. Rather than tearing the terminal down, for the 2013-14 season the 12' x 15' space was converted into a venue for small groups to gather and learn about the resort's history while sipping on beer and cocktails and nibbling on appetizers.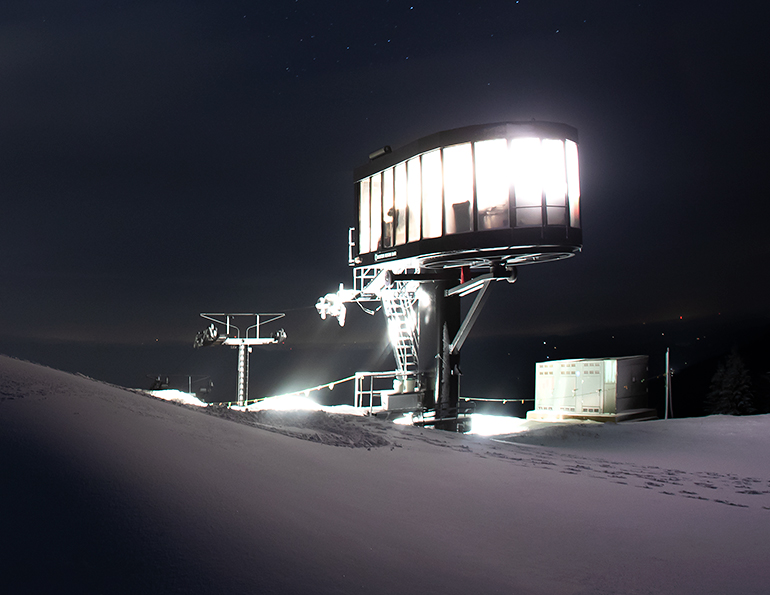 Killington's Motor Room Bar is in the upper drive terminal of an old chairlift.
The two-hour, $99 experience is available on Friday and Saturday nights for a maximum of 10 guests. Reservations are required. It includes a snowcat ride to the bar and all food and drink, with mountain hosts on hand to educate guests about the machinery remaining in the bar and explain how the lift worked. "It's an experience that's very special after dark, especially in midwinter," says Scott Harrison, director of hospitality at Killington.
The resort's total investment in refurbishing and equipping the old terminal is less than $10,000 to date, estimates Harrison—less than the revenue Motor Room generates in one winter season.

Miso Hungry
Lift upgrades also played a role in the creation of another cool spot at a Vermont resort—Miso Hungry at Jay Peak. This grab-and-go favorite serves homemade ramen soup out of a 1960s-vintage Jay Peak tram car—replaced on the resort's aerial tramway with more modern cars in 2000—appropriately sited near the base area tram house.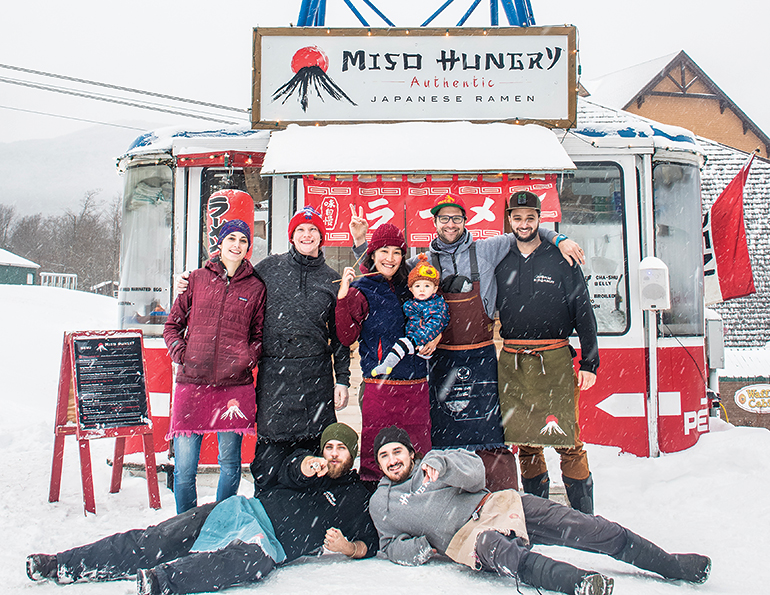 The Miso Hungry family at Jay Peak serves ramen soup out of an old tram-car-turned-kitchen.
We love cafeteria chili as much as the next skier, but a hot cup of homemade ramen from Miso Hungry at Jay is more than a meal—it's an experience. "The last thing you expect at a ski area is getting ramen soup out of a tram car," says Jordan Antonucci, who runs the eatery with his wife, Momoko. "The most challenging aspect to this was creating a totally functional kitchen in a small space where people weren't bumping into each other constantly."
Now in their fourth season at Jay, Jordan and Momoko serve noodles in bone broth made following a recipe from Momoko's grandmother, prepared in a trio of stock pots in the 9' x 11' tram car. "Bone broth is nature's heal-all, full of carbs and vitamins, but it doesn't weigh you down," says Jordan, explaining why it's an ideal food for skiers and snowboarders on the go.
Diners order at a window and can eat their quick meal on a cobblestone patio surrounding a fire pit. "There's something really special about being in the tram car," says Jordan. "People come up to us and tell us that they rode in this car. Plus it's ski in and ski out. If we wanted to make a lot of money we'd move into the lodge, but we'd never give up the opportunity to be in the tram."

Airstream Philly
The popularity of food trucks has spilled over into the on-mountain dining scene. Miso Hungry began as a food truck, for example, and Sunday River in Maine is home to the Maine-ly Meatballs food truck. And Mammoth Mountain sells Philly-style cheesesteaks out of a converted Airstream trailer at the bottom of Chair 4. It's one of a few out-of-the-ordinary joints at Mammoth.
The Lunch Box, as the Airstream is called, was something of a pet project for Billy Deaver, senior executive chef for Mammoth Resorts, who once worked in Philadelphia and knew that the iconic sandwiches—thin-sliced prime rib grilled with caramelized onions and mushrooms and topped with cheese sauce—would be a good fit for a kitchen built inside a vintage trailer. "The space is small and tight, which allows for less time between movements, so our guests get their sandwich quick," says Deaver.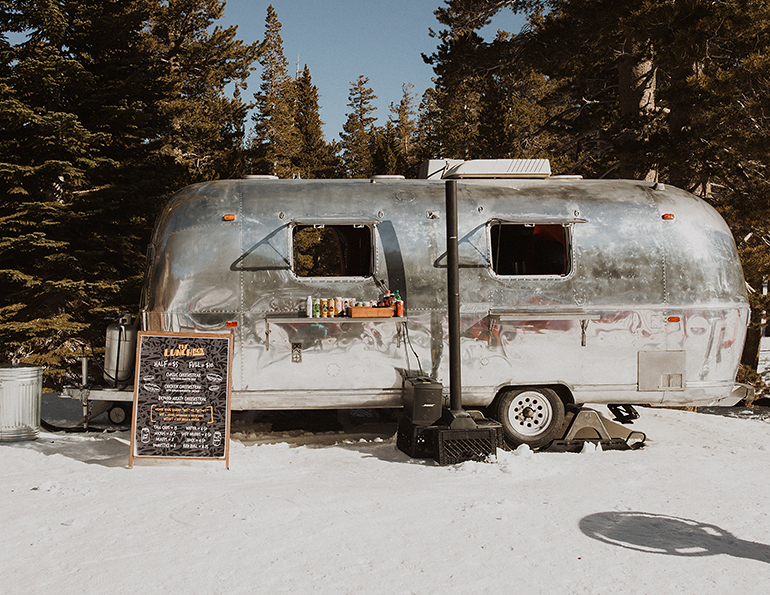 The Lunch Box at Mammoth serves Philly cheesesteaks out of a converted Airstream trailer.
In the summer, the Lunch Box lives at the bottom of the Mammoth gondola near the resort's adventure center. When winter comes, garage director Mike Sprague's crew replaces the wheels with skis so it can be moved to its cold-weather home.

Remote Considerations
The combination of cool eats and memorable settings is sometimes born out of necessity. The Boundary Bar at the Outpost on the backside of Mammoth was created out of three shipping containers—one for the Boundary Bar, the others for seating areas (the latter even have fireplaces). Originally, The Outpost was just a big open deck with benches and a cafe serving ho-hum food. Now it also includes the Melt House, serving gourmet grilled cheese sandwiches.
"We knew we needed to change what we were doing out there, as it is about 1.5 miles away from our closest lodge, in the middle of the woods," says Deaver. The Melt House's corrugated metal building was compliant with the demands of the U.S. Forest Service, which manages the land, and, "with the location we knew that we needed something that would withstand the elements."
Building an interesting structure in a remote setting isn't the end of the story, however. Bars and restaurants need to be stocked, employees have to be able to get in and out, and grey water and waste must be removed and disposed of on a daily basis. At Mammoth, for example, the garage staff converted a Ford F-250 truck into a tracked vehicle to serve the Melt House and the Boundary Bar in the Outpost area of the mountain.
"The real challenges are snow removal and getting product to it," says Deaver of the Melt House. "We can get two to five feet of snow overnight and digging it out in the morning can take a few hours."
Is all this effort worth it? Revenue has tripled, and NPS scores for the venue went from worst to first, according to Deaver. "Our aim is to not be everything to everyone, but to really have thought in our offerings, to let our guests know what we are good at and allow a unique experience," Deaver says.

Fresh Tracks: Snowcats Serve It Up
Of course, resupply is less of a concern when the bar or restaurant itself is mobile. Converting snowcats to badass food-and-drink serving stations is a growing trend.
Gourmet Trucks. PRINOTH introduced the purpose-built Snowlicious—now called Gourmet Truck—about five years ago. The Gourmet Truck is a snowcat with a professional kitchen installed on the back. There are two currently in use at resorts in North America. Philippe Gosselin, PRINOTH's head of snow grooming marketing in North America, says the Gourmet Trucks have been more popular in Europe, where miles-long ski runs create more need for a mobile food-service vehicle capable of reaching remote terrain.
"The idea was to be able to carry a kitchen to all corners of a ski area," explains Gosselin. "Here it's a bit different, because you have facilities at the top and bottom of the mountain and not as much need to stop in the middle of the ski hill." Even in Europe, though, the popularity of the Gourmet Truck goes beyond the outback: you'll often see them parked at the top of ski-race courses and even on the streets of ski towns.
Panorama Burritos. In North America, the PRINOTH product made its debut at the 2017 FIS World Cup in Aspen. That unit is now a mobile burrito stand, called Snowlicious, at Panorama Mountain Resort, B.C. The area has licensed six different locations for the eatery, but generally keeps the Gourmet Truck at the top of its blue ski runs, about two-thirds of the way up the mountain.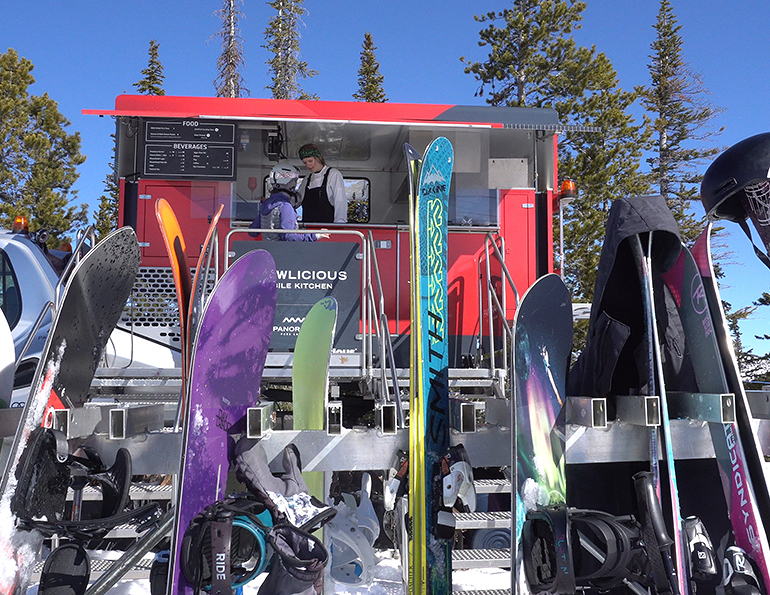 Panorama's Snowlicious mobile burrito stand was the first PRINOTH Gourmet Truck to be put into service in North America.
Contrary to expectations, however, Panorama's mobile kitchen generally stays put once sited. "It's a big, heavy machine" with a fair amount of infrastructure built in and around it, such as picnic tables and ski racks, says Clarissa Amaro, the resort's director of media, marketing, and community relations. "It's not something you want to move at the beginning and end of every day." Instead, staff ski or snowboard to work each day, and supplies and waste are trailered up and down the mountain by snowmobile.
The food, on the other hand, is made for people on the move. "Burritos are 'mitten-friendly' food—perfect for a location where customers aren't going indoors or taking off their snow gear in order to eat," says Amaro. "It's just unique and different for us to have street food on the mountain."
Taco Beast. At Steamboat Resort in Colorado, the Taco Beast has been "insanely popular" since it hit the trail in the summer of 2018, says communications director Loryn Duke. "We started out with hours of operation from 11 a.m. to 3 p.m., and had to change those to 11 a.m. to 'sold out.' And on some days we can be sold out in an hour or two."
The Taco Beast is the second PRINOTH Gourmet Truck in use in North America. "Not only is it a cool concept, but it helps spread out our guests during the busy lunch time," says Duke. "It's another outlet for people to get a bite to eat, have a drink, and fuel up for the remainder of the day."
This tracked taco tractor moves around more than Panorama's mobile kitchen, mostly in the Sunshine Bowl area but also at the base of the Heavenly Daze lift. Visitors can track the Beast's movements on the Steamboat website or Twitter account.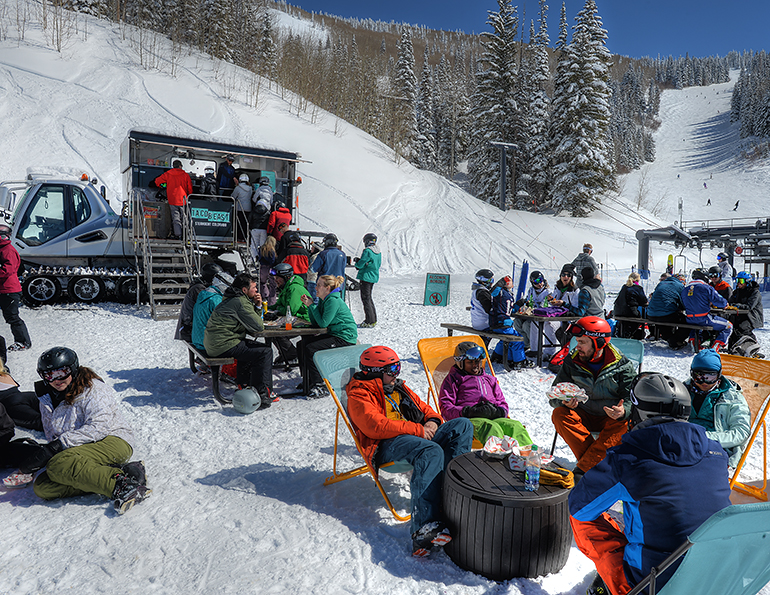 Steamboat's Taco Beast is the linchpin of an on-slope dining experience.
In addition to the novelty of getting food from a snowcat, the Taco Beast's popularity can be attributed to its affordability ($5 per taco) and creative choices, including tacos stuffed with elk chorizo sausage. "Trail tacos are a good fit for the machine and for the mountain," says Duke. "The snowcat is equipped with a small kitchen, and we're able to offer a great variety of products by choosing to serve tacos. For skiers and riders, trail tacos are the perfect bite because they are small and easy to devour—meaning you don't have to take a ton of time away from your turns."
Bar Crawler. Mammoth converted a PistenBully 600 that was at the end of its grooming life into the Bar Crawler, a movable bar equipped with a Kegerator, hot cocoa machine, a beer and wine cooler, and a mobile sound system. "Our garage built a big 8-by-10-foot box and welded it to the back," Deaver recalls. "We set up a lounge area for our guests to take in the views, listen to music, rest and recharge in Adirondack chairs."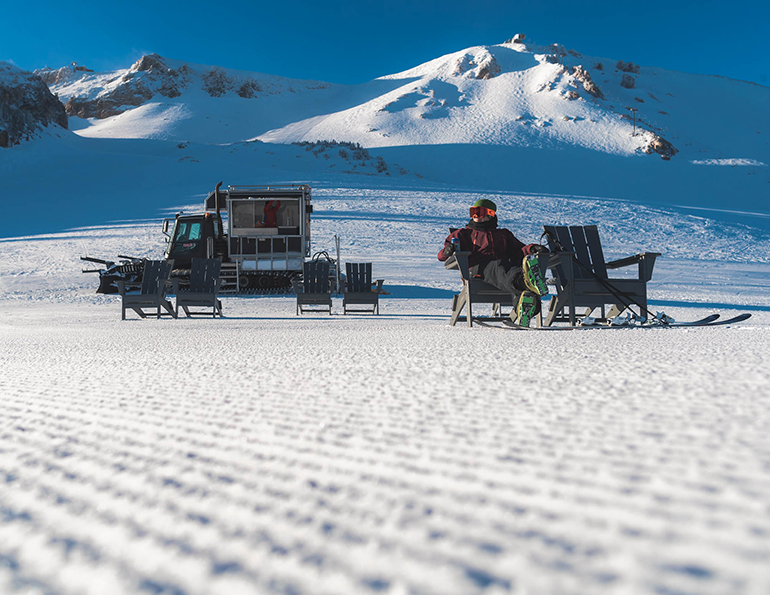 Mammoth's converted PistenBully 600 was originally a mobile burrito shack, but revenue more than doubled since it became the Bar Crawler.
The Bar Crawler is usually stationed at the top of Mammoth's Chair 10, but can be moved around for special events. The converted snowcat was originally used as a mobile burrito shack, but Deaver says sales have more than doubled since it became a tracked bar three seasons ago.
Mobile or stationary, these creative on-mountain food and beverage joints are just a sample of what's possible at mountain resorts.