Corona Together
"I really appreciate this opportunity to hear everyone. It reminds me why we chose this industry. It's made of great people, and when we're faced with adversity, we come together—even though we compete, we share," said Sierra-at-Tahoe general manager John Rice during the first SAM "Huddle"—a weekly Zoom call with mountain resort operators aimed at sharing experiences and insights to help everyone navigate the coronavirus crisis.

How the mountain resort industry approaches the various challenges ahead will dictate the relative success of this summer's operations and, most importantly, the 2020-21 winter season. Prevailing uncertainty about the economy and public health, especially given the dramatic differences in opinions coming from government and health officials, only complicates things. The Huddle is a microcosm of our industry's collaborative nature. Industry leaders and experts have been very transparent during these virtual gatherings. They've shared several useful insights that can help guide how we tackle what's ahead, some of which we share with you here. (We have hosted several Huddles for aerial adventure operators as an extension of our sister publication, Adventure Park Insider, and podcasts of those are available on our podcast channel, PodSAM. Find more summer ops resources at adventureparkinsider.com.) It could be said, in the case of the Huddle, a rising tide floats all boats—on Zoom. Here are some key observations and thoughts from the SAM Huddles:

Staff Involvement
Generally, staff is always discussed regardless of the predetermined Huddle topic. Most ski areas had to lay-off seasonal staff prematurely, and take other actions with year-round staff—furloughs, pay cuts, etc.—in an effort to save money. When business restarts, ski areas will need these people back. If the insights here tell us anything, it's that leaders do not—should not—operate on an island alone. If they did before, now is the time to change that. (Read about recovering your people and culture in "Beyond the Pandemic," p. 32) "It's really important right now to reach out to the folks that you work with and let them know how much you value them and why you value them. Be specific. And I think real leaders, during times of stress and hard times, the real leaders are the ones that ask for help." —Kelly Pawlak, NSAA "Every department manager that has a furloughed employee is charged with talking to that employee once a week, at minimum, to continue to have that connection." —Dennis Eshbaugh, Holiday Valley "I'm looking to our directors and looking to their people that report up to them for ideas. By involving them in the ideas, they feel like they are a part of the solution. And I've always found the best ideas come from those folks anyway, so give them a voice and validate their ideas." —John Rice, Sierra-at-Tahoe "We're looking at this through a mindset of change ... We need to refocus our employees' question of, 'When can I get back to my normal rhythm?' to 'Let's create a new rhythm.' Going through the interim issues with COVID, but also into what's next and coming out of this with a mindset of change." —Amy Ohran, Boreal and Soda Springs
Messaging
Your audience is comprised of human beings who are all going through tough times. Now is not the time for a hard sell. "When you go back to the definition of marketing, it's intended to be all about empathetically and generously educating the audience that you serve. And I think we need to do this now, more than ever. Comfort those loyal passholders, keep them in the loop of what you are doing—treat them like friends as opposed to treating them like customers." —M-J Legault, Origin "I think if you're going to market right now in the moment, it has to be empathetic first and foremost, and authentic to your brand, as always, but you have to at least acknowledge that we're going through something bigger than skiing right now." —Hugh Reynolds, Snow Operating "I wouldn't be so fast to the sell that you forget about the most important asset that we have, and that's the relationship with the guest. Hopefully the relationship started prior to the crisis. It will be hard to start to develop trust with your guests mid-crisis." —Steve Wright, Jay Peak "Make sure your communications are on brand. Think about Southwest having done such a great job of reinventing the FAA safety spiel. They don't make light of safety, but create some life and some energy around a boring set of instructions and made it transforming. It's something to think about for people who are coming to you for the first time with fresh and slightly nervous eyes." —Regina Connell, Collective Work "We believe that social responsibility is really important. If we can demonstrate to our guests that right now the most important thing is our staff and our community, that builds additional trust with our guests. They'll realize, 'If they're doing that for their staff and their community, they should do that for their guests when they welcome us back to the resort.' They'll have that whole idea of trust, which is a really important piece."—Dave Norden, Taos
Turning Challenge to Opportunity
The coronavirus disruption has created not just the imperative of doing things differently, but also the opportunity to make changes to operations. "You don't want to waste a good crisis. There's such an opportunity to take this pent up demand to connect with a whole new class of consumer, the ones who have been going off to Europe for the summer or winter or something like that. Or people who might've been talking about an urban break, but now want to kind of stay away from that." —Regina Connell, Collective Work "If there are things that you have wanted your guests to do differently, this is the time to shake things up—because everything has been shaken up. Everything that you have wanted to experiment with, whether it's technology or new traffic flows or new processes or whatever, give it a shot. This is a great opportunity to do that." —Claire Humber, SE Group "They will ask people with compromised immune systems and older people to continue to shelter in place and to limit non-essential activities. That may change the demographics of who ends up at your resort. And if the older folks are not coming, they won't be bringing their kids and grandkids. The recession is likely to affect the younger audience. That may drive a different kind of guest." —Regina Connell, Collective Work "We're very fortunate in the West that we have a lot of sunshine and can we truly run an open-air resort, and start to market it that way." —Dave Norden, Taos
"Departments like housekeeping and janitorial and laundry, which traditionally are back-of-the-house departments, are going to be front of house. We are looking at rebranding our entire housekeeping department as 'The Clean Team.'"—Steve Wright, Jay Peak


Does Coronavirus Create Liability for Resorts?

"Lawsuits filed against ski industry giants Vail Resorts and Alterra over lost season pass value," said the headline. "Hundreds of skiers to sue Austrian resort for exposing them to coronavirus," said another. Can such lawsuits succeed in the U.S.?
Probably not, says lawyer Brad Stanford, of Farleigh Wada Witt in Portland, Ore., and a member of the Association of Ski Defense Attorneys.
Lost pass value?
"When it comes to lost season pass value, most courts would look at the season pass agreement first," he says. "In my experience, most areas have well-drafted agreements that give the area substantial protections, including for more common and benign issues like weather and low snow. "In addition, there is a legal concept called force majeure (sometimes referred to as an act of god) that relieves a party from contractual obligations when something catastrophic happens that is outside the party's control. Between the pass agreements and performance defenses such as force majeure, a claim for lost value would be a tough case to win. "An area may make some concessions for marketing/PR reasons, but that is a business decision," he adds.
Liable for infection?
Claims that an area caused a person to become infected with coronavirus would also be very tough to win, Stanford says: "A plaintiff would have a very difficult time proving causation, one of the key elements of a negligence claim. A plaintiff would have to show that the area's negligence caused the plaintiff to contract the virus. Given the nature of the virus and how even asymptomatic people can transmit the virus, I don't see any credible way a plaintiff could show that transmission occurred at a ski area at a particular time. The virus can come from anyone at any time. "Further, the science is developing daily, and there is a lot that even the professionals don't know. To put the onus on the management of a ski area would be a hard sell. "That being said, an area should adopt and implement the recommended protocols for safety. There could be greater exposure if they don't. Plus, that benefits their own employees as well. If an area willfully violated safety protocols or closure orders, they could much more easily become a target."
Viral Humor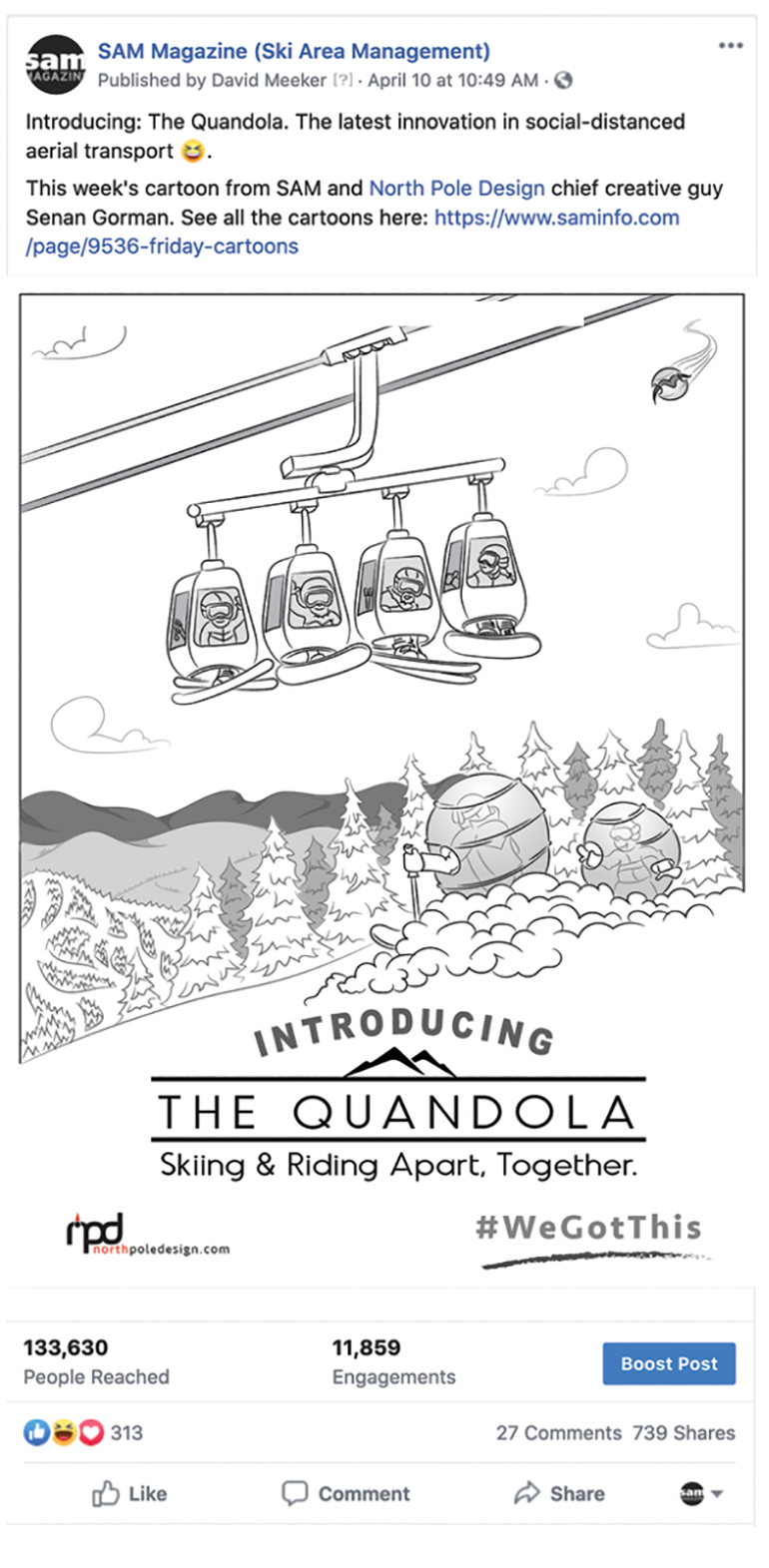 "The Quandola"—one of the SAM weekly cartoons by Senan Gorman of North Pole Design—was shared around the world. See all the cartoons aimed at adding levity to the potential "new normal" at www.saminfo.com/cartoon.
SUPPLIER NEWS
Tom Sanford, DOPPELMAYR USA vice president of sales for the Eastern U.S., is retiring after 26 years with the company. Ryan Brenenstuhl, sales engineer for the Eastern U.S., will assume the lead role for the Eastern region alpine sales segment. Eastern construction manager John Dearborn will take on new responsibilities as an alpine sales representative for Southeast and Mid-Atlantic customers.

INNTOPIA introduced TestLink, a free scheduling platform that allows patients to search for coronavirus (COVID-19) testing locations and times across individual or multiple locations. The system is built on Inntopia's activity booking platform, which is typically used for scheduling ski lessons or tee-times.
DEMACLENKO developed a way to use its high-output fan guns for "wide-area disinfection of public spaces." It attaches a fan gun to the back of a truck alongside tanks filled with biodegradable disinfectant, and the gun sprays the liquid as the truck moves. At press time, the free service was available to communities near the firm's Vipiteno, Italy, HQ.
In April, MASTERFIT pivoted from bootfitting and used its sourcing connections to secure an ongoing supply of Type II surgical-style and KN95 protective face masks, selling them to healthcare facilities, first responder departments, government agencies, and other essential public-facing organizations. ASPENWARE promoted senior VP Rob Clark to the role of CEO.


PEOPLE
In the East, Sunday River, Maine, has hired Brian Heon as its new general manager to oversee day-to-day operations at the resort. Dana Bullen will remain Sunday River president, focusing on operational and financial performance, real estate development, and long-term growth strategies. Tracy Bartels was named Mount Snow, Vt., vice president and GM. Ski Maine hired Dirk Gouwens as its new executive director, succeeding Greg Sweetser, who is retiring in May after 24 years of leading the organization. In the West, Tamarack Resort, Idaho, named Scott Turlington as its new president. Jon Reveal, who served as Tamarack president since 2018, will become the director of skiing for the resort. Pacific Group Resorts, Inc., executive VP Mark K. Fischer took on the additional role of chief financial officer.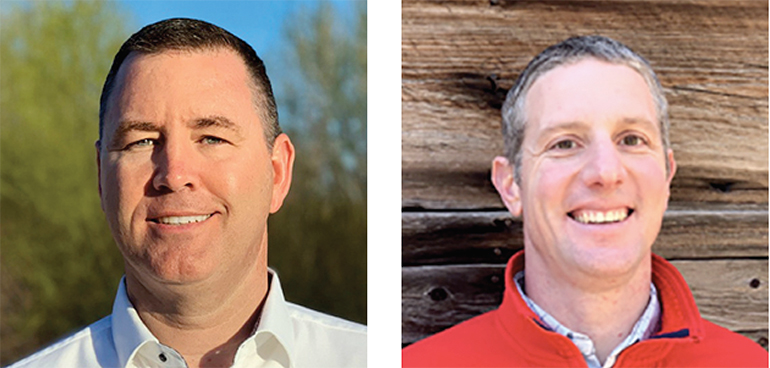 Scott Turlington (left) of Tamarack Resort, Idaho, and Brian Heon of Sunday River, Maine.
AWARDS
Colorado Snowsports Hall of Fame 2020 inductees: Public relations maven and ski journalist Pam (Conklin) Pettee; ski instructor and author Ellen Post Foster; trail map artist James Niehues; decorated moguls skier and freestyle coach Scott Rawles; and ski racer and ski racing philanthropist Dave Stapleton Jr. SAM honored five with SAMMY Leadership Awards: Ken Gaitor, Snowshoe, W.Va.; M-J Legault and Danielle Kristmanson, Origin; Davy Ratchford, Snowbasin, Utah; and Rick Schmitz, Nordic Mountain, Wis. (See the SAMMY program insert for full details.)
OBITUARIES
Purity Spring Resort and King Pine Ski Area, N.H., CEO Robert (Bob) Hoyt died Feb. 26, 2020, at age 71. The Hoyt family has owned Purity Spring since the late 1800s. Hoyt was also on the Ski NH board and the New Hampshire Tramway Board. Mount Snow, Vt., VP of planning and permitting Laurie Newton died April 18. She was 61. In 35 years at Mount Snow she worked in marketing and administration before leading the EB-5 program to build a new base lodge and snowmaking lake.