Most years, we begin this review by reminding readers that every facet of marketing is changing at a breakneck speed, and it takes a mountain of effort for marketers to keep up. Is that also true of this past year? Did some new technology or social media channel make waves (TikTok does NOT count)? Compared to other years, 2019-20 was a time for marketers to get in their groove instead of chasing what's next.

At least, that's how it appeared to our contributors. This year's list has a mix of creative efforts in traditional marketing. Products, tributes, and partnerships were prevalent, too.

These observations serve as a reminder that a brand is impacted by much more than just how it's presented in advertising and social media. Marketing is as much public relations as "buy now."

Speaking of reminders, this collection of opinions is completely and utterly subjective. Our merry band of contributors spent the last year or so observing what resorts put out to the public, and wrote about what they saw. We at SAM provide them no criteria other than a word count and a plea to be constructive. This is intended to be a fun learning experience for all. Hopefully it gets you thinking, and maybe gives you a chuckle.

This is not a poll, survey, or ranking of any kind. We don't hand out trophies. Still, if your efforts got some love from one of our keen-eyed experts (which include Gregg Blanchard, Mary Walsh, Bill Bennegan, Dave Amirault, Dave Meeker, and Sarah Wojcik) you have our permission to brag about it.

Since it's impossible for our group to see every bit of resort marketing out there, please let us know of any efforts you saw, or were a part of, this past winter in the article's comments section.


General

Best Use of Snow
Mountain High, Calif.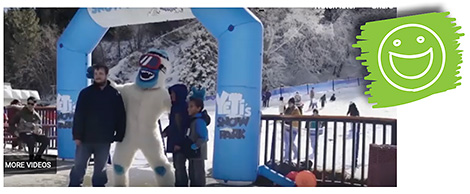 If there is one asset our industry has an abundance of, it's snow. Of course, we'd like folks to enjoy snow on skis or a snowboard because lift ticket sales pay the bills. Learning to ski or ride is difficult, though, and it's expensive, which is why a lot of non-skiing would-be snow seekers—or the NSWBSS—aren't typically keen on visiting mountain resorts. Near Mountain High in SoCal, droves of the NSWBSS would drive an hour or two from home to park on the side of the highway just to play in the snow. That's commitment—and a business opportunity. The NSWBSS not only inspired Mountain High to introduce a pay-to-play snow experience that has nothing to do with skiing and riding—and generates millions in revenue—but also to rebrand itself as "Southern California's Gateway to Winter." The time has come to get creative with how you profit from your snow like Mountain High did. —DM


Best Backstory
Big Snow American Dream, N.J.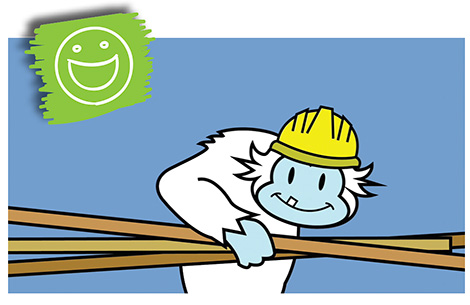 Those who have experienced Big Snow American Dream remember something the media has barely touched on—the story of Big. Big the yeti moved from The Yukon to Jersey and built Big Snow to help cure his homesickness and share his love for snow and shredding with everyone. This backstory addresses the "why?" in a manner that's cute and accessible for the primary guest audience of never-evers, in particular families and kids. Guests are introduced to Big during the guest orientation video (delivered in a giant mock gondola cabin, no less). The animated video tells Big's story, and welcomes everyone to his "Snow Home." The character is ever-present on signage and artwork, and Big himself makes appearances on-snow, much to the delight of kids of all ages. The character story transforms an otherwise odd adventure into a shared pursuit of fun—and isn't that what it's all about? —BB


Best Use of a Webcam
Seven Springs, Pa.
When folks in your local market don't have snow in their backyards, they don't naturally think about skiing. Old news, right? Still, inspiring would-be guests in this situation is no easy task. Resorts have tried a long list of strategies to overcome this, but Seven Springs had a really clever approach that combined two typically siloed technologies. Working with its digital billboard inventory in Pittsburgh, Seven Springs dynamically inserted its live webcam image into an ad that announced "Seven Springs has snow!" with an arrow indicating it was a live view of the slopes. And the billboard was right along a major interstate in the city, not on the way to the mountain like resort billboard ads often are. This is a clever example of broadcasting a webcam—the ultimate tool for transparency—using a different medium as a means of inspiring snowless Pittsburgh residents to start thinking about a trip to the mountain. —GB


Best Celebration of a Pioneer
Mammoth Mountain, Calif.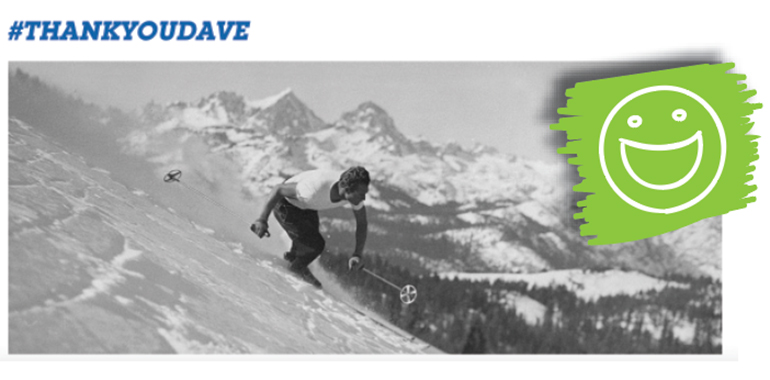 Dave McCoy, the legendary founder of Mammoth Mountain, died in early February at 104 years old. In honor of its beloved founder, Mammoth threw a multi-faceted celebration on Friday, Feb. 28, and utilized its digital prowess ahead of it to reach the Mammoth community and get everyone involved. A well-crafted mini-documentary played on Mammoth's Instagram story, the resort extended lift operations and offered free skiing and riding in the afternoon, and memory boards were placed at various locations around the resort, including McCoy Station, for folks to share a memory or a note of thanks. Mammoth also set aside a room in the lodge and invited everyone to share a story about Dave or Mammoth, which the resort filmed. A flurry of #thankyoudave Instagram posts further commemorated what McCoy has meant to so many. The inclusive day was a fitting tribute to a true pioneer. —MW


Best Use of a Baseball Broadcast
Copper Mountain, Colo.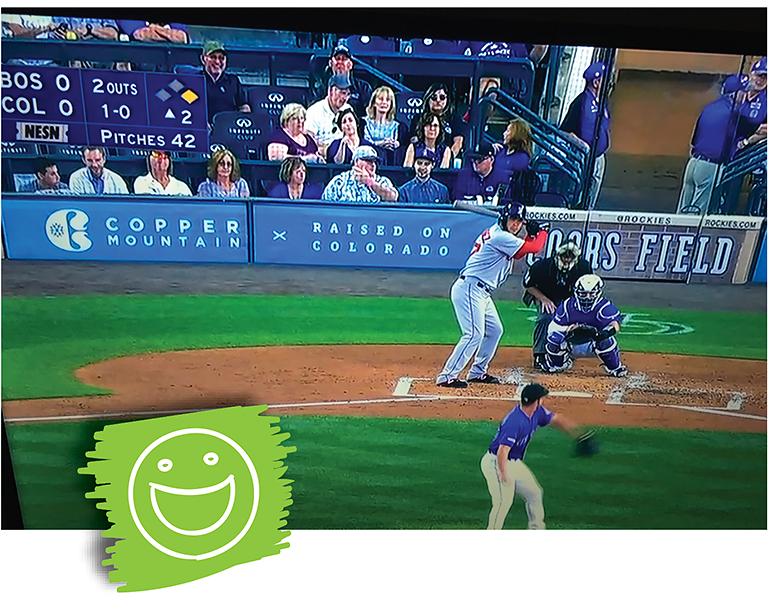 One late-August evening I was at home in Vermont watching the Red Sox play the Rockies at Coors Field. The game was broadcast on New England Sports Network (NESN), our regional cable network that carries all but the nationally televised Sox games. It was the top of the second and the Sox were at bat when I spied a familiar logo on the ad display behind home plate. Sure enough: "Copper Mountain / Raised on Colorado." This is position A for in-stadium advertising because television viewers are exposed to the ad every, single pitch. The position of the display coupled with the camera angle from centerfield means the batter, catcher, and umpire are never in the way. Having negotiated an in-stadium sponsorship with an MLB team, I know this spot isn't cheap. Big ups to Copper for making the investment to get its brand in front of a far-flung audience during a time of year when ski-trip planning is not out of the question. —DM


Most Fun Ladies' Night
Beech Mountain, N.C.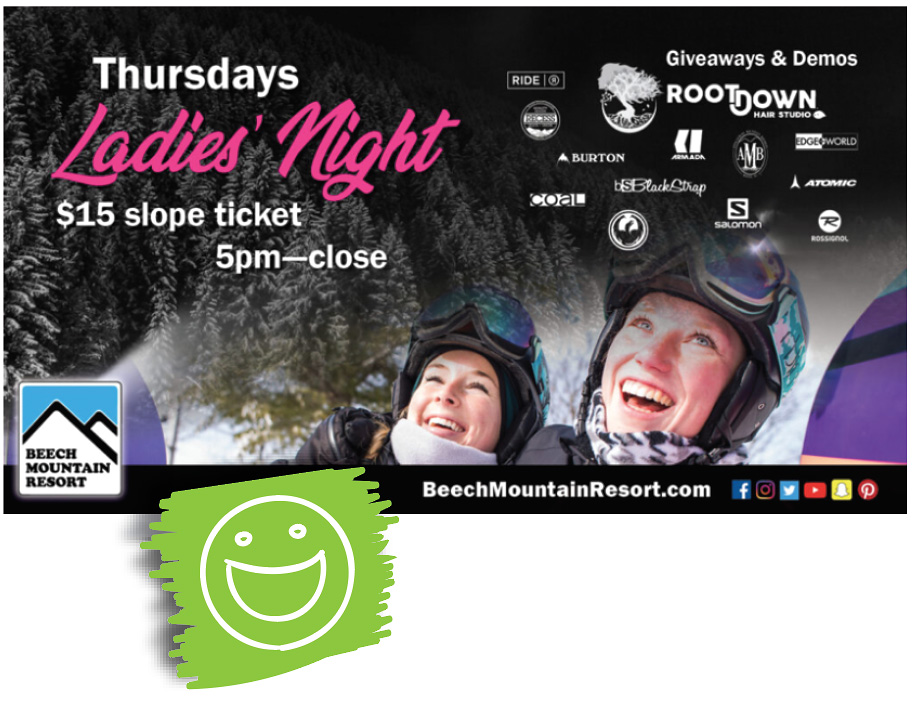 Thursday nights are for the girls at Beech Mountain in North Carolina. Every Thursday night from early January to early March, the resort ran its "Ladies' Night Series" with $15 nighttime lift tickets for women skiers and riders. The inexpensive access encouraged community-building among both locals and visitors. Not only is the price right to get more women on the slopes, but a bevy of sponsors came on board—including a local hair studio as the presenting sponsor—to add further support through free demos, giveaways, and après-ski fun. Fellas, don't fret: Wednesdays were Men's Night, also featuring a smokin' ticket deal and other fun. —MW


Best Product for Never-Evers
Soda Springs, Calif.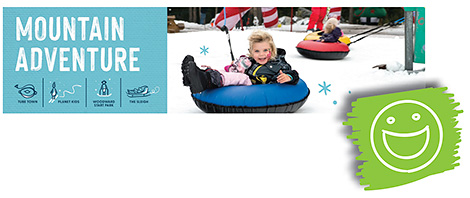 As one of the closest resorts to the diverse demographics of San Francisco, Soda Springs noticed something interesting about many of its visitors: they weren't just first-timers to skiing, they were first-timers to SNOW. The question then became how to cater to a group whose experience is so different from a typical ski resort guest. Their answer, backed by some thoughtful and thorough research, was the Mountain Adventure Ticket—an all-inclusive pass designed specifically for folks who have never experienced snow. The product allows guests to try snow tubing, snowman building and snow angels, learn-to ski/ride, sleigh rides, and more. It's a brilliantly designed product to capture a unique type of demand and one that other resorts near similarly diverse cities should study. —GB


Best Worldwide Tribute
A Day for Jake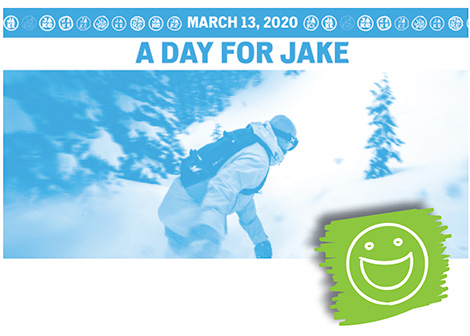 This winter, snowboarding lost one of its most influential pioneers, founder of Burton Snowboards, Jake Burton Carpenter. Out of mourning has grown celebration, though, as #ridewithjake stickers adorn boards all over the world and on-hill tributes have been plentiful, further bringing to life the passion and dedication that Jake had for the sport he helped popularize. In honor of Jake and his contributions to snowboarding, on March 13, 2020, thirteen resorts around the world offered free lift tickets for snowboarders. Beanies off to these mountains, A Day for Jake was a big gesture for the snowboarding community unlike any before. —MW


Dunk of the Year
Arapahoe Basin, Colo.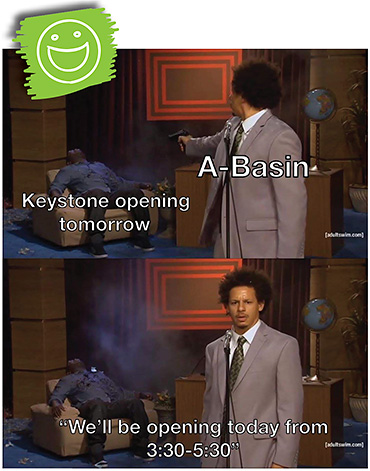 It's early morning on Friday, October 11, and Keystone announces that it will open for the season the next day, seemingly taking the crown in the annual #RaceToOpen for the first time in more than 20 years. The resort's heavy offseason investment in modern snowmaking appears to be paying off and company-wide pats on the back were circulating. Then, at 1:40 p.m. MST, Arapahoe Basin takes to social media and announces that it will open THAT DAY from 3:30 p.m. - 5:30 p.m. with $15 lift tickets, $5 beers, and $5 après dishes to celebrate. Social media went ballistic and news trucks from Denver were en route. And with that, A-Basin took the crown as the first resort to open in the country and win the #RaceToOpen. Keystone? It admirably still spun lifts the next day, but it didn't matter. The PR battle was already won—it was A-Basin making national news, not Keystone. As Ricky Bobby says, "If you're not first, you're last." —DA


Best Brewery Partnership
Sunlight Mountain, Colo.
There are dozens of resorts that claim to be family friendly, but it's one thing to put this line into marketing copy and it's another to live it. With initiatives like the Mini Mayor campaign and others, Sunlight Mountain Resort has walked the walk for years. The resort stepped up its stride in 2019-20 with a local-brewery partnership. Of course, a ski area partnering with a brewery is nothing new. Other "family friendly" mountains have been doing the same for years, churning out co-branded IPAs with much success. Sunlight saw a similar opportunity—but stuck to its brand. Instead of creating yet another IPA, Sunlight and Tommyknocker Brewery crafted a custom orange soda called Sunny Pop. Kids love it, adults love it (especially as a Sunny Screw: Sunny Pop with vodka and a splash of OJ), and the resort's family-friendly brand was reinforced yet again. —GB


Best New Excuse to Skip Class
New Hampshire College Pass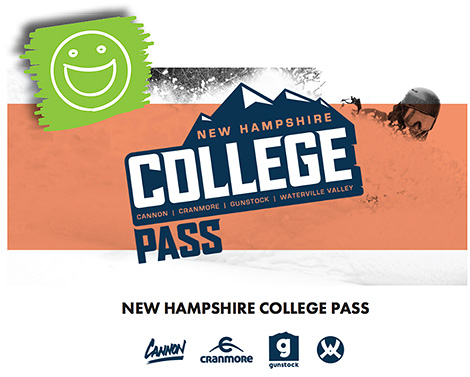 Boardin' on a budget just got an upgrade for students in New England with the New Hampshire College Pass. For only $289 when purchased before May 31 (extended from April 30 due to the pandemic), college skiers and snowboarders can spend their seasons enjoying Cannon, Cranmore, Gunstock, and Waterville Valley. While collective passes like Ikon and Epic offer a greater quantity of resorts and have multiple Northeastern mountains in their stables, the value this new East Coast option offers can't be beat. Plus, most students spend their winter season locally and need to make sure they have money left over for après. It's a strategic play that will hopefully pay off for these four resorts in the White Mountains. —MW


Best New Pass Partnership
Indy Pass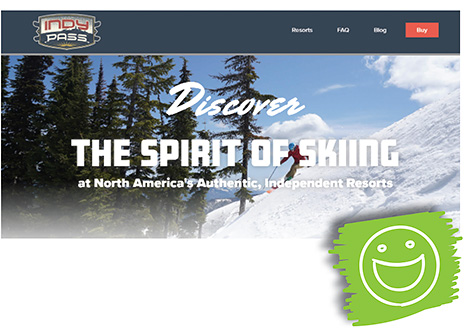 Over the last eight years, more than a half-dozen branded pass partnerships have sprung up across the ski industry. Unfortunately, not all have flourished. Smaller passes, especially, have been plagued by a lack of time, resources, and leadership. Enter the Indy Pass. Created not by a resort marketer, but by Doug Fish and his agency Fish Marketing + Strategy, it totally flipped the script on branded partnerships with a product geared toward smaller, independent mountains. And instead of spreading tasks among a group of already-busy resort marketers, Fish does it all, from branding and PR to resort outreach and onboarding. Ski areas can buy in for $1,000-$3,000 and let Fish's team go to work. If this works, and early indications are that it is, I think this could set a new pattern for resort partnerships and maybe even national campaigns to follow. —GB


Most Exciting Ski Show Booth for Kids
Loon Mountain, N.H.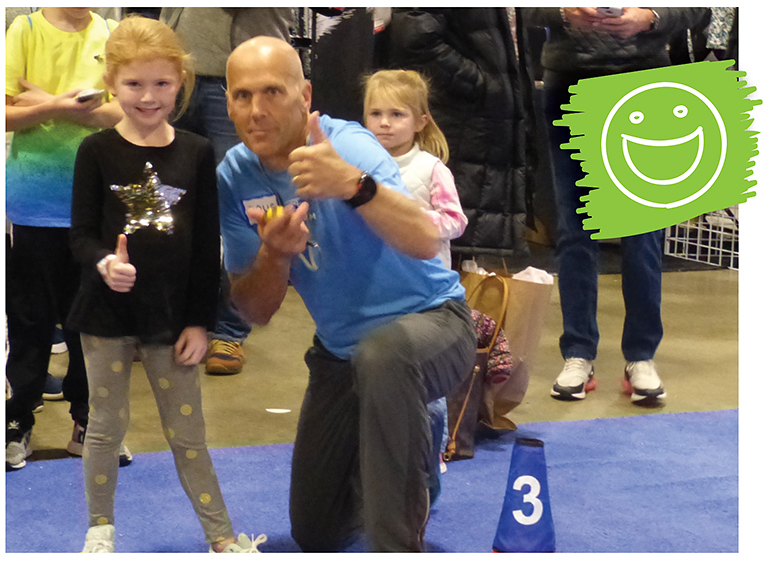 Walking BEWI's last ski show in Boston (before it was re-envisioned as Snowbound), I found Olympian Doug Lewis holding court as the emcee and coach at the "Elite Fitness Challenge," a separate space sponsored by Loon. Fitness Challenge? Sounds like work. But try telling that to the kids lapping the obstacle course to beat each other's times (and their own) simply because it was fun. Sneaky, sneaky. And smart. Doug and his team worked with the kids to show them how they compare to U.S. Ski Team athletes and big mountain riders, and how to boost their fitness in preparation for the season. On a show floor of booth-walkers, this one was a feel-good for Loon—and certainly had more families considering a visit to the resort. —BB


Best Passholder Perk
Winter Park, Colo.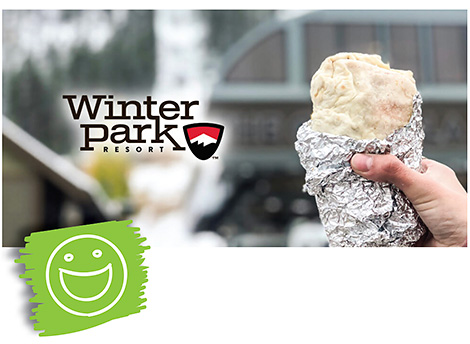 Buying a season pass is an investment that bears some amount of risk. Resorts know this, so they reward passholders for their loyalty in a variety of ways. This season, Winter Park established one of the simplest, most useful rewards I've seen in recent memory. Instead of passholders needing to either wake up extra early to make breakfast at home, eat greasy fast-food on the way, or pay resort-level prices once they arrived, Winter Park introduced a passholder-only breakfast burrito for the back-in-town price of just $5. Even more, the resort ran a clever online campaign for passholders to help name the new menu item, which gave this loyal group extra awareness about this perk and a sense of ownership once it was officially rolled out for the season. While food perks have always been around and the ski industry is seeing more as of late, this is certainly one of the best. —GB



PRINT

Most Soulful Print Campaign
Magic Mountain, Vt.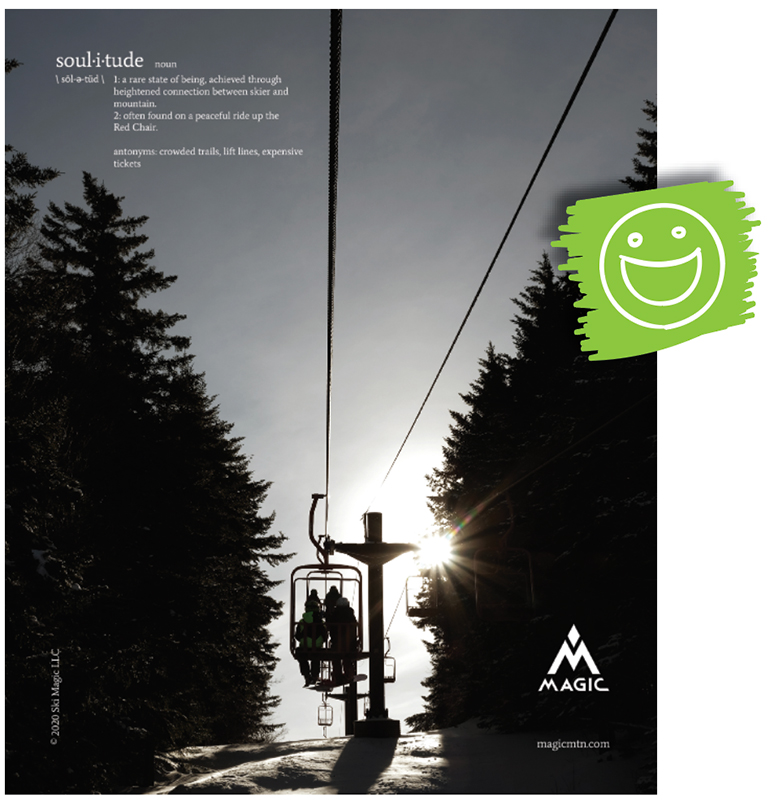 Magic is back. Well, it's been back for a while under new ownership, but caught my attention this season with its print ad campaign. Like so many independent ski areas that just do it right, there's a lot to celebrate at this "little corner of Switzerland." Call it soul—they do, and it's a legit claim. A lot of the appeal of skiing and riding is enjoying it with friends, but sometimes there are too many friends—lift lines, crowded trails, no place to sit in the lodge, etc. That's not how it is at Magic, and this ad captures the feeling you have when skiing there. Shhhhh, can you hear that? Just the snow and the trees and you (and a couple friends, but not too many). Right on. —BB


Best Throwback Print Ad
Bridger Bowl, Mont.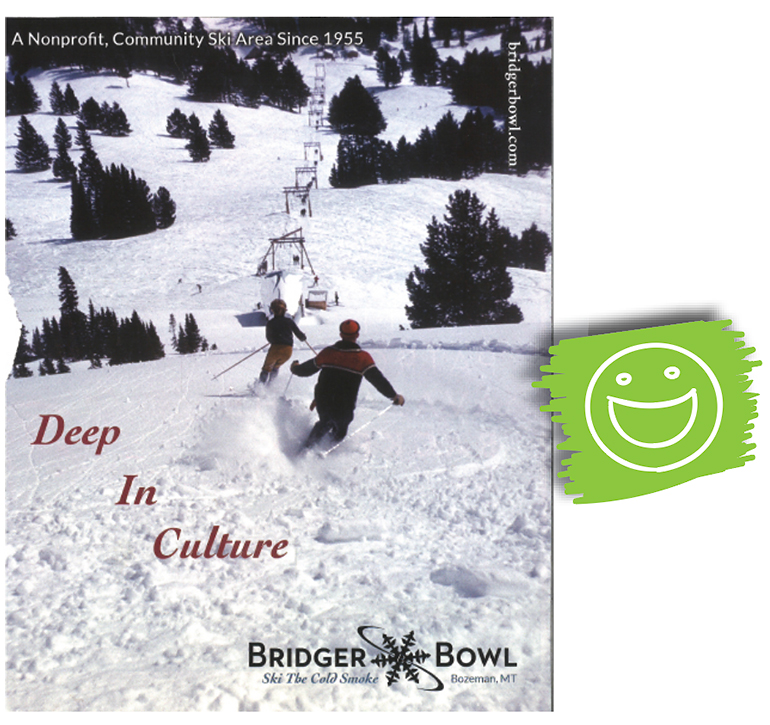 If the profusion of retro ski days and memorabilia-laden resort watering holes is any indication, resort clientele love a dose of nostalgia. So, it was a wistfully satisfying moment to turn the page of Powder Magazine and see a classic powder-skiing shot from Bridger Bowl's early days, run as an ad for the Montana resort. The dual-meaning tagline "Deep in Culture" runs alongside an image of a man and woman schussing down the slopes. It's a reminder in a bright and shiny 4k world that the elation of making turns is always the same regardless of decade. It was a simple way for Bridger to remind Powder readers that the feeling they're probably chasing—the simple perfection of a powdery carve—is at the heart of this community ski area. —MW


An "A" for B-Corp
Taos Ski Valley, N.M.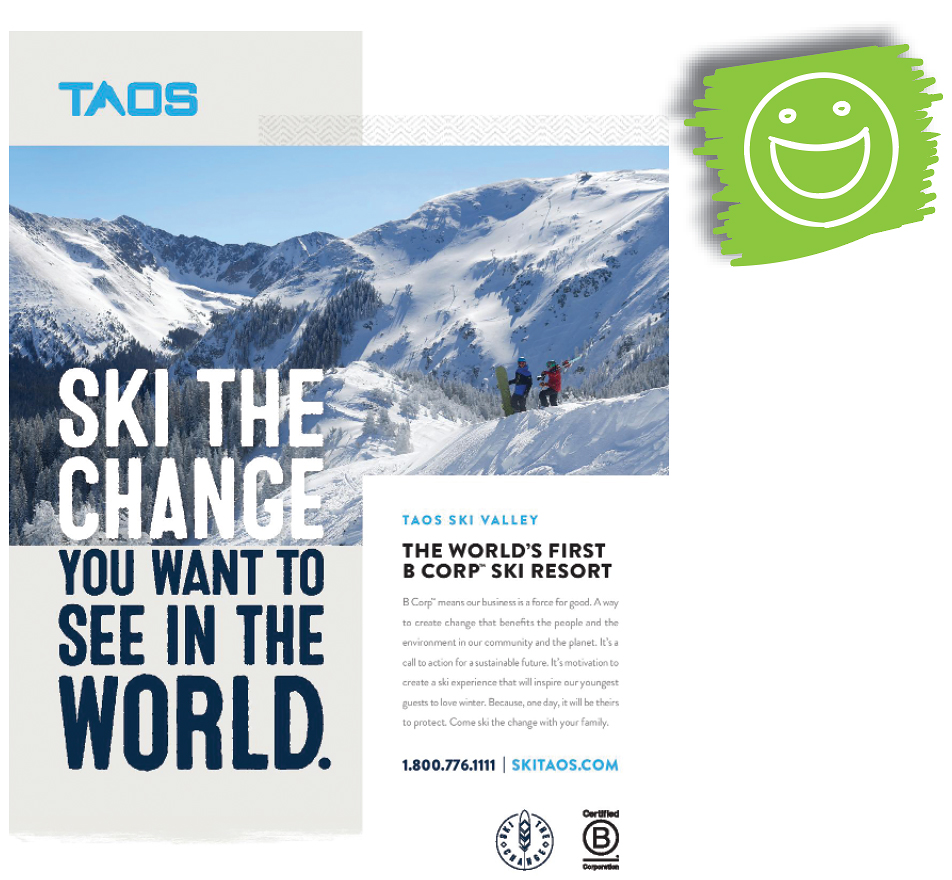 In 2017, Taos became the world's first B-Corp ski resort—a certification that shows the resort walks the "purpose before profits" talk on a daily basis. After a quick round of press releases and social posts about the certification, many resorts and marketers would be tempted to move on and start marketing the funner, sexier resort features and offerings. But not Taos. The team saw how well this message represents everything they stand for and how well it resonates with skiers who often skew toward a sustainable, environmentally friendly mindset. So instead of moving on, they doubled down. In the January 2020 issue of SKI Magazine, Taos went big on a full-page spread talking about its status as a B-Corp. Partly because it's a great use of print ad space, partly because it's a great example of disciplined marketing, I believe this is one of the best ads of the year. —GB


Most Straight to the Point
Brighton Resort, Utah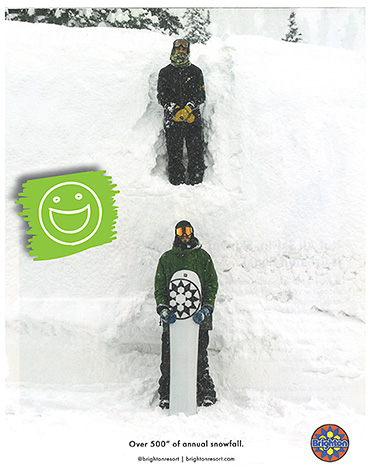 A picture may be worth a thousand words, but in the case of Brighton Resort's 2020 print ad campaign, it's also worth 500 inches. The ad makes a simple and effective statement: Brighton gets a LOT of snow. A massive mound with one snowboarder standing on the ground and another on a dug-in ledge above him (still with snow all the way to his head) calls attention to what is one of Utah's great draws in general, and of course a big part of why Brighton is a favorite resort for the Salt Lake City (and beyond) snowboarding population. Concise messaging is always favorable in today's media landscape. "Over 500" of annual snowfall" is as concise as it gets, but the picture tells a big story that ends with you wanting to go to Brighton. —MW


Most On-Brand Ad
Alta Ski Area, Utah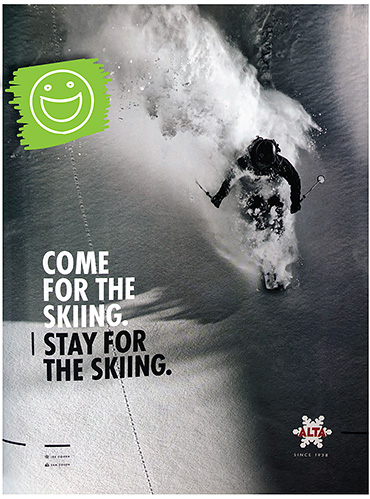 Alta's brand is already strong, so why mess with it? It's one of only three skier-only resorts. It's got an old school vibe, and it's got stellar terrain and snow. The marketing team remained loyal to the brand with this no fuss campaign. The tagline is simple yet profound, like the resort: "Come for the skiing. Stay for the skiing." So, solid tagline: check. Great image: check. Logo: check. Black, white and red template to stay on brand and give a throwback feel: check. And it's all pulled together with a well-balanced layout. It gets an A+ all around. —SW


Best at Getting Bests
Snowbird, Utah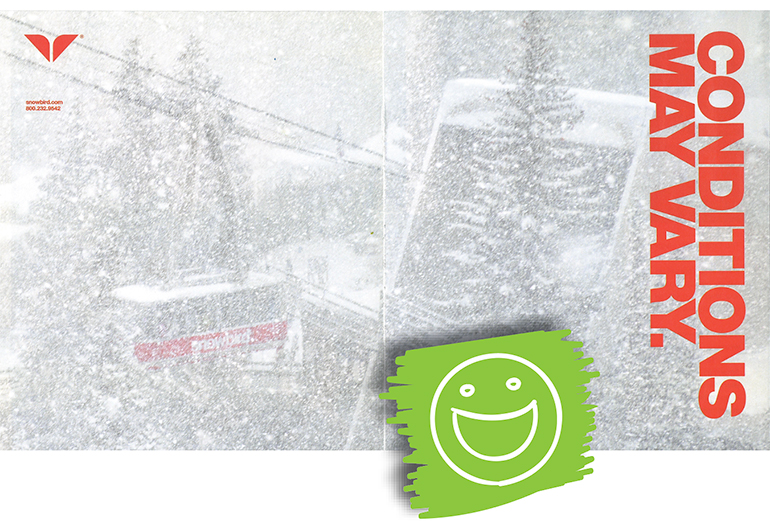 Wow. Seriously. They just keep doing it! I don't know what's in the water up in Little Cottonwood Canyon, but the team at Snowbird rolls out concise, creative and (just the right amount of) cheeky ad campaigns every single year. Snowbird did it again this year with two-page spreads that shook up the expected wish you were here imagery with abject realism so straightforward it seemed hyperbolic. A photo of a whiteout storm paired with the tagline, "Conditions May Vary" is the kind of thing that tickles any diehard ski or snowboard buff—because what's a winter spent in the cold without a sense of humor? Simply put: Snowbird gets us, and we appreciate it. —MW


Most Confusing Message
Burke Mountain, Vt.
The words that accompany this ad are great. Creative, inspiring, funny. "Bigger mountains have more of everything," it says, "crowds, lines, costs, out-of-control skiers, egos…" Who wants to go to a place with all that? Not this guy. "No crowds, nice people, and no mass-produced experiences," it says. And then: "You'll love how big it isn't." Boom! If this ad only included those words and the Burke Mountain logo on an otherwise blank page, I'm making reservations. Thing is, the photo behind this full-page ad looks like many of the intermediate trails in Vermont on a Saturday: crowded and firm. Is the photo meant to represent what Burke isn't? I probably shouldn't need to ask that. —DM


VIDEO


Best New Twist on an Old Cliché
Red Mountain, British Columbia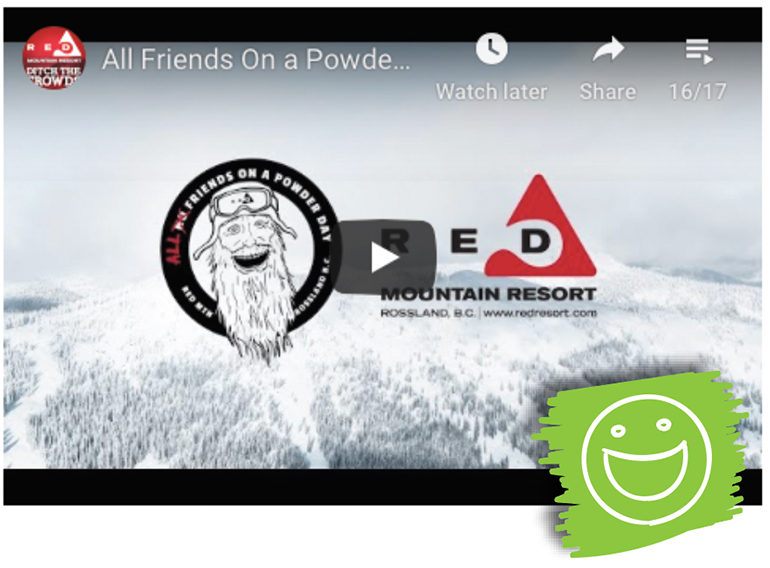 I've always disliked the phrase, "no friends on a powder day." The whoops and laughs I've shared with friends while tearing up fresh powder are fonder memories than actually riding the powder itself, which is why I love what Red Mountain has done. Rephrasing to "All friends on a powder day" not only creates a positive campaign about camaraderie and the friendly vibe at Red, but tells a story of a mountain where there is plenty of powder to share—hitting the reader both emotionally and rationally, as traffic and lift lines increase at major resorts across the continent. The style of the video is unique as well. It's clearly branded Red Mountain, a little rough around the edges, but inclusive in its message. And, as is the goal of most campaigns, it's inspiring. After watching, I want to go to Red Mountain and share sweet powder turns with a group of friends and strangers, soon to be friends. —SW


Best Preseason Video Series
Ikon Pass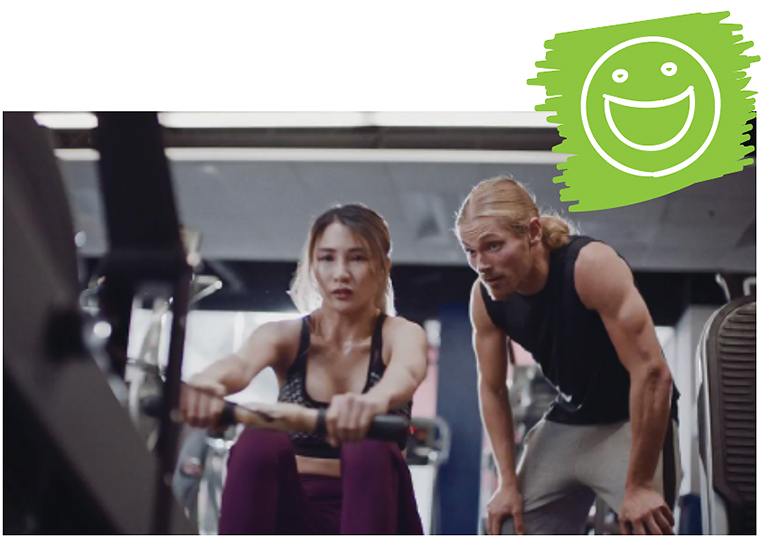 At the start of the season, Ikon Pass was still putting a significant amount of time into building brand awareness and affinity. Among a handful of other campaigns aimed at accomplishing this, two video series stood out: #ItsNotWinter and Embrace the Ritual. The ideas weren't necessarily new, but the execution was better than I'd seen in a while. Whether it was the classic scene of a skier in full gear on a stair-stepper machine, a 9-5er drinking coffee from a shot ski or a doctor's office visit of a skier who sleeps with a boot under his pillow, the humor was really well done, the production quality was exceptional, and the results were strong. Right as snow started to fall in the mountains, these videos gained hundreds of thousands of views and generated a nice boost to a brand that needed momentum against the incumbent as winter approached. —GB


Best Education-as-Marketing Video
Mammoth Mountain, Calif.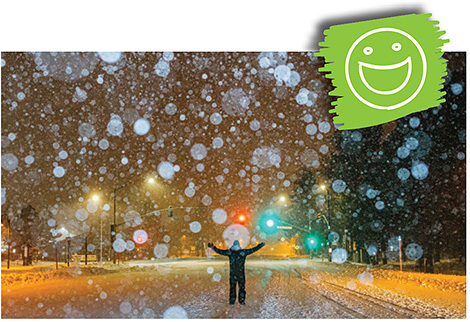 Mammoth gets a lot of snow. Just look at the snow report and you'll see. But how do you support that message and really drive it home, other than reporting higher snow totals than most other mountains? If you're Mammoth, you explain the why with a little bit of science. With insights from experts, including a NASA scientist and a professor of snow hydrology, this video pulls back the curtain on the geography and meteorology that turns simple storms into massive dumps. It talks about how storms arrive, why Mammoth's unique features make a difference, and how the end result stacks up. That combination of science, storytelling, and a unique angle on an old topic earned this video nearly 60,000 views on YouTube alone. And with production quality that's among the best in resort marketing, it also earned a near perfect rating from viewers. —GB


Best Community Effort
Whaleback Mountain, N.H./Origin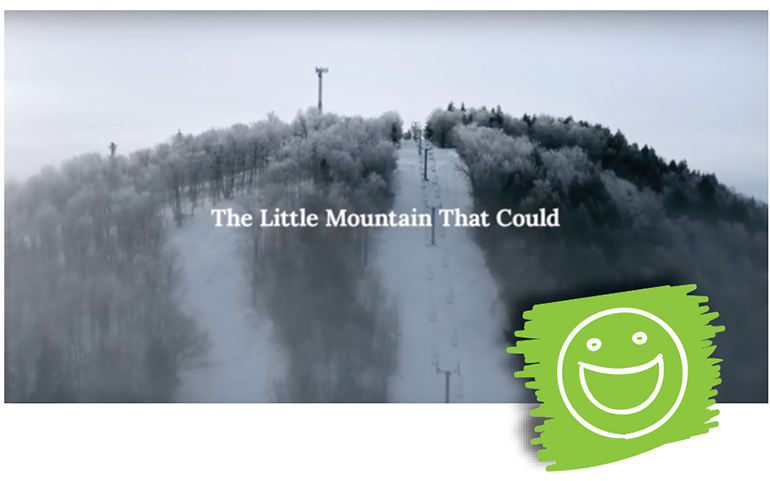 Most of us can tell a story about the "little local hill" where we first learned to ski. In many cases we may never have even tried skiing if it hadn't been for that nearby and affordable resource. The story of Whaleback in New Hampshire awakens some personal nostalgia and highlights what is possible when a community comes together and endeavors to save the home mountain. After many years of financial instability and closures, the nonprofit Upper Valley Snowsports Foundation has been running the area since 2013. This year, L.L. Bean and Origin created an excellent short film that celebrates the herculean efforts of the largely volunteer crew that helps operate the ski area. If you don't get a little catch in your throat, you should have your pass punched for being a curmudgeon. —BB


Most Consistent Use of Video
Wachusett Mountain, Mass.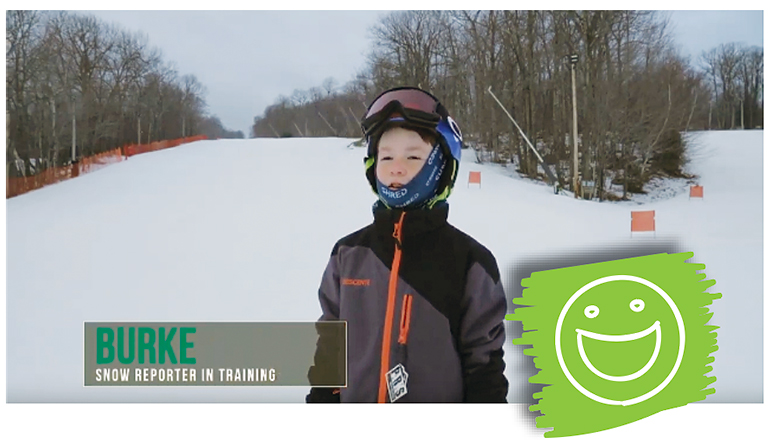 Producing a daily snow report video is HARD WORK. For Wachusett it makes sense—the place is open until 10 p.m. every day. But you can't just spit out a crappy 60 to 90 seconds every day and expect it to be effective. The snow reporters need to be affable so people don't mind seeing and hearing them all the time, and a little creativity is important so the format doesn't get stale. My favorite of the videos was when Wachusett marketing guru Tom Meyers had a 8-ish year-old kid do the standup as a "snow reporter in training." You can tell it was early in the morning by the low light and the skier skinning up in the background. Despite the earliness, the kid nailed it, and the video ends with him getting a high five from whoever was next to the camera. Who doesn't love high fives? Pre-COVID-19, of course. —DM


DIGITAL


Best Dynamic Content
Squaw Valley Alpine Meadows, Calif.
When you dig into email data, you notice two interesting trends: the huge number of people that open the email within the first hour after you hit send, and the number of people that are still opening and reopening that email weeks after it arrives in their inbox. Squaw knows email as well as anyone, and saw a clever approach to these seemingly opposed behaviors. By partnering with dynamic image platform Kick Dynamic and forecast provider Open Snow, they were able to deliver real-time lift, trail, and snow status in their emails. This valuable, real-time content made their emails more useful and engaging, regardless of how quickly folks opened an email after receiving it. The image-based forecasts and trail reports were generated and refreshed in real-time through the partnership, folks opening one or two weeks later were still seeing up-to-date info. —GB


Best Off-Season Offer
Jay Peak, Vt.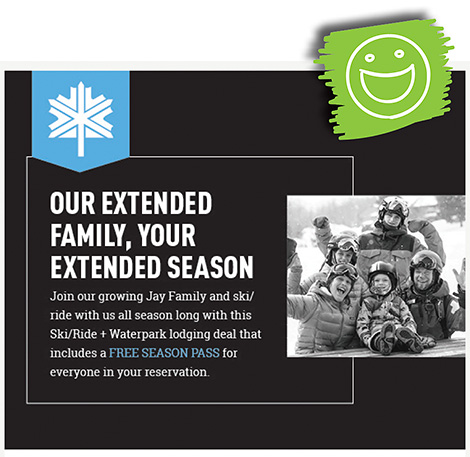 It's not always easy to presell winter packages in the heat of summer, so why not include a major incentive? Jay Peak took an interesting approach with this email campaign. The product is a five-night ski/stay/waterpark package, which is typically aimed at folks coming from afar. The incentive? A season pass for everyone on the reservation is included in the package. The caveat? You need to book by mid-July. To the family or group planner, this is a pretty great incentive if you live close enough to return to Jay a couple more times during the season. And it's a big win for Jay. Not only does it book a long stay far in advance, but it's pretty likely to get another round of lodging income from this group. It's a great way to instill brand loyalty for a season, which could lead to a lifetime, and get some rooms filled early. —SW


Worst Ways to Say "No Parking"
Lots of Resorts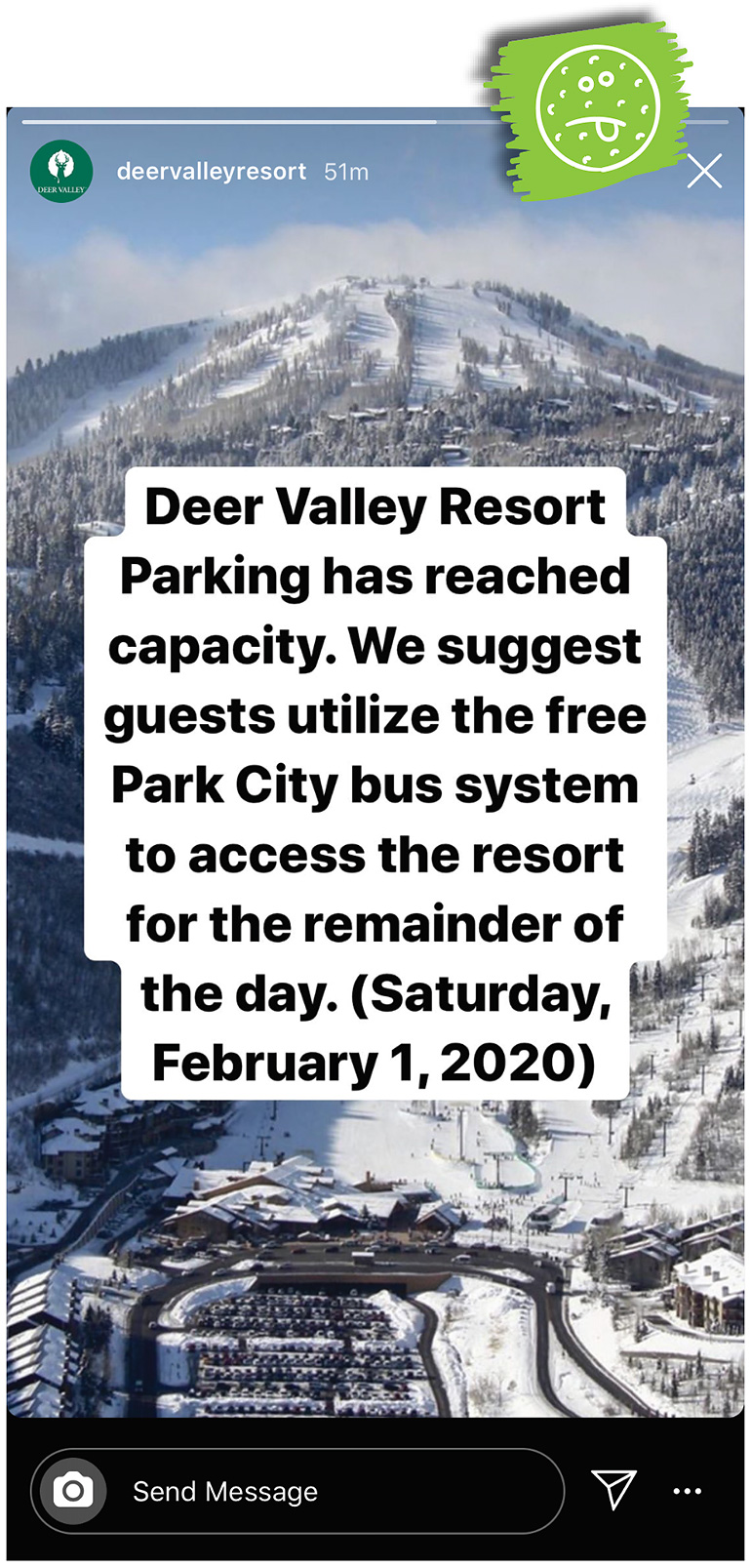 Hey, way to spend a ton of time and money to curate and develop your social audiences just to tell people how frustrating it is to visit your resort. Want to tell people you're out of parking? Do it on your mountain report, spin up an opt-in text message service, create a @ResortName+Alerts Twitter account, or have current parking status on your app with an optional push notification. Stop confusing marketing vehicles with communication channels. Algorithms aren't doing you any favors, either—people often won't see your story or post right away. If you don't include a time and date stamp on your "out of parking" message, folks won't know what day you're telling them to stay away. Another sign that things are out of control: a resort started posting to Instagram that it was out of hamburgers. Now that's just too far. Bottom line: your flagship social accounts are meant to inspire, attract, and interact. Not to keep out. —DA


Worst Season Pass Launch
Epic Pass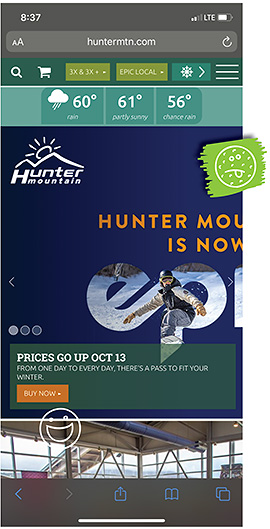 I know, I know—data is king. Vail Resorts credits its use of sophisticated tech to reach a massive database of current and would-be passholders for its Epic Pass sales success. And successful it is—the numbers are staggering. Seems to me, though, focus needs to shift a bit from slicing and dicing demographic info to making sure words—including the names of its resorts—are spelled correctly, email messages make sense, and the creative for various platforms is sized properly. The marketing/accounting/parking person at a community ski area gets all this right, so why can't a multi-billion-dollar conglomerate? Sure, VR could admonish this critique by simply pointing to the scoreboard. The Epic Pass is the gold standard, after all. People are going to buy it no matter what, even if all four letters in "Epic" don't fit on the homepage hero image. Would sales go up with a little proofreading and proper sizing? —DM


Best Data-Driven Email Campaign
Arapahoe Basin, Colo.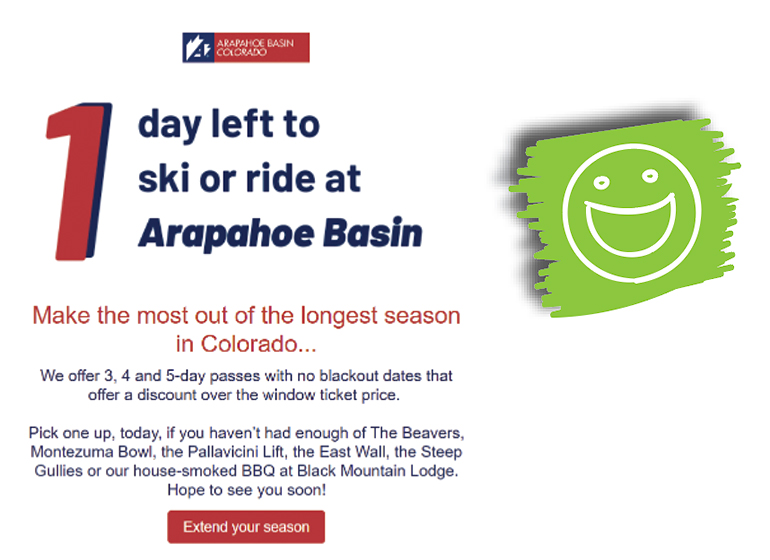 When Arapahoe Basin switched to the Ikon pass, I was keen to see how it handled this partnership—and I wasn't disappointed. My favorite is how the resort used email to engage with Ikon passholders. In a nutshell, A-Basin setup a multi-step email program that automatically reaches out to Ikon passholders based on their real-time scan activity. For example, after the first scan, every guest receives a welcome email that familiarizes them with Ikon perks at the resort. And if the system detects it's their first time ever to A-Basin, the email will also introduce them to the mountain and brand. Then, if a guest hasn't returned after a certain amount of time, the guest receives campaigns designed to bring them back. Ikon passholders who visit frequently get a customized upsell email to capitalize on their loyalty. It's no surprise that this well-orchestrated effort yielded impressive results. —GB


Missed Opportunity for a Celebrity Influencer
All Resorts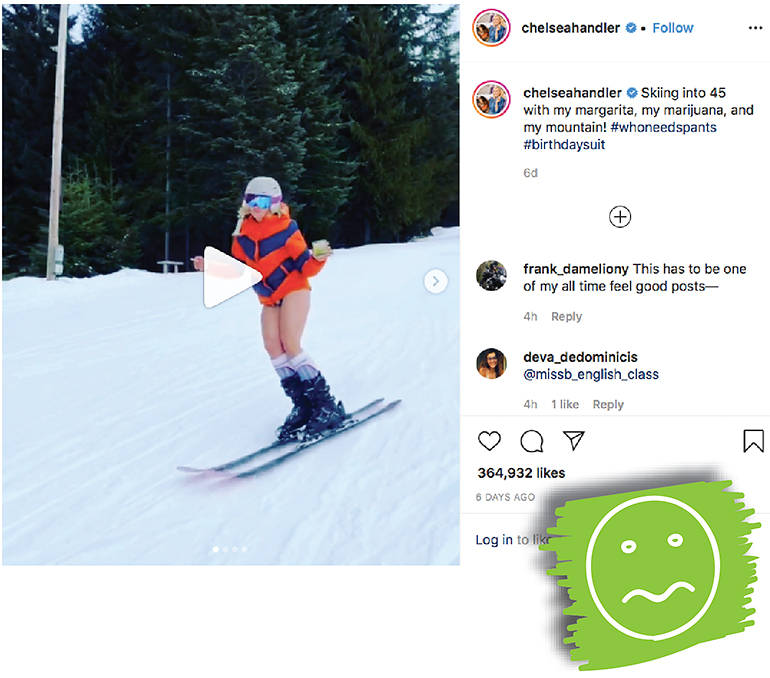 At the end of February, Chelsea Handler celebrated her 45th birthday at Whistler by skiing pantless, margarita and marijuana in hand (it's legal there, of course). While "birthday suit boarding" or "skinny skiing" may be a little risqué for most resorts' marketing agendas, the infamous comedienne is vocal about her love for skiing—and she has 3.8 million Instagram followers. A partnership with Handler seems like a good opportunity for the right mountain, with the right brand, and a good sense of humor. On hill correspondent? Ladies ski day? Comedy at the summit? Definitely an après special, at the bare minimum. —MW
Least Well-Used Social Platform: Twitter
Lots of Resorts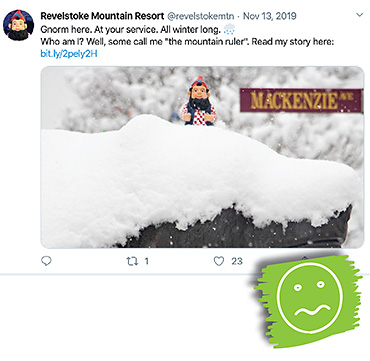 I get it, you're all really hot on Instagram right now. It's fun, easy to publish to, and you're getting the marketing dopamine rush associated with growing your audiences, stacking likes, and engaging with your adoring fans. What if I told you there was another social network out there that you should be focusing your efforts on? No, it's not TikTok, it's Twitter. I get your hesitation; less people are on Twitter than the other big platforms. But you know what? People on Twitter use the snot out of it, it's where news breaks, and it's also a wonderful platform for communicating with guests and solving customer service problems. Have some fun with it like Revelstoke did this season: the resort communicated via the voice of Gnorm, the snow reporting gnome. He's casual, fun, and always hitting us up with the "gnews." —DA


Best Art of Timing
Mountain Creek, N.J.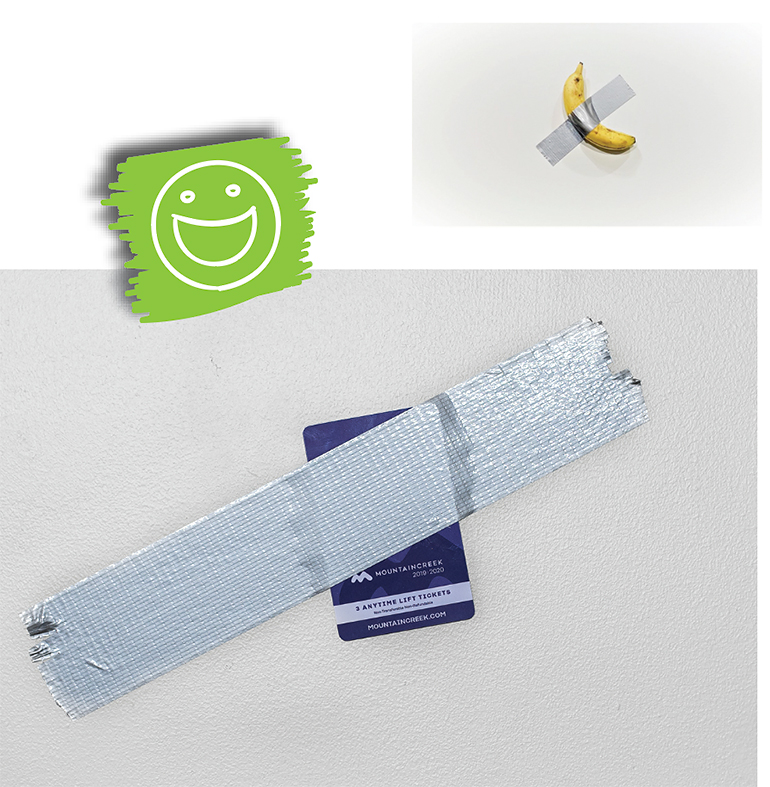 A lot has happened in the past six months, so it's understandable if you forgot about the brief period of time when the trending topic in our newsfeeds was all about a banana duct-taped to a wall. To refresh your memory (sorry, not sorry), on Dec. 4, two editions (two!) of artist Maurizio Cattelan's "Comedian" sold at a Miami Beach art gallery for $120,000 each to collectors. Within days it was national news. Ever with its finger on the cultural pulse, Mountain Creek quickly posted its own take on "found art," using its Triple Play card product in place of the banana. It was an excellent example of the resort's brand of wry, quirky, and clever humor. It was also a good example of how resorts can creatively leverage trending topics to promote their own products. Like all good comedy, it's all about knowing your audience and … wait for it… the timing. —BB


Laziest Content Strategy
Instagram Story Reposters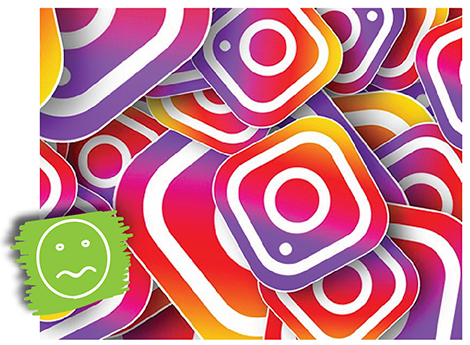 There's a balance between original content and reposting guest experiences to your Instagram story. Unfortunately, many resorts have not figured this out yet. When done right, stories are a wonderful way for you to show an unedited and honest view of what's going on at your mountain. When done wrong it turns into an endless stream of reposts without any common thread linking the narrative together. Don't get me wrong, it's great to showcase guest-generated content. But when that's all you're doing, it shows you're lazy and don't take content strategy seriously. Adopt an 80/20 rule, where the overwhelming majority of the content is from your brand voice, then pepper in a little social love from your guests. Exercise restraint, though—the more you post to your story, the more likely your audience is to skip right over you. —DA


Best Thank Yous
Jay Peak, Vt.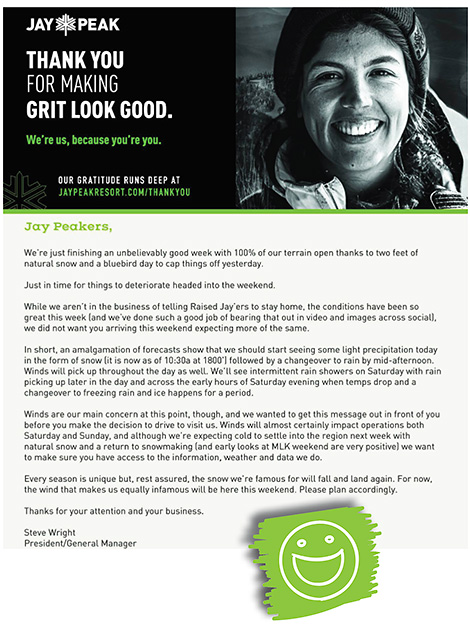 When Jay Peak subrogated its "Raised Jay" tag for "We're Us, Because You're You," I was not a fan. But Jay won me over by retaining the tone of its message and clearly articulating the resort ethos. By sharing stories about its employees and guests, it brings a big world closer together. Follow the #ThankfulThursdays and #JayPeakThankYou stories and you'll see. Whether it's a ski patrol family profile, a heartfelt paean to the badass tower-climbing lift guy, or celebrating an "atta-girl" for the newest young converts, each "Thank You" story applauds the self-confidence and value of tackling new challenges. There's that "Raised Jay" culture I like so much, still lurking. A final example: just before one early-season weekend that promised rain and wind, GM Steve Wright posted a letter advising people NOT to visit, lest they be disappointed. I stopped counting the thank you messages from guests when it passed 100. —BB


Most Direct Offer
Shawnee Peak, Maine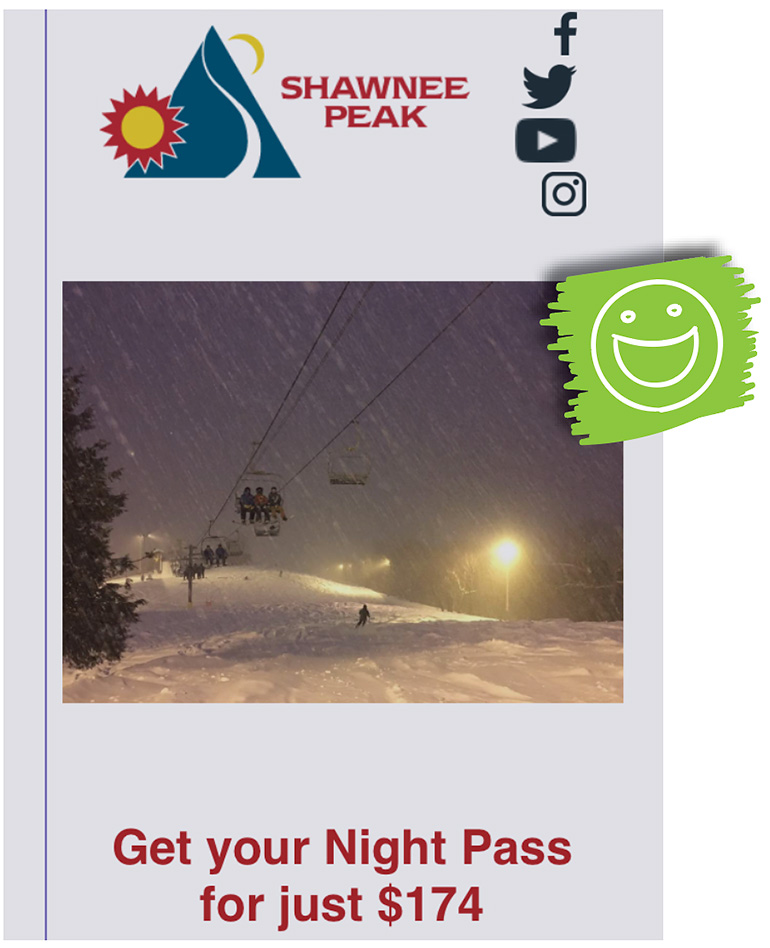 Get Your Night Pass Now! Shawnee Peak wasn't kidding when it dropped this email in subscribers' inboxes last fall. The ski area held a 24-hour flash sale—a tactic that seems to be growing in popularity—for its night skiing season pass. The simple, direct offer didn't require many words—the pass was the same price ($174) for all ages, no blackouts (there's a pun here somewhere) and more than 70 nights of access throughout the season. Plus, the accompanying photo would inspire the most ardent day-visitor to give night skiing a try. If you're going to do a flash sale, keep the offer uncomplicated, as Shawnee did. The time limit creates a sense of urgency, which is exciting. But if I need to sort through fine print, pricing scales, and various restrictions, that sense of urgency turns into feeling pressure, which isn't exciting. —DM


Best New Website
Alta Ski Area, Utah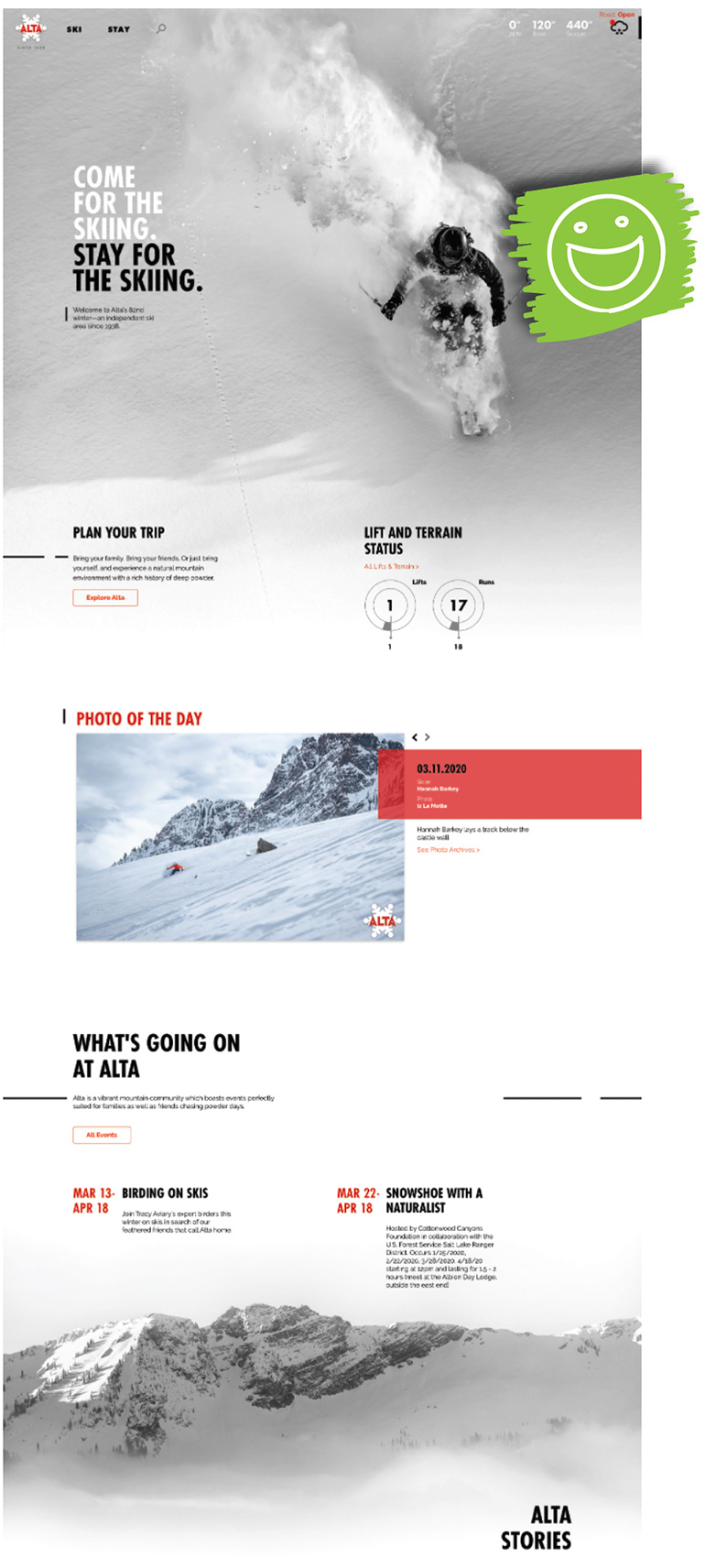 Alta has never been known as a technological powerhouse, but that all changed mid-season with the launch of its all-new website. Developed by Number6, a Salt Lake City agency, the new website is a breath of fresh air amongst the sameness often found on other resort conglomerate websites. Instead of bombarding you with endless offers, pushing you into e-commerce funnels, and acting like a cash register, Alta's new website focuses on storytelling, content, and culture. Bonus points for the advanced features in the snow report that allow you to visually compare current conditions to years prior. —DA




Most Trustworthy E-Newsletters
Ski Utah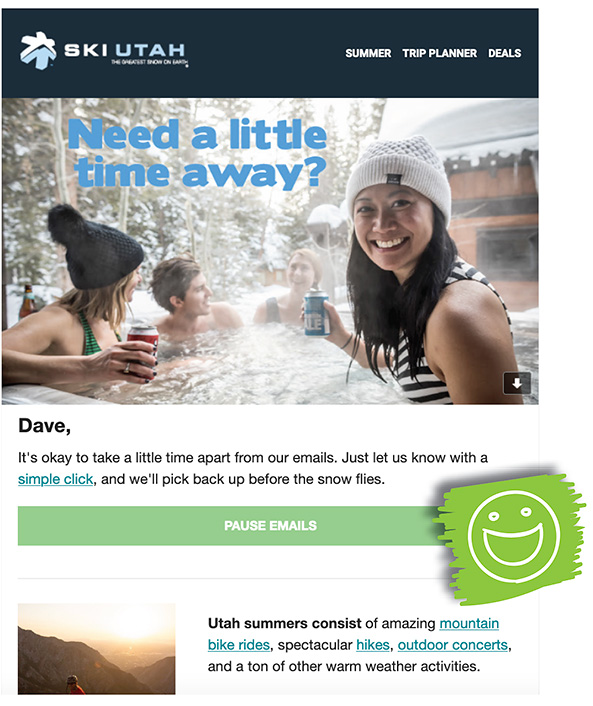 Far too many email newsletters have turned into straight-up sales pitches without any interesting content. As a result, I lose trust, and either unsubscribe or delete before opening many of these emails. Ski Utah, however, not only curates excellent content for its email newsletters—useful stories, reviews, tips and more about resorts, towns, and gear—but on May 15, 2019, it officially earned my trust. The email subject asked if I needed a summer break. The personalized note itself offered the option to pause emails until the snow flew again, but made sure I knew Utah resorts do cool stuff in summer, and promised I'd only get two emails a month about it. The email ended with an opportunity to choose my interests so I only get content that's useful to me. Thoughtful approach, great content. Thanks for caring, Ski Utah. You're doing it right. —DM