Season 2020-21 is shaping up to be more than next-level mysterious, though. Is there even a word to describe an environment that's so new, so constantly shifting, and so peppered with "what ifs" that the "how to's" can sometimes feel almost drowned out? It's not like there's a crystal ball resort operators can peer into to see what may and may not work.
Looking Back to the Future
Wait right there. There actually is a crystal ball. Call them the two S's of the future: Summer ops and Southern Hemisphere resorts. Both have forged an instructive path, of sorts, for winter resorts.
And while these harbingers may not offer solid solutions—the COVID-19 situation could change countless times before the first resorts fire up their snow guns—they provide some clues.
"These are unchartered waters," says Nancy Heard, general manager at Glenwood Caverns Adventure Park in Glenwood Springs, Colo., and a former 16-year employee at Aspen. "In my 30 years in this industry I've never seen things so unpredictable. And there's no rule book, no experience to draw from."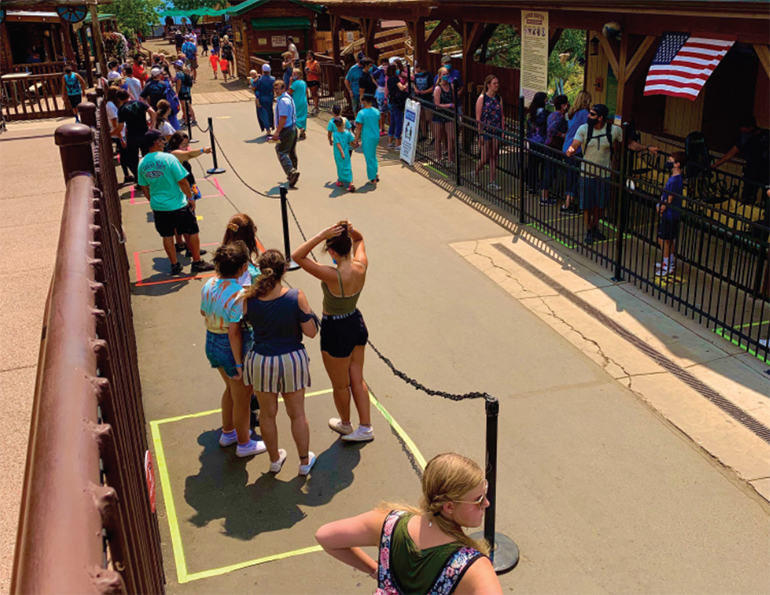 Spaced boxes in the line for the Alpine Coaster at Glenwood Caverns Adventure Park succeeded in social distancing, but other measures were needed to enforce mask wearing.
That's changing. Resorts that were at least partly up and running this summer have learned a few things. To start:
• Signage may not work the way you imagined, no matter how cute your graphics feel.
• An invested and protected staff is your best asset.
• Politics rears its head, even if you think your resort would be a place folks would let go of all that.
• Don't be surprised when you're overwhelmed with guests.
Part I: Staff Support
Empowering staff is job #1. Across the board, resort summer operations folks say that leaning in with your staff makes all the difference. Some operators feel this is the first and most vital step to making things work in the upcoming winter of COVID-19.
Heard set up a staff task force to help craft the park's operating plan. From the beginning, she says, she felt that empowering and protecting her staff was key.
Safety measures for staff. The first issue staffers raised was their own safety. Masks were not required in their Colorado county. Still, the park had considered requiring staff to mask in most situations, but not guests. That got pushback fast, for good reason, she says.
"They said, 'So, you're going to protect the guests from the staff, but not the staff from the guests?'" she says. "It was obvious they were right." The Caverns implemented mask requirements for staff and guests alike. Immediately, staff felt listened to.
The task force continues to meet weekly, sharing insights and ideas, and sometimes, venting about things—the time of COVID is full of angst. "The dialogue is always worthwhile," Heard says.
Training staff, and listening to them. Cranmore Mountain Resort in North Conway, N.H., delayed its opening by two weeks to have time to train staff and get their input, says resort president and GM Ben Wilcox.
"We are out there using COVID-19 safety information to say to the general public, 'We are doing this for you,' but how to you get your staff on board with that?" Wilcox says. Cranmore did that by listening to its staff and supporting their needs.
To mask, or not to mask? In New Hampshire, as in Colorado, masking was not a requirement, but rather a recommendation. Staff immediately voiced concerns over that.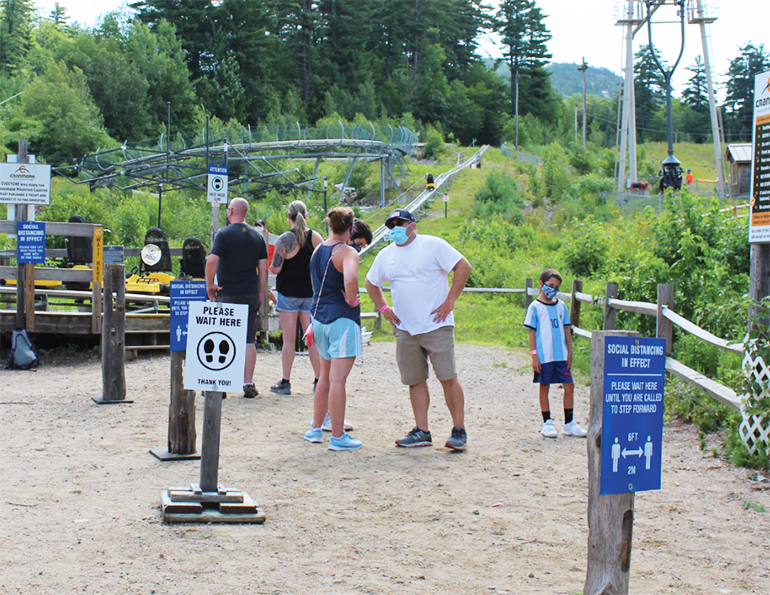 Cranmore, N.H., requires guests to wear masks while waiting in line and keep a safe distance from others.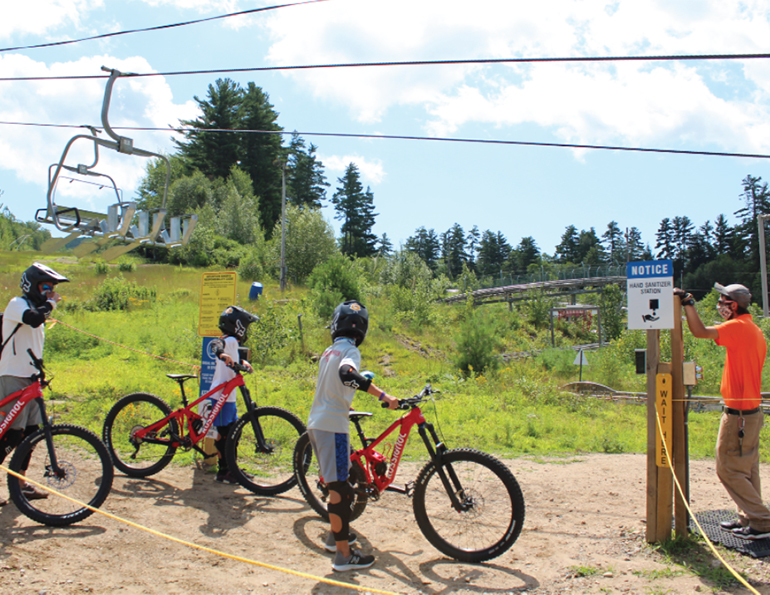 Hand sanitizing stations are placed strategically at Cranmore.
"The staff felt safe about some instances, but not about others," Wilcox says. And so the resort required guests to mask up not just while waiting in line, but until they are loaded on the chair. "We want all the security our staff—and guests—feel they need," Wilcox says.
Going into winter, he advises, "listen to your staff. Protect and empower them. Keep their morale high. That's the key foundation to all of this."
Staffing levels. In New Zealand, staffing was an issue as NZSki's three resorts—The Remarkables, Coronet Peak, and Mt. Hutt—opened for the winter season in June. With the country's borders closed and about 40 percent of their usual staff coming from Australia, the resorts were already squeezed. Then, snow fell hard and guests came en masse.
"We went into our season with about half our usual staff, thinking that would be sufficient [60 to 70 percent of the resorts' usual guests are from offshore]," says Paul Anderson, CEO of NZSki. "But the level of interest surpassed anything we expected. We were shorthanded, without a doubt."
That meant leaning on staff to work more hours, and asking them to get to work early, since massive crowds were slowing access to the resort. The resorts eased the burden on staff in several ways, including operating on a smaller scale on non-holiday weekdays to give them a chance to breathe.
Setting a new standard. Jay Peak, Vt., has been studying the impact this new environment will have on front-line resort workers, many of which hold vital responsibilities. Resort president and GM Steve Wright believes recognition and training programs—and upper-management support—are keys to getting staff to buy in and commit to the new ways of doing things. "We can't expect them to do that unless we're willing to acknowledge how difficult it will be, and appropriately reward and acknowledge them for it," he says.
A tough task. Enforcing rules about masks and distancing is a hard job for front line employees, says Wright. So Jay is tasking upper-level workers to head the effort. "Our plan and expectation is to have a senior team safety officer in all of our assets and areas who acts as the lead on enforcement, education, and traffic flow. Managing safety has to be a top-down approach," he says.
Social distancing the staff. Another thing Heard and the Glenwood Caverns team realized early on: you have to social-distance staff, too, to cut down the chance of even a mini staff outbreak closing you down.
So the park created "bubble teams," grouping a few staff from each department to create the bubbles. Each bubble team works together at the resort, and does not interact face-to-face with other teams.
In winter terms, that would mean a bubble team of lift ops, F&B, rental shop folks, instructors, patrollers, groomers, snowmakers, and staff from other departments. Should one bubble member get infected and many bubble members need to quarantine, you lose a few from each department—instead of losing an entire department, which could shut you down.
Part II: Guest Safety Measures
While it's easy to say "social distance, wear a mask, wash your hands," it's not always easy to do. In a fun, outdoor setting, resort operators say, it gets confusing for guests. As a result, a process that seems likely to work sometimes does not. That's when good planning, a solid team, and the ability to turn on a dime comes in.
Heard's team thought they were ready. They put up crisp signage explaining the distancing rules. They placed what she calls "cute dots" in waiting areas and lines, encouraging folks to stay apart and know where to move next.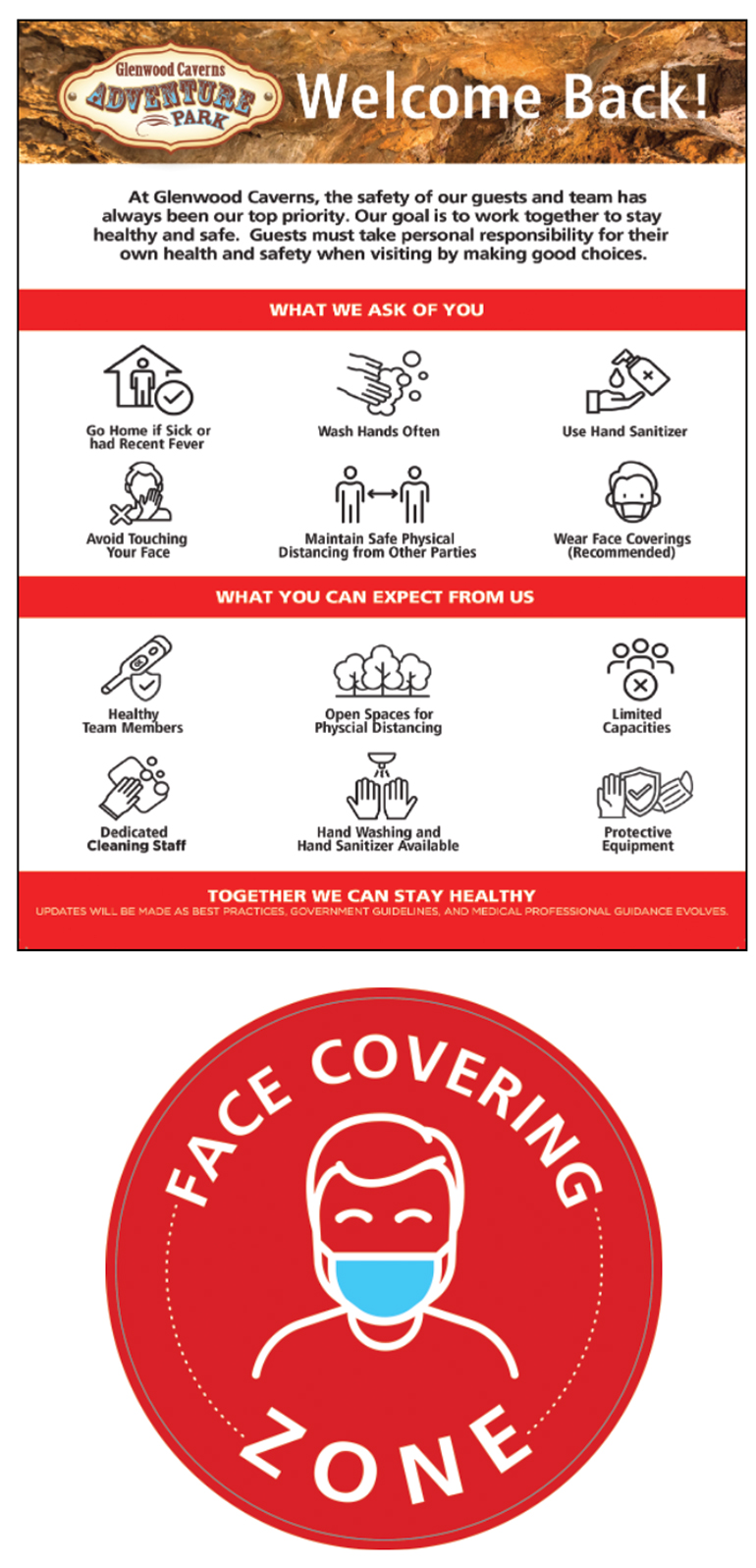 Posters on-site inform Glenwood Caverns guests about COVID rules and practices.
"But getting people to stay apart? It was a huge challenge," she says. "We found out quickly that we cannot maintain the six foot social distancing. So we added the rule of wearing masks whenever in line, even if you feel you are social distancing."
Encouraging Compliance
The next challenge: policing the rules.
To minimize the need for policing, the Caverns revamped its waiting lines, adding an empty row between lanes. The park also ramped up efforts to remind folks to mask at all times in line.
Getting smart about masks. Masking is, of course, an issue, with some people pushing back on the requirement. More and more people are claiming medical reasons for not wearing them, says Heard. What to do then? The Caverns gave guests three options: Wear it only while in line, take it off on a ride; purchase a face shield—available at cost in the gift shop—to use in its place; or accept a full refund or ticket for use after the pandemic is over.
Wilcox says they've had to face some of that as well. "We've had some guest pushback [about masks]," he says. "We just give them their money back and ask them to leave. That kind of breaks every customer service rule. But maintaining safety comes first."
Bottlenecking is an issue, too, and not as easy to solve as it might seem at first glance. Some solutions make the problem worse, not better. At the Caverns, block time reservations were a case in point.
The Caverns started the season asking folks who signed up for, say, the 10-to-noon time slot to show up between 10 and 11 a.m. That didn't happen. "Everyone showed up just before 10," Heard says. "We tried to avoid lines and instead we just created more lines."
The eventual solution? Staggered time slots that start every half hour, to space out the crowds. Sure, people all show up early for their start time, but with more times, the crowds are smaller.
The lesson? "Make sure your solution isn't worse than your problem," she says.
Online reservations gaining acceptance. Online, advance reservations can reduce crowding at ticket, rental, and ski school counters. Realizing that potential takes effort, though. At Cranmore, Wilcox says online reservations were a work in progress after the resort opened, but the public is catching on.
During the first week of operations, about half of the guests showed up without making reservations or filling out the required waiver in advance online. To deal with that, Cranmore placed staff at the end of the check-in line to ask, "Do you have a reservation?" Those who did not were shown how to do it right there on their phones. "The key was putting someone right out front," Wilcox says.
By early August, he notes, the number of pre-registered guests had risen to 70 percent. To further improve on that for the winter, the resort is investing to streamline the reservation platform, waiver system, and reservations overall.
Part III: Silver Linings
Greater visibility. Many New Zealand resorts found that, with no way for Kiwis to visit their usual winter-break beach destinations, they discovered their local mountains. As a result, resorts were wildly busy over holidays, and saw lots of new skiers and riders.
Time blocks in the tubing park. Cranmore has been using time blocks to control crowds (something the area tried last winter before closing). Wilcox expected that would reduce income, but the opposite happened. "It was a big 'aha!' moment for us," he says. "During that trial last winter, we were actually up 25 percent." The same trend held for summer ops. Time blocks also improved the guest experience because it was more controlled, with shorter wait times at the top and at the lift.
How (or if) that will translate to lift tickets, Wilcox does not know yet. "We're just at the very start of figuring all that out," he says.
Retail: lower capacity, higher sales. Similarly, at the Caverns, which limits the number of people in the gift shop, Heard anticipated that fewer bodies would mean lower sales. Instead, gift shop sales increased. "We are finding that people look more and spend more when they are not as crowded," she says.
Illuminating the path ahead. North American resorts have a lot to figure out. But the examples of summer ops and at Southern Hemisphere resorts provide an information baseline.