We know it's going to be different this winter, we just don't know HOW different. You need to stay connected with your audience as winter approaches, but what can you talk about when you're not quite sure what you will really be offering?
Just this: Focus on what matters most to your customers. This builds your brand for a long-term relationship—not just getting butts in chairlifts this winter. It may require a shift in how you typically communicate and the content you produce, but creating a lasting connection will pay dividends well into the future.
There are plenty of inspiring ideas to draw from, and not just in the ski industry. We can learn from these—and even improve on them—for the season ahead.
WHAT YOUR AUDIENCE NEEDS
First, step back a bit. Focus less on what your audience is doing and demanding, and more on how they're feeling. There are resources that can help with this.
Watch consumer trends. Consumer and traveler sentiment has evolved greatly since the shutdown in March. Consumer sentiment edged up with the prospect of reopening in late May, but then slid down again quickly. By mid-July, 55 percent of the public said the coronavirus situation in the U.S. was getting much worse, according to a Gallup survey. That was 46 percentage points (!) higher than the percentage who felt this way in Gallup's early June poll. Sentiment is likely to rise and fall regularly into and through autumn.
Consumer sentiment correlates with the number of those who expect to travel in the short term. Reduced bookings and stays in July bore this out.
What DOES the guest experience look like? To qualify the travel experience mid-pandemic, Collaboratory at Bull Stockwell Allen conducted a small survey of about 50 people who traveled in July. The vast majority had driven to regional resorts (primarily waterside) and stayed at large chain hotels.
Their experiences were decidedly mixed. All knew the experience would be different than normal, but many were still surprised by what they found. A large number pointed to experiences that made them leery about traveling again soon:
• It wasn't clear from day to day what was open or not. Plus, there was no forewarning (digitally), no signage, and the staff didn't know.
• Staff didn't know how to use required technology, leading to extra-long delays.
• Cleanliness was a mixed bag. Expectations had been set high, but visitors were disappointed to see that some things hadn't changed.
• Staff were inconsistent about wearing masks, even in public spaces, and this made the respondents unsure of whether they needed to wear masks.
This sort of intel is essential. Study your own guest surveys and broader customer sentiment trends. Drill down on industry surveys and voice-of-the-customer analysis in the general media. Focus as well on hot issues in your feeder markets and local community. They will be key to navigating the period ahead in two critical ways: building confidence and community.
INSPIRING CONFIDENCE
How do we build trust and moderate guest behavior while being "hospitable" and on-brand?
Much of the heavy lifting takes place before a guest sets foot onsite. Pre-visit messaging must properly set expectations and instill confidence. Communicating precisely what to expect, what to do, and how to navigate the on-site experience is vital.
Much of the hospitality industry has done a poor job of this to date. How? By touting high standards and technology, compliance measures, and admonishing about mask wearing—and then falling short.
Often, messages follow this formula:
1. We're open. (headline, first paragraph)
2. We want to welcome you back BUT keep you safe. (one paragraph)
3. This is what we're doing. (one very long paragraph about sanitization)
4. Oh, and this is all the other stuff that's changed and that you won't be able to do, sorry. (one paragraph)
5. So, come see us! (sign off)
Note: Obligatory paradise-like photos are sprinkled throughout.
This sort of communication dampens enthusiasm and suggests that a good local hike might be a whole lot less trouble.
Jay Peak, Vt., offers a good model for pre-visit communications. The resort's "EverClean Program," a cleverly branded on-site sanitization and social distancing campaign, also appears in outgoing communications that display a light, visually strong, and supremely on-brand touch.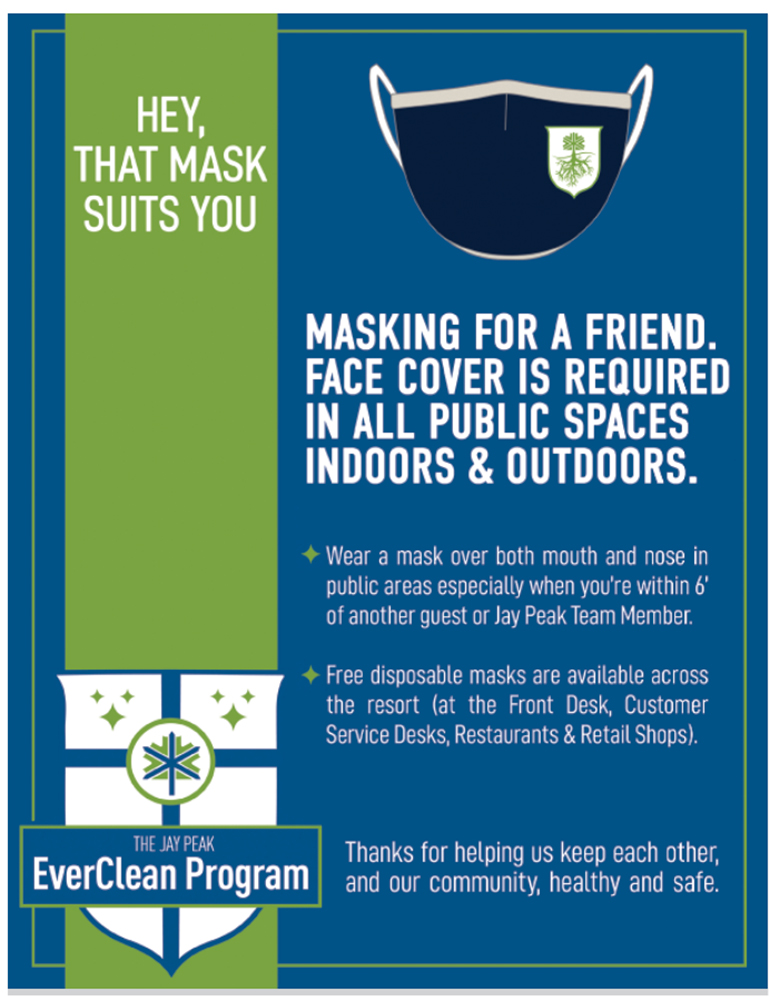 "The EverClean Program laid a foundation of operational guidance and safety for returning employees and guests," says Jay Peak director of communications and events JJ Toland. "They needed to see that we'd do our part to keep everyone safe." Maintaining that confidence is important for both employees and guests.
This strong brand voice flows through all of Jay Peak's messaging, adding to the resort's strong sense of place.
CREATING COMMUNITY
On an entirely different level from expectation-setting, we humans have a deeply felt need for community. Sheltering at home has heightened a sense of isolation.
Hospitality is about gathering, which right now is a challenge or banned outright. Still, some brands have created a shared sense of identity—the foundation of community—and have crafted opportunities to connect via digital content. This can create a bond between your audience and your resort, build enduring brand relationships (not just transactional relationships), expand your reach (with the potential to go "viral"), and even develop new revenue streams.
The key is to be useful, authentic, on- brand, and focused on forging long-term relationships. Here are some examples:
1. Be entertaining. What does a travel agency do when there's no actual travel? It taps into exquisite sense-based finds and stand-out creatives and thinkers from around the world, and asks provocative questions about travel. That's how Prior Club, a specialized, member-based travel agency, maintained engagement and built connections to the exotic experiences it typically arranges for members. At the same time, readers feel they're in an exclusive, refined mix.
How can you create this sense of audience and place?
2. Share your expertise. In the quirky Outdoor Voices campaign "Cycling with Rapha," companies teamed up to show (and sell) newbie women cyclists gear and know-how. Just as Prior Club created community by speaking in a very specific voice, Outdoor Voices speaks to a specific type of cyclist: the cycling newbie born of the pandemic.
How can you reach a new audience by addressing their needs in a smart, fresh way?
3. Provide a service. For gyms, the pandemic has been a nightmare. But online fitness has been booming. So Nike created US Sports camps, offering virtual training (primarily for kids) in basketball. The North Face created Summer Base Camp, a free online camp experience for people of all ages, encouraging them to build skills—and share via social media.
Can you offer online group training to get guests ready for the season ahead—while building community?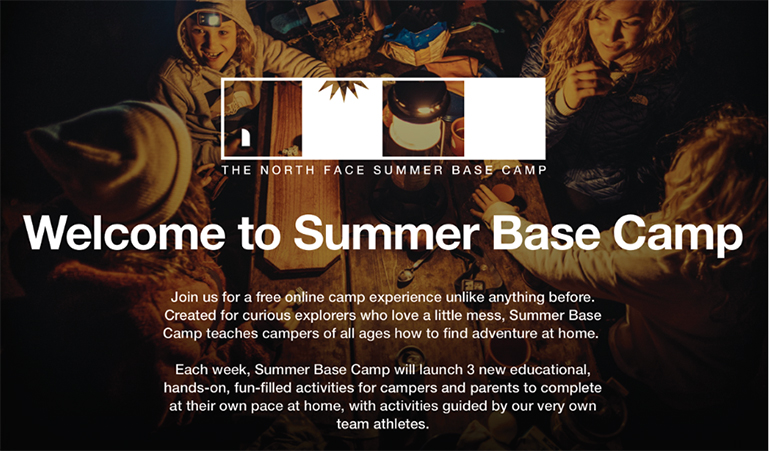 4. Create virtual experiences. Experiential African and Indian travel company &Beyond has created outstanding virtual experiences—from courses on identifying animal tracks to reading lists to a video channel—that entertain and advertise post-pandemic adventures. Its WildChild party ($200 for 10 participants, complete with personalized invitations) allows kids to go on virtual adventures with wildlife rangers.
Can you find ways to let people experience skiing and riding, or educate them to appreciate nature beyond the slopes?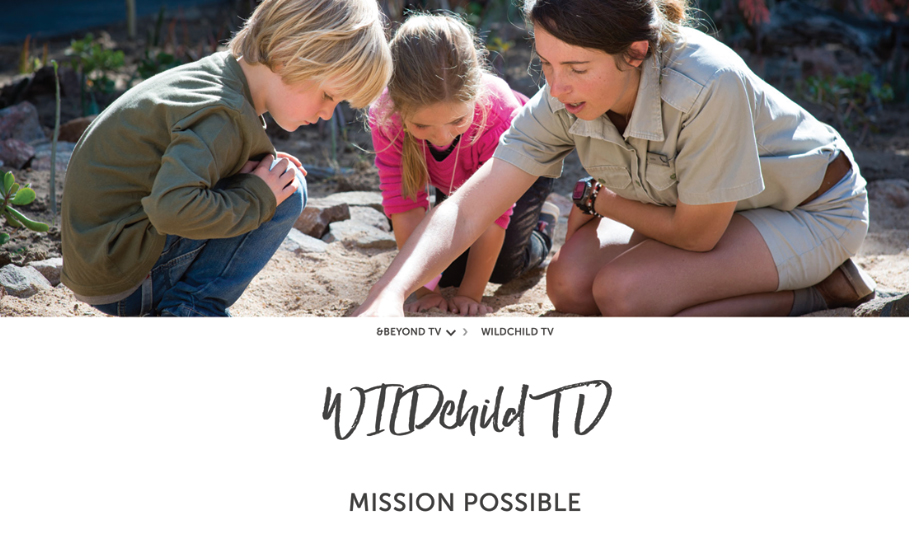 5. Forge connections. Creating connections between fans, new or old, activates brand loyalty. Several areas have held digital "disco nights." Or, run Zoom sessions for affinity groups such as families, race teams, newbie skiers, backcountry skiers, etc.
How can ski areas create a community of fans before they even hit the slopes?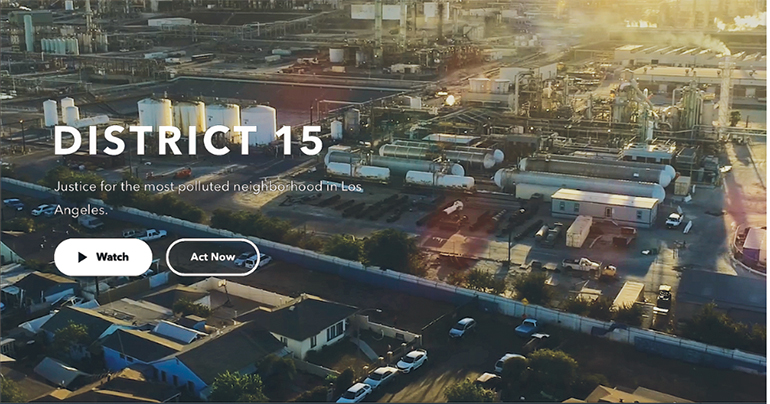 Patagonia's environmental activism engages fans.
6. Embrace activism. Patagonia creates community (and brand affinity) through its strong values and environmental activism, as does Aspen Snowmass. Premium tableware manufacturer East Fork brings together its youthful audience around LGBTQ and racial equity causes. It's kept this alive through fundraisers, even when its Asheville-based manufacturing facilities shut down earlier this year.
How can you engage and unite guests and fans in activism, and raise awareness and support for causes you care about?
BUILDING FOR THE FUTURE
In the near term, your communications can help set guest expectations, guide behavior, and create community. Long term, the strategies here can power a brand- and relationship-building campaign that attracts new fans and deepens loyalty among existing ones.
So, buckle up, because the goal now is not just to survive—but to thrive.