LITTLE SKI HILL, ID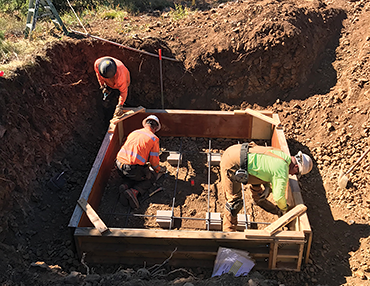 At 405 vertical feet, Little Ski Hill in McCall, Idaho, only needs one lift. For 49 winters, the ski area's six runs were served by a Hall T-bar. But the lift was difficult for children to ride and was becoming increasingly expensive to maintain. So this summer, the area replaced the old Hall with a new variable speed T-bar from MND Ropeways (formerly LST). The new T-bar has a bottom drive with a hydraulic tensioning system and moves about 1,100 pph on the 2,000-foot-long lift line. The variable speed function allows the new T-bar to spin at slower speeds, making a smoother ride for kids. And the new lift towers, which have built-in ladders and work platforms, unlike their predecessors, will provide easier, safer access to the lift for maintenance.
COVID complications caused shipping delays on parts arriving from Europe, so the project got off to a late start. Nonetheless, the project went smoothly. Demolition began in late summer and the construction team was pouring concrete by late September. The new T-bar follows the old lift line, and only minor regrading was needed for the new top and bottom terminals. Manager Colby Nielsen anticipated the installation, which was being done by Highlander Ski Lift Services, would be complete by mid-November.
Little Ski Hill is also replacing its existing trail lights and building a new 1,020-sf maintenance-building-cum-lift-shack that's big enough to house a snowcat and provide winter work space/summer storage.
The total bill came to $1.2 million. On top of funding from the Albertson Family Foundation, Little Ski Hill raised capital through events, including a T-bar sale. It also received materials and in-kind donations from local contractors, electricians, and excavators working on the projects.
"Everyone is excited," says Nielsen. "We are the local hill where all the kids learn how to ski, so this is big news for everyone."
BIG SKY, MT
Big Sky plans to install the Swift Current 6, a D Line Doppelmayr six-pack with heated seats and blue bubbles, to replace the Swift Current 4, a major artery out of the base area. However, due to COVID-related uncertainties, the area postponed completion to summer 2021.
This summer, Big Sky got a jump start on the new lift line and chair storage barn. The new Swifty will start about 80 feet up from the old bottom terminal to create more space for traffic and lines in the Mountain Village base area, which it shares with the eight-person Ramcharger. The new Swift top terminal is also 80 feet away from the old site, and there was space to begin work on the new barn. Construction was managed by Rocky Mountain Rustics. The relocation of the top terminal required crews to cut a new upper lift line through several tree islands.
All of the excavation and foundation work for the 19,200-sf barn is complete, including footings, masting, and retaining walls. Crews installed 110 micropiles to support the barn's foundation. The 5-inch-diameter holes were drilled 60 feet down, then crews inserted steel rods and filled the holes with grout. "That was a big portion of the summer construction," says VP of operations Tom Marshall. When the storage barn is completed, three rails will hold the lift's 125 chairs and 38 bike carriers, and house a control room, grip bay, and small ski patrol post.
When completed, the Swift Current 6 will travel at 1,200 feet per minute and increase uphill capacity by 25 percent, carrying 3,000 pph. It will use a gearless Doppelmayr Direct Drive. Beyond the deluxe D Line chairs, the lift will have an adjustable loading carpet and auto locking/unlocking restraint bars. Lift storage will be fully automated as well.
The lift, the resort's fifth major upgrade with Doppelmayr in the last five years, will be part of what Big Sky calls the most technologically advanced lift network in North America.
CHINA PEAK, CA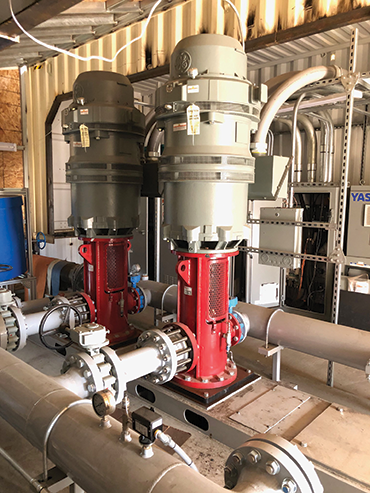 Since CEO Tim Cohee and partners bought China Peak in 2010, California has been through six years of drought. Previous owner Snow Summit had installed a patch-and-fill snowmaking system that lacked the capacity to surface trails without a natural base. Coverage was high but the piping was small, the pressure was low, and the system could only pump 1,200 gpm.
In summer 2019, Cohee and company decided a snowmaking system upgrade was essential for the area to open all the major lifts and most popular trails by Christmas.
First on the agenda was getting more water. The old snowmaking system was supplied by a creek; the new system, installed in 2019, carries water from Huntington Lake up to the resort's lower pump house, using 6,000 feet of 11-inch aluminum pipe and two pumps.
China Peak then added a third pump house and refurbished its existing two that were built in the late '80s. The new 1,000-sf structure houses three 400-hp pumps, each with 750 gpm capacity. In total, the upgraded system can pump roughly 4,000 gpm.
This summer, the crew replaced 15,000 feet of 4-inch snowmaking pipe with 6-inch pipe. A 12-inch mainline was also installed. It runs about a mile up from the base area and acts as a manifold for the wider snowmaking network. Isolation valves were installed at five critical junctions on the mainline because water can be pumped both up and down the pipe from the various pump houses.
The excavation work was done by an in-house team coordinated by Troy Cohee and mountain ops director Jennifer Brown. Towlsey Construction supplied the pipe and did the welding. Jay Collins and Bill Killebrew consulted.
China Peak also installed 30 Ratniks and 100 new HKD low pressure guns, thanks in part to an NSAA HKD snowmaking grant and a $50,000 rebate on the installation. Cohee was seeking an additional USDA grant of $250,000 for compressed air efficiency.
The $3-million project was on track to wrap in late October, despite a delay when the Creek Fire blazed through China Peak in mid-September, causing $1 million in damage.
REVELSTOKE, BC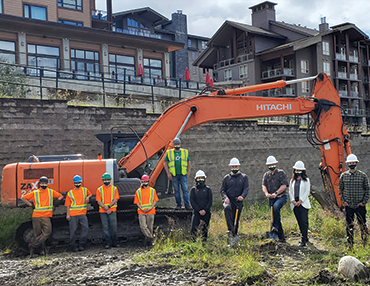 Revelstoke has begun the next project in Phase 2 of its 10- to 15-year master plan: the Selkirk Tangiers Hotel. The 124,420-sf luxury hotel in the resort village will also serve as the new home base of Selkirk Tangiers Heli Skiing. It will have 154 rooms, a 7,300-sf restaurant and bar, more than 6,700 sf of conference space, and an integrated fitness center and spa. There will be three heli-pads adjacent to the property, which will be connected to the main village plaza by a pedestrian walkway.
The resort has 220 condo and suite products, but this project adds a more traditional hotel option. Heli-ski guests are expected to occupy 40-50 percent of the accommodations during peak periods. The new conference space will also be "a game changer for shoulder season," says VP of operations Peter Nielsen. "It's been a real hole in Revelstoke's quiver of amenities."
The new hotel will have ample windows to capture natural light, with views to Mount Mackenzie or across the valley at Mount MacPherson. While the aesthetic will be modern, rooms will be accented with natural touches.
Revelstoke's internal construction division has been leading the project and began work in July. The build is expected to take 30 months, which implies a winter 2022-23 opening. While staffing was more challenging than normal due to COVID-19, the project is on track so far. The crew began pouring footings in mid-September, and aimed to have the foundation in and the road graded before winter set in. "We are pretty excited to move forward with this project in what has been a tough year," says Nielsen.
The resort also planned to break ground on a golf course this fall and, over the next few years, intends to add base area and real estate offerings before expanding terrain, lift access, and on-mountain facilities.
WHITEFACE, NY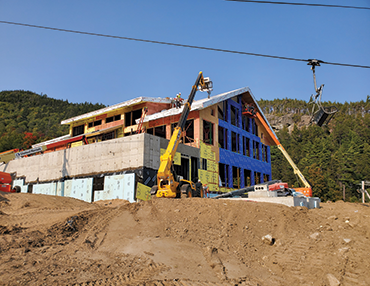 This summer, Whiteface broke ground on a new Mid-Station Lodge to replace the original, which was destroyed in a 2019 fire. It also upgraded two lifts as it prepares to host alpine events for the 2023 World University Games. Whiteface also built a new pump house to boost its low pressure snowmaking system, phase one of a multi-year snowmaking upgrade.
The new 14,000-sf Mid-Station will retain the flavor of its predecessor with some notable improvements. Whiteface worked with SE Group and ORDA planners to relocate the lodge and redesign flow. The new non-combustible steel frame structure will be sheathed in fiber-reinforced concrete panels and fiber shingle siding that emulate real wood but last longer (and won't burn). The lodge retains the southern exposure of the old lodge and has a 2,500-sf sundeck. Basic amenities on the main level of the lodge will open this winter, though the building won't be complete until the 2021-22 season.
On the lift front, the resort's 1999 Doppelmayr gondola was refurbished with 60 new eight-passenger cabins, new drive, drive motor, and comm and fiber lines. The mountain also installed a new Skytrac fixed-grip quad to replace a 1986 Riblet triple in the Bear Den beginner area. The chair services 250 vertical feet on a 1,674-foot slope length. It can move 2,000 pph and has a Chairkit conveyor load system. In a post-COVID future, this will allow larger learning groups to ride together and reduce stops and slow-downs. The lift will open in December.
GORE MOUNTAIN, NY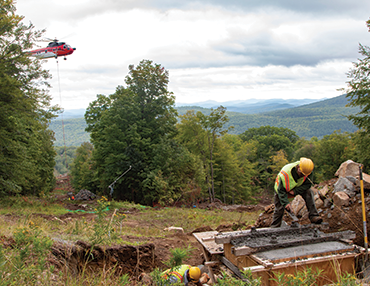 Gore installed two new chairlifts this summer and is completing a snowmaking project that began in 2018. The new chairs both replace old Riblets.
A new Skytrac fixed-grip quad replaces the 1986 Sunway double, which serves base area beginner and intermediate terrain. The 3,232-foot-long quad covers 545 vertical feet and can move 2,000 pph. It has bottom drive and tension and will include a Chairkit loading conveyor.
The lift's alignment extends uphill of the old top terminal. Significant blasting was done for the new tower foundations, and the unload area was contoured to allow easier trail access. The trail work also improves the beginner skiing experience. Work began in June, and will wrap before Thanksgiving.
Work on the new High Peaks chair, a Leitner-Poma fixed-grip quad, began in August to protect the habitat of the Bicknell Thrush. The new lift serves the summit and provides easier access to the trail system; the 1966 Riblet double it replaces stopped short of the summit. The new quad, set to open in early December, carries 2,000 pph and has bottom drive and tension. It climbs 780 vertical feet and is 3,467 feet long. Clearing ledges and bedrock for the modified lift line allowed Gore to regrade and widen one of its major thoroughfares. It will now take less snow to open the trail as well.
On the snowmaking front, Gore expanded its reservoir from 25 million gallons to 40 million and upgraded the line to the pump house from 10-inch pipe to 24-inch. Along with a new pump house, this increases capacity from 4,800 gpm to 6,800 gpm.
MT. VAN HOEVENBERG, NY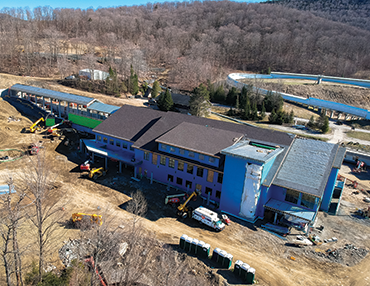 Mt. Van Hoevenberg, site of XC and ice-track events during the 1980 Winter Olympics, is transforming into a brand-new venue. The centerpiece: A 50,000-sf lodge that will house the usual amenities—guest services, seating, and restrooms—as well as a 250-foot-long running track, a weight room, and Nordic training facilities. It will also boast a 500-foot-long refrigerated push track, which will start on the third floor, arc down to the ground floor, and then sweep back up, cutting through the center of the building.
Groundbreaking took place in summer 2019; the lodge will open for Christmas 2020, although the push track won't be completed until early 2021.
Mt. Van Hoevenberg is also constructing a biathlon and cross country stadium. Five kilometers of trails—2.5 km of which are paved for summer roller skiing—were completed in 2019. This summer, teams installed snowmaking infrastructure—including a 3-million-gallon reservoir and 170 HKD snow guns.The site has also installed a 7,000-foot-long ADG mountain coaster that mimics the alignment of the 1980 bobsled track, descending about 500 vertical feet. The cars, with a top speed of 25 mph, resemble small bobsleds. An audio system pipes in the sounds of the bobsleds, crowds, and commentary from the 1980 Games.