Eight months ago, when the pandemic quickly tightened its grip on North America, the beginning of the next winter season seemed a lifetime away.
Since then, the pandemic's grip has remained tight—but so has our industry's focus on business continuity. The complicated yet surprisingly successful summer shone light on our ability to adapt. As the reality set in that the pandemic will be with us all winter long, we Huddled, we collaborated, we shared—and as a result, by the time you read this, ski areas big and small are firmly propped up on a collective kickstand that we built together over the last few months.
As this issue of SAM arrives, the plans your ski area has developed to offer a relatively safe experience for both staff and guests are about to be put to the test. If the consumer demand for outdoor experiences continues as expected, there should be no shortage of guests eager to visit ski areas this winter. So, we have that going for us.
Even though we're knocking on winter's door, the best-laid plans may still need exploration. This issue contains some final thoughts and advice for snow play options, plus protocol ideas for snowsport school, rental, and tubing. We even suggest what to do if and when those best-laid plans fail, and the novel coronavirus infects staff and/or guests at your area.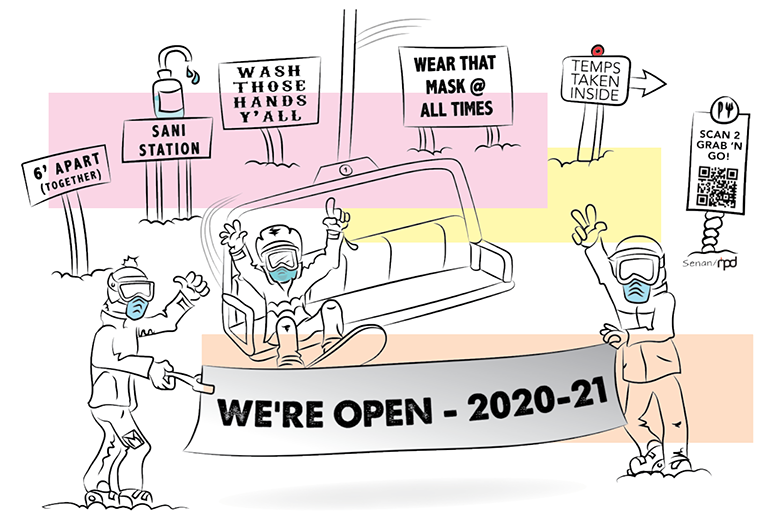 Everything in this special "Opening 2020" section is a continuation of COVID-related ideas presented in earlier issues (July and September) and of our Huddles, special online content, and even this year's Summit Series Bootcamp: Resilient Leadership Training. Our aim, as it has been since the pandemic began here eight months ago, is to help the mountain resort industry persevere by connecting, informing, and inspiring.
It's been a long road to get here, but the trip is only just beginning. We sincerely hope that SAM has been a useful partner on this journey so far. As always, we'll be here to help you navigate through every twist and turn, pothole and speedbump, and, yes, on to the relatively smooth roads to come.