CUSTOM CARRIER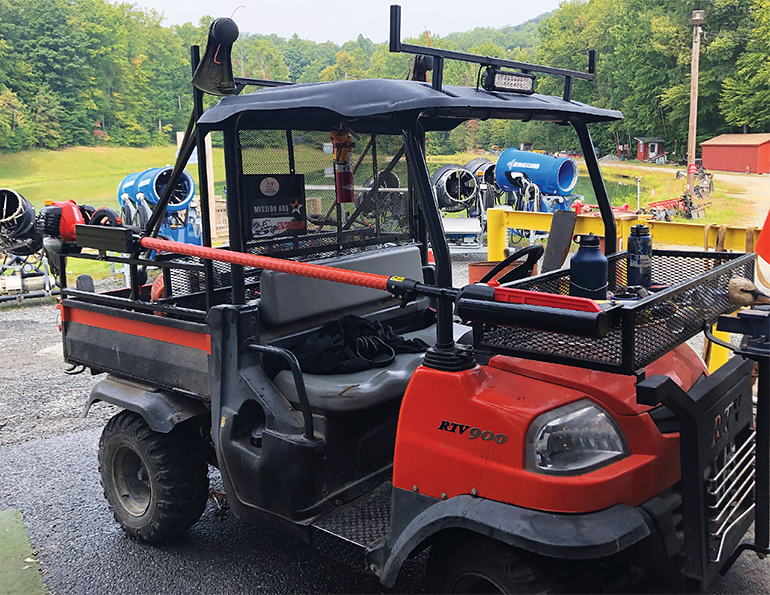 Bear Creek's Kubota RTV is one versatile machine—note the multiple custom racks on front, back, and roof—but carrying a pole saw typically resulted in the extension tube getting damaged. After purchasing a new pole saw, "We wanted to keep it secure and safe while traveling around the mountain," says vehicle maintenance manager Mike Shoemaker. So the crew fabricated a custom rack for it. The front mount is made from three-inch pipe and angle iron; the rear mount, from a piece of four-inch box tube and a chunk of tower pad foam, to cushion the handle. To load, the saw bar slides into the front mount, and the handle securely rests in the foam.
TRACK REPAIR STAND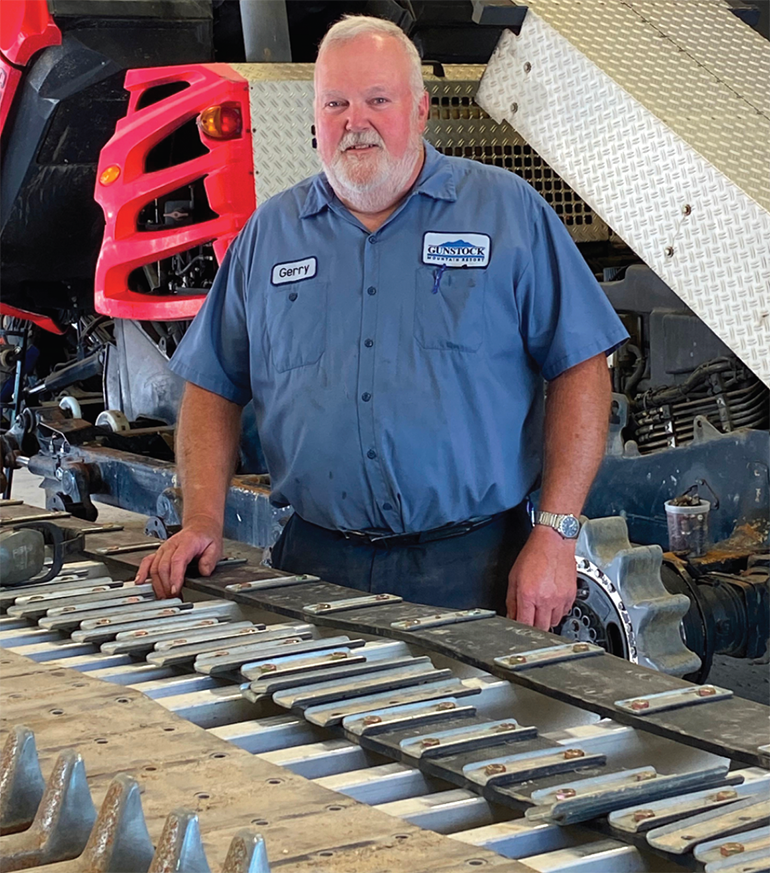 The Gunstock (N.H.) Mobile Maintenance Department staff, led by manager Gere Flewelling, came up with a way to rebuild groomer tracks comfortably and efficiently. Formerly, tracks were lifted up onto their side for rebuilding with the use of a chain falls and large lifting bar. Belts were then removed one at a time and new ones muscled into place while attempting to get the 1,100 bolts put back in place. Crews spent a lot of time working on their hands and knees.
For Gunstock's new cats, PistenBully recommended that tracks be rebuilt in the horizontal position to allow all bolts to be installed prior to being torqued. So, using an old tensioning axle from a groomer, some old solid tires and six-inch channel steel, the Gunstock team fabricated a portable track repair stand upon which a track can be set and rolled out. This allows the mechanics to work safely and at a standing height, and also work from both sides of the track. Once rebuilt, the track can be rolled back up on the stand and lifted off in a rolled up state. This unit also makes it possible to do emergency drive belt repair during the winter without having to make repairs outside.
REMOTE SWITCH COVER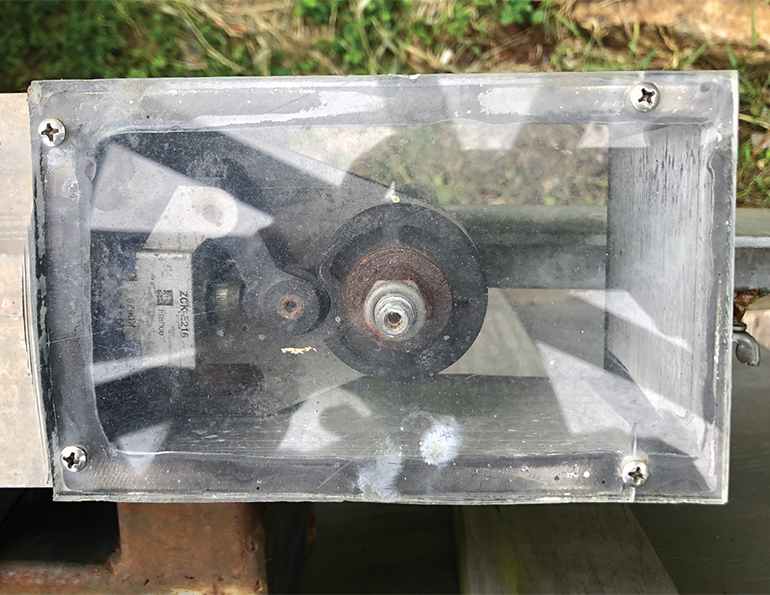 Mid-Atlantic winters typically harbor high humidity, with ample precipitation and snowmaking activity. "After the sun sets on our east-facing slope, things tend to freeze up a bit," says Joe Milnes, former lift maintenance manager at Bear Creek, Pa. That includes the steel plungers on limit switches. To keep the weather out and allow the limit switch "wand" to be actuated properly, the team built custom covers. This model is a slip fit. It has a small aluminum frame, with a Plexiglas window to provide easy visibility for operations. The frame is made from aluminum scrap sheeting MIG welded together with the window in place. Other models have a "set bolt" that can be tightened to ensure an errant gust of wind does not dislodge the switch cover.