Winter 2020-21 was a strange one, but it didn't stop terrain park crews from building creative and progressive elements for their faithful to enjoy. The following examples from all over North America are evidence of that. From tried-and-true features that continue to be refined to unique multi-element set-ups and a growing focus on flow, last winter's park scene did not disappoint.

To celebrate it all, the 16th annual terrain park contest is back—with a twist. We replaced the "Terrain Park Events" category with "Terrain Park Edits" this year because content is king, and park edits are royalty in the skiing and snowboarding world.

Click on the following buttons to view the entries in each category—Feature, Bread and Butter, and Park Edits. 
---
FEATURES
BARRELS OF FUN
GIANTS RIDGE, MN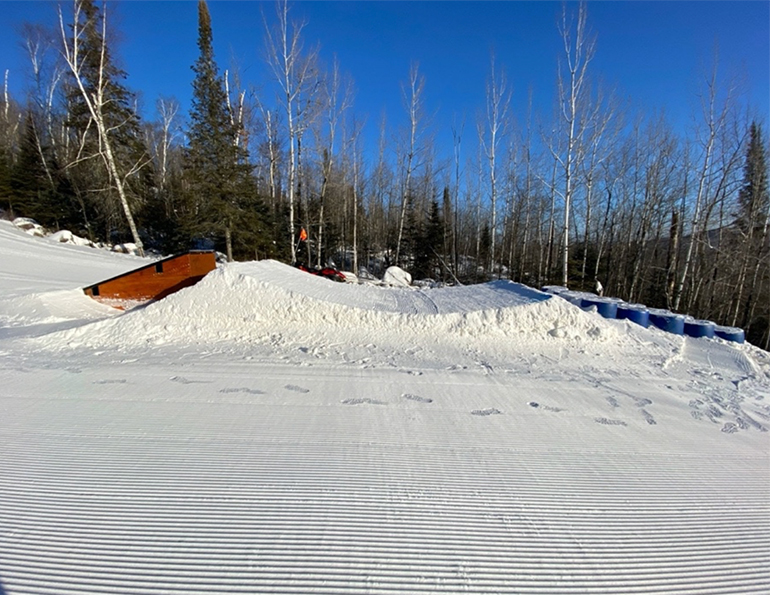 This new combo feature starts with a 4 ft. tall and 8 ft. long launch box, followed by a 30 ft. U-shaped butter pad, and a staircase of 25, 50-gallon barrels (five wide, five down). The launch box started life as an old A-frame box that was no longer in the feature rotation, so the crew cut it in half, reduced the angle, and reinforced it to make it sturdy. The barrels are ones used by the lift maintenance department for chairlift load testing, but lifts let the park crew use the barrels for the stairs. The combo was built in early February. It took three crew members about four hours to set it all up, which consisted mostly of hand work. It was one of the more creative and popular features at Giants Ridge last winter.




THE ICE CUBE
WACHUSETT, MA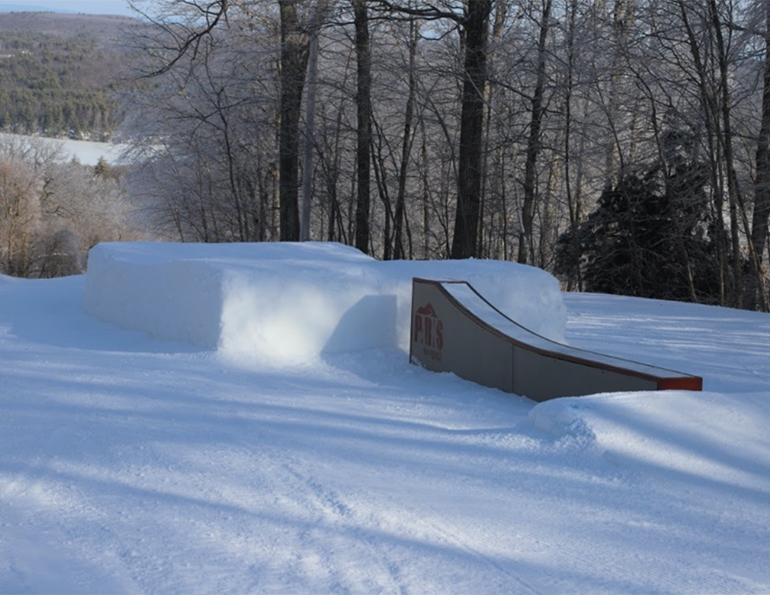 This feature was built during the 2019-20 season. Inspired by a feature in a Level 1 production, the Ice Cube starts with a 16 ft. whale-tail box to a 20 ft. x 14 ft. concave snow-cube/butter pad, followed by a 16 ft. down box. To build it, the cube was shaped with a Prinoth Bison and then the two boxes were set on either end. To ensure straight transitions, the boxes were lined up using lengths of rope. The top of the cube was maintained by hand, while cats maintained the rest. Guests appreciated the effort and creativity that went into the feature: This build helped the park crew win an on-going interdepartmental contest that awards a polar bear to the department with the highest Net Promoter Scores. 



HEAVY METAL COFFIN
PINE KNOB, MI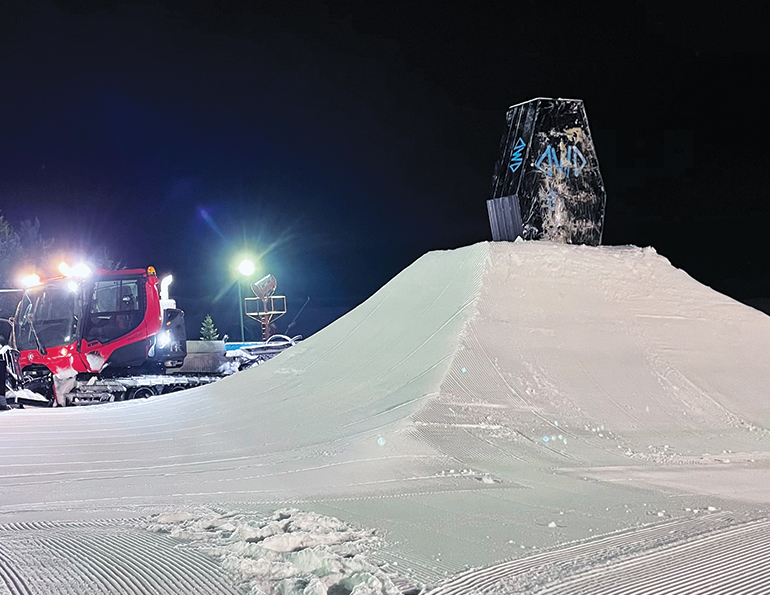 Pine Knob park manager Matt Dunn had several inspirations for this ominous feature—built last year in collaboration with Dinosaurs Will Die snowboards—including Black Sabbath on replay. The feature is 12 ft. long, 5 ft. wide at the shoulders, and weighs about 1,200 lbs. Dunn's mom, who helps run a local funeral home, helped determine the angles and ratios for the design. The outer walls are made of four stacked 2 in. X 6 in. steel tubes, and ribs of 1.5 in. X 1.5 in. tubing support the exterior sheet-metal surface. It can be set in any orientation: a monolith on a quarterpipe, a flat-down rail, butter box, etc. The coffin is also a time capsule: welded inside are a sheave wheel from a 58-year-old double chair that was removed ahead of last season, a surgical mask, and "a poetic note depicting the history of the chair, the current state of the world, and hopeful words for the future," says Dunn.





THE WAVY GRAVY HALFPIPE
WOODWARD TAHOE / BOREAL, CA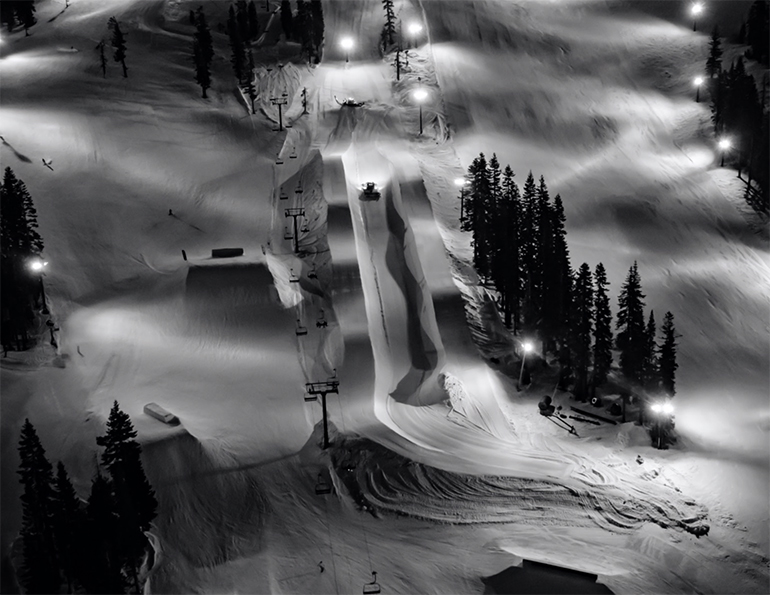 The Wavy Gravy Halfpipe was Woodward Tahoe/Boreal's most unique feature of the season. The "wavy" decks of this 465-foot-long pipe resulted in different wall heights down the length of it—the high points were 18 feet tall and low points were 15 feet tall. The high and low points of each wall were offset so the take-off points were similar as riders went down. It took the park crew and SPT builder Andrew Erath 15 days to build using a PistenBully Park Pro and a Prinoth Sherpa with an 18-foot Zaugg pipe cutter.





HIDDEN TAPE WALL RIDE
BRIGHTON SKI RESORT, UT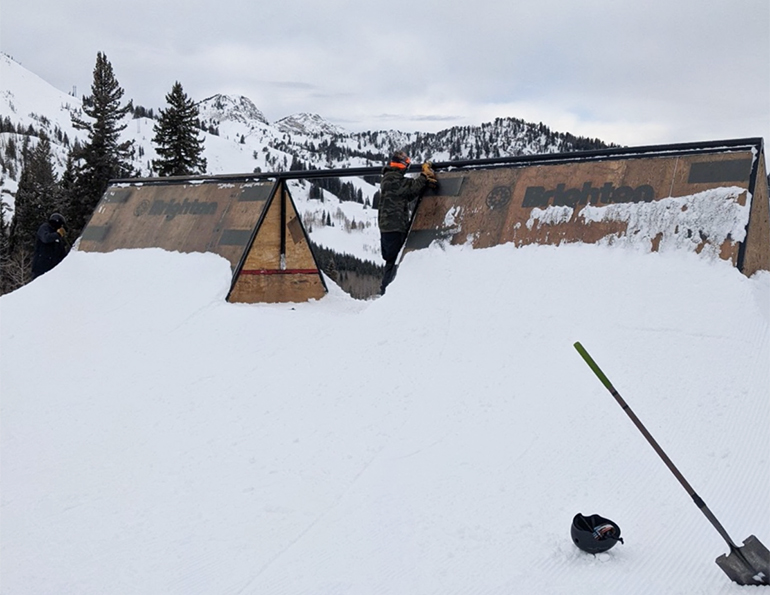 This dual A-frame "hidden tape wall ride" was inspired by the "hidden tape challenge" in the Tony Hawk Pro Skater video game. It was a tricky feature to set in the park, but well worth it. Each wall is 8 ft. high, 12 ft. wide, and 6 ft. deep. An 8-foot-long round cross bar connects the two. Fabricated by Chad "Mouse" Joice, it's constructed of SMAW welded square stock for the frame, round stock for the coping, plastic covered plywood on the front walls, and 2 in. x 6 in. horizontal boards on the back riding surface. It was assembled on-hill by four diggers and a cat operator. The cross bar is bolted on the walls, requiring each wall to be perfectly in line and level. The coping is flush from all sliding directions, with a smooth, consistent transition on and off the wall rides.



MEGALODON
MT. HOOD MEADOWS, OR
PHOTO: BEN MITCHELL
SKIER: HUDSON KNOLL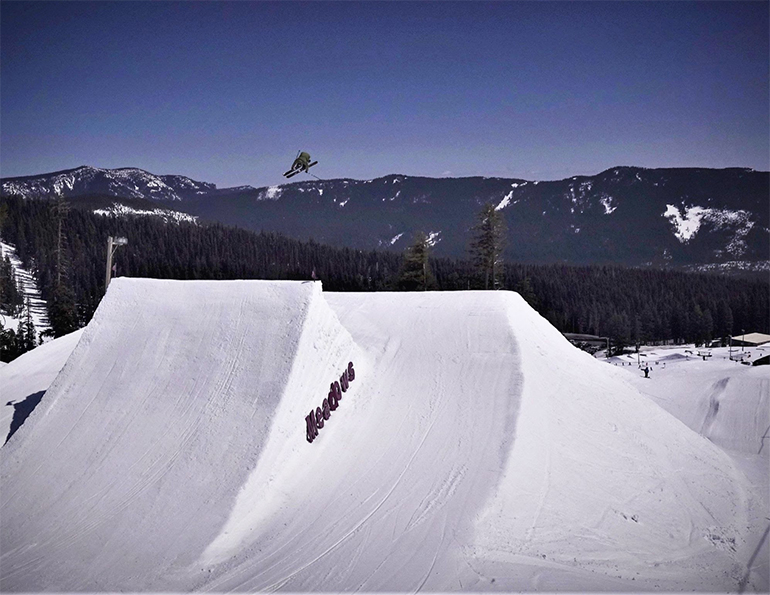 Guests had been asking for a large jump. So, after a storm dropped more than 150 in. of snow in the spring of 2021, the Mt. Hood Meadows park crew took advantage of the bounty and constructed this 60 ft. booter, dubbed "Megalodon." Located in the banked slalom zone just above the halfpipe and accessible from the lift, the team had never built a jump in this spot before. It started as a large two-pack of jumps, but they decided to push them together to build one huge jump. The entire build took five days: two PistenBully 400 Park Pros worked 12-hour shifts for the first three days on the landing and in-run, and the takeoff took one cat two 12-hour shifts to build due to challenging snow conditions. The hand crew worked alongside them for the finishing touches and daily maintenance.

 


PEACE OF SKATE PARK
KILLINGTON RESORT, VT
PHOTO: DEAN BLOTTO GRAY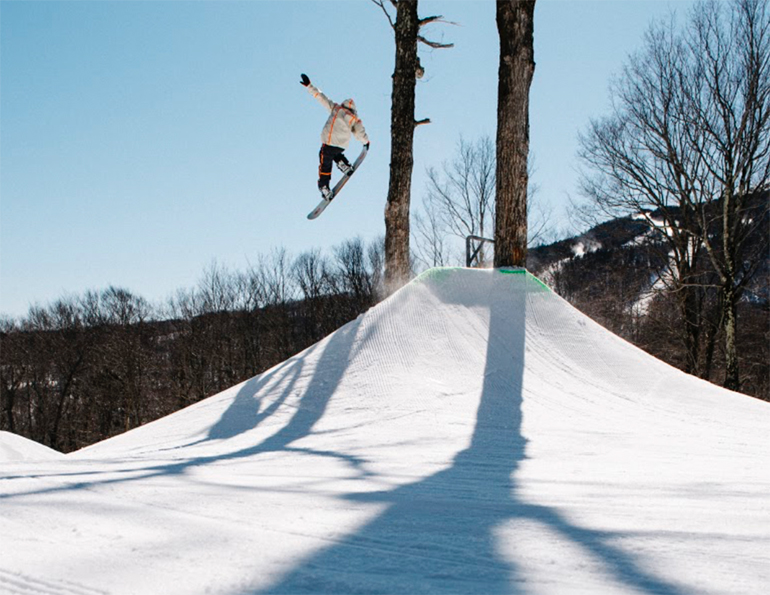 Killington's Peace of Skate Park is a unique section within its Woodward Peace Park. The Peace Park is a top-to-bottom park run that's 80 percent snow features, with steel hits mixed in to enhance the flow and provide options for creativity. The Skate Park was built toward the bottom of the park. It includes features such as a hip/tree-tap with a redirect, quarterpipes, and other more skate-like elements that make it fun for pros and newbies alike. It was designed with all ability levels in mind.

 
 
FOUR-FOR-ONE
BLUE MOUNTAIN, PA
PHOTO: KRIS HANTZ
RIDER: CHRISTIAN SOLBERG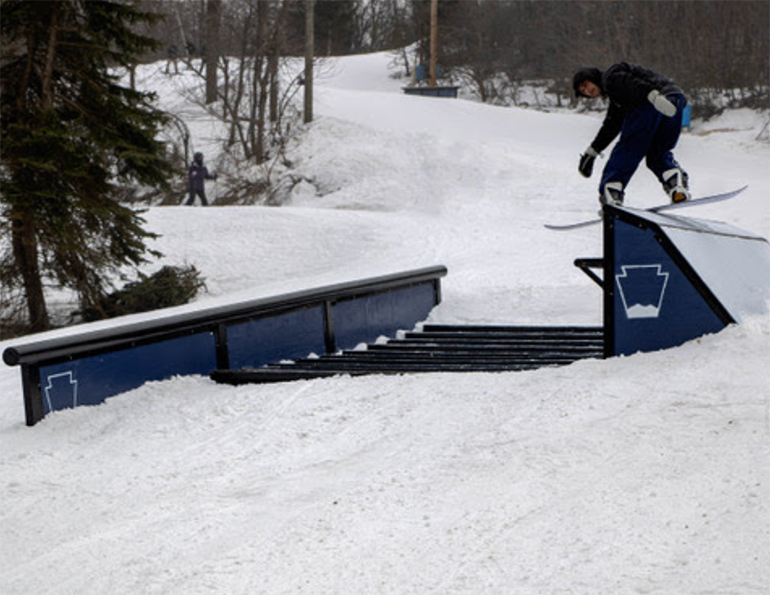 The team at Blue Mountain put together this four-feature set-up for opening day 2020. It combines a 24 ft. long rail, two sets of 8 ft. wide stairs (one with six stairs, one with four stairs), and a 12 ft. long wall ride with an 8 in. deep creeper ledge, all fabricated in-house. Everything but the stairs, which are made from recycled parts of old features, is made from new materials. The rail is a 4 in. round stock pipe set on a frame of 4 in. x 1.5 in. square stock. The wall is 4 ft. high and 4 ft. wide at the base with a 0.5 in. Tivar 1000 Natural Plate sliding surface. Ten crewmembers set this combo in the snow. A PistenBully Park Pro set the heavy wall, and the diggers set the other features by hand using flat shovels, picks, and Coastal Jib park rakes for the finishing touches.




SUNRISE JUMP
MT. SPOKANE, WA
PHOTO: MIKE MILLER
SKIER: KONNOR RALPH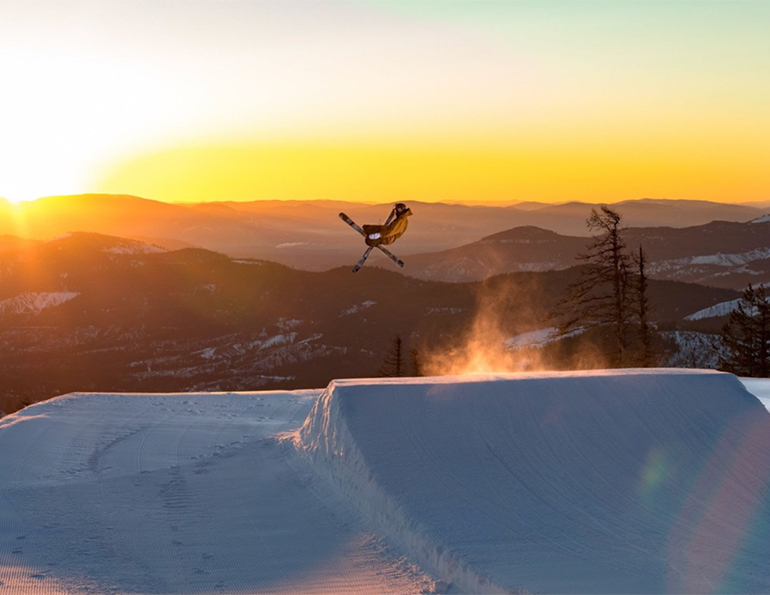 This 40 ft. jump at Mt. Spokane was built Jan. 12 by operator Alec Ferraro with a PistenBully Park Pro 400 as part of a two-pack jump line that's popular with intermediates to pros. It was used for a sunrise photo shoot in collaboration with Wy'East Academy from Mt. Hood, Ore., which required a team of people—and a little luck—to execute. The park crew arrived at 5 a.m. with their Arena Snowparks rakes and the cat operator changed his schedule to groom the jump last so it would be soft at 6 a.m. when 20 teenagers showed up on-hill to hit it. The lift maintenance team and mountain manager shuttled the teenagers up to the jump. All that was needed for the photoshoot be a success was for the perfect sunrise to show up, and it did.  


SEB TOOTS SIGNATURE FEATURE
BLUE MOUNTAIN, ON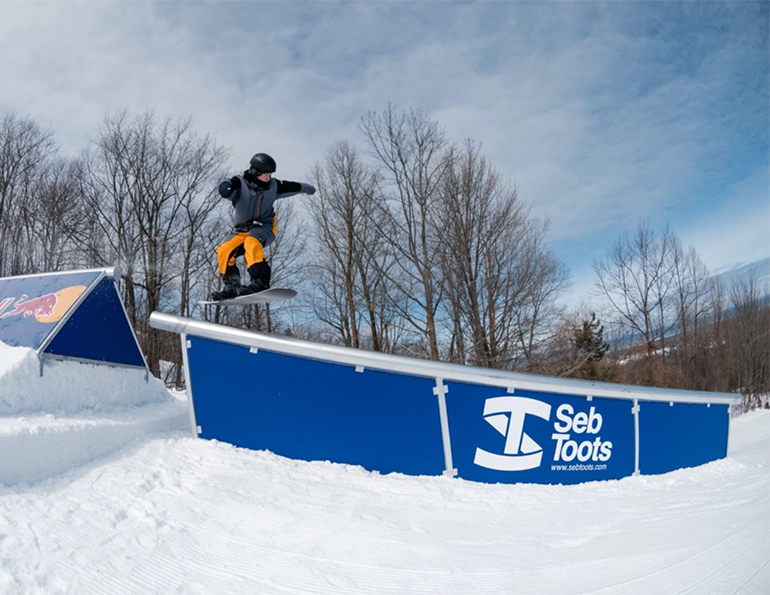 This pyramid spine with a down-rail transfer is the brainchild of Olympic gold medalist Sébastien Toutant. Funded by Red Bull and built by Coastal Jibs in Sherbrooke, Quebec, the "Seb Toots Signature Feature" was in Blue Mountain's Badlands Terrain Park. The pyramid is 20 ft. long and 30 in. tall. The down bar is 20 ft. long and 36 in. tall. The panels of both features have a clear Lexan coating, which shines under the lights at night. There's a 30 in. gap between the two features with a 20 in. drop. It took about four hours for three park-crew members to set the combo. Angles and approach were key. A cat built the pyramid deck and a chainsaw and rakes fine-tuned the deck and takeoff. Despite its size, park-goers of all abilities hit it from a variety of approaches, including using the pyramid as a mini wall ride. 




GET DOWN
ASPEN SNOWMASS, CO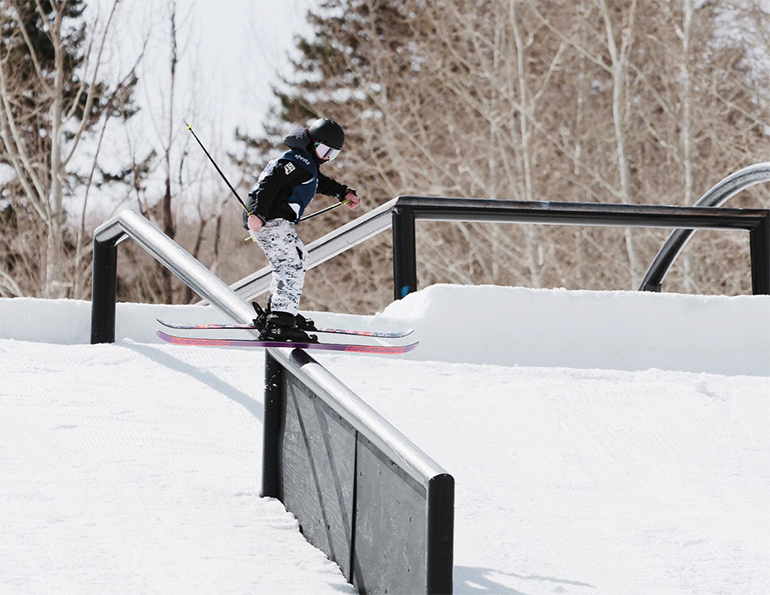 Word came in late January that Aspen would be hosting the 2021 FIS Freeski and Snowboard World Championships March 8-16, originally scheduled to be held in early February in China. With just a seven-day build window following other events and training camps held at the Aspen Buttermilk venue, the park crew rebuilt this rail section in a completely new alignment fit for an internationally televised competition. This big down bar, located in the first of three rail sections on the FIS course, was a hit. Made from 6 in. pipe, it's about 6 ft. tall, 25 ft. long with a 2.5 ft. flat. A fairly straightforward feature, what made it special was the many approaches competitors—and later, guests—took to using the rail in combo with other features, such as transferring laterally over the hitching post (right behind the down bar) before jumping onto the rail for a more difficult second trick.




LIBTECH POLY
THE SUMMIT AT SNOQUALMIE, WA
PHOTO: STEVEN TINNELL
RIDER: DEREK BIRD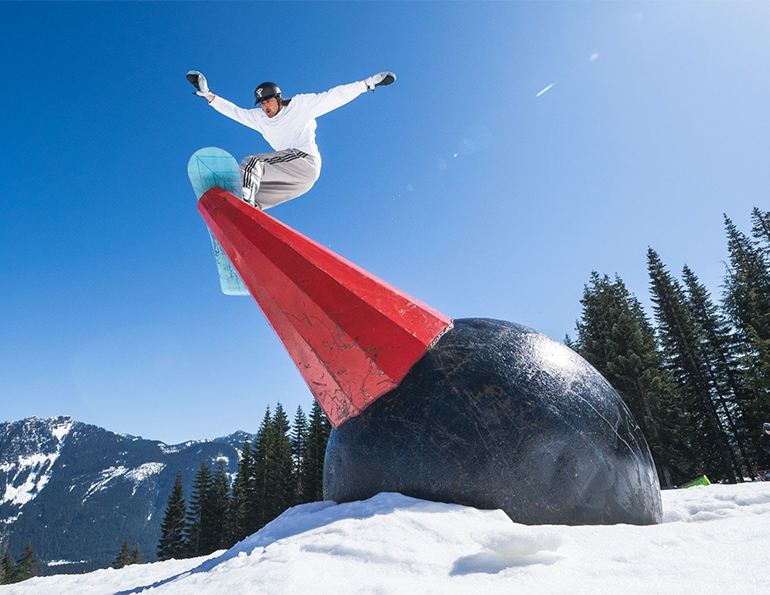 This feature, nicknamed "Poly" for its resemblance to the Lib Technologies mascot, once served as a buoy in Puget Sound for the Port of Seattle. The red hat was welded to the top of the buoy, and a custom paint job transformed it into a one-of-a-kind terrain park feature. Depending on how it is set up, it can be used as a bonk to jump over or a pole jam that riders can actually slide on. Its circular shape allows for very creative, more abstract sets than a normal down rail. A PistenBully Park Pro transported and set it into place and shaped the snow around it before a hand crew buffed it out with rakes and shovels.

 


BOTTOMS UP
MAMMOTH MOUNTAIN, CA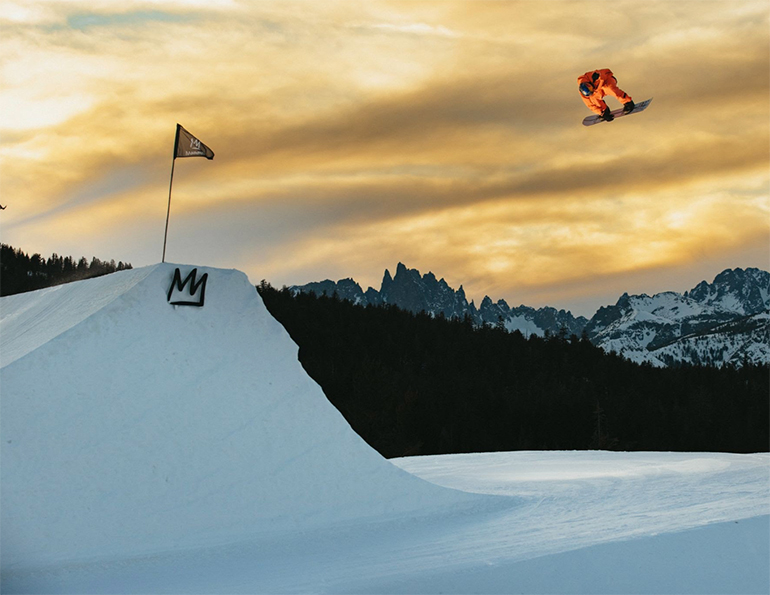 The aptly named Bottom Jump is located in the lower Main Park, right above the Main Lodge sundeck and below Chair 6, making it spectator friendly and the visual centerpiece of Mammoth's Unbound Terrain Parks. It's typically built by mid-November, depending on snow depths. Early season it measures about 55 ft., and it grows to about 70 ft. come spring. The version pictured took nearly a week for Jake Slaminski and Mike Black to build using PistenBully 400 Park Pros and a PB400 winch cat before it reopened Feb. 20. The building process is fairly consistent every time: Determine the jump's exact location, farm snow and set the grade of the run, stack the landing (45 ft. tall), shape the deck and landing, measure for takeoff, push, sculpt, and chainsaw the takeoff, and then finish with tranny shovels.




JUMP THE RAINBOW
WHITE PASS, WA

"This feature is what we strive for at White Pass parks—it can be used in many ways for all ability levels," says White Pass park manager Eric Schultheiss. Built in the Rib Eye park, this 20 ft. tabletop jump and rainbow rail combo was constructed in early January by cat operator Travis Adams (who also fabricated the rail), and finished by the park crew using Planet Snow and Arena Snowpark rakes. The rainbow is 30 ft. long, 4 ft. high, and 8 in. wide. The feature was built to give park users options and spur creativity. Guests can straight-up hit the jump or the rainbow rail, or gap from the table side over the rainbow rail, or use the rainbow rail ramp to get a little more air to the table top landing, or the right side can be used as a hip.


BREAD & BUTTER
HALLOWEEN PARK
BOGUS BASIN, ID
PHOTO: PATRICK SWEENEY
RIDER: COREY MCDONALD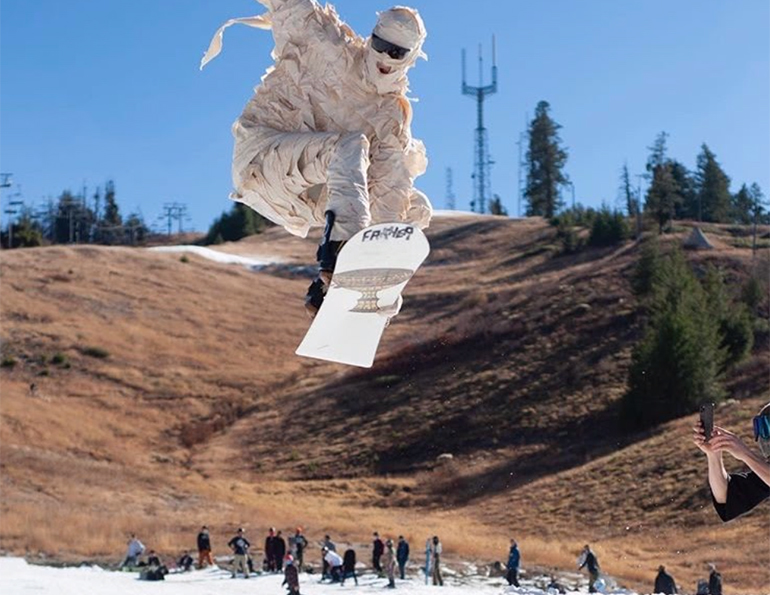 Bogus Basin upgraded its snowmaking system two seasons ago, which has allowed the team to take advantage of cold and dry October conditions to make enough snow near the base area for a full pre-season park. Last year, the free, hike-to park opened on Halloween with a mini two-pack jump line, three-tier rail line with six rails and boxes, and a 10 ft. quarterpipe with dual hip takeoffs. Built by terrain park director Corey McDonald and park supervisor Justin Washam, the "Halloween Park" is not only a great way for the park community to gather for pre-season shredding, the snow is used as the base for the conveyor-lift served beginner park in that location once the season begins. The pre-season park also hosted an invite-only Airblaster "mini" SKOLF tour stop.



FIRECRACKER RAIL
GIANTS RIDGE, MN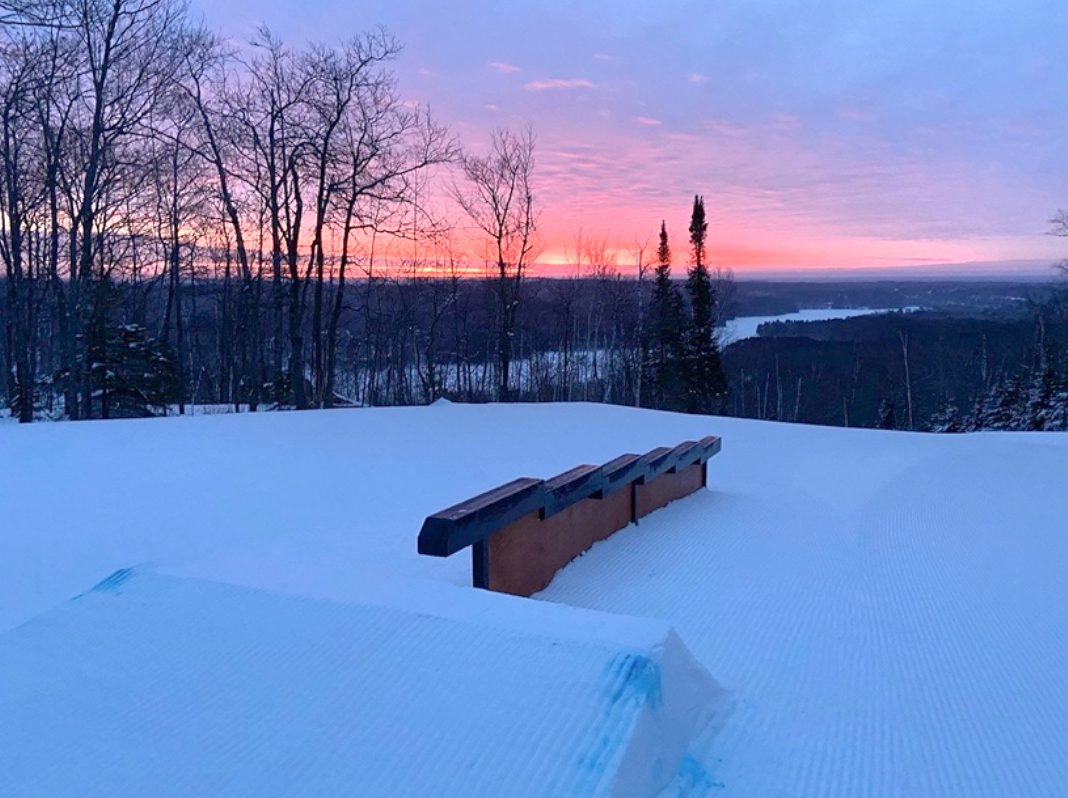 The Firecracker rail was fabricated out of an old steel light pole found in the Giants Ridge boneyard. It was cut it into six 3 ft. sections totaling 18 ft. in length. Park builder Owen Johnson and park supervisor Rob Koski spent about three days building it last fall. It debuted in the opening pop-up park for two weekends in the beginning of the season, set right under the chairlift in front of the chalet for all to see. The Firecracker moved around in the ski area's big park three times throughout the winter season. No matter where it was, the new feature was hit by everyone, from novice to pro, and was by far the most popular feature in person and on social media.




DFD TUBBY TUBE
GROUSE MOUNTAIN, BC
RIDER - MARK BRAMWELL
PHOTO - EDWIN POULSTON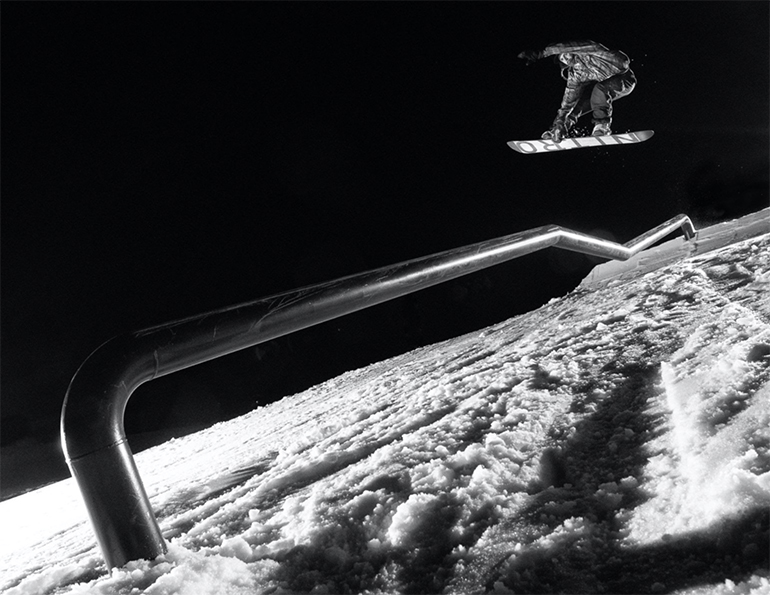 Grouse Mountain normally builds its own features, but it has also acquired some features from Arena Snowparks through events, including this DFD (down-flat-down) tubby tube from a 2016 Red Bull Uncorked event at the mountain. It's large—14 ft. down, 4 ft. flat, 14 ft. down—but versatile and can be set up for different levels of park rider. The 6 in. tube helps, making it easier to get on, ride through a kink, or lock in a press. It can be set up flat, reversed on a down slope (like a waterfall rail), buried so it's not as high off the snow with an easier take-off, or high off the snow requiring a high ollie to get on. At Grouse, it's a larger feature—good for riders to learn tricks on and gain confidence before taking it to a harder DFD, like a round handrail.



FLOW ZONE
STEVENS PASS, WA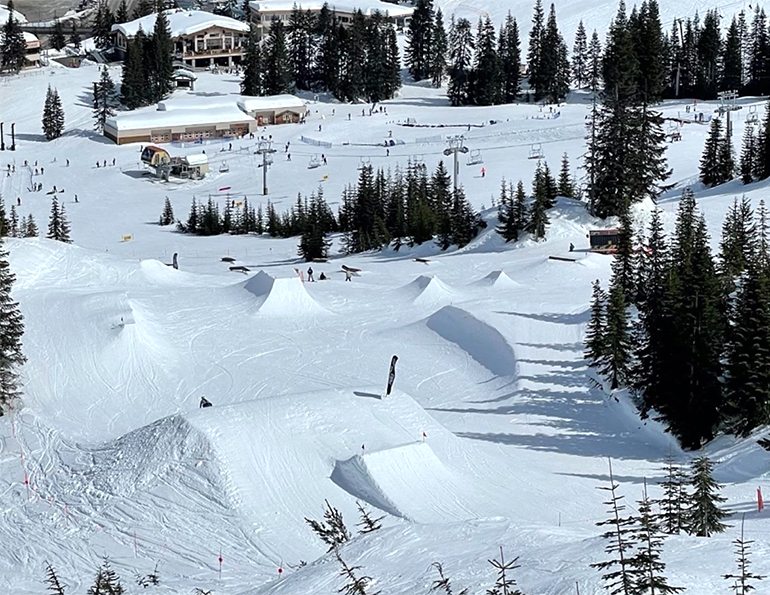 This snow transition flow zone was designed and built in the middle of March 2021 by terrain park manager Mike Thomas and the park crew in the mid-section of Ridgeline Park. The aim was to create a fun, flowy area with more of a skatepark feel for all levels of riders. This park offered more than 60 features, including a section of 9-10 transitional features cut with a 13 ft. Zaugg pipe cutter. "Halfpipes and transition are coming back to the industry in a big way and we want to make sure we are in the front of the pack with the other leaders of this movement," says Thomas.




RAINBOW BOX
WHITE PASS, WA
RIDER: BRANDON GORDON
IMAGE: ERIC SCHULTHEISS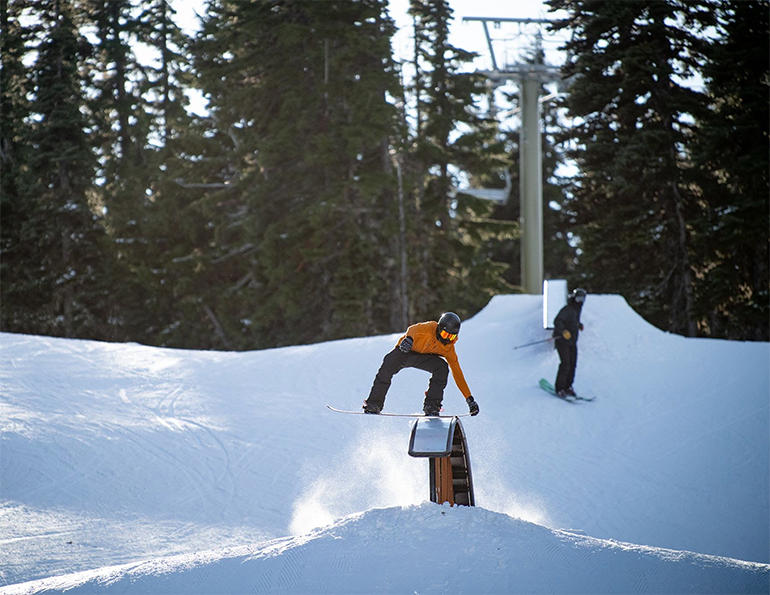 White Pass park manager Eric Schultheiss says this rainbow box "has always been a crowd favorite." The feature measures 20 feet long, five feet high and a foot wide. It was in this spot (pictured) for about three weeks after it was installed on Dec. 20, 2020, using a PistenBully 400 Park Pro with finishing work done by the park crew using Planet Snow and Arena Park rakes. The entire set took about 90 minutes. It moved around White Pass' Rib Eye park, which houses over 35 features when in full swing. Its width and setup is inviting to park riders of all levels.



REASON POPUP PARK
KILLINGTON RESORT, VT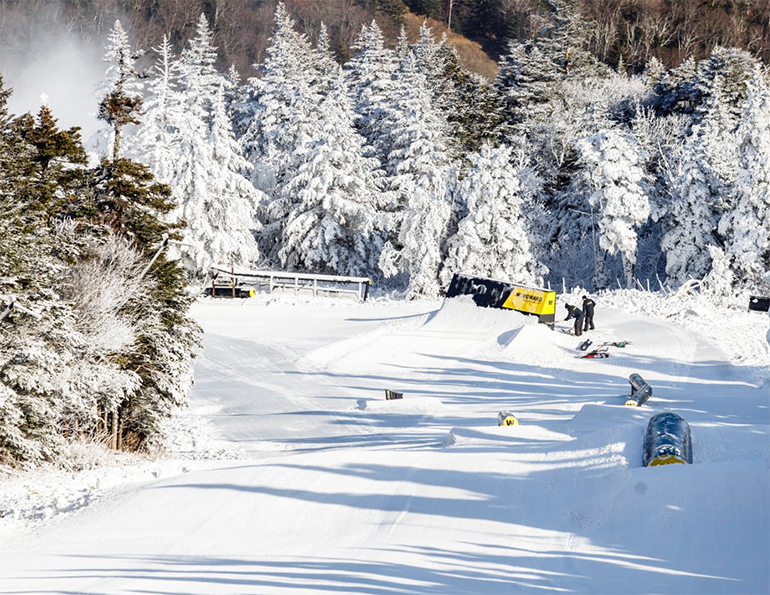 The Reason Pop-up Park at Killington is usually the first park to open in the East, making it the place where New England skiers and riders go to get their first hits of the season. It typically opens in early November with 8-10 features. Last season's setup included a tank, a wall ride, and a small jump. The crew used two PistenBully Park Pros to sculpt and set the features, with rake and shovel work to finish. The park is geared toward more advanced skiers and riders since they're normally the ones at Killington chomping at the bit early season, but plenty of families check it out, too.


THE WRECKING BALL
BLUE MOUNTAIN, PA
PHOTO: KRIS HANTZ
RIDER: CARSON GARDNER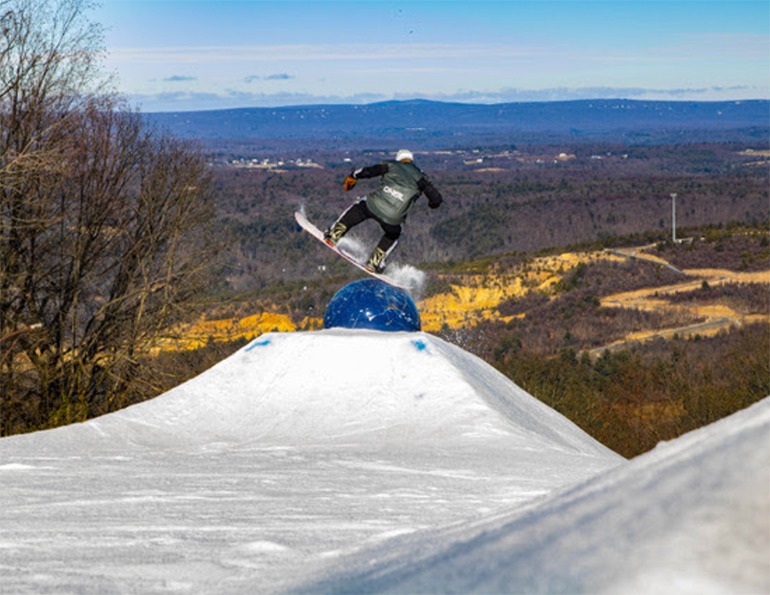 Park riders of nearly all abilities have a ball on this feature at Blue Mountain. Fabricated by Coastal Jibs, the steel Wrecking Ball is 42 in. in diameter with square framing welded to the bottom, which is buried in snow for stability. The frame—rather than fork holes—make transporting the feature to the park with a cat a lot easier. Here, it's set in a snow trapezoid about 5 ft. tall, but it is sometimes set in a much shorter snow pile, making it inviting for all riders to side tap, top tap, stall, twist, or go up and over. It's easy to install, says Blue's Kris Hantz: dig a hole and set it in, bury the framing, and sculpt the trapezoid.


SHOTGUN DOWN BAR
MT. SPOKANE, WA
PHOTO: PHILIP SCHULZ
RIDER: ISSAC BUSCH

"A good down bar is a must for every terrain park. It's the feature that most intermediate tricks are learned on," says Mt. Spokane terrain park manager Philip Schulz. This 24-foot-long "shotgun" down bar was donated to Mt. Spokane—a non-profit ski area and outdoor recreation hub for the city of Spokane—by High Cascade snowboard camp based at Mt. Hood, Ore. The popular feature is a mainstay in Mt. Spokane's medium- to large-feature Half Hitch terrain park from opening day on, and was set differently several times throughout the park last winter to keep things fresh. The install is fairly uncomplicated, taking only about an hour for a snowcat to place the rail and the park crew to set it by hand using shovels and Arena Snowpark rakes.




OG TUBE
THE SUMMIT AT SNOQUALMIE, WA
PHOTO: MIKE YOSHIDA
RIDER: PHIL HANSEN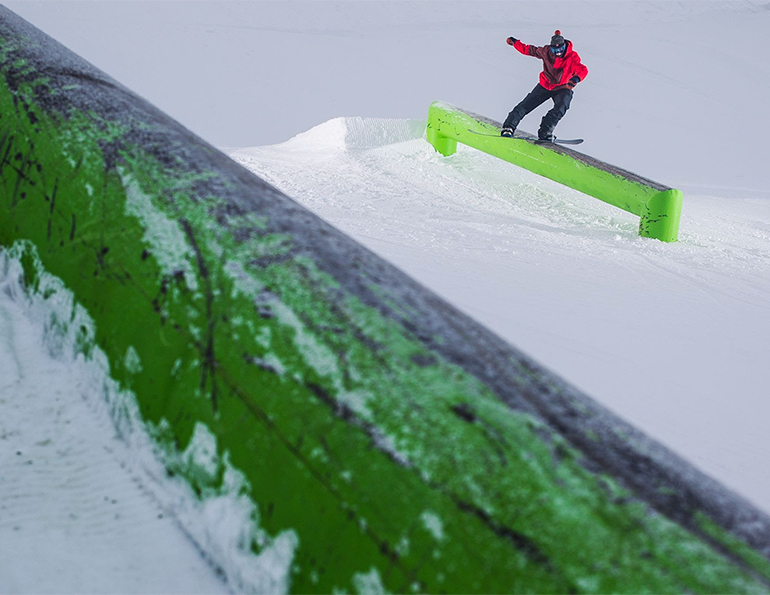 The OG Tube is the "original green tube" at The Summit at Snoqualmie. This lift-tower style tube has been around since the early 2000s and continues to be a staple feature. It's not super long, but it stands out on the snow and is fun for riders ranging from weekend warriors to pro athletes. This feature has been a staple for so long The Summit crew no longer remembers exactly who fabricated it or when. Rumor has it that the feature was cut from one of the original lift towers of the Dinosaur Chair at Summit East.

 



FOREST TRAIL FLOW
MAMMOTH MOUNTAIN, CA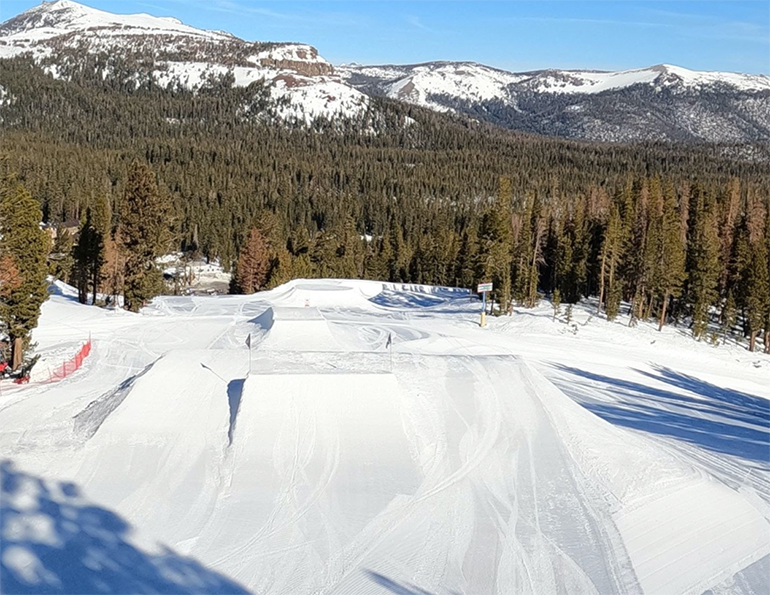 This build in Forest Trail, Mammoth Mountain's small- to medium-sized terrain park, focused on flow and progression for beginner to intermediate skiers and riders. Completed Feb. 25, 2021, the highlight of the build was the lower section, which featured three jumps, a loaf/double-sided quarterpipe, a large volcano, a bowl section, and an 11 ft. mini-pipe. From cat drivers to day crew, it was an all-hands-on-deck effort to conceptualize, sketch, determine feature locations, and ultimately build. After the cats farmed, graded, pushed, and stacked snow for the features, chainsaws cut verticals and a 13 ft. Zaugg pipe cutter shaped the volcano and pipe. The result: a fun-for-all park that the team was proud of and guests loved.
PARK EDIT


RIDE WITH RIVER
WACHUSETT, MA


The Ride with River rail jam was created to celebrate Wachusett, Mass., park crew member River Hutchinson, who sustained a spinal injury last summer in a swimming accident that left him without the use of his arms and legs. Feeling Hutchinson's absence, the Wachusett team came together to set up an event. Half the proceeds from the rail jam went to Hutchinson's recovery fund, and with the help of Wachusett's adaptive program, Hutchinson and his family were able to join the crew and participants on snow. This edit captures the competition and a lap through the park led by Hutchinson and supporting staff.




AFTERDARK
MOUNTAIN HIGH, CA
This edit spotlights the night riding on offer at Mountain High's terrain parks. Terrain park manager Scott Spears and his crew built the park featured in this shoot on Pipeline Run in early March 2021. Inspired by Mountain High action sports manager and pro snowboarder Jesse Paul, the park contained technical features, such as "coping to coping" combos, and a dozen other jumps and jibs, including pole jams, pill bonks, and tall boxes. Videographer Andrew Percival used two RED Cameras to shoot this night project and capture slow motion action from athletes Anthony Slater, Levi Kaseroff, Dillyn Tillie, Jonah Haskell, Ian Sams.




BLUE STEEL
PINE KNOB, MI
This edit showcases the adventures of the Pine Knob, Mich., park crew. The crew works 6-7 nights a week to keep 800 ft. of terrain in prime shredding condition, and it occasionally does a little product testing—in 2020-21, crew member Luke Petty captured it all on film. This edit spotlights the work and riding of Carter Chapman, Matt Dunn, Oliver Dixon, Nate Taylor, Braeden Mclean, Brennan Mclean, Jake Dengate, Andrew Ramos, Kane Garris, Ryan Vanhekken, Chuck Schwarting, Josh Cantu, and Sam Stillman. Along with setting steel and building jumps, the Pine Knob crew put its PistenBully Park Pro and its muscle into constructing a star feature last season: a 21 ft. quarterpipe.





JUICCY JOKERR X JAKE ENGSTROM
WILD MOUNTAIN, MN


In the winter of 2020-21, Wild Mountain teamed up with local professional snowboarder and Instagram influencer Garrett McKenzie (@juiccyjokerr) to create a 3-part video series. The series aims to highlight Wild's terrain park, its builder Myles Grote, and the talented snowboarders who call it home. McKenzie filmed on a handheld and edited the series. The first installment, "Juiccy Jokerr x Jake Engstrom" was shot entirely in the Back Stage terrain park. Built using a PistenBully 400, Back Stage is setup like a skate park, with 3 lines of rails or jumps. Shredders can also ride across the hill and hit features in multiple ways from different angles.




BIRD'S EYE VIEW
SILVERSTAR, BC


The work on SilverStar's "main park" is never done. A build that starts in December continues all season long as the snowfall allows (there's no snowmaking in the park). Built by a crew of 10 hand shapers and two cat operators, including Sean Ross, Brendan Poot, Sebastien Brule, and park manager Paul Kenward, "main park" has everything from small to XL features. The park was designed last season with a "for the riders, by the riders" mentality, with multiple ways to hit each feature so that every lap was different from the last, which is exactly what this edit aims to showcase. Shot on a DJI Mavic Pro 2 Drone by Kenward, who is also a videographer, the edit stars SilverStar's terrain park crew, as well as some local shredders.




WOODWARD ELDORA GOES BIG
ELDORA, CO


The overall concept for this edit came from videographer Jeff Urban and was executed using his team, the Eldora marketing department, and the Woodward Eldora staff. It was filmed to showcase the opening park setup on Sundance and highlight the terrain park team's hard work. Over the course of five days the park was pushed out, shaped, and sculpted with two snowcat operators and five hand crew using tools such as a Zaugg pipe cutter, shovels, rakes, vert cutters, and chainsaws. The edit, which dropped in January 2021, focuses on the features available for the public to ride. To get people stoked, Eldora invited Chad Otterstrom, Chase Blackwell, and a crew of heavy hitters to shred the park.





GAME OF (BIG) SNOW
BIG SNOW AMERICA DREAM, NJ



The "Game of (Big) SNOW" edit showcases the first ever indoor rail contest, hosted this summer at Big SNOW American Dream, N.J. The event brought 32 male and female heavy hitters to the indoor slope for the SLUSH magazine presented event. While temps approached 100 degrees outside, several hundred spectators gathered inside, where the action was kept to a cool 28 degrees, to watch Jill Perkins and Benny Milam take home top honors. The event was filmed with a handheld Sony A73 by in house videographer Tom Haas. He shot in both 16:35 and 70:200. The four rails (two DFD, and two down bars) were built in the Jib Lab at sister ski area Mountain Creek, N.J., by Matt Byerly and his crew, specifically for this event.




PEACE PARK BUILD
KILLINGTON RESORT, VT
 

This edit highlights constructions of the East's only Woodward Peace Park. The WPP build at Killington, Vt., typically takes one to two weeks depending on weather, conditions, and crew bandwidth. The team is usually made up of 3-5 Killington operators and roughly 6 hand crew. Tools used to build include a PistenBully Park Pro, an 18 ft. Zaugg, a PistenBully 400 winch cat, shovels, rakes and a Stihl chainsaw. Designed with all ability levels in mind, the Woodward Killington Peace Park is a top to bottom park run that's 80 percent snow features, with steel hits mixed in.





HIPS & LIPS
THE ROCK SNOWPARK, WI


The "Hips & Lips" edit spotlights riding on The Rock Snowpark's pop-up Hips & Lips Park. Built over the course of 4-5 days and then pushed out after just a couple days of riding, the flow park—with its berms, banks, jumps, hips and rails—is inviting for experts and groms alike. The build, led and designed by AJ Ricci, took all hands on deck, even upper management. The slope of the terrain means that many of the snow features for the flow course have to be built by hand. The crew manning the rakes included Danny Sokol, Andy Stengel, Alex Nash, and Teddy Pollock. General manager Riley May shot the edit using a DJI Mavic Pro drone, GoPro Hero 7, and a Lumix GH4 with 6.5 mm fisheye lens and 12-35 mm lens.





2020-21 SEASON EDIT
TIMBERLINE, OR


Timberline's 2020-21 season edit showcases parks from all over the ski area, including the winter parks off the Storman Normin' express and the summer parks up on the Palmer snowfield. All of the parks were built by a dedicated crew of year-round diggers, who shaped by hand and with cats. This edit captures Timberline's rare ability to host skiers and riders in the winter, spring, and even summer, when some of the world's most dedicated athletes come to hone their skills at the ski area's parks. 





SUMMIT SESSIONS – SEASON 2, EPISODE 2
THE SUMMIT AT SNOQUALMIE, WA


Filmed during the heart of the 2020-21 season, this edit is part of The Summit at Snoqualmie's ongoing "Summit Sessions" series. The episode was filmed in the ski area's flagship terrain park, Central Park. It features some of the best local riders and park diggers, all making the most of the prime hits provided by the park crew. The episode was filmed by Chris Huynh, Al Grogan, and The Summit's digital content coordinator Kevin Nolan, who also edited the video.





THE MAMMOTH UNBOUND
MAMMOTH MOUNTAIN, CA 


This edit was shot in just two days. In March 2021, Mammoth invited Red Bull athletes Brock Crouch and Judd Henkes over to shred the mountain's Main Park and South Park and brought in Drew Hastings and Blake Kehoe to film it. The parks were not enhanced for the shoot. Instead, the edit highlights the diversity of Mammoth's public offerings—large features, medium features, creative bowls, and all sorts of steel. These film-worthy elements are all in a day's work for the Unbound Terrain Park Crew. Key cat and day crew include Scott Cherry, Jake Slaminski, Mikey Black, Ian Turner, Jared Dawoud, and Noah Stevens.





2020-21 SEASON EDIT
WHITE PASS, WA


This edit, filmed by Austn and Evan Attaway, showcases the fun and creativity of local riders and the White Pass park crew as they hit the Rib Eye and Prog parks in 2020-21. The Rib Eye park houses over 35 features when in full swing and runs top to bottom next to the Basin quad. The Pog progression park is designed for learners and newer rides. The parks were built by White Pass' Travis Adams and Garret Swigart, using a PistenBully 400 Park Pro. Finishing work was handled with Planet Snow and Arena Park rakes. Featured rides include the Attaway brothers, Travis Adams, Brandon Gordon, Tanner Schrumpf, Trever Viego, and grom Mason Tornow—the grooming manager's son.





BUSH LEAGUE – MID SEASON SPLIT
SUGARBUSH, VT


With fresh snow falling daily in mid-February 2021, Sugarbush Parks gathered its Bush League athletes—a motley crew of park staff, teams staff, and locals—to hit a new build in the Riemergasse Park. This edit aims to capture the playful spirit of adventure and camaraderie that drives Sugarbush Parks. From filming to editing to promotion, the video was 100 percent produced by the terrain park department. The features from top to bottom in Riemergasse Park were designed and built by the Sugarbush Parks crew. The 6-acre park can house up to 50 features, allowing users to link a 15-feature-deep single run on the 2100ft long slope.




JERSEY SLIDE
MOUNTAIN CREEK, NJ

I
n 2020-21, Mountain Creek, N.J., created a new social media contest called "Jersey Slide," in which riders were challenged to film their best tricks on a collection of newly created Red Bull features. This particular stack of clips features rider Justin Kipilla and was filmed by Kai Stendel, who were the overall winners of the contest. The features were designed and fabricated in house at the Mountain Creek Jib Lab and named after iconic Jersey Shore points. For example, the ledge feature in the clip was called the "Long Branch Ledge," and the tear drop rail was dubbed the "Tom's River Tear Drop".





SLUSHY DAYS WITH MACK DAWG PRODUCTIONS & NATE HAUST
WOODWARD TAHOE / BOREAL, CA


This video showcases some of the best 2020-21 spring riding at the Woodward Tahoe Peace Park. Nate Haust was invited to hit the set-up built for Boreal's closing week. The park edit was inspired by the springtime vibes of Woodward Tahoe/Boreal, and aims to capture the innovative, fun, and intuitive on-mountain experience that the park's Woodward-designed terrain zones create. It was shot with all in-house gear, including a Mavic Pro-2 Drone, Sony and RED cameras, and a Ronin-M gimbal for steady cam and follow shots.