A PEEK INTO THE CRYSTAL (SNOW)BALL
The mountain resort industry has changed dramatically in the last decade. Snowmaking has become ubiquitous. Lifts are more sophisticated and efficient. The season pass has surpassed the day ticket for many resorts. Summer business has become core to operations. And most recently, Covid has dramatically (and at lightning speed) altered how all resorts operate. 
So, it's a good time to ask resort leaders to share their predictions about what the industry will look like 10 years from now. For this task, we tapped our SAMMY Award honorees, past and present. These peer-nominated individuals are some of our industry's most forward thinking. The insights they share here mix excitement for a new phase, in which technology can improve the overall experience, with urgent calls for action on diversity, the tangible threat of climate change, and the crushing housing and labor shortages that pressure their employees more each year. 
Considering all the changes we've seen, how will the industry evolve? Here are the highlights:
Alan Henceroth,
COO, Arapahoe Basin, Colo.
"The mountain resort business will be even more robust. There will be fewer, more highly trained and experienced employees at resorts, living in more community and resort supported housing sites. A high guest and employee expectation for advanced technology will be commonplace. While the biggest and most successful resorts will be hosting record numbers of visits, there will be a solid, near niche-like market of resorts and guests that are singularly focused on the quality of the experience and not on volume. There will have been several more weather-related events that have led to wide acceptance that climate change is real. Energy efficiency will be a much greater focus, and the amount of renewable energy in the grid will be many times greater than it is today. More and more resorts will have a year-round focus. Despite the changes, the heart and soul of our world will still be about people relishing a day, a week, a season, or a year in the mountains."
Danielle Kristmanson,
Founding Partner, Origin Design and
Communications
"In the next 10 years, we will see much of the same kind of activity around diversifying the mountain resort experience and improving its accessibility. Beyond 10 years, however, when climate crises and social justice begin to play an even greater role in corporate decision-making, the industry will become much less homogenous. What each resort looks like will have much more to do with the social, political, and economic philosophies of their ownership than the overarching industry trends toward operational diversification that have been driving the change of the previous 10 years."
Christian Knapp,
CMO, Pacific Group Resorts, Inc.
"Interactive mountain resorts are coming to the metaverse near you in the not-too-distant future. Will one of the multi-resort passes provide access or even build the world themselves? Or will a tech company take the leap and capitalize on the allure of virtual skiing and snowboarding experiences? Nike recently launched an interactive HQ and gaming environment on Roblox, and more and more people are using virtual headsets to play millions of interactive games every hour, every season, year-round. Of course, skiing and snowboarding in the metaverse will never replace the real thing, but creating new loyalists and monetizing a growing virtual world could be the exposure and growth opportunity the resort industry needs to break beyond the physical spaces and social norms that have defined our industry since its inception. This coming reality will break down barriers, both physically and socially, expose a broad global audience to the mountain lifestyle, and hopefully plant the seed to take a ski trip in real life."
 Jody Churich,
Vice President and COO, Breckenridge Ski Resort, Colo. 
"I believe leveraging data and technology to evolve our business will be a cornerstone of the guest experience over the next decade. I feel strongly that the ski industry and our resorts are for everyone. There is still more work to do, though, in making our industry more accessible and more diverse. I am confident diversity in leadership will continue to grow and thrive, and I look forward to continuing to make the sport and our industry more welcoming and more inclusive in the years ahead. Responsibly focusing on sustainability and the environment are, and will continue to be, critical focuses. As a part of Vail Resorts' Commitment to Zero by 2030, within the next 10 years we will reach our goal of a zero net operating footprint. The steps we take now in working toward an inclusive and sustainable future for the environment and our industry are critical to future generations of outdoor sports enthusiasts. And it makes me hopeful, excited, and determined to make a difference in our industry."
 Hugh Reynolds,
CMO,SNOW Partners
"The last year has sparked 10 years' worth of innovation, so it's crazy to think where we might be 10 years from now. Technology will continue to improve and integrate everything from how and where snow is made, to how it is groomed, to how our products are sold, and how guests interact with our resorts. The most powerful point of sale and access device a resort can leverage will be right in the pocket of each of their guests, and mobile technology will drive all aspects of the resort experience. I think we are going to see an increase in the amount of non-traditional opportunities to introduce people to our sports. Whether these be in-city activations, more indoor snow domes, or dry slope facilities, the idea of bringing the mountains to the people and the blending of snowsports, amusement, and entertainment will be a big trend."
 Katie Brown,
Vice President of Brand and Strategy, Steamboat Resort, Colo.
"I believe that technology will continue to improve and change the guest experience. I envision that guests will use their mobile device or even a retina scan to get on the lift. We may even have drones delivering a cheeseburger to us on a secluded run under a secret stash of pines. Transportation to and on mountain will continue to change as well. Maybe guests take a monorail to the resort. Lifts will run off solar power or sustainable fuel, and autonomous electric shuttles will be used throughout the mountain.
I also envision that the ski and snowboard industry will look more diverse than it does today. Guests and employees will better reflect the changing demographic of our country, and we will make sure our mountains are accessible to everyone. With climate change, it is hard to know what our snow conditions and terrain will look like, but we will adapt with better and more efficient snowmaking and activities that do not rely on snow. Although technology, transportation, accessibility, and climate are constantly changing, the desire to ski or snowboard on a beautiful bluebird day will not go away. These rapid changes only emphasize the simple need for people to gather and spend time in the great outdoors."
 Jon Schaefer,
Owner, Berkshire East, Mass., and Catamount, N.Y.
"Historically, resort life, lifestyle, and work have had intrinsic value. As mountain communities price out their staff, and as the corporate environment becomes more dispassionate, the inherent value of the lifestyle decreases, pushing the existing and potential team into other professions. The loss of skilled staff won't be tenable, and the rise of independent service companies will replace much of the specialty work once managed in-house. 
The industry is currently squaring off between the independent mountains and various corporations in retaining and competing for its customer base. Competition increases may result in a change in tone, and the gloves may start to come off. On every side—indy vs. corporate, corporate vs. corporate, indy vs. indy—there is an opportunity to market the attributes by having a foil to compare oneself against. The biggest question is, how long will the customer be satisfied with being treated like cattle? And how long will their commitment last, as mountains where they have recreated their entire lives get transformed into an experience they can no longer identify with? 
If we do anything in this decade, let's hope to figure out how to create entities and programs that give access to the sport to those who don't have it. Let's work to recreate a lifestyle that works for our employees. Let's try to stop giving staff employment numbers, so we can start learning their names and ways that we can help them at work and home. Let's find ways to make our spaces the "third spaces" for our communities and not off-limits to everyone but those who have bought real estate. Hopefully, by the end of the decade, people will have learned that if you are large enough to acquire a big resort, maybe think twice before firing all of the mid-level staff and consolidating those positions into a central location. The small town that your resort sits in needs those middle-class jobs to keep its schools full and local volunteers to run the ambulance. 
As an industry, we will have been successful if we figure out a way to retain our best staff, to have taught mountain operations to the next generation, and pass on the lessons that were hard taught to the generation before us. The sport is like a newly planted shrub: It is at risk from pests, blight, pruning, overwatering, under watering, over fertilizing, and under fertilizing. There are many unique and counterintuitive ways to kill it. The next decade may put this to the test for the ski industry more than any other."
 Yves Juneau, President and CEO, 
Quebec Ski Areas Association
"The use of technology will continue to grow, and in 10 years, I'm sure that dynamic pricing will be the way to go for ski area owners. The value of the product and the demand for skiing varies during the season depending on snow conditions, timing (midweek vs. weekends), and peak season. I think we will see more evolution in ticket pricing, which will be adjusted depending on weather conditions, rather than timing. This will be a direct consequence of climate change. 
Our goal in Canada is to increase the number of participants by 1,000,000. To do so, we have to become more diverse on both ends. We have to develop more school programs, reach out to young kids and families as an industry, not just as individual ski areas. Bring newcomers (i.e., immigrants) to the slopes and make them feel welcome. Ski area operators need to understand that they are no longer competing to gain market share. They should join forces to develop joint programs that will have a greater reach and produce greater results."
 Olivia Rowan, Publisher, 
SAM Magazine 
"My view from SAM? Mostly, I see possibilities in the next 10 years. The commitment to make it work feels especially strong right now, most certainly accelerated by the massive collaboration our industry pulled off during the pandemic. We also have had a reckoning on many fronts that made us face some truths—skiing is increasingly unaffordable, and we face challenges on climate, diversity, housing, and staffing.
Fortunately, the emerging leaders of the next generation are accustomed to these challenges and will see new possibilities for meeting them. This keeps me optimistic for the next 10 years and beyond.
We could screw up, though, as Jon Schaefer notes. We must not become an industry divided. Remember where you got your first turns? Local hills make skiing accessible and affordable. Growth should not be measured in season passes alone—it should also come from supporting those places that introduced us to, and made us fall in love with, skiing and riding. These places will do the same for generations to come, so long as we help them adapt and thrive."
SUPPLIER NEWS
RECCO AB hired Alexandra Löfvander as a new area sales manager in Stockholm. Her hiring is part of Recco's ongoing expansion of its avalanche recovery technology into a year-round search and rescue system for the outdoors.
SMI promoted Dave Reed to Northeast sales and service rep. SMI also partnered with Quebec snowmaking technology developer Latitude90 to offer the latest all weather snowmaking equipment.
TERRA-NOVA LLC is bringing its new ZipWhipper attraction to market. The first commercial ZipWhipper installation will open at Snowbird, Utah, June 2022.
PRINOTH has appointed Greg Clowers as the new Far West regional manager, based out of Reno, Nev. 
PEOPLE
In the East, Cranmore Mountain Resort, N.H., promoted Glenn Harmon to the role of vice president of operations. … Gunstock Mountain Resort, N.H., hired former U.S. Nordic Ski Team member Willy Graves as its new outdoor center manager. … Pats Peak, N.H., promoted Jacob Bashaw to assistant director of mountain operations and Josh Siegel to year-round status as the lift operations manager.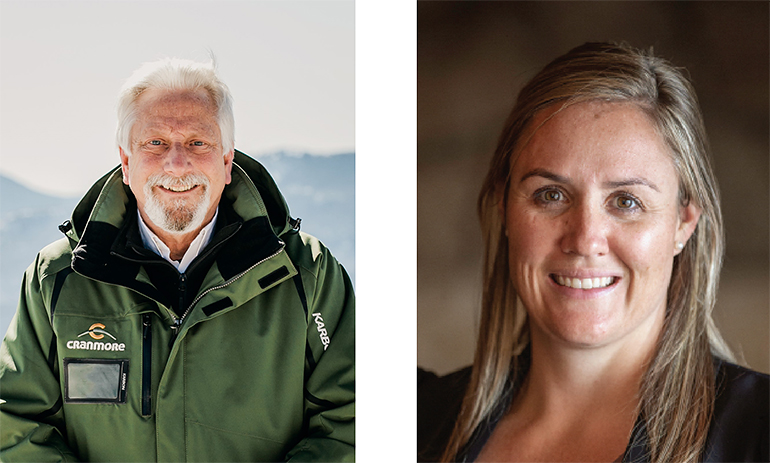 Left: Glenn Harmon. Right: Sammie Doyle.
Windham Mountain, N.Y. hired Kate Sullivan as its marketing and communications manager. ... Sugarbush Resort, Vt., hired former SAM Summit Series mentee Joey Carey as its ski and ride director. … Eric Kelley joined Killington and Pico, Vt., as the training manager. … Jeff Lifgren, Vail Resorts vice president and GM of the Mid-Atlantic region, will add oversight of recent acquisitions Seven Springs, Hidden Valley, and Laurel Mountain, Pa.
In the Midwest, Crystal Mountain, Mich., COO John Melcher succeeded Jim MacInnes as the resort's CEO.
In the West, Powdr Corp. named Justin Sibley as its chief executive officer. … Deer Valley Resort, Utah, hired Jacob Musyt as vice president of food and beverage, and Sammie Doyle has been promoted to director of food and beverage. … Christopher Park joined Snow King, Wyo., as its executive chef.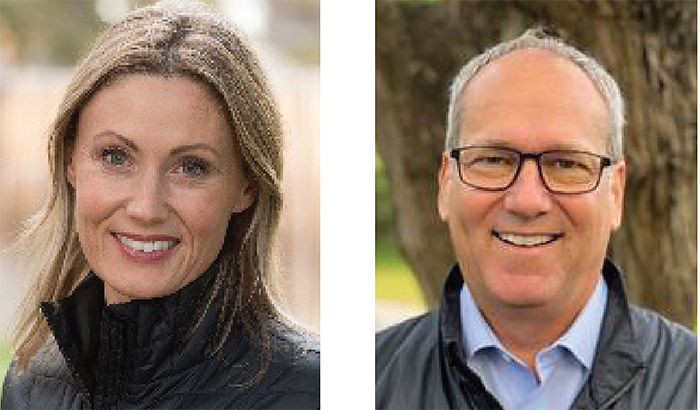 Left: Jennifer Shea. Right: Blair McNamara.
Steamboat Ski Resort, Colo., president and COO Rob Perlman was promoted to Alterra Mountain Company as COO of its central region, which includes Deer Valley and Solitude, Utah, and Steamboat and Winter Park, Colo., in addition to his current role at Steamboat. Also at Steamboat: Blair McNamara was named as vice president of lodging; Jennifer Shea has been promoted to the new role of vice president of business development; Jim Schneider will transition to vice president of planning; Dave Hunter is now the vice president of resort operations; Katie Brown was promoted to vice president of brand and strategy for all departments of the resort; and Trish Sullivan has been named vice president of human resources.
Tamarack Resort, Idaho, named Kara Finley as director of finance and accounting; Kelly Crocket is the new director of strategic operations; and Tara Colegrove was hired as the director of spa and wellness. Matt Gebo joined the Tamarack team as VP of marketing and communications over the summer.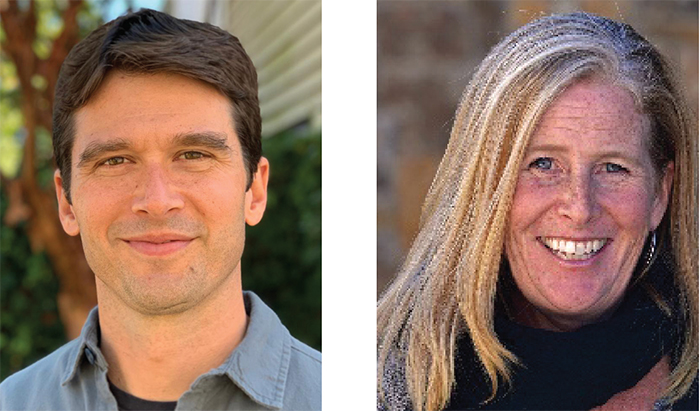 Left: Ben Clark. Right: Karie Brown.
Abi Nilsson joined Ski NH as its new assistant director. … Ben Clark was named the new global CEO of the Chill Foundation. … USA Nordic hired Riley Elliott as its new communications manager, a newly created role for the organization, and Casey Mills as its new partnership marketing director, also a newly developed position. … Pierre-Alexandre Legault was promoted to manager of member services, PR, and communications of the Tremblant Resort Association in Quebec.
OBITUARIES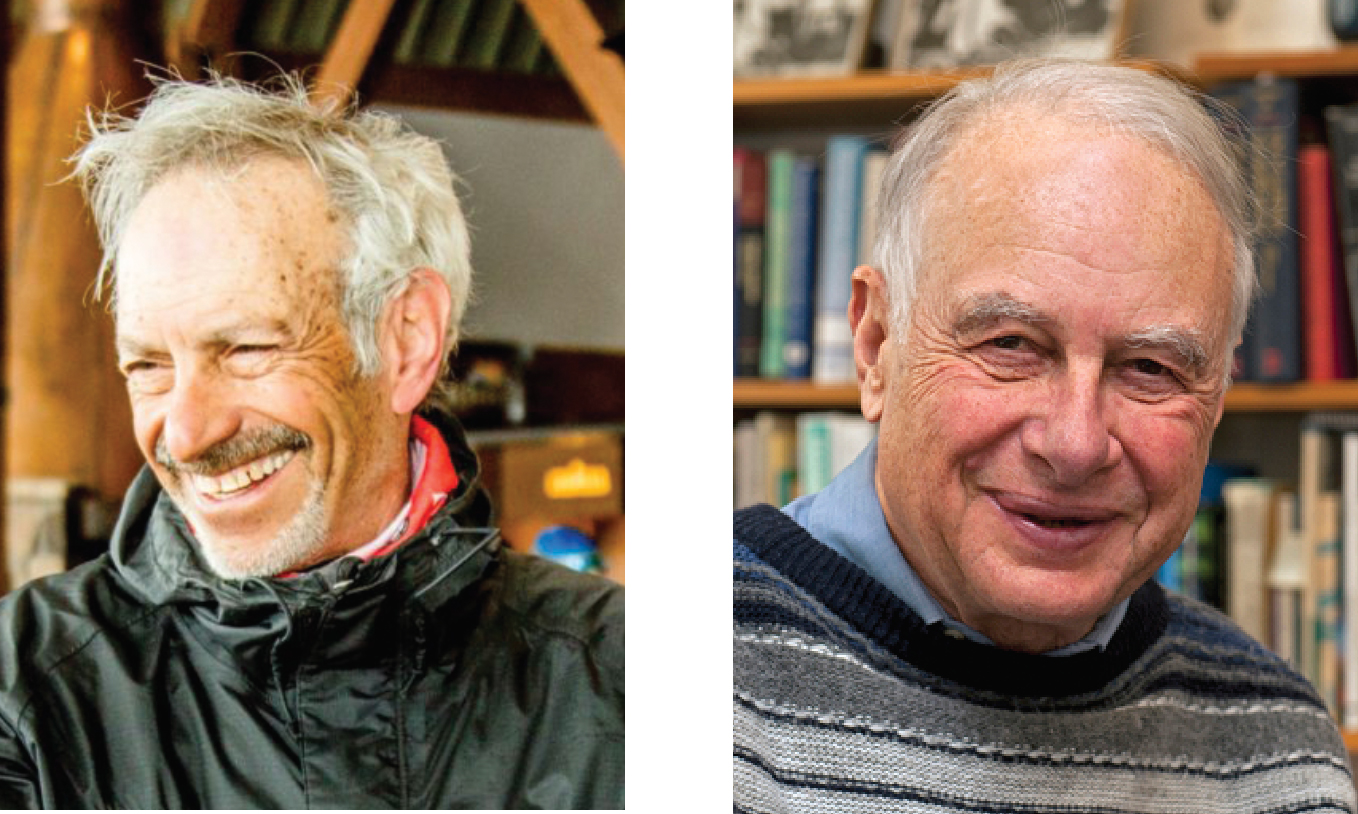 Left: Ron LeMaster. Right: Larry Young.
The founder of Ski America, Joseph Barret "Barry" Hollister, died at 80. In 1966, Hollister founded Ski America, which published Ski America magazine and handled brochure distribution for dozens of resorts throughout the '70s, '80s, and '90s.
Beloved ski coach and educator Ron LeMaster was killed in an on-hill collision. He was 72. LeMaster was a coach for more than 30 years, working with the U.S. Ski Team among others. His books "The Skier's Edge" and "Ultimate Skiing" remain key contributions to the technical understanding of skiing. He held degrees in computer science and mechanical engineering, wrote frequently for PSIA-AASI publications, and was also a well respected ski photographer. 
Larry Young, professor emeritus of astronautics and a renowned expert in bioastronautics, died at 85. In addition to his scientific work, Young was an avid skier. He was a director of the International Society for Skiing Safety and chaired the Ski Injury Statistics Subcommittee of the American Society for Testing and Materials Committee on Snow Skiing. For his work, Young received the United States Ski Association Award of Merit and the Best Research Paper Award from the American Academy of Orthopedic Surgeons. He was also a well-remembered guest speaker at Cutter's Camp.
Harry Kaiser, former publisher of Skiing, died Oct. 23 at his home in Captiva Island, Fla. From 1969 through 1996, an eternity in the media world, he guided Skiing and the sport of skiing. As president of the Times Mirror Corporation from 1985 to 1996, Kaiser was the publisher of SKI, Skiing, Transworld Snowboarding, and various trade publications. An avid fundraiser for the U.S. Ski Team and chairman of the New York Committee for the U.S. Ski Team, he was honored extensively for his commitment to the ski industry. He was inducted into the U.S. Ski & Snowboard Hall of Fame in 2015.