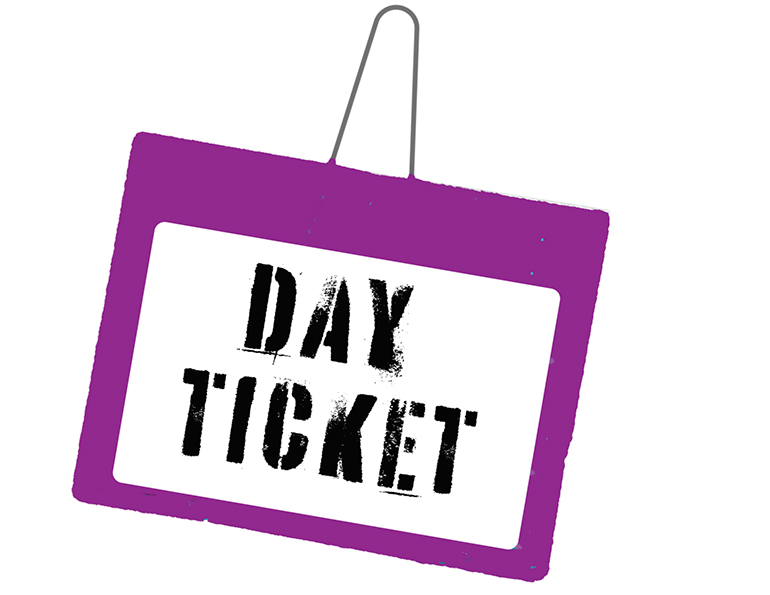 It wasn't long ago that resorts wanted skier visits to be on day tickets—a higher-yield product than their season pass counterparts. The downside is day tickets are also more sensitive to weather and economic conditions, which is why skier visits so often are tied to the weather. As we know, however, the focus at many resorts has increasingly shifted to the season pass, which benefits operators in several big ways. Locking in pass revenue before the season begins has proved to be a successful way for ski areas to "weatherproof" revenue and skier visits. To that end, season passes are a major reason behind last year's record season, despite poor snow across the country. 
So, does the day ticket have a future? It depends. 
AN EPIC CHARGE
"No one should have to buy a lift ticket." Vail Resort's (VR) Epic Pass is leading the charge against the day ticket. Roughly 72 percent of VR's 2021-22 North American skier visits were on a pass product. "That's up from 50 percent just a few seasons ago," said Sarah Landis, Epic Pass senior manager. "As a company," added Landis, "we have been intentionally moving people from lift tickets to [season] passes as part of our advance commitment strategy. No one should have to buy a lift ticket."
Landis noted that VR's 12 percent jump in skier visits last year was considerably lower than its 47 percent hike in pass sales. She said much of that increase came from people switching from a lift ticket to a pass, which was the goal. "We are focused on broadening our pass program to lower-frequency guests [i.e., lift ticket purchasers] with products like the Epic Day Pass, which provides 65 percent off the price of a lift ticket and 20 percent discounts on the rest of the mountain experience," said Landis. This season, day tickets will be limited at all 37 of VR's U.S. resort properties in order to "prioritize the experience for passholders."
Not just Vail. Other resorts are focusing on selling season passes and advance-purchase tickets at the expense of walk-up window sales as well. For example, Powderhorn, Colo., and the other five ski areas operated by Pacific Group Resorts Inc. (PGRI) offer the "Mission: Affordable" season passes.
"Certainly, it's a stated goal," said Christian Knapp, VP and chief marketing officer at PGRI. "Like a lot of other resorts, we're focused on advance-purchase products. We want to get the customer to commit earlier. It could be a season pass or a day ticket."
Knapp said at PGRI, there are three main priorities: 1. season passes, 2. the quad pack, and 3. "then we focus on selling advance day-tickets." The earlier one buys, the more discounted the ticket, Knapp continued. "If you don't buy ahead, you're going to pay a premium at the window for that kind of flexibility."
Including, like at VR's resorts, the flexibility of being turned away. "We limit day tickets at several of our resorts in order to protect the customer experience," Knapp said. "So the only way to get guaranteed access is to purchase in advance. We want people to buy online. It's a better customer experience—guaranteed access, direct-to-lift, no standing in line to pay a surcharge. It also gives us a lot of customer data that we can use to market to these people in the future."
Finding balance. Magic Mountain, Vt., limits the sale of both season passes and day passes. "We're trying to find that balance," said Geoff Hatheway, president. "Too many passes affects crowding as well. We're trying to find that comfort zone. We limit passes, we limit the amount of day tickets. On most days, we have plenty of day tickets for the occasional skier or beginner who comes up two or three times a year. But on a really busy Saturday or holiday, a day ticket might not be available. We encourage advance sales as much as possible. People can buy up to midnight the day before and still get a little discount."
Increased flexibility in the East. At Sugarloaf, Maine, where nearly 60 percent of visitors are on a season pass, there are no sales limits either way, said director of marketing Ethan Austin. "There are no limits on walk-up day tickets, although we certainly push advance-purchase tickets."
In addition to single-resort season passes, Boyne Resorts' five-day New England Pass, good at its three New England resorts (Loon, N.H.; Sugarloaf and Sunday River, Maine), has been expanded to include two-, three-, and four-day options. "It can be used at any of the three resorts any day of the season, except Saturdays at Loon," Austin said. "It sold very well through the summer. We're finding that people want incentives to plan ahead and want flexibility."
The beginner factor. Jonathan Davis, GM at Perfect North Slopes, Ind., said that last season, passes represented 42.3 percent of visit revenue and 48.1 percent of visits. "The number of pass visits has increased, but that stands to reason, since pass sales have almost doubled," Davis said, and more entry-level snowsports enthusiasts bought passes last year. 
"We're seeing about a 10 percent drop in the pass utilization—just another metric on which to keep an eye," he added.
The downside? Davis noted that the emphasis by ski resorts to push pass sales must be accompanied by an equally strong product offering. "There is an expectation that comes with pass ownership," he said. "And with the increased pass sales of the last three years, I don't know that as an industry we are exceeding those expectations, let alone meeting them." As an example, Davis said when Perfect North Slopes sees a big day on the horizon, the resort opens earlier to allow guests, especially passholders, to come earlier to get a jump on lift lines.
MORE DAY TICKETS, MORE ACCESS
Limiting pass sales at Wachusett. During the two pandemic seasons, Wachusett, Mass., reduced season pass sales by half and offered four daily four-hour day/night sessions to spread out visits and accommodate increased demand. "People were so desperate to get outside, we went to four sessions and limited [season pass sales] from 20,000 to 10,000," said Carolyn Stimpson, co-owner and COO of the resort, located about 50 miles from downtown Boston. "It was our way of making Wachusett more accessible to day and night skiers."
The new ticket strategy was so successful, Stimpson said, that Wachusett will continue to limit pass sales by half and focus on selling double-session day and/or night tickets. "We're going to continue to do four sessions, but focus on double-session tickets, whatever the double-session combination is," said Stimpson. "There seems to be a lot of remote workers out there. They want to come for part of the day or night, then go home and work. We've always had that market. It's definitely expanded."
Wachusett is also pushing online, advance day-ticket purchase with incentives like 50 percent off and guaranteed, direct-to-lift access. "We want to make sure day skiers, occasional skiers, and beginner skiers have access to the mountain," Stimpson said. 
SPEAKING OF BEGINNERS…
Is the push toward season passes and advance-purchase day tickets leaving out beginners? Is the industry pricing out those who don't know the nuances of how to get the best deal in favor of guaranteed revenue from the sport's core audience? 
"Yes, I am concerned about the beginners," said Perfect North's Davis. "We can't let the pipeline of creating skiers and riders dry up. It seems like the big resorts are happy to cater to the core, and maybe that puts more responsibility on us in the Midwest and Southeast to not lose touch with the beginners." 
"I don't think your beginner is jumping at that season pass right away," agreed Greg Fisher, GM at Granite Peak, Wis. "We're trying to build skiers for the industry," added Stimpson. "The day ticket is part of that strategy."
"The day ticket is not dead." "We definitely want to have plenty of day tickets available, whether online or same-day, for the occasional skier who can then become a frequent skier," said Hatheway at Magic Mountain. "We don't want to cut out novices. They are the future of skiing. We keep room for that segment. That's why we limit passes. The day ticket is not dead. Smaller, independent resorts will keep it alive."
And encouraging day ticket sales online and in advance is not leaving first-timers and occasional skiers behind, said Austin at Sugarloaf. They are just as tech-savvy as passholders. "I think buying online, doing research to find out what your options are, is pretty common, especially since Covid," Austin added. "Lots of things that used to be walk up to a ticket booth are now advance purchase. I think people are used to that, and there are certainly incentives to buying ahead." 
THE PENDULUM SWINGS BOTH WAYS
Is there an optimal ratio between occasional day skiers and frequent skiers? If so, what is it?
Davis probably summed up most succinctly the delicate balancing act facing ski resorts in their ticketing strategies: "The pendulum can swing out of balance both ways. Swing to the passes too far, and you end up trying to manage a member-only area, pricing out the day visitors. Swing too far to the ticketing side, and you lose some of your brand-loyalty opportunities and risk playing victim to weather and economic circumstance."