COMPRESSOR HOIST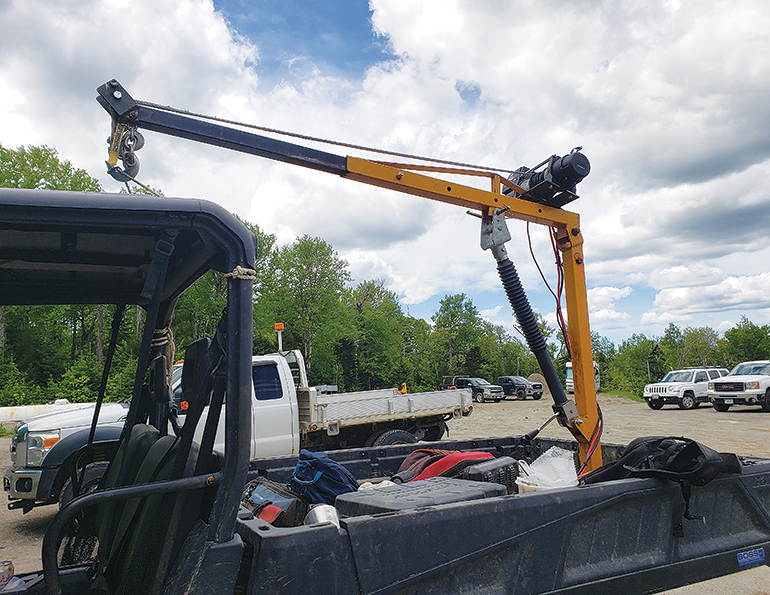 Saddleback, Maine, snowmaking, grooming, and parks manager Andrew Roy and his team constructed a removable, mobile hoist to lift and install snow gun air compressors on hill. The frame was constructed out of 3"x 3" steel and repurposed parts from an old engine hoist, and ratchet-strapped to the anchor points on the bed of a side-by-side. A winch taken from an old 4x4 Jeep and mounted on the top of the steel frame powers the hoist using a hand-held remote. A vertical piece of pipe the hoist sits on allows it to rotate. While in transit, the hoist's hook is tethered to the roof of the side-by-side to keep the arm from swinging. It cost roughly $100 in steel; the rest of it was made from parts the resort had laying around. It saves the ski area considerable time and effort per gun—allowing one person using the winch remote to complete an installation that previously typically took three people.
PARK IT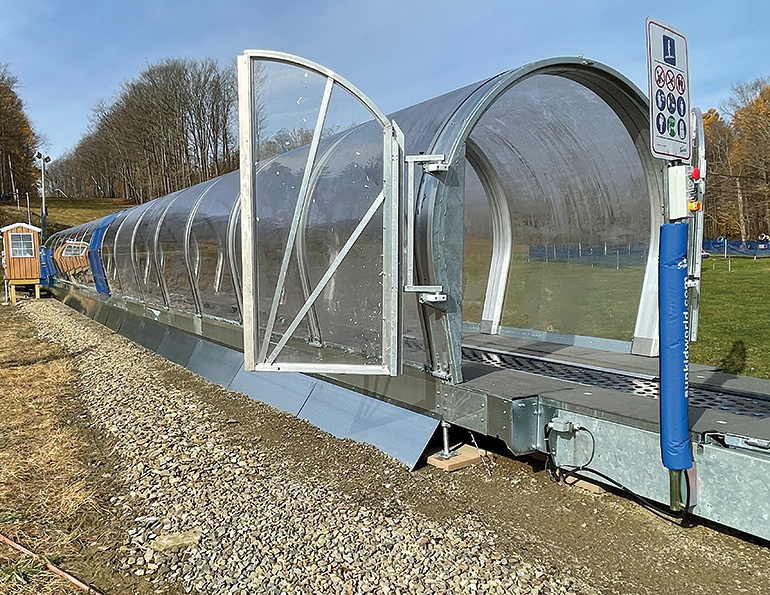 Lucas Hengel, former lift ops manager at Bogus Basin, Idaho, built the first of these upcycled bike racks out of 2"x 6" pressure-treated scrap wood and retired Riblet sheave liners. Current lift ops manager Joe Kennedy modified the design, using scrap wood from the resort's sawmill—the rounded edges that can't be used for lumber—for a more rustic look, and retired Doppelmayr sheave liners, which flex less than the Riblet liners. The bike racks are about five feet wide and fit two or three bikes each. The wood is held together with long truss screws, and the sheaves are fitted into notches in the crossmembers and attached with deck screws. The contour of the logs prevents the sheave liners from flexing outward, and the rubber sheaves protect the bike rims from damage. It takes about two hours to build one rack. They're used at the top lift stations for attendants to unload mountain bikes onto, as well as outside the ticket/rental shop.
NICE SKIRTING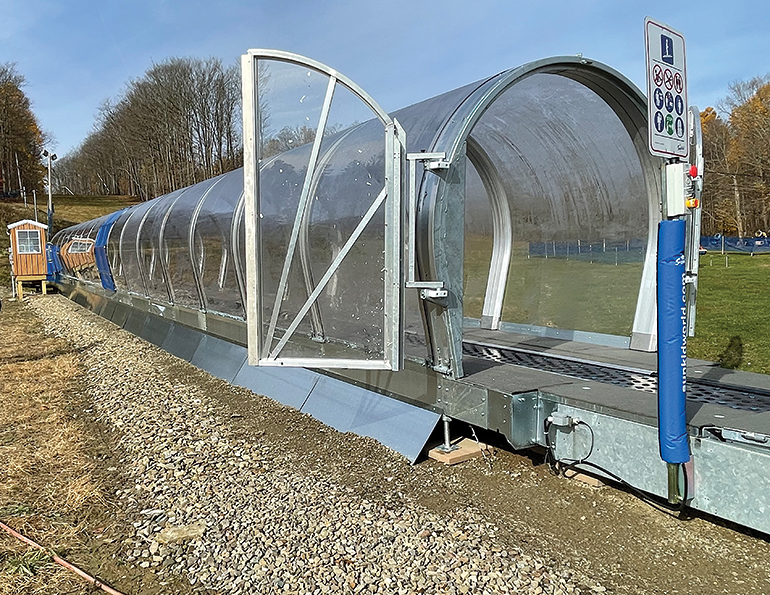 ANSI B77.1-2022 section 7.1.2.7.1 requires skirting—guarding from the conveyor deck to the ground—on all new conveyor lifts. This was not always the case, and many older conveyors are without skirting, according to engineer and inspector Sam Geise. This guarding prevents dangerous situations, such as someone crawling under a running conveyor or a kid chasing his hat blown off by the wind sticking an arm under there. Conveyor companies typically don't supply skirting, says Geise, so areas are left to build their own. To solve this problem, Doug Sinsabaugh, co-owner and manager of Mount Pleasant Ski Area, Pa., came up with the clever idea to fabricate skirting out of 18-gauge galvanized sheet metal, the kind used in HVAC systems. Two bends were added to make the skirting more rigid. Each sheet is held in place by four screws, so they are easy to remove for maintenance. Material cost was $1,400 for this durable, attractive solution.