Demand for new lifts surged during winter 2021-22, when U.S. ski areas hosted a record 61 million skier visits. That led to a busy 2022 installation season, despite rising interest rates, inflation, and higher costs brought on by the tangled supply chain. A total of 59 lifts went in across North America, the highest number in decades.
Lift manufacturers have endured an order rollercoaster ride the past few years, from a Covid low of 24 aerial lifts installed in 2020, to 33 installations in 2021, and to 59 this past year. Demand was so strong this season that builders faced tough decisions on when to stop selling amid unprecedented supply chain and labor constraints.
On the surface lift side, Star Lifts/SunKid dominated the market with 28 projects, while Team Service Carpet/Planet Movers and Magic Carpet each installed three surface lifts. That total of 34 is down from 2021, when 60 conveyors were installed by the same three firms. Chairkit, the only supplier of loading conveyors, doubled its sales from six systems in 2021 to a dozen in 2022.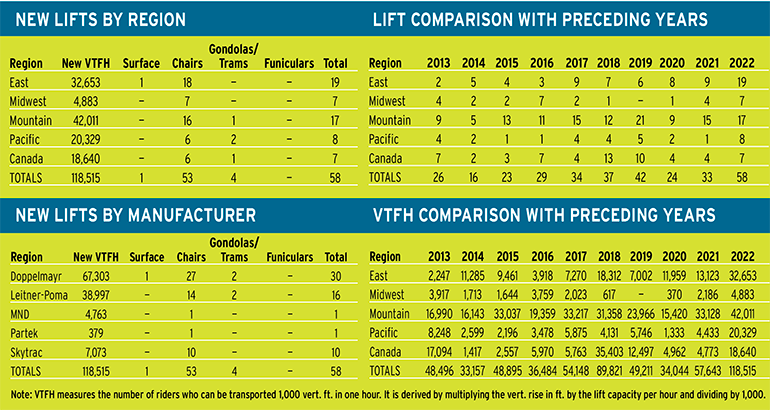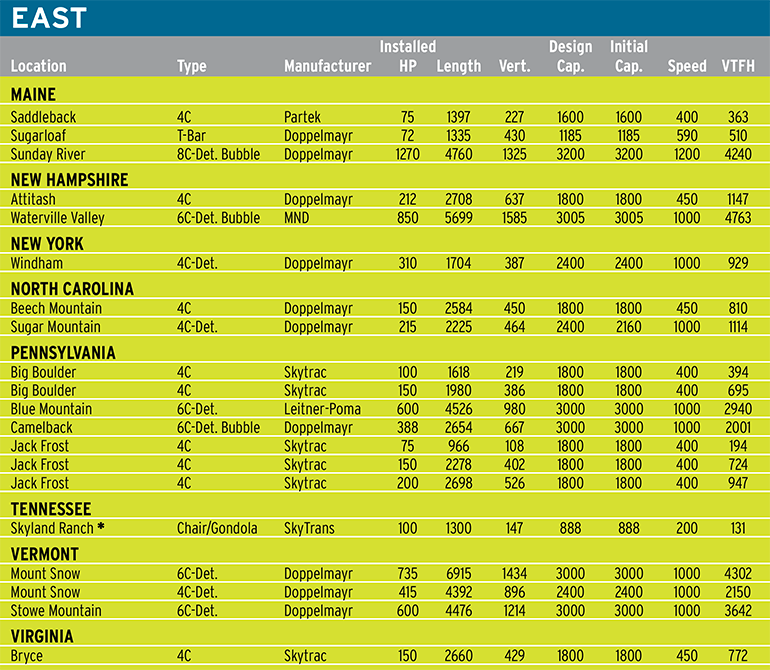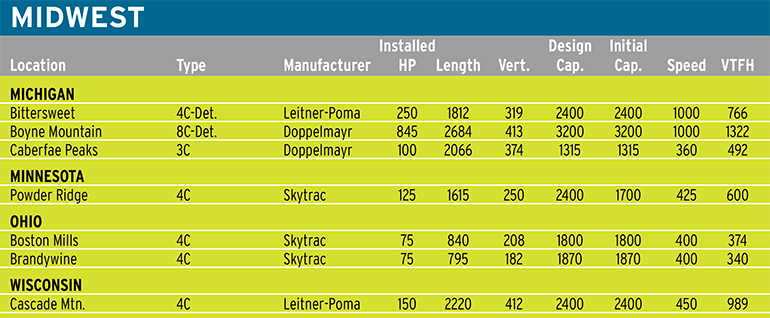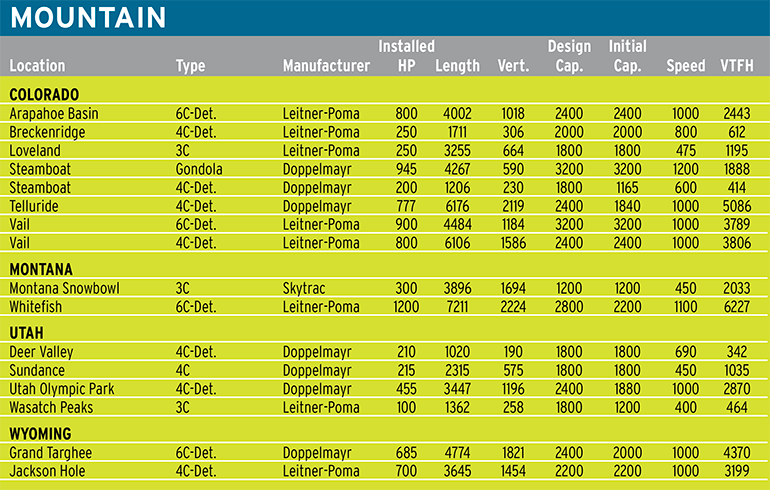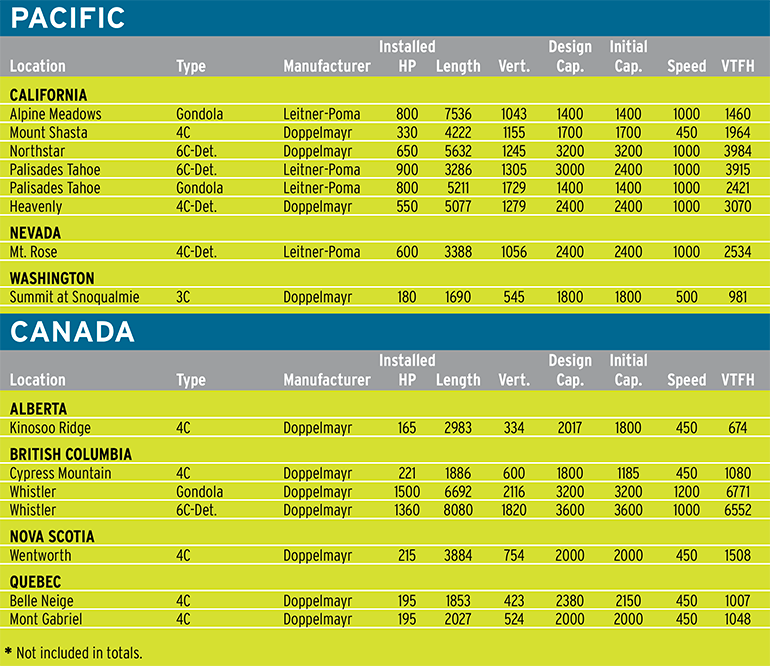 BIG SUPPLIER POOL
Strong demand led six different companies to build aerial lifts in the United States and Canada last year, the most in the market since 2001. Beyond Doppelmayr, Leitner-Poma of America, and Skytrac, Partek completed a fixed grip quad at Saddleback, Maine, and SkyTrans supplied a sightseeing chairlift in Tennessee. Plus, MND Ropeways notably delivered its first North American detachable lift at Waterville Valley, N.H.
Not only is the MND six-passenger chairlift the fourth largest installation by vertical transport feet per hour this year, it also features bubbles on the carriers and can move an impressive 3,000 skiers per hour. "We hear from a lot of our customers that are glad to have another player in the market, especially on the detachable side of things," notes Dennis Kinsella, North American sales director for MND.
The six pack utilizes detachable technology from Bartholet of Switzerland, although most of the lift was manufactured at MND's factory in the French Alps. That partnership has ended, though, so moving forward, "We are working on our own product line of detachable gondolas and chairlifts," says Xavier Marcou, marketing manager at MND in France. "We will continue to offer a full line of ropeways in addition to our safety, leisure, and snowmaking products."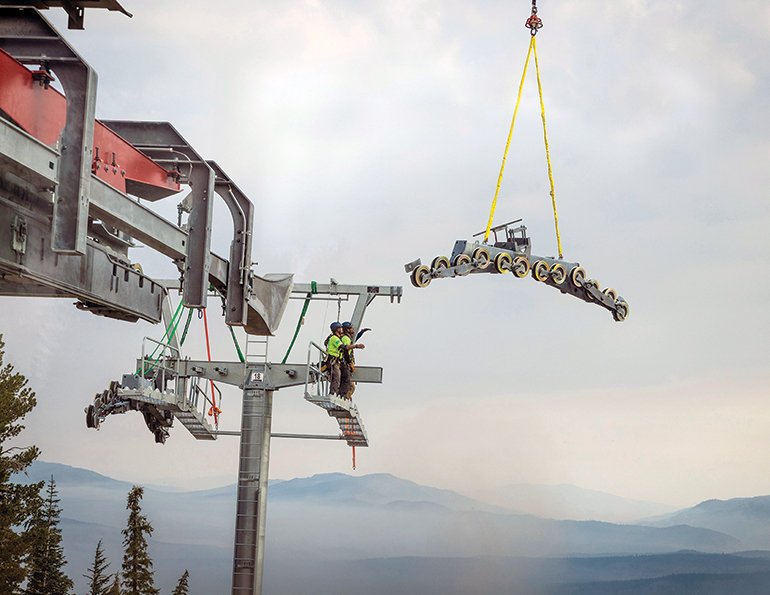 Flying in a sheave train assembly for the new Doppelmayr six-pack at Northstar California.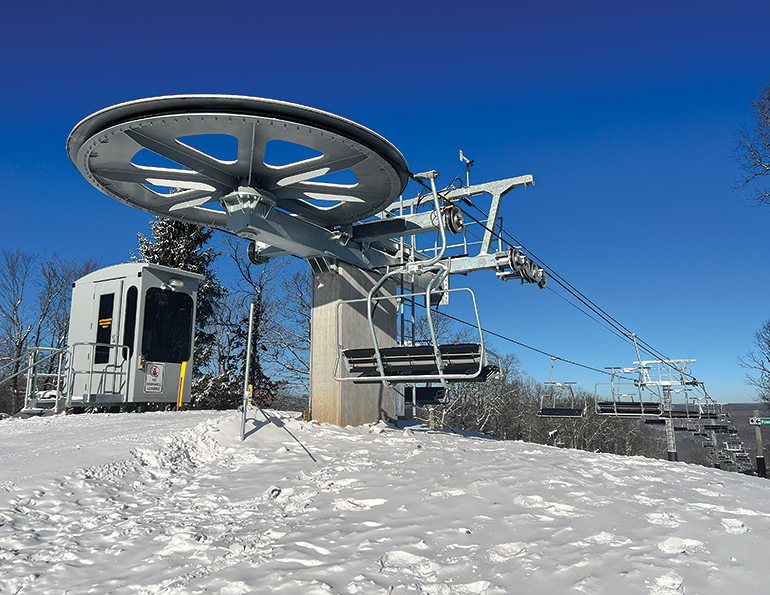 A new Skytrac quad at Jack Frost, one of five installed at Jack Frost and Big Boulder, Pa.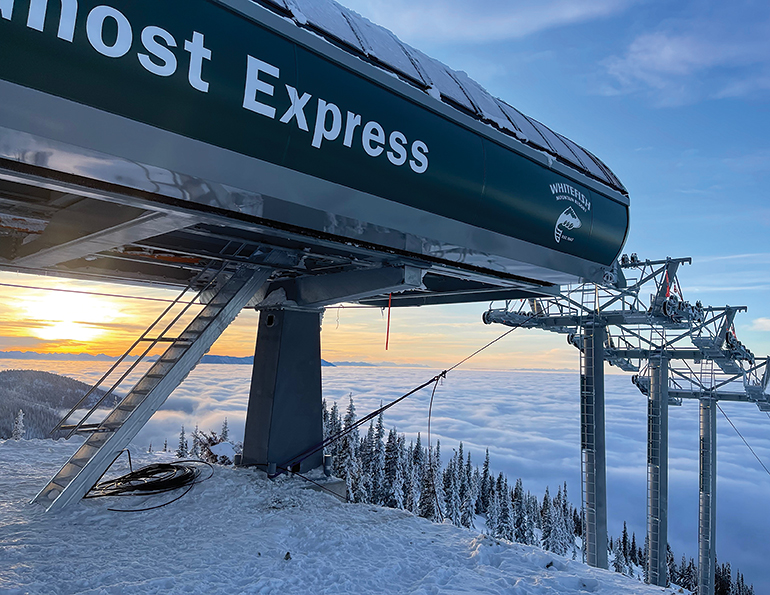 The 1,200 hp Leitner-Poma of America Snow Ghost Express six-pack at Whitefish, Mont.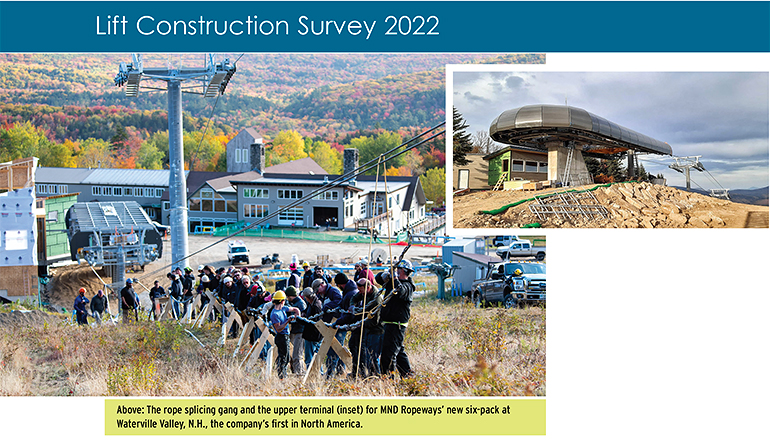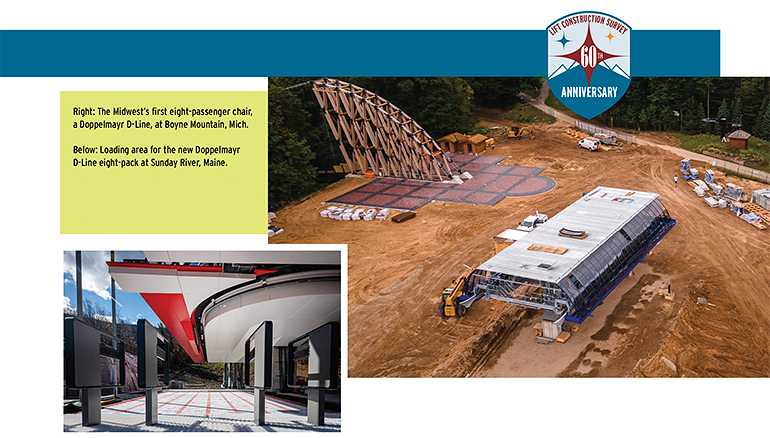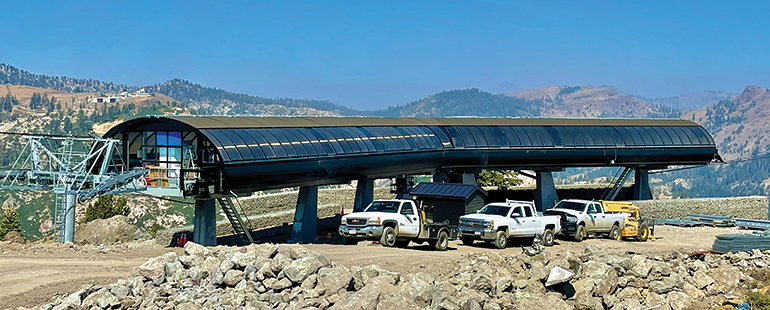 The two sections of Leitner-Poma's Base to Base Gondola at Palisades Tahoe, Calif., meet at this high-elevation terminal.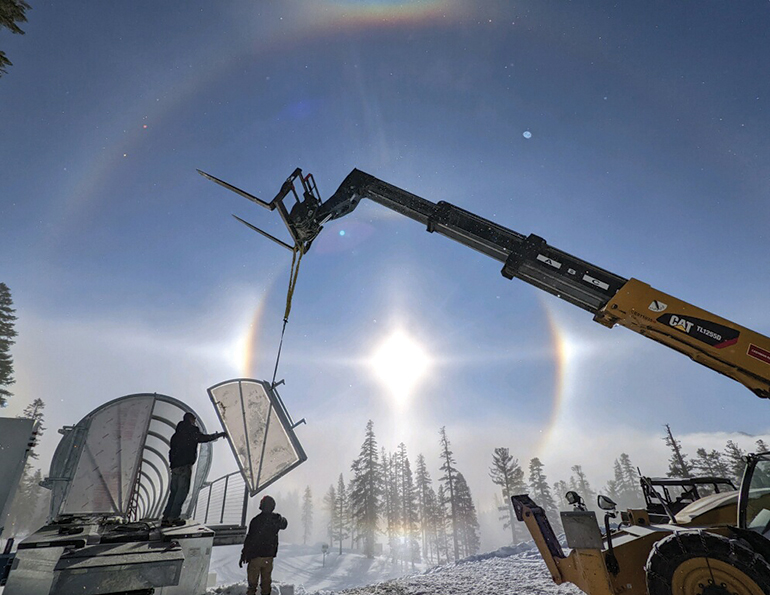 Panels being installed for the gallery enclosure on one of Mammoth Mountain's (Calif.) new Sunkid conveyor lifts.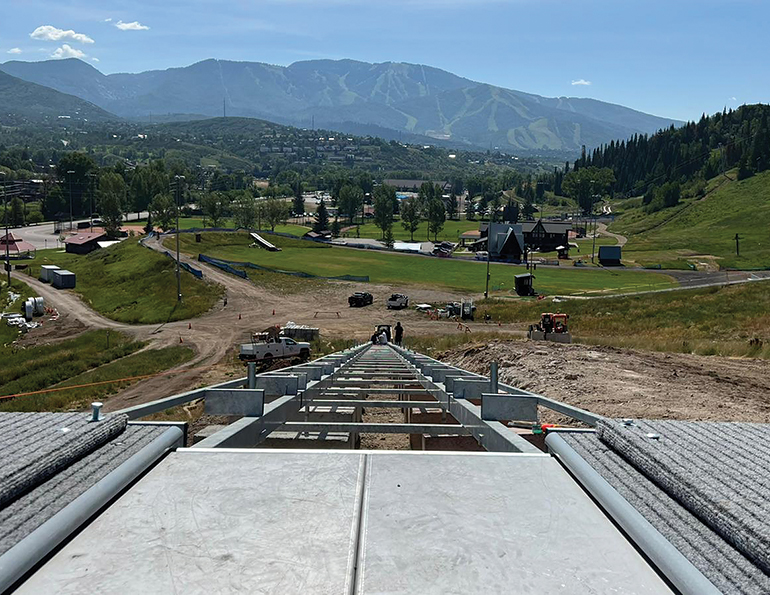 Infrastructure for the new Team Service Carpet/Planet Movers conveyor at Steamboat, Colo.
VAIL, ALTERRA, BOYNE
Headlining the year in lifts was Vail Resorts, which set the stage before last winter even started. In September 2021, the company announced its "Epic Lift Upgrade," a coast-to-coast initiative to build 19 new lifts at 14 of its resorts (two projects were added later, and three others, at Park City and Keystone, were postponed.)
Due to the massive size of the program, Vail Resorts' order was split among the manufacturers, with eight lifts in the Northeast and on the West Coast going to Doppelmayr, seven in the Mid-Atlantic awarded to Skytrac, and three in Colorado to Leitner-Poma of America.
Vail Resorts' projects represented almost a third of the new construction in North America for 2022. Nearly all of the lifts directly replaced older equipment rather than opening up new terrain.
Most notable was a total transformation at Jack Frost and Big Boulder, Pa., where five Skytrac fixed-grip quads replaced nine chairlifts that averaged 36 years old. Even though the project got a late start in mid-summer, it went remarkably smoothly and finished on time in early December.
Vail also ordered the two largest lifts of the year by vertical transport feet per hour: a Doppelmayr 10-passenger gondola and a six-passenger chairlift, both on Whistler Mountain, B.C. Those projects finished later than planned, primarily due to a shipping delay with the gondola's haul rope.
Alterra, the second-largest resort operator in North America, invested differently, with a few marquee projects focused on growth rather than fleet replacement. At Palisades Tahoe, Alterra partnered with Leitner-Poma of America to complete the eight-passenger Base to Base Gondola, linking Alpine Meadows and Olympic Valley.
"It's almost as much of a public transportation project as it is a mountain resort project," says Leitner-Poma of America president Daren Cole. "It's quite the epic project."
"Not only is it a large machine, but it goes over extreme terrain," says Jon Mauch, Leitner-Poma of America senior sales manager. "It crosses over two other lifts and goes over the KT-22 spine. You can see Lake Tahoe, you can see Alpine Meadows, you can see Olympic Valley. It's pretty fantastic."
The gondola rides as one lift, but is really two machines. Two separate lifts share a terminal at the famous KT-22 summit, where cabins switch between haul ropes. Twin direct drives were installed at the two base stations, both of which will include cabin parking and maintenance bays.
At Steamboat, Colo., Alterra contracted with Doppelmayr on the first section of the Wild Blue Gondola. Running from the base area to a new learning center called Greenhorn Ranch, the installation is the first 10-passenger gondola in North America with CWA's newest Omega V cabins.
Because a second section of the gondola will ascend to the summit next summer, the largest-ever lift haul rope in North America was used, clocking in at 64 millimeters in diameter. "It's going to be the longest 10-passenger gondola in North America, so we are very excited about it," says Doppelmayr USA president Katharina Schmitz.
Doppelmayr also installed a detachable quad at Greenhorn Ranch, with automatic lowering and locking restraint bars—another first. And Star Lifts supplied a double-track conveyor lift with gallery enclosure as well for the new learning center.
Boyne Resorts continued its longstanding tradition of lift innovation with flagship eight-passenger chairlift installations at Boyne Mountain, Mich., and Sunday River, Maine. Boyne remains the only operator of such lifts (for one more year). Both additions are Doppelmayr D-Line models with direct drives. Boyne now operates eight-place lifts at four of its resorts; each moves between 3,200 and 3,600 skiers per hour. 
EXPANSIONS AND TECHNOLOGY
Success across the industry during Covid also yielded new lift construction at smaller, independent ski areas. In California, Doppelmayr supplied a fixed-grip quad to Mt. Shasta Ski Park, serving a major terrain expansion on Gray Butte. Five new trails were cut at higher elevation than existing trails, insulating the ski area from warmer winters.
Another major expansion will open this season at Idaho's Lookout Pass Ski Area, where Skytrac refurbished and installed a used fixed-grip quad on Eagle Peak, adding 500 acres and 640 feet to the mountain's vertical drop.
Doppelmayr supplied five of its latest generation of D-Line detachable lifts, including one at Grand Targhee, Wyo., and one at Camelback, Pa. Both lifts feature six-place chairs. "It's exciting for us to see the full spectrum of the D-Line product offering this year," says Schmitz. "In the past we've seen more of the higher-end configurations [in North America]. This year we have the full range, from a basic open six seater to a fully-featured lift at Sunday River with fully enclosed station parking, seat heating, video screens, and bubbles."
2022 was also a breakout year for Leitner-Poma's direct drive technology, which can reduce down time and increase efficiency on larger lifts. In addition to the aforementioned direct drives on the Palisades gondola, both Alta, Utah, and Whitefish, Mont., opted for direct drives on new six packs. 
KINKS IN THE SUPPLY CHAIN
With projects more than doubling over three years, a number of installation timelines stretched into early winter. "Everybody everywhere is having challenges this year," says Cole. "It's not necessarily a manufacturing issue, it's the supply chain. We have some key materials that are 40, 42, or even 80 weeks out right now."
Electronic components and diesel engines proved especially challenging and delayed some acceptance tests. Hagen Schulz at Partek Ski Lifts says the gearbox for his Saddleback install this year arrived two months late. "None of us are magicians," he says. "We're bound by the same forces as many other industries."
The kinks weren't limited to just components. "If we didn't have a problem on the manufacturing side then we would have a problem on the shipping side," said Star Lifts USA president Conor Rowan. "It definitely has not been smooth."
The Great Resignation also proved challenging on the labor side. Leitner-Poma was able to hire more than 40 new people this summer in its Grand Junction factory and ran three shifts. But finding enough truck drivers to deliver equipment was tough. "We've been sending out six to eight trucks a day for the past 45 days" as of mid-November, says Cole.
Things were similar at Doppelmayr. "We ramped up really early on the production side and have been running two shifts," says Schmitz in Salt Lake City. Doppelmayr contracted some of its construction to third-party installers this year to spread installation workload across multiple work groups. Doppelmayr also worked with some of its customers to utilize resorts' own labor. And some projects are being contracted as two-year builds, with concrete going in the first year and steel the second. 
LOOKING AHEAD
Manufacturers expect a strong 2023, and some already had a full slate of projects contracted before winter commenced, despite talk of a recession and energy crisis in Europe. 
"We are very optimistic about the future and the North American lift market," says MND's Kinsella.
For the established players, it's all about securing orders early and getting supplies coming. "We're now ordering all materials upon contract," says Cole, who is doubling down on made in the USA. He is looking at three metro areas to build a second facility and add manufacturing capacity for both Leitner-Poma and Skytrac.
"We still need to plan for really long lead times," says Skytrac president Carl Skylling. Skytrac had six complete lifts on order for 2023 as of mid-November. "It's requiring us to push to get the orders on the books. Even if we don't reach capacity, we have to cut off how late we can take an order. We're really making an effort when we sign something to order materials as quickly as we can to lock in current market pricing."
At Doppelmayr, "Our order books are full for 2023 and we will have back-to-back record years," says Schmitz. "There continues to be really strong demand for replacing aging lift infrastructure. Next year runs the spectrum, from a small surface lift all the way up to the new Lone Peak Tram at Big Sky." Doppelmayr already has 10 D-Line detachable lifts under contract for 2023, including the first two in the Canadian market.
On the conveyor front, "We've already sold a couple for next year and have more contracts waiting to get signed," says a cautiously optimistic Rowan at Star Lifts. "Customers are seeing what's going on with the chairlift manufacturers and are ordering earlier than ever before."
The 2022 lift story suggests a bright future for the industry, with the replacement of aging lifts an especially good sign. Old lifts have been a point of concern for more than a decade, and many observers wondered if resorts would ever have the resources to modernize. The growth of season pass sales, though, appears to have mitigated that problem. Supply chain capacity might be the limiting factor at present, but in the long term, that's a more manageable issue than financing has been in the past.