What does it take to successfully propel a mountain resort into the future, be it old, new, or newly reborn?
SAM spoke with resort operators in each of those stages and found that, while each is on its own unique journey, they all embrace the same basics: creativity, consensus, cooperation, and perhaps most of all, courage. 
MT. NORQUAY: OUT WITH THE OLD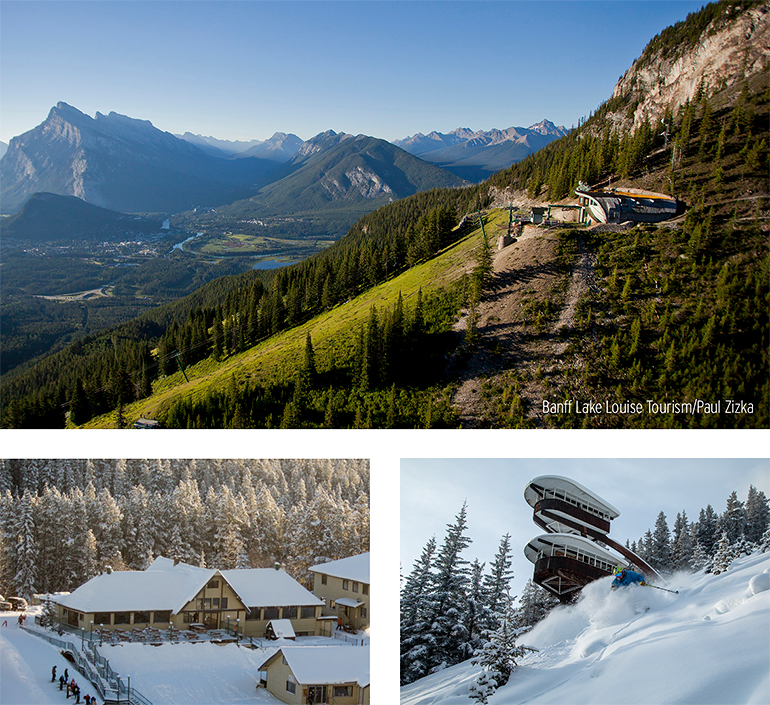 Clockwise, from the top: Mt. Norquay's North American double chair, which unloads at the Cliffhouse, will be replaced with a two-stage gondola; the iconic judge towers for Norquay's Nordic ski jump will be relocated and restored; built in the 1940s, the North American Lodge will be removed to restore sensitive habitat.
Few ski hills boast the kind of historic panache of Canada's Mt. Norquay. For nearly 100 years, the ski area that towers over the town of Banff has served as a recreation hub to the entire region. Now, as it closes in on that historic anniversary in 2026, the resort is updating with the future in mind while also embracing its storied past. 
With a focus on sustainability, learning, adventure, celebrating Indigenous connections, and respect for locals, the "Norquay 100 Vision" is underway. The multi-pronged plan includes replacing an antique double chair with a new two-station gondola, the upgrading and complete removal of buildings, the relocation and restoration of the judge towers for the Nordic ski jump, the development of new education programs, adding a wheelchair accessible via ferrata route to complement the current route, and other special touches.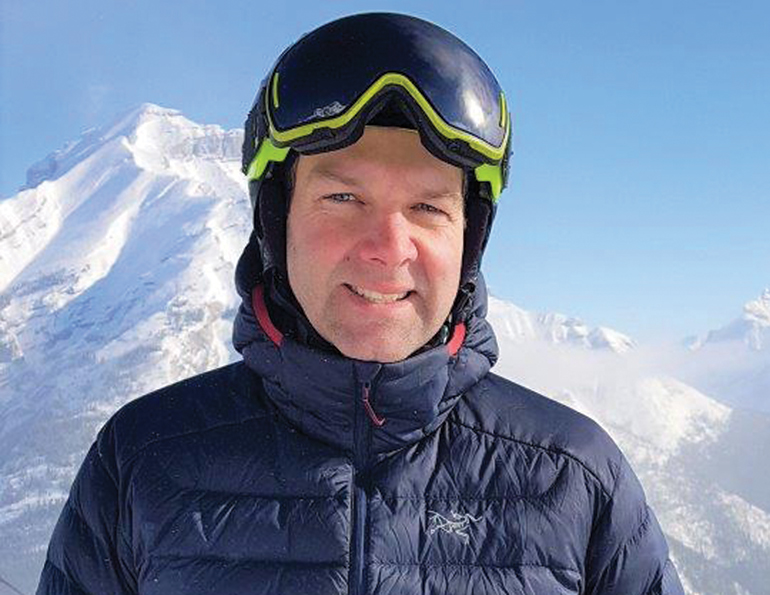 Andre Quenneville"Not too many [resorts] have hit 100 yet," says Norquay GM Andre Quenneville. It's this history, he says, that has required every aspect of redevelopment to be respectful of each visitor, local, long timer, and newbie. 
It's important to note that all of this is happening within the borders of Banff National Park, which can complicate every decision. But Quenneville says the hand-in-hand planning and review process gives him confidence they'll be where they want to be by 2026. 
The gondola—Norquay's first—will replace the North American double chair, which has operated since it was originally built in 1948 and updated in the mid-1970s. The chair ferries guests up to the Cliffhouse, which is a mountaintop lodge and bistro (more on that soon), and accesses expert-only terrain in winter. 
The new gondola will serve as the cornerstone of several improvements designed to help the resort be financially sustainable well into the future by drawing more summer visitors and improving the winter experience. Providing scenic rides and easy access to the Cliffhouse year-round is a big part of that. Norquay also plans to add a green run from the Cliffhouse that will follow the contours of an old, decommissioned accessway, so skiers and riders of all abilities can ride the gondola, visit the Cliffhouse, and slide down.
The buildings. One of the main objectives for the various projects is to reduce the resort's overall footprint within its boundaries by concentrating services and infrastructure. This will not only streamline the guest experience, but it will also reduce human traffic in environmentally sensitive areas. 
This effort includes tearing down the North American Lodge, which was built in the 1940s and now primarily serves the tubing hill. Its removal will restore sensitive subalpine habitat and shift guest traffic to the Cliffhouse, which was built in the 1950s and serves as a scenic spot for lunch and a drink overlooking the town of Banff. The Cliffhouse will be expanded and restored to provide more room for the increase in year-round guests anticipated once the gondola is in service. More educational programming and services will be offered there, too. 
"The original was just built for skiers. Now, it will be built with all [types of guests] in mind," says Quenneville, noting the building is well-insulated and the expansion will be designed for energy efficiency as well. 
Transportation. The access road to Norquay can get congested. To help lessen that impact, both on guests and the environment as a whole, free shuttles to and from town will be added year round. Quenneville dreams, too, of a train from the Calgary airport to town, but that's a goal for further in the future.
For now, he says, the plan is solid and coming along well. In the end, he adds, it's all about forward momentum and keeping Norquay sustainable.
"This is what it comes down to," he says. "I want to be sure we can continue to maintain these trails and lifts for a very long time.

SKEETAWK: IN WITH THE NEW
Clockwise, from the top: Skeetawk general manager Megan Justus; Skeetawk's base area parking lot, warming hut, and triple chairlift; grants and fundraising supported the purchase of equipment and infrastructure.
For four-plus decades, locals and loyalists to the Hatcher Pass area in Alaska have pointed up at a peak called 4068 and said, "That needs to be a ski resort."
Over the years, many have tried and failed to realize that dream. But in 2020, it finally happened when Skeetawk came to life. While there is more to do to grow the new ski area, general manager Megan Justus says it's alive, well, and solidifying its place for the long haul.
Grassroots. Justus believes she knows why her predecessors failed in getting a ski area off the ground. "The developers and investors were never local," she says. "What was finally the key to moving forward—and still is—is the local and grassroots backing."
It all started in 2015 with a sign posted in a local coffee shop called Vagabond Blues, says Justus. Frustrated by a lack of forward progress, some locals posted a meeting for anyone who might care enough to want to figure out how to make a ski area work.
Why did they care so much about making it happen?
"This is Alaska," explains Justus. "There's a huge backcountry and Nordic population here, so the people are already out there and have always seen the possibility. It's right next to Hatcher Pass, where the locals go to play. It's just always made sense."
And so, they formed a nonprofit, the Hatcher Alpine Xperience (HAX), and took things in their own hands, forming a board, finding grant money, and hiring Justus—a Kodiak, Alaska, native with a background in nonprofit work.
Five years later, in the winter of 2020, Skeetawk opened to skiers and riders with a triple chairlift serving 12 trails and 300 feet of vertical, a warming facility, and support buildings. "It has been grassroots the whole way," Justus says. But don't mistake that for unprofessionalism: the HAX nine-member board takes its job quite seriously. 
"Our board of directors is incredibly involved," says Justus. "They do a lot of grant seeking, and also gather both small and large sponsorships from the community." For this reason, and the contributions of a core active group of about 25 volunteers and the ski area's two full-time staff members, Justus predicts long-term success.
"The reason we started and will continue to thrive is because of our community," she says. "There's a lot of ownership, and that's priceless."
Development phases. Skeetawk's first phase of development, phase 1a, is what was completed to get the ski area open. Fundraising is happening for the next phase, which will include snowmaking, a lodge, and more lifts. 
Interestingly, the 2020 opening date may have helped Skeetawk, with the pandemic pushing more folks outdoors and to the new ski area. "The industry as a whole saw an uptick," says Justus, "and that was also the case here. Sure, it hurt our ability to celebrate our opening, but there was a huge boost in attention, so it's very silver lining."
Rolling into its third season, she says the ski area continues to build momentum, moving from raising hundreds of thousands to millions of dollars and welcoming 10,000 total skier visits over two seasons—almost all local folks. The funds come via grants, sponsorships, donations from local businesses, and events like a Warren Miller film night that raised about $7,000. 
This year, night skiing will debut— something the community wants. The HAX team will also finally be able to breathe. "We don't need to scramble as much anymore," Justus says. "It's not as much in new building mode. It's in operating mode now, and so many are using it. It's great."
Justus feels good about the momentum. After four decades of nothing, she says, perhaps what the hill needed was local love.
Next up comes snowmaking, "then there will be more to reach for," says Justus. "We're kind of just like: Don't let off the gas. Everything is possible, make that probable. This place is real, and it's already loved. It's a good feeling."
GRANITE GORGE: THE COMEBACK KID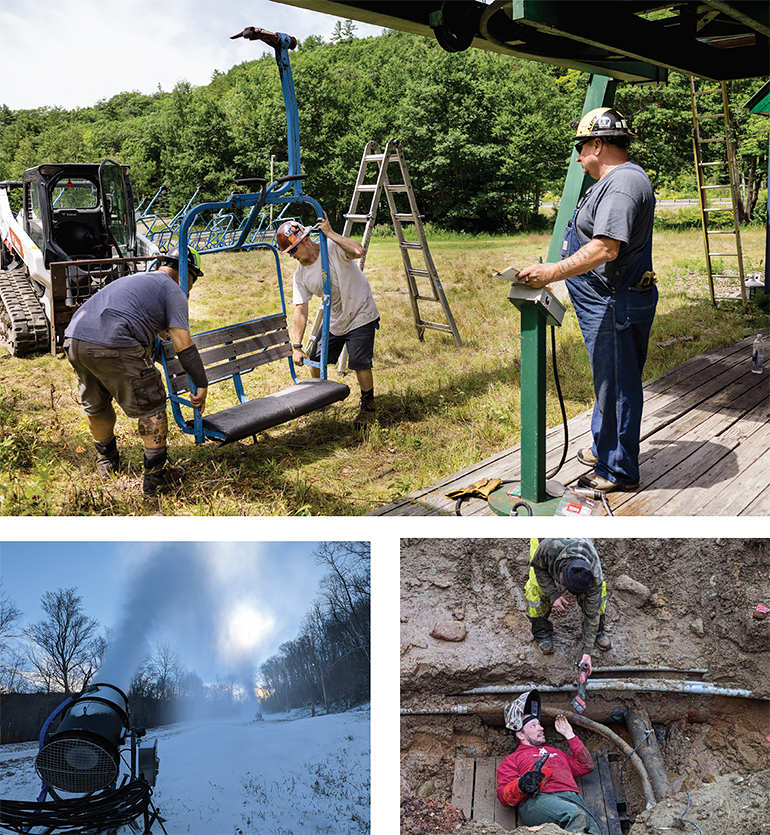 Clockwise, from the top: A crew removes chairs from Granite Gorge's summit lift for renovations in August; GM Keith Kreischer gets down and dirty welding snowmaking pipe; two SMI fan guns help cover the ski area.
A variety of challenges have hampered New Hampshire's Granite Gorge Ski Area (née Pinnacle Mountain) since it first opened in 1959. It has shuttered twice, most recently in 2020. And yet, there's something about the hill that makes people want to bring it back to life—including its new owners, who believe Granite Gorge Mountain Park, as it's now called, is finally on its way to becoming the ski and ride spot folks have long known it could be.
Just outside the bustling town of Keene, Granite Gorge, under the leadership of general manager Keith Kreischer, is in high-intensity remediation mode with a short-term goal: get open this winter. In the long term, the plan is to grow it into an operation that lives up to its vast potential.
New beginning. In June 2022, a passionate group of local community members bought a then-shuttered Granite Gorge at auction for $430,000. They soon hired Kreischer, who had worked at several Eastern ski areas and was a consultant on Granite Gorge's redevelopment, to lead the resort's comeback.
What gives Kreischer the confidence that the ski area's rebirth will be a success?
First, he says, is the ownership group. "They are committed." The small group of local businessmen includes executives at C&S Wholesale Distributors and the head of a local nonprofit, among others. 
Second, "We've been paying attention and listening to the community, and the biggest driving factor is pretty simple: I've not heard one person who is against this," says Kreischer. "Granite Gorge has across-the-board strong support."
Third, he says, the industry as a whole has been helpful, uplifting, and generous. Nearby Pats Peak, for example—a spot you'd think of as competition—helped Granite Gorge rebuild a decent equipment rental fleet for the upcoming season. "This is so different than any other business," says Kreischer. "It's not about cutthroat competition. It's about helping support the growth of a sport that honestly needs help and support."
Considering the dilapidated infrastructure, though, he admits that reopening is no easy task. But when, he wonders, was anything in this industry easy?
"We have a lot of infrastructure and other challenges to overcome," he says. "Which I am totally excited about. I'm a resort guy. I love a challenge."
One reason Kreischer is the right person for the job: he believes in the beauty and necessity of small ski areas. That's something he learned during his time at New Hampshire's Nashoba Valley Ski Area—"Small can be awesome. Feeder mountains rule," he says.
The challenges include: an outdated chairlift that sat idle for years, outdated snowmaking with no on-hill air, a tired base lodge, overgrown trails, and more. 
The initial redevelopment plan aimed to tackle several of those challenges: chairlift repairs, trail reclamation, erosion control, building repairs, new snowmaking, tubing, and a new website. Some of those first-year goals had to be ramped back a bit, though, when the bridge that goes over the brook running between Route 9 and the parking lot unexpectedly failed and had to be replaced this fall. The six-figure project slowed everything down. 
"That stopped us from being able to bring in contractors and vendors as early as we wanted," Kreischer says, "and we had to make the tough decision to hold back a bit when we wanted to be going 100 percent."
Some progress has been made, though: The double chair is retooled and ready for action. Two new fan guns are on site, and more could be coming. The rental shop is ready, as is the ski school. 
"This year, we're focusing on experience," Kreischer says. "We will have a full bar and some food, and of course, lifts and snow." Next year, the operators hope for more snowmaking and other improvements. Otherwise, Kreischer says, they'd like to let this season unfold and hear what investors and guests alike hope to see next.
"We want to provide a safe, affordable and inclusive experience," he adds. "As long as the people are happy and say 'I want my family here,' we will know we've found success."