ALPINE SKI RENTAL
By Peter Oliver
After rental buyers generally adopted what Fischer's Scott Ford calls "a wait-and-see approach" in 2020 and 2021 due to the pandemic, they are largely back in the market to replenish rental fleets.
With a light gradually emerging at the end of the Covid tunnel, rental operators are back in a buying mood. Last year, says Elan's Rob McCutcheon, "we completely sold out of everything." Nordica's Ethan Korpi concurs: "We hit a point where we had to stop accepting orders." 
Part of that was due to last year's supply-chain bottlenecks. But that should be less of a roadblock this year as ski manufacturers figure out ways to work around any supply-chain issues. "We're in a better position with [supply-chain] logistics," says Korpi, "and we'll be able to handle a much higher volume this year."
Performance Over Price
While some companies continue to offer price-point-sensitive products for budget-strapped buyers, the trend of the past few years toward spending a little more for better-performing products appears to have taken hold for the long haul. This is a trend that has been energized on both the buying and selling side. "There is less of a focus on winning on price and more of a focus on experience," says Salomon's Chris McKearin.
Better performance has also been paired with better graphics, with most rental gear now designed to mimic retail equipment and avoid the stigma of anything that screams rental.
Also, new technology has typically worked its way down from the top, being introduced in high-performance gear and gradually trickling down to intermediate and beginner-level equipment.
But in the quest to make rental equipment perform better, "we've actually adapted rental changes into retail," says Nordica's Korpi. If modifications in rental skis—such things as tail stiffness, early rise, and sidecut—make turning easier, why wouldn't those changes be welcomed by retail customers as well?
"We are finding a more sophisticated rental consumer that is looking for more technical equipment," says Head's Marshall Mayhew. In response, the company has widened the range of its rental product line to offer equipment similar to its retail line.
So, the pickings for price-conscious buyers are slim. Salomon, for example, has scrapped its fleet-oriented Distance skis in favor of the S/Force AM 76, with what McKearin calls "a more modern shape with more taper in the tip, easier to turn, and with more stability." Rossignol completed its transition from inexpensive extruded bases to a full rental line-up with sintered bases, according to Rossi's Kurt Hoefler—an upgrade that improves performance, glide in particular.
Tried and True
Once again, few technological changes are in the works for 2023-24. Among the companies committed to an if-it-ain't-broke-don't-fix-it approach is Marker-Völkl-Dalbello, which returns with its core rental package of the Deacon 76 and 80 skis and its FXR boot. Similarly, Elan returns with the Element 76 as its rental workhorse, having dropped its low-priced Explorer 72. 
Rossignol still includes its nicely priced React RT XP ski in its lineup, although the Experience series—with 76, 78, and 80 waist widths—represents the core of Rossi's rental-ski offerings. Rossi matches either React or Experience skis with its four-sole-length Flash boots.
Head "still holds strong with the Ambition and Ambition Pro" skis, says Mayhew. 
Nordica offers its All Drive 76 and 84 skis, because "we got no signals that we needed to make changes," Korpi says. And among its boot offerings, Nordica's introduction two years ago of the rear-entry HF 90R and the women's HF 75R was so well received that the boots were "gobbled up," says Korpi, so there's no needed changes there, either.
Salomon has shuffled its lineup a bit, offering its four S/Force rental-ski models in "two distinct flavors," says McKearin—learn-to-carve and all-mountain—with the S/Force AM 76 taking center stage as its principal fleet model. 
Fischer continues to rely on the XTR One X as its go-to fleet-ski model after a redesign a couple of years ago, with three step-up models also in the mix.  
New and Innovative
While relatively few truly new products will appear in this year's rental market, there are a few products and innovations to note.
Head introduces the Shape AM as its new fleet ski. It's built off an 80 mm waist with a wood composite core and power side-wall construction. Rental-friendly features include integrated tip protectors and thick top sheet for durability, and the proven UHM C base. 
In addition, Head has several new options in its performance ski boot line with the stiffer Formula series and the more intermediate-minded Edge series. 
Fischer is introducing its BOA fit system into its top-of-the-rental-line XTR RC 120 MV model, allowing users to turn a knob on the side of a boot to micro-adjust the fit. Ford says to expect BOA to soon appear in lower-level rental boots as well. 
The Fischer lineup also includes the One and Two kids' boots, in which the upper is little more than a gator, improving comfort and walkability, primarily for the pre-K set. 
To "stop sliding and start carving," as Rossi literature puts it, the new Forza ski series, anchored by the moderately priced 20 V-FG, allows a skier to "get more angle out of your turn," says Hoefler. The company is positioning the Forza 20 V-FG as a teaching-specific ski rather than simply a fleet-rental model. 
Among ongoing trends, the fixed-sole-length boot-binding systems introduced several years ago continue to hold a strong position in the overall rental picture. Rossi comes back with its four-sole-length Flash system, Marker-Völkl-Dalbello with its six-sole-length Quick-Six, Elan-Alpina with its four-sole-length DSS system, and Head with its trendsetting three-sole-length BYS system.
 In addition, while some boot models are still available with traditional alpine soles, MVD's Curtis suspects that it won't be long before Gripwalk is universally featured on all rental boots.
The news carousel turns, and the 2023 rental market is along for the ride. For the second year running, however, innovation and new-product development are not making the headlines. That could mean one (or both) of two things: that equipment manufacturers are satisfied that what they are offering is technologically about as good as it gets, or that a spate of new products is perhaps overdue and may hit the market in the next year or two. As the carousel turns, time will tell.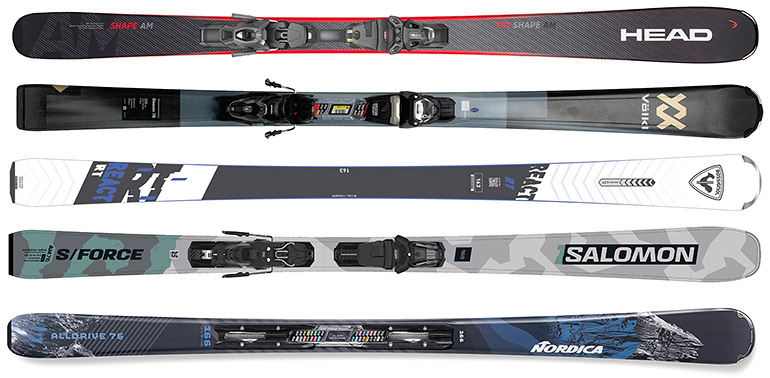 Top to bottom: Head's new fleet ski, the Shape AM; Volkl Deacon 76; the Rossignol React RT XP; Salomon S/Force AM 76; the Nordica All Drive 76.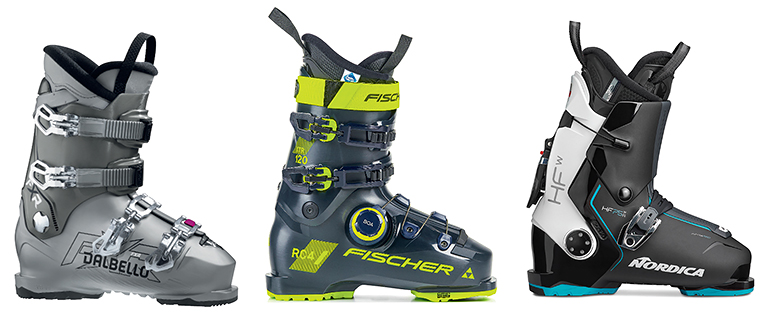 Left to right: Dalbello FXR boot; Fischer XTR RC4 with BOA dial; Nordica HF 75 women's boot.
SNOWBOARD RENTAL
By Roger Lohr
A handful of new innovations headline the 2023-24 snowboard rental lineup, but in general, all snowboard rental suppliers have a similar aim, as summarized by Nidecker's Gershon Dorfman: 
"From tickets to transportation to having appropriate clothing, snowboarding already takes a significant investment before you ever strap in," he says. "So, after all the difficulties of just accessing the mountain, the last thing you want is to struggle with equipment that is foreign to you. Therefore, we do our best to make it easy for both customers and rental service providers. Snowboarding is fun, and we're dedicated to helping it be as much fun as possible." 
Burton: New Ideas
Burton is introducing its new Step On boot and binding rental system in 2023-24. 
"This is a purpose-built Step On system built with rental features: color coding, RFID window, easy FLAD [forward lean adjuster] adjustment and lack of EVA on bindings, plus more robust materials on the boots for durability," says Burton's Nathan Benson. The Step On system is offered in the full range of men's, women's, and kid's sizing down to 3K.
Benson says the company also listened to on-hill staff to inform some of the features. "The oversized FLAD dial was developed with direct feedback from instructors who use this feature often as a learning tool," says Benson. "The dial can be controlled by either the rider or the instructor without having to take the boot out of the binding."
Burton is also offering its line of LTR boards, boots, and bindings, as well as a higher performance rental model called the Radius for men, women, and kids. 
In related news, Burton also launched a new online rental program in October to directly ship mounted rental boards and boots—and even outerwear—to renters' homes or hotels via UPS anywhere in the continental U.S. Burton says the new program "is designed for riders looking to try new equipment, gear up for specific terrain, learn on the best products possible and avoid the cost and hassle of flying with extra luggage."
The per-day price for board, boots, and bindings is around $70. There are plans to expand the current handful of available equipment options in the future. Shipping is free if the order is more than $99, and $20 otherwise. A return shipping label is included.
It's unclear how this new program will impact resort demo and rental centers that carry Burton equipment.  
Elan: Eye on Efficiency 
While Elan's line of snowboard rental equipment has remained unchanged for several years, Elan's Ben Fresco points out that it meets the needs of rental operators. "Our collection of rental equipment is thoughtfully designed to provide the best experience for the end user and to give rental operators a durable product that is efficient to rent," he says. 
From an efficiency and storage standpoint, Fresco adds, Elan offers "a quick mounting solution with our Accelerator Baseplate, which allows snowboards to be stored with hardware mounted and set up quickly by technicians." The rental offerings were designed to be easy to find, adjust, and limit touchpoints throughout the rental process, "so we were pretty well prepared for pandemic needs," he says.
For Elan, supply chain issues have improved and deliveries have been on time, according to Fresco, who adds that a close relationship with the factory allows the company to track production and delivery status to stay ahead of issues.  
Head: Speed and Usability
According to Head's Marshall Mayhew, the focus of its snowboard product lineup is "on rental process speed, usability, and system integration for the benefit of technicians and consumers." 
As such, Head products are color coded for junior, small, medium, and large sizes. The boards have beveled catch-free edges, tip and tail protectors, and a liquid frame wall for durability. The torsional flex makes it easier to control for snowboarders and there are some wider boards available. Retaining some of the board line to maintain board graphics is useful for rental purveyors to be able to fill in specific sizes if necessary.
The new Future Disc binding mounting system is an upgrade from the Speed Disc, with a one-tool adjustability compatible with 4 X 4 or 3 X 3 hole patterns on the snowboard. With the Future Disc, the Head rental system has 52 percent fewer components and 14 replaceable parts. 
Nidecker: Focused Features 
This year, Nidecker is offering a redesigned rental snowboard boot. "These boots have many rental-focused features such as double stitched seams, a one-piece reinforced rubber toe box, shielded BOA dial, and easy to read and color-coded size identification," says Dorfman.
The company is also introducing its new Supermatic binding: a two-strap step-in binding that works with any boot without modifications. It also offers a traditional two-strap model, and a rear entry model. The bindings use Nidecker's easy-lock mounting discs for quick and secure changes to stance angles.
"We saw a huge surge in first-timers since the onset of the pandemic, so providing high quality rental gear to make that first time as enjoyable as possible is key to promote long term participation," says Dorfman.  
Rossignol: Rental Optimized
According to Rossignol's Kurt Hoefler, the snowboard rental products from Rossignol "were redesigned this year for rental operators to be fast and efficient to get the customer out the door." Color-coded sizing that matches the snowboard, bindings, and boots provides rental techs with a quick visual to gather equipment for renters.
Rossignol snowboards include serrated edges and a rocker camber pocket, both of which reduce the likelihood of catching an edge on snow. 
The binding interface with the snowboard eliminates extra hardware without a four-hole insert, which means there is a minimal stack height for the inventory. It also simplifies connecting the binding, using the binding lever and locking handle, in a slot on the board. The adjustment requires the lever be lifted and turned to move and set the bindings before the lever is locked down—a move that an instructor, for example, could do on snow to adjust the stance or angle for a student.
For the customer, the snowboard boots feature a BOA cable system, a rubber sole for walking traction, and a molded shield so ski pants can easily slide over the BOA dial while protecting the cables. The Velcro enclosed inner liner allows the boot to accommodate wide or narrow ankle and lower leg areas.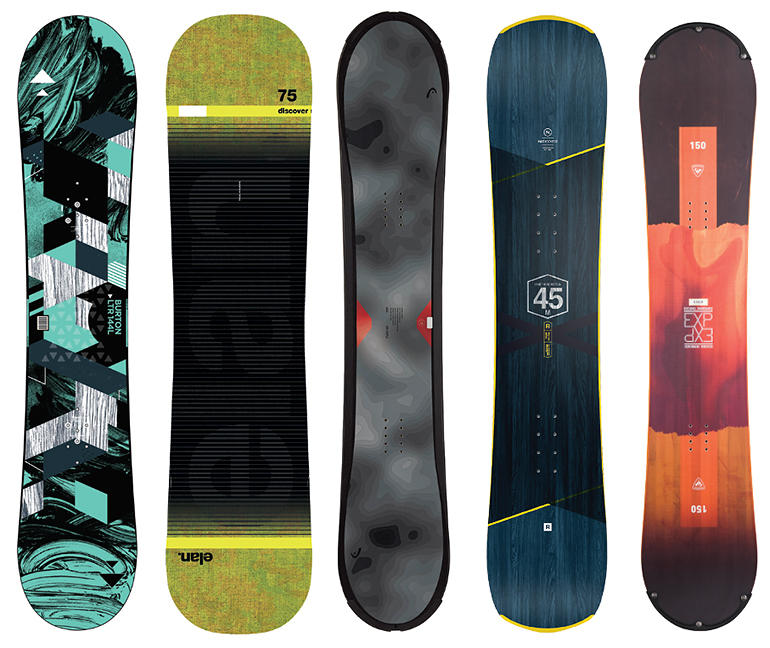 Left to right: Burton LTR women's snowboard; Elan Explore junior rental; Head Flex 2-0 4D FD; Nidecker Rhythm rental; Rossginol EXP3.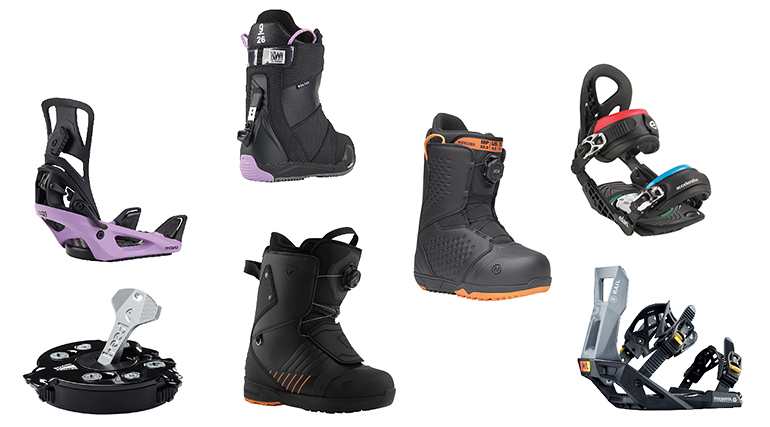 Top row, left to right: Burton Step On binding and boot combo; Nidecker's redesigned rental snowboard boot; Elan VIP rental binding with accelerator baseplate. Bottom row, left to right: Head Future Disk mounting system; Rossignol rental boot with BOA system; Rossignol rental snowboard binding.
CROSS COUNTRY AND ALPINE TOURING RENTAL
By Peter Oliver
Many ski industry insiders report, at least anecdotally, that AT is the fastest growing segment of the equipment market. (More on AT in a bit.) And Reese Brown, executive director of the Cross Country Ski Areas Association, says, "Cross-country saw a nice bump during Covid." While Brown anticipates a "growth slowdown," he still expects cross-country participation to settle in at a level higher than pre-Covid. 
He also notes that "alpine resorts are realizing that a fair number of their audience is interested in Nordic," and that many areas are either supplementing their alpine terrain with new Nordic trails and services or beefing up pre-existing Nordic centers. 
Cross Country Pays Off
Cross-country rental makes good sense. Rental can represent 25 percent or more of the revenue generated by a cross-country area, and assembling a rental fleet, with a full size run of boots and skis, is a relatively budget-friendly undertaking. Brown estimates that a reasonable cross-country fleet can be assembled for $20,000 or less. 
XC Fleets: The Skinny
Ski manufacturers have yet to jump into the production of rental-specific gear. For the most part, a cross-country rental fleet is assembled of in-line gear suitable for a rental application: a size run of combi boots to double for both classic and skate skiing, and a line-up of classic skis from the Nordic touring or cruiser category—more forgiving and slightly wider than high-performance classic skis for extra stability. Toss in a small cluster of low-end skate skis and a size run of poles, and you're good to go. 
Among the skis that might fit the bill are Fischer's Apollo and Voyager ("a little shorter, with a little more maneuverability," says Fischer's Steve Reeder), Rossignol's Evo XC 60, and Salomon's Escape Snow 59. All are in the 50 mm to 60 mm waist range (i.e., slightly wider than performance and race models) and come in small, medium, large, and extra-large sizes to cover all weight ranges. 
Each of these comes with traditional, textured waxless kick zones (what Reeder calls "mechanical"). Skate-ski models to consider are Rossignol's Delta Sport Skate, Fischer's opening-price-point Aerolite Skate 60 (or the pricier but better-performing Aerolite 80), and Salomon's entry-level RS 7.
For rental boots, Reeder suggests a slightly wider sole that "delivers more power to the ski." For more of a combi boot, Fischer offers the higher-cuffed XC control, while Rossignol has its X6 SC Combi, with an even higher cuff, and the stiffer X8 as a more expensive option. Perhaps the most suitable combi boot for rental in Salomon's line-up is the Pro Combi Prolink, newly designed for 2023-24. 
Note that Prolink refers to compatibility with NNN bindings; although Salomon still offers the Pro Combi with a sole to match its Pilot bindings, Salomon is phasing out its SNS and Pilot binding systems in favor of universal NNN compatibility between all XC boots and bindings.  
Alpine Touring: Still Niche
Interest in AT might be growing by leaps and bounds, but it still represents a very small niche of the overall equipment market, and manufacturers' reps report that demand from rental outlets for AT gear is still modest. That's a big reason why none of the major suppliers have committed to developing rental-specific AT skis and boots yet, so rental packages are assembled from the in-line portfolio to meet the main rental criteria: good performance, easy to use, and relatively budget-friendly. 
Resort-based Touring
For resort-based touring, where much of the uphill traffic is on packed, groomed slopes, the go-to touring ski should be light and fairly narrow-waisted (at least by AT standards). Team a ski like that with boots with a relatively soft flex and telescoping poles, and you've got the makings of a versatile AT rental fleet. 
Among the combinations recommended by company reps: Rossignol's Escaper 87 paired with the All Track Pro LT boot; Salomon's MTN 86 Pro ski and its MTN Summit Pure boot; and Marker-Völkl-Dalbello's Blaze 86 along with boots from its Quantum touring series. Rossignol also includes the new, wider Escaper 105 in its rental options that are, of course, drawn from Rossi's in-line touring series. All of the above skis come with pre-cut climbing skins.
What makes any in-line AT set-up workable in rental, of course, is a binding with a wide range of adjustability. Marker offers demo versions of its Kingpin touring bindings in two DIN ranges, the Kingpin 13 and the Kingpin 10. Rossignol's HT Radical 10 RTL binding comes with a 6-10 DIN range. Beware here, however: AT bindings are expensive, even if manufacturers might cut rental buyers some price slack. 
Evaluate the Opportunity
Although participation in cross-country skiing and alpine touring has experienced a growth spurt in recent years, both are still fairly niche. Resorts should evaluate the opportunity prior to investing in a fleet of XC or AT equipment based on guest profile, terrain, culture, etc. With many multi-day skiers looking for different options, having alternative activities to offer presents a compelling picture of a well-rounded resort.

top to bottom: Rossignol Evo XC 60; Fischer Voyager; Salomon Escape Snow 59; Rossignol Delta Sport Skate; Fischer Aerolite Skate 80.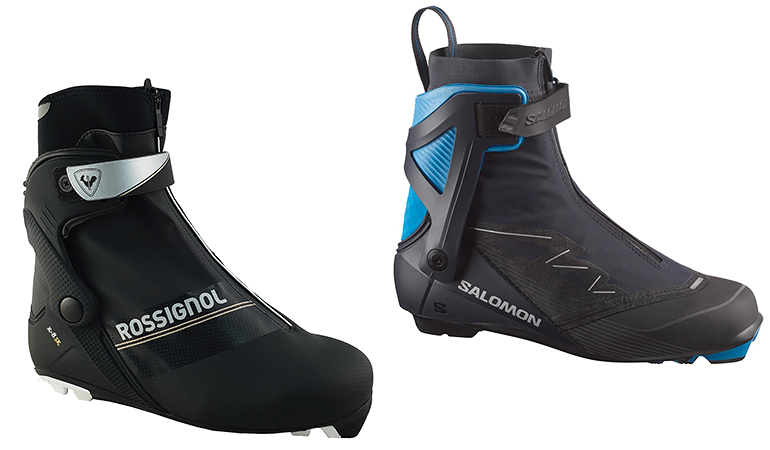 Left to right: Rossignol X8 SC Combi; Salomon Pro Combi.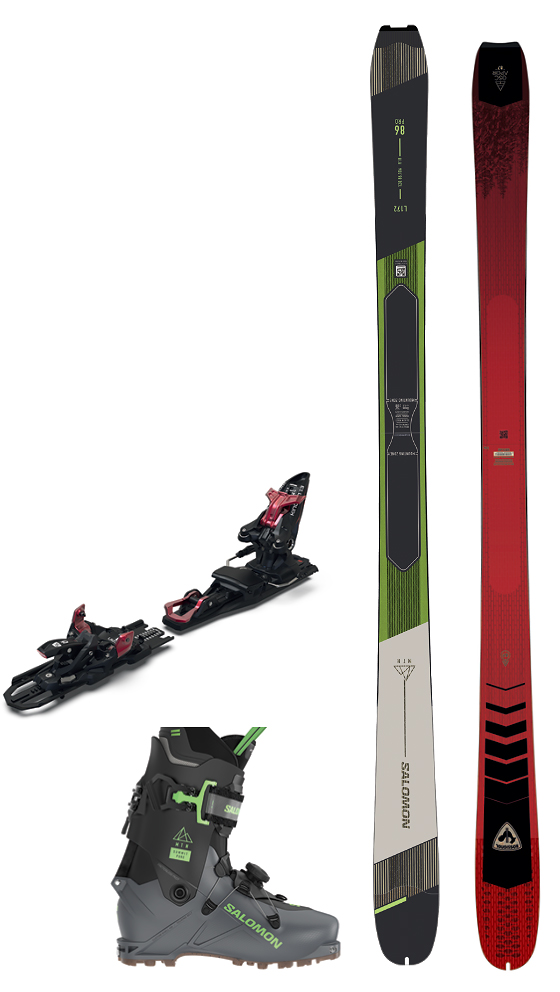 lockwise, starting upper left: Marker Kingpin 13 AT binding; Salomon MTN 86 Pro ski; Rossignol Escaper 87 ski; Salomon MTN Summit Pure touring boot.
HELMET RENTAL
By Peter Oliver
At many, if not most, North American ski resorts, helmets have become de rigueur for the standard rental package. But rental helmets can be a tricky piece of equipment to manage. They need to be sanitized regularly. Proper fit needs to be monitored. And regular inspection is essential because a helmet damaged in any way—cracked shell, broken chin strap, worn liner—can be a liability risk.
As you consider your helmet purchase, factor in at least four criteria: protection, durability, fit, and sanitation. 
Replacement
Most helmets are fairly durable, but not immortal. Over time, liners break down, get packed out, or become soiled, straps become stretched or frayed, shells lose their sheen, etc. This might suggest the implementation of replacement parts—e.g., new straps or forehead strips for the liners. But manufacturers' reps agree that by the time a part might warrant replacement, the helmet has lived its useful life, and the whole unit should be replaced. That time frame is somewhere in the two- to three-year range. 
Fit and Condition
The standard approach to fit, in such models as Marker helmets, Rossignol's Fit, Elan's Spector, and Uvex's Eco, is to start with three sizes (S, M, L, and sometimes an XL) and incorporate a BOA-like dial for micro-adjustments. 
The Head Charter Helmet, new for rental operations, takes a slightly different approach with the Sphere Fit system, which wraps around the head like a beanie, creating a snug fit without applying any pressure. Using an elastic band, the fit adapts automatically but can be adjusted by using the click system in the back of the helmet.
The Anon Progression 3 from Burton is available in both a traditional fit and a round fit to suit a variety of head shapes.
Sweat-wicking liner material and ventilation systems help to dissipate moisture buildup. Marker, for example, employs Xdry liners and what it calls the MarkAIR Channel Ventilation System.
 Nevertheless, wicking and venting doesn't absolve rental shops from sanitizing helmets, and manufacturers' reps say the process should not be much different than a rental shop's approach to boot sanitizing. Treatment after every outing with a cleansing or disinfectant spray is the way to go, after a careful inspection for any contamination other than perspiration—e.g., blood, food—that might call for special attention. 
Price Point
Finally, price. The good news is that rental helmets aren't a major budget hit. Most rental-appropriate models can be had for comfortably less than $100 per unit, perhaps far less, and for budget-conscious buyers, Rossi backs up the Fit, its primary rental helmet, with the price-sensitive Reply helmet. 
Overall, rental helmets should produce an amply profitable return over the course of their lifetimes.