---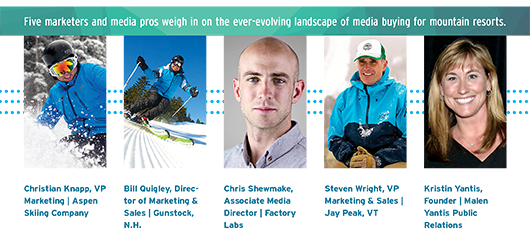 Click here

to take our media buying survey
This survey is the first installment of SAM's ongoing investigation of media buying strategies over the next year. Please be sure to share with us stories of your successful campaigns or lessons learned at the end of the survey.


ALL SURVEY PARTICIPANTS WILL BE ENTERED TO WIN $100 CASH!
Ten years ago, this issue of
Ski Area Management
would have been extra thick. In the middle would sit the part many readers would go straight to, like a kid to the cream in an Oreo: the annual Media Guide. The Guide listed dozens of newspaper ski sections and other marketing opportunities and served as a must-have tool for marketing and management folks alike. Keeping abreast of newspaper sections, magazine travel issues, and more was part of what
SAM
did.
Today, that section no longer exists. The sphere that is "media" has become somewhat obtuse. No longer simply a long list of newspaper sections, media now includes a variety of print and digital platforms and myriad new opportunities for marketers.
While that list of "where" may have changed significantly, the challenge of "why, when, and how" remains intact. It seems that as new school options abound, many resorts are also finding success in traditional marketing vehicles, like direct mail, print, and even the occasional phone call.
So what's a resort to do when deciding where to put its media efforts? Learn, try, and seek some help when it all gets overwhelming.
STATE OF FLUX
"For all of us, the budget used to be clear," says Steven Wright, vice president of marketing, sales, and hospitality at Jay Peak Resort and a long-time industry professional. "It was print and radio, and if you had some left over, TV.
The Internet has changed all that."
But change, he says, is a, well, changing word. For his resort, what has changed isn't so much the location of media and advertising, but the shuffling of them. "The channels are all the same," Wright says. "What is different is how we index them."
In other words, Jay Peak still believes in print. And in a strong way. "The more that people have become interested in search engine optimization and clicks, it's left print a much more valuable place to play in," says Wright.
But first, to the Internet
There is no denying that resorts now must not just understand the online space, but wrangle it on a daily basis. From the early navigating of Google to the more recent Facebook (which is about way more than garnering "likes" now), Twitter, Instagram, YouTube, Periscope, and whatever else pops up, resorts must understand its value and importance, all while not letting it take over their lives.
It doesn't help that the medium seems to change at the speed of light. For example, before last year, most looking at SEO focused on getting clicks through Google. But when Facebook tweaked its way of doing business and forced its commercial members into a new relationship, it positioned itself as a place where hyper-focused marketing was totally doable. And resorts had to take notice.
"Facebook is as valuable a marketing tool as Google," says Christian Knapp, vice president of marketing at Aspen Skiing Company. "I never would have said that a year ago."
"Even under the tab of 'social' (media) there is a paradigm shift every six months or so, in everything from platforms to the way you use them," adds Chris Shewmake, associate media director at Factory Labs, a company that specializes in understanding all that and then making it work for clients. "Being a technologist is now a crucial part of being a marketer. And being ahead is impossible, to be perfectly honest." He points to Snapchat as an example. "A year ago, it was not even in the conversation," he says. "Now you have to have it to engage the Millennial."
THE MESSAGE MATTERS MOST
So what are the steps toward media dominance in the mountain sports industry? It still comes down to: know your client, know what they respond to, choose more than one option, and, for goodness sake, be creative.
"Even with all we study and all we know [about the online world and how consumers relate to it], the biggest thing for us still is understanding the customer first," says Shewmake.
Resort marketers who know this fare better in this fickle world. Take Bill Quigley, director of marketing and sales at Gunstock Mountain Resort in New Hampshire. With robust winter and summer programs, Gunstock has a lot of media to juggle. And Quigley works hard at making sure they not only are juggling with coordination, but they've chosen the right balls to have up in the air in the first place.
"If all the spokes are not true," Quigley says, "the wheel is out of line." So, while the marketing team focuses on Facebook and other online media, it knows that its clientele still needs more. Like—talk about a flashback—direct phone calls.
"We just did them for an early load for season passholders, and it was incredibly successful," he says. "It led to our biggest early load ever."
Gunstock is also a believer in—again, flashback—direct mail. "Think about it," Quigley says. "How much mail do you actually get any more? It's not that crowded in that mailbox, so you can really stand out."
Nevertheless, Quigley says it's essential that resorts pay close attention to search engines, online platforms, and the host of digital options available.
"I am a big believer that women and Google run the earth, and in that order," he says. "It's all about the content."
In answer, Gunstock is constantly updating and refreshing its social media presence, and working to increase the depth of its relationship with the guest. This means not just being present on social media, but listening, connecting, and engaging.
Which can sound overwhelming. "It's a challenge," acknowledges Aspen's Knapp. "Every year you have to come up with a new campaign, a new reason to engage. And you have to track everything to make sure you get a better return on your investment."
MEASURING THE IMPACT
Aspen relied on the expertise of Factory Labs last year for some of that. The resort took a cue from its customers, who love video, and, with Factory, launched an online campaign using video across social media platforms.
Factory Labs helps companies embrace their clients' needs while—deep breath—taking risks.
"A major component of my job is to watch and learn," says Shewmake. "And to encourage resorts—through research and a strategy built upon it—to be bold and brave when it comes to trying new platforms."
These initiatives must be done with a true understanding of what it is all about, which is data, adds Shewmake.
"The means of understanding your customer has changed," he says. "It used to be surveys. Now we have lots of first-party data."
That stems from the potential guest's first click and their pre-visit planning to their stay and after. All that data can help carve out a media plan. One that not only reaches clients, but is informed by them, too. If you aren't already mining this data, it's time to start. There are plenty of sources and consultants who can help.
THE CLASSICS
Surprisingly, even forward-thinkers like the folks at Factory Lab give a nod to the old ways.
"It is totally untrue to say we are only investing in new (media)," says Shewmake. "Print, for example, is actually still quite important. What is evolving, though, is the way we approach print. Much print is a call to action to go online and see and learn more."
For Jay Peak, print remains strong. The resort has gained a reputation for smart, catchy, and incredibly creative print media programs.
That's not just luck, according to Wright. "Print is the steady, but the most important part of it is creativity," he says. "We have less time to capture attention. And not only does that mean you have to be creative, it means you have to be that kind of creative across the board, on every platform you are on."
Ah yes, creativity. While marketers can only speculate what the hot platform of the future will be, Wright believes creativity will remain a key factor. "It will be about the creative just as much as about the where," he says. "You want to invest smart? Invest in creativity."
He also sees an opportunity that is being overlooked by many resorts. "With the new guard very focused on transparency (via things like Yelp and Trip Advisor), they are forgetting the classic," says Wright. "They are forgetting about the ski writers."
Quigley agrees. "People still have a curiosity to read. And by giving them something to read about us that was not created by us, but rather by an outside expert, we are boosting our value. Third-party validation is key. You want to engage the writers who, when they say 'jump,' the reader says, 'how high?'"
With all the choices marketers face, it's no wonder that firms like Malen Yantis Public Relations (MYPR) are thriving. Founder Kristin Yantis has been in resort PR since the mid-1990s and finds that while much about media has changed, much about messaging remains the same. And while MYPR helps resorts focus on "hypertargeting" and finding the perfect mix of online locations, it focuses on offline media as well.
"Remember," says Yantis, "most traditional media outlets have an online component now. You don't want to miss out on that." She says her firm looks at each client ("there is no cookie cutter plan here"), its goals and objectives, the current market and how consumers are looking at it, and then comes up with a tailored plan.
"People can get caught up in new media," she says. "We like to look at all social media outlets, and, of course, everyone gets excited about the new. But it is important to really think through not only all platforms, but your client and your goals, and then decide which areas to play in. In other words: super focus. Don't spread too thin. And don't overlook the obvious while facing the new."
So there it is. While the classic "media list" may no longer exist, and new media may generate buzz, the resort that succeeds embraces all. media With insight, creativity, and perhaps a little help, your word can spread. And spread well.