The quote above captures the excitement and challenge for our small community as we began a journey to reopen a 200-acre ski area that had closed after a 50-year run as a family owned operation. It was our mission; we put it on a bumper sticker, and we strove for greatness. Not only did we want to upgrade and reopen the ski hill, we wanted to make it a world-class four-season recreation area, with purpose-built mountain biking trails and a skills park to anchor our summer activities.

After years of planning and effort, Detroit Mountain in Detroit Lakes, Minn., reopened on Thanksgiving weekend 2014. By closing day in March, we tallied just 22 tickets short of 42,000 visits, far above our conservative first-year estimate of 25,000. We also exceeded our revenue projection while maintaining startup and operating expenses within budget.

Detroit Lakes, population 8,000, is in the heart of Minnesota's "412 Lakes Area"—there are 412 lakes within a 25-mile radius. It's a bedroom community for Fargo, N.D., 45 minutes away. Detroit Mountain was missed by the locals, but was not on anybody's priority list. The old lodge and outbuildings stood dilapidating, and the lifts and equipment had been sold after the doors closed. The previous owners considered developing the property for residential use, but the recession of 2008 killed that idea.

Eventually, a local group of passionate skiers and civic-minded business owners decided to bring Detroit Mountain back. Discussions began casually in 2010, fueled by a public meeting attended by more than 500 supporters.
The first step was to create Detroit Mountain Recreation Area, Inc. (DMRA) as a 501 (c)(3) non-profit corporation. We prepared a document outlining possible ownership, management structure, recreational activities, and the economic impact to the surrounding community. A progressive city council saw the positive impact a project like this could deliver and provided support.

Our first fundraising effort was to underwrite a feasibility study. The process included hiring professionals from both inside and outside the industry—engineers, architects, consultants, designers, and ski resort veterans—to create the overall vision and estimate costs. The to-do list included a complete makeover of the property and lodge—new lifts, snowmaking, regrading, and more—and came with a $7 million price tag. Based on the study, DMRA crafted a conservative pro forma that showed how the area could be sustainable.

The official "Bring Back Detroit Mountain" campaign kicked off in 2012. Like most successful campaigns, large donors were needed to emphasize our commitment to the project before we went to the general public. Our board president and his business partner were the first to step up. As one of the largest private employers in our community (Lakeshirts), their leadership provided credibility and generated excitement among other businesses and individuals. From there, a large committee of volunteers made numerous contacts, presentations, and phone calls, and hosted fundraising events. We found that many people had fond memories of skiing at Detroit Mountain. That nostalgia became an inspiration to donate, both large and small, to the project.

In addition, the City of Detroit Lakes and DMRA entered into a public-private partnership. The City invested in the project and subsequently owns the real property, which means there are no property taxes. DMRA's non-profit status allows it, through state statute, to manage the project for the City through a management agreement and to retain operational control.

Our goal was to raise sufficient capital to build the project debt free through a combination of donations and pledges so that we could establish a sustainable business model. In that, we received assistance from the Midwest Minnesota Community Development Corporation (MMCDC). Federally allocated New Market Tax Credits also provided funding. Our initial loan funded the project while pledges were collected. In addition, the credit program offers lower interest rates, partial debt forgiveness, higher loan-to-value ratios, extended amortization periods, reduced debt service requirements, and/or interest-only payments for seven years.


THE OPERATION
Once the majority of funding was secured in 2013, general manager Jeff Staley, rental shop manager Tony Schmitz, and marketing/snowsports director Shelly Stowman moved off the board of directors and into full-time positions. All three were passionate skiers and experienced businesspeople, but none came from the industry.

We all agreed that providing the best guest experience was the overriding goal of the operation. We sent Staley to the Disney Institute for training, and focused all our efforts on creating the best customer experience from the moment guests arrived in the parking lot.

We wanted the new $2 million, 10,000-square-foot lodge to have all the amenities and feel of a Western ski resort. The architect captured just that, with wood features, a stone fireplace, and two 100-foot white pines salvaged from a nearby forest after a windstorm. The trees stand in the entryway of the lodge to welcome guests. The café and bar feature large log tables with bench seating, and a beautiful deck adds to the ambiance. The rental shop, stocked with Head skis and Burton snowboards, sits adjacent to guest services and boasts handmade workbenches and seating.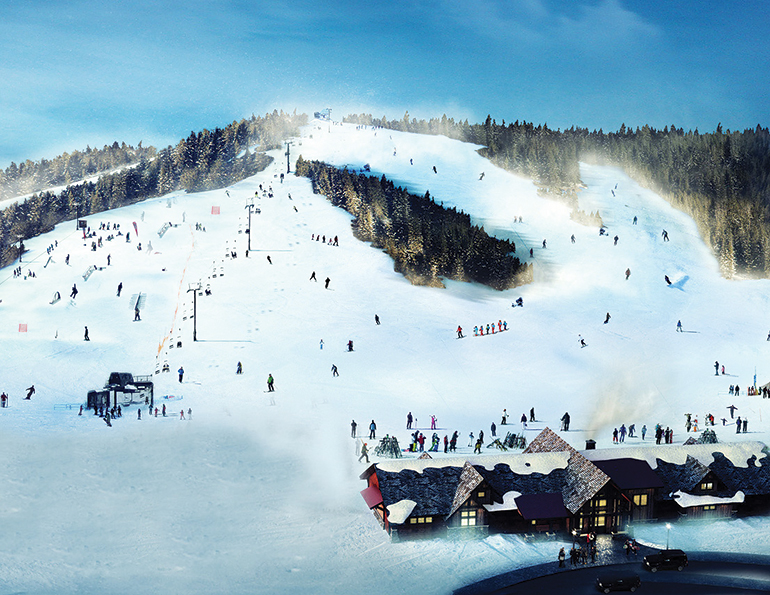 Below, an aerial view of Detroit Mountain.
The original lodge sat at elevation, making it difficult for skiers to get to it without sidestepping up a hill. We dropped its elevation by 12 feet to provide level access, and repurposed the dirt to other areas of the ski area. We were able to reshape the mountain to improve the fall lines and other natural terrain, creating a five-lane tubing hill, a brand-new learn to ski and ride area, and adding 25 feet of vertical to the top of the hill.

We also identified the perfect location for a large terrain park. We hired Terrain Park Consulting, who suggested we shape the park while we were moving dirt to save on snowmaking and cat time. Officially named SCHEELS, after a chain of successful sporting goods stores headquartered in Fargo and one of our largest donors, the park was the most popular spot on Detroit Mountain last season. (Current company president Steve Scheel taught his children to ski at the former Detroit Mountain, and was a regular this season with his grandchildren.)

Once building was underway, priorities shifted to outside operations. Snowmaking was number-one on our list. Dave Sontag, who we brought on board as outside operations manager, was a key addition. Sontag had begun skiing and working at Detroit Mountain as a teenager before moving on to Lutsen Mountains, Giants Ridge, and Granite Peak. Even before he got his new post, he had returned and volunteered to help install underground snowmaking pipes to support a fleet of 10 TehnoAlpin MMS and one TF10 fan gun. An eight-million-gallon pond was constructed on the property to feed them. And they were used regularly last season. Though less than 12 inches of natural snow fell, we had full coverage all season.

Two triple chairlifts were purchased and installed by SkyTrans Manufacturing. Identical in design, parts, and equipment, they are interchangeable, and simplify training and operations for maintenance staff and operators. Two separate Magic Carpets transport tubers and beginner skiers, while a high-speed tow rope services the terrain park and a slower rope tow supplemented the learning area. The rope proved challenging for beginners; replacing it with a Magic Carpet—with funds provided, in part, by guests frustrated with the rope tow—is at the top of our capital improvement list for this summer.

To ensure a top-notch customer experience, we focused on several details. Mountain ambassadors greet guests at the door, assisting with equipment and providing direction. To recruit ambassadors, we posted a signup sheet on our website. Through our newsletter and social media we requested that volunteers sign up for a specified time. Upon arrival, they were given logo wear for their two-hour shift and granted a free lift ticket for the day. A team of 25 volunteer ski patrollers were certified in Outdoor Emergency Care.

Since skiing had been absent from the region, we knew lessons would be in demand. Staley explored Terrain Based Learning at the 2014 SAM/SNOW Operating Conversion Camp, and was enthusiastic about its potential. We brought in SNOW Operating and entered into a relationship to offer TBL to our guests. A team of 30 instructors were trained, and lessons were a tremendous success. Thousands of students, many in youth groups, were able to experience skiing and snowboarding.

In the spring, we began preparing for our mountain biking operations. Arkansas-based Progressive Trail Design added the final touches to both our cross-county and lift-serviced trails. A skills park is available, too. We converted our rental shop to a bike shop with a fleet of Trek bikes. A Strider Adventure Zone is available for toddlers. We are engaged with the International Mountain Bike Association (IMBA) to become a designated ride center.

Providing a "world class" guest experience is and always will be the overriding goal of Detroit Mountain. Our inaugural season suggests we're on our way. We had demand for weddings and business receptions in the lodge. Businesses used the ski hill as a location for photo shoots. Detroit Mountain videos and photos became a common sight on social media. We exceeded our revenue expectations by nearly 50 percent, too, and that was exhilarating. For next year, we have identified new financial benchmarks and additional capital improvements. Fundraising efforts are ongoing as we strive to improve the guest experience.

The community's support was rewarded, too. Shops as far as 45 miles away sold out of ski gear and scrambled to restock shelves with necessities like goggles and gloves. Lake homes, usually vacant during the winter months, reopened so otherwise seasonal residents could return and ski. Local hotels added shuttle buses and "stay and ski" packages. Vehicles with ski racks outnumbered vehicles without.

Everyone, including donors, mountain employees, and community members are proud of Detroit Mountain. We moved mountains, after all.