In-house expertise and a passion for mountain biking helped Silver Mountain, Idaho, build a viable summer business.
---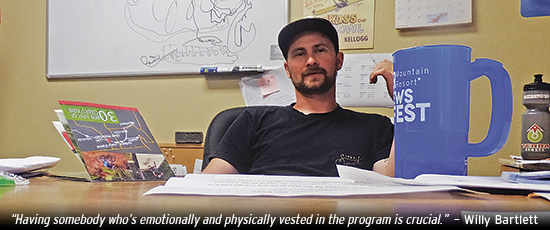 Willy Bartlett spins in his chair, ­juggling phone calls. He fields a sales inquiry from a church group, then switches focus as someone affiliated with the weekend's downhill bike race drops off gear, along with a few cases of sugar-free Red Bull.
In between his duties as the marketing coordinator at Silver Mountain, Idaho, he's also the bike park manager. His office was once the master bedroom of an apartment in the faded brown complex the ski resort has converted to administrative offices.
Bartlett, 32, looks every bit the mountain biker, dressed in shorts, t-shirt, and trucker hat. He moved mountains to breathe new life into the bike program at Silver, and his efforts have helped increase revenue and also helped Silver Mountain Bike Park earn a top spot in MTBparks.com's 2014 Best Bike Parks Riders' Choice Awards, the rider-voted annual survey ranking the top bike parks in North America.
Bartlett began monetizing the bike program in 2013, and the bike park was branded in 2014 with its own logo, social media channels, and marketing. As a result, in 2014, rider visits rose by 173 percent, and by June 2015 looked on track to surpass that by a large margin, with day ticket sales already at 250 percent of the same time last year. Season pass sales were up 175 percent.
The revenue stemming from the bike program comes from more than ticket sales. The new bike rental fleet, which consists of eight trail and eight downhill bikes, turned a profit in its first season and will nearly double in size in 2016. Food, beverage, and lodging have also seen a considerable bump.
"The riding community is excited. They appreciate a business that caters to them and takes them seriously," says Bartlett.
According to Bartlett, Silver's market is bigger than just the local scene; the resort is becoming a true summer destination for mountain bikers. For example, this year is the first in his 11 years as a local that he's seen mountain bikers move to Kellogg because of the riding, whether it's to work at the resort, be close to the riding, or both.
"Two years ago, no one was staying in the hotel to mountain bike. It was a day trip," Bartlett says. "Now that we are improving our product, people are planning trips and booking hotel rooms to ride the bike park."
Bartlett says the budget wasn't there to bring in an outside building or consulting company for the park, and that such an option can be cost-prohibitive and isn't realistic for every resort, whether due to budget or management that's not ready to go all in up front. That's where, perhaps, the most crucial component of building a do-it-yourself bike park lies: choosing the right people.
Bartlett moved to Kellogg at the age of 21. He was wrenching in a bike shop in Collville, Wash., outside Spokane, when he heard that Silver Mountain—a ski area known for its Swiss-built gondola, the longest in the world at 3.1 miles—was allowing bikes to access the mountain's 3,400 feet of vertical drop.
Bartlett came to town and during the five years he spent at the shop, watched the bike program go through spikes that included some successful downhill racing between 2005 and 2008. By the time he was offered a marketing position at Silver in 2009, though, mountain biking was no longer a focus of summer operations. Ridership dwindled and trails went underutilized.
Bartlett jumped at the chance to leverage his position to capitalize on his passion and the opportunity he saw for the bike program. It wasn't long before he met Drew Mahan, a ski patroller just as enthusiastic about two wheels as Bartlett. Mahan stuck around each spring, building and maintaining trails as fast as the melting snowline would let him, before leaving each summer for another seasonal job with the Forest Service. Eventually, they started putting shovels in the dirt in their spare time. Then, about eight weeks before the summer opening in 2013, they got the official go-ahead to open a real bike park.
"Having somebody who's emotionally and physically vested in the program is crucial," says Bartlett. "We're committed. We're in this long term, kind of married to the project."
In just a few short years, Bartlett and Mahan, along with a trail crew of three and a bike park manager, have established Silver Mountain Bike Park as its own entity, and gone from just three main trails to more than 30, ranging from beginner flow to expert technical.
BRANDING AND IDENTITY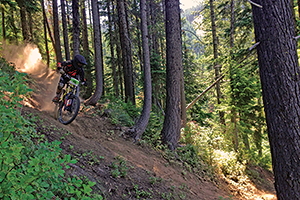 In just a few short years the Silver Mountain Bike Park has established its own identity, and has grown from just three main trails to more than 30, ranging from beginner flow to expert technical.
Independent branding as a bike park separate from winter operations gave identity not only to the bike park, but to its rider base. By creating a logo, separate social media channels, and other branding collateral, mountain bikers have been able to identify with the product. Not all mountain bikers want to see skiing and horseback riding in their newsfeeds, but will be more likely to engage with content specific to them.
"Bikers know they are being treated as an equal with a product just for them, not ancillary to ski operations," Bartlett says. While this isn't specific to building trails or contracting outside vendors, it's an important piece of the puzzle that can go a long way, especially when making the most of in-house efforts. Like other aspects, this is where having mountain bikers on your team who get it and can provide authenticity is crucial.
CAPITALIZE ON NATURAL STRENGTHS
Not every resort has enormous vertical drop or the perfect soil for sculpting jumps. One thing Silver Mountain has to work with is a huge piece of real estate that offers long, sustained descents over a solid drop in elevation, and soil that allows technical singletrack to be scratched in fairly quickly.
"We've got good dirt. We don't have a lot of rock features, but we found what we do have and capitalized on it," says Bartlett. "Those mining features—glory holes—we incorporated those and made berms out of them."
Starting out, it was easy to have the trail crew go out and build the raw and technical trails that the racers were looking for fairly cheaply and easily. Once the money was coming in from that and it helped the mountain gain a reputation, they were able to turn their attention to some larger projects, like the new Hammer trail, and focus on progression by building a multitude of shorter, easier options in the Chair 3 Zone, a section of the upper mountain that doesn't require riders to ride down the long, demanding trails all the way to town.
Silver also builds most of its ramps and wooden features from lumber cut during the trail building process. "We built them for nothing more than the cost of labor, nails, and saw gas," Mahan says.
BEST BANG FOR THE BUCK
When it comes to trail building and maintenance, the bike park game requires an entirely different approach than the winter months, so figuring out the best return on investment can be tricky. An enormous machine-built flow trail might be tempting, but can be expensive and take a long time to see ROI, while a larger variety of hand-built trails may offer more options and lower initial cost, as well as a diversified investment while catering to different abilities and riding styles.
Although Silver's few pre-bike park trails were built by machine, providing a predominately flow trail experience, in the last three years, most of the additions have been hand-built tech trails. They have added variety for different abilities and riding styles, and allowed the trail crew to build the network fairly quickly and affordably.
"Don't overlook hand-built trails," says Mahan. "It might seem like a wash when it comes to cost at first glance, but with a hand-built trail, you're leaving behind a mostly finished product. Even with the best machine operator in the world, you're going to have a significant amount of hand tuning to go back and do."
A good trailbuilder knows how to create flow, but the ongoing maintenance costs can vary greatly. "On our advanced flow trails, we spend about five times as much labor maintaining as we do on our black tech trails," says Mahan. "For one mile of flow, we'll probably spend five days per season maintaining. We can ­probably do a season's worth of ­maintenance on the same length of tech in a day. Hand-built trails have been a huge part of allowing us to grow quickly."
YOU GET WHAT YOU PAY FOR
Keeping costs low initially can be crucial for a bike program to survive when budget is a concern, but be able to recognize when you hit the tipping point and have to invest. There will always be a cheaper way, but that's not always the right way, and sometimes providing the necessary tools for the job is a worthwhile investment.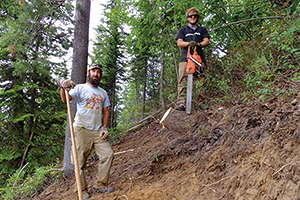 Trail builders Drew Mahan and Nick Nathhorn on the job at Silver Mountain. Crews will spend about five times as much on labor to maintain the advanced flow trails as they do on the black technical trails. One mile of flow will require roughly five days of maintenance per person.
"We've gotten to the point where we realize that with certain things that we did as inexpensively as possible, they end up requiring more labor, maintenance, etc.," says Bartlett. "You're not saving money if you have to replace and retrain the trail crew because they're burned out or have to rebuild the same section every year."
As the park's traffic increased, they found that there are certain sections of trail that have to be completely rebuilt by hand each season. They now recognize the benefit of bringing in a machine and changing the flow of those sections to be more sustainable, providing a long-term solution that alleviates ­maintenance issues.
"We have some old trails that have some real maintenance challenges," says Bartlett. "Now that the park is generating more money, we are going in and eliminating a lot of these areas."
GROW ORGANICALLY
Huge upfront investments and build-outs can lead to unrealistic expectations and missed ROI targets. Opening new trails and features incrementally throughout the season can amortize the cost of improvements and keep riders coming back because there's always something new.
"Skiing changes so often depending on weather," says Bartlett. "With biking, that trail hardly changes, so being able to open new terrain and features keeps people interested and coming back. We had a new trail opening almost every month last year."
OWN YOUR HOME MARKET
Understanding your core local riders and influencers early on is key. While the ultimate goal is to become a destination, building a solid local base helps cover initial costs and plant the seeds by word of mouth. Silver Mountain employs a local shop program that allows the region's bike shop employees to ride for free. They are core influencers with a great deal of interaction with the local bike-riding public.
"Odds are pretty good that if you walk into any shop within 200 miles of here, someone on the sales floor rode at Silver this weekend," says Bartlett.
He also goes to organized trail rides in nearby urban centers like Coeur d'Alene and Spokane to help spread the concept of lift-served riding to mountain bikers who may be unfamiliar or just haven't tried it.
BUILD COMMUNITY
Look for people with a special skill set, whether they are a photographer or a promoter that is willing to work with your budget. If they want to support and be a part of the scene, you may be able to trade to help generate content or complete certain projects. Local riders may be willing to dig in exchange for lift tickets. Be aware not to take advantage—your community is essential to your success.
"Those guys are presenting awards, announcing, just because they want to be a part of things. And people love it," says Bartlett. "There are probably locals who want a bike park more than the resort wants a bike park, who are willing to go to exceptional lengths to make it happen."
HAVE A PLAN
Third-party operations offer planning services, even if a resort is building a park in-house. But if you're flying completely solo, doing it yourself requires a fair bit of "big picture" vision.
"We knew we wanted enough trails to justify a week-long visit," says Bartlett. He approached the project with a goal of a diverse trail network to offer multiple options for all riders and abilities to challenge themselves. "Try to grow your trails so that you are adding for all abilities at an equal rate," adds Mahan. "You don't need 10 beginner trails. If you have a solid beginner run, you can focus on more advanced and vice versa."
Look at how you're going to utilize the space, says Mahan. "On a given slope, you're trying to avoid trail crossings as much as possible. You want merges as opposed to crossings. Beginner trails take up a lot of real estate, so put them somewhere you won't use up land that could be better utilized for advanced trails."
FIND THE RIGHT TEAM
Perhaps the most important key to bike park success, especially with limited resources, is having the right people in place. Whether it's marketing or building trail, you need someone who not only has the necessary skill set, but is a mountain biker who gets it. Not every ski patroller will make a great bike patroller. The best machine operator in the world probably won't follow flagged trail properly if he doesn't understand what it's like to ride the finished product. And someone who isn't passionate just isn't going to put in the same amount of effort.
While Silver Mountain's summer bike park success is certainly not alone in the North American market, the growth and established identity as a result of a small but dedicated in-house crew is certainly an example as to what's possible. With a plan, a supportive management team, and a dedicated crew of mountain bikers who get it, becoming a destination resort for lift-served mountain biking is an attainable goal for almost any ski resort.
About MTBparks.com
MTBparks.com is North America's most comprehensive guide to lift-served mountain bike parks and resort destinations. Developed to be the one-stop guide to all of North America's best bike parks, MTBparks.com provides news and event info, trail descriptions, maps, reviews, ticket prices and more. The site helps riders discover new bike parks and plan their next adventure, whether it's a weekend in the local mountains or an epic road trip across the continent.