---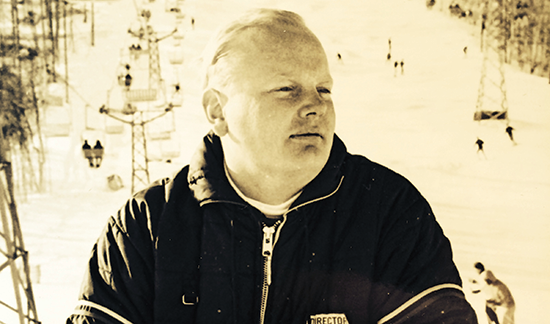 SAM: How did you come to America?
Ratnik: My family fled Estonia in 1944 as the Russians were coming and relocated to a "displaced persons" camp in Germany for five years. When I got off the boat in New York in 1949, I was 14 and knew only a very little English. After my parents found a place to live in North Dakota, I started reading the Sunday paper and library books with my English-Estonian dictionary. After three months, I went to high school and did well.

SAM: How did you get started in the ski business?
Ratnik: After getting my engineering degree from what is now Kettering University, Flint, Mich., I worked at General Motors as a product design and materials engineer. It was a good job and I learned a lot. While at GM in Rochester, N.Y., I met co-workers who liked to ski, and we made ski trips to Mount Snow, Vt. One day one of them said, 'Why don't we build a ski area nearby'?" We started looking and found a 1,200-vertical-foot mountain about 50 minutes from Rochester. My initial partner and I bought about 300 acres of hills and started planning what became Bristol Mountain. I was one of three stockholders and president during construction and the first winter ski season. All along, though, I had planned to leave after the first season and start an independent snowmaking consulting business.

Our snowmaking system at Bristol was one of the largest at the time. It covered the slopes top to bottom. Most other snow systems had pipelines above ground, but the pipelines at Bristol were much longer, and I was afraid the pipes would freeze up frequently. So we were one of the first to bury our pipes. We had the largest freeze-proof system at the time, with pipelines below the frost line.
The early systems were small, like one or two trails, to see how things would work out. The early one-inch diameter size systems were low capacity. Water pumps were often 250, 300, 400 GPM.

SAM: How exciting were the early days?
Ratnik: I started offering snowmaking system engineering services in the spring of 1965, and incorporated Ratnik Industries, Inc. in September.

Every winter, I was out testing new equipment. Nobody had a handbook on how to build a ski area or a snowmaking system. Our first snow guns were one-inch diameter pipe guns made in my father's machine shop. We started building water hydrants with globe valves and automatic water drains in 1966. The early one-inch diameter snowmaking hoses were two-ply rubber and heavy, but strong.

The real problem was trying to figure out how much snowmaking capacity was needed to cover a slope. You could get historical weather data, but you could not calculate how much water and compressed air you needed. We did not have accurate snow conversion data for snow guns. Ski areas started with one pump and one compressor, saw the need for more capacity, and added more air, water and snow guns until they got the results they wanted.

At Bristol, we used water yard hydrants with pressure regulators in metal culverts. To keep pressure regulators and hydrants from freezing, we filled the culverts with good horse manure (recommended by a local farmer). And we still had access for service, if needed.

SAM: What are the key innovations and developments you have seen?
Ratnik: Improvements came pretty rapidly. We created an instrument system to measure snow gun air/water ratios in 1966. That helped us to compare snow gun efficiencies and calculate how to size systems and select snow guns. We introduced the first practical snow guns on towers in 1968, and the Sky Giant II in 1971. It was a two-inch diameter hydrant/hose gun, had high capacity, and could be mounted on towers or sleds. We made more than 15,000 and sold them in Scandinavia, Japan and North America.

The first variable speed automatic pumping system and controls in 1974 changed the speed and reduced power consumption of pump motors while maintaining set water pressure. You did not need people in the pumphouse to watch the system.

We added radio controls for guns and hydrants in 1990—25 years ago—and then individual computers to guns in 1993. The radio controlled snow guns were completely controlled from a personal walkie-talkie, but were expensive and sold mostly in Europe. The individual snow gun computers were too expensive for the American market, too, but worked well in test sites. As the industry continued to push for energy efficiency, we introduced the Sky Giant VI in 2009. With recent enhancements it uses 12 CFM of compressed air to nucleate the bulk water nozzles.

SAM: What do you most enjoy about the snowmaking business?
Ratnik: I get a lot of satisfaction working on new products that snowmakers like, make their life easier on the slopes, and save energy. The whole sport depends upon the snow conditions. The better the quality of snow, the more enjoyable it is to ski.

SAM: Who's your favorite character?
Ratnik: In the early days, there were many colorful people building ski areas, and the business was exciting. It helped if you spoke German like I did. There were a number of ski areas that had German speaking owners.

One of my favorite characters was Tom Watson Jr., president of IBM. He owned Madonna Mountain (before and since known as Smugglers' Notch) and told his GM: "We need snowmaking, call Mousenik and have him design it." I was surprised that he knew who I was. And we did design the system.

SAM: What will the future of the snowmaking business look like?
Ratnik: Innovations in snowmaking are happening faster than ever. If you come out with a new product today, six months later someone else will have a competitive product. The cost of making snow is being reduced, since new snow guns use much less compressed air energy.

In the near future, innovations will make equipment sturdier, more reliable, less subject to freezing, easier to operate, and higher capacity per location. The use of photonics may replace a lot of the electronics components used in snowmaking equipment controls, and they will be more reliable. Systems will require less electric power. And finally, that greater reliability will increase the use of automatic snowmaking systems.