GENERAL
Best Ski Show Strategy
Bretton Woods, N.H.
I'm sure dozens of resorts use this strategy already, but Bretton Woods nailed it last fall: it priced its ski show offer just right. It didn't bring dozens of staff to sell rock-bottom lodging deals. It took a reasonable price point, something like $100 to $250, applied it to a multi-day ticket pack, and sold the flexibility of the deal. People don't know their schedule. They don't know when the snow will be good. But if they have money to spend, getting them into flexible ticket packs, at a decent price for them and a decent yield for you, should be goal #1. Whatever you're giving up on price point will be made up with breakage. Plus, it's easy for staff to push. Even better, incentivize staff to sell as many as possible. Give them $2 for every pack sold, and watch what happens to their motivation. —A.K.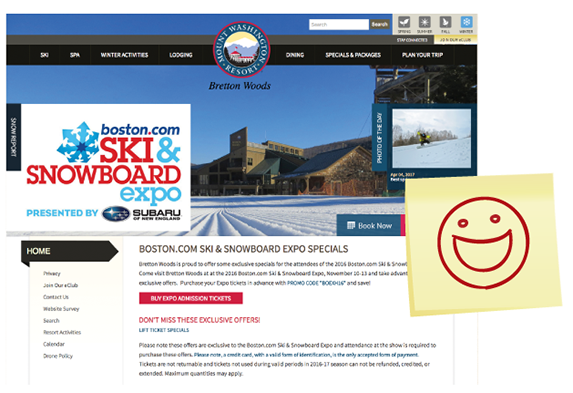 Best Event Marketing

Killington, Vt.
It would be easy to pick out just one aspect of USSA and Killington's combined marketing and communications leading up to the World Cup races it hosted last fall, but the combination of campaigns is where the resort's efforts truly shone. From behind-the-scenes looks at management's emotional investment in the event, to a PR effort that led to some of the best media coverage any one resort has received in some time, Killington's plan was smart, well planned out, and extremely effective. Given fall weather in New England, hosting the races was an all-in bet, but one that certainly paid off. —G.B.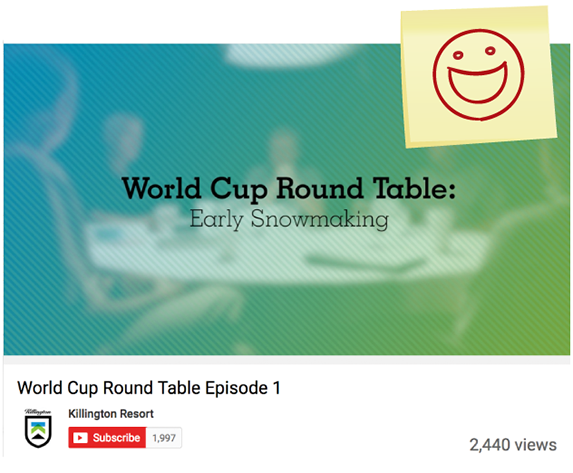 Best Way to Lure Telecommuters
Heavenly, Calif.
For many, work hard/play hard means taking your work to the mountain. But rather than responding to emails on the chairlift or hopping on a conference call in the noisy base lodge, Heavenly offers the Tahoe Mountain Lab, an on-mountain, ski-in/ski-out co-working space at the top of its tram. Powder-seeking professionals can reserve a spot for an hour or a whole day for a nominal fee. The cool logo adaptation of a pine tree and the "power on" graphic tells a good story, and the concept is promoted through video and online. Heavenly can encourage guests to play hooky from work on a powder day, and guests can actually get work done while on the mountain. The resort gets cred with California's geeks looking for a place that understands their need to stay connected, even at 8,000 feet. —S.R.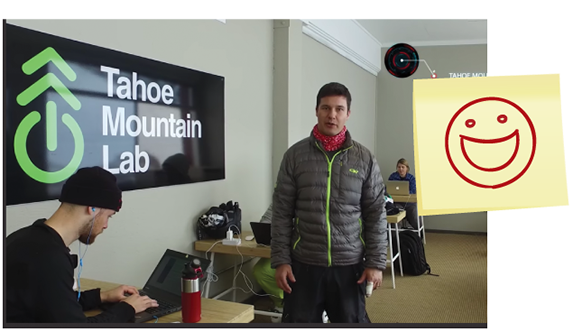 Best Use of Trade
Burke Mountain, Vt.
Burke Mountain has a brand new hotel to go along with its recently granted freedom from the letter Q. Now, filling a hotel is hard enough. Filling a hotel that has diddly-squat on the books for return business, and a brand more recently known for fraud allegations, is really a challenge. It requires a lot of creativity and liberal use of trade. The resort hosted a Vermont Public Radio board of directors' retreat using extra inventory it had available, and in trade it's been pervasive on the morning drive airwaves, pushing group and conference business at zero out-of-pocket cost. If you live in Vermont and listen to public radio, you've heard a lot of Burke Mountain. Plus, the VPR retreat attendees were major players in the state's business community, and now have Burke on their conference radars to boot. —A.K.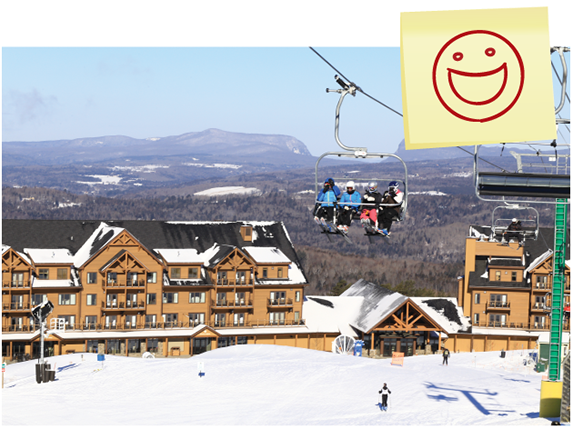 Best Leverage of an Ad Buy
King Pine, N.H.
Night skiing can be cool, but it doesn't really sell itself. Getting folks out of their daily habits, into their cars, and to the mountains requires creating new rituals. To encourage that, King Pine offers a $10 ticket, $10 rental, $10 park lesson, $10 Beer N' Burger deal on Tuesday nights that is finally reaching critical mass after a few years in the market. Guests can buy any one of those, or all four. King Pine's experienced media buyer markets $10 Tuesdays by leveraging a season-long bulk buy to get some bonus spots in major markets for ancillary messages like night skiing, tubing, and Nordic. These may
be on the back burner compared to your bread and butter revenue, but you can still get them on the airwaves if you know how to work the complex media ecosystem. —A.K.

Best Lift Ticket Promotion
Sunlight, Colo.
Vail has become expert at turning inflated window rates into media coverage, and media coverage into a pulpit for the "better way" that is the Epic Pass. Sunlight Mountain in nearby Glenwood Springs, however, beat Vail at its own game with a clever twist on its 50th anniversary promotions. At $700, the Sunlight Sunny 700 was pitched as the "most expensive lift ticket in the world" when it was launched last fall. This tongue-in-cheek promotion (the lift ticket came with a pair of skis or board) was paired with a savvy PR effort that earned coverage in The Washington Post, Forbes, The Denver Post, and multiple area TV stations. A huge win for the small ski area, and a clever chess move against the mega resorts that surround it. —G.B.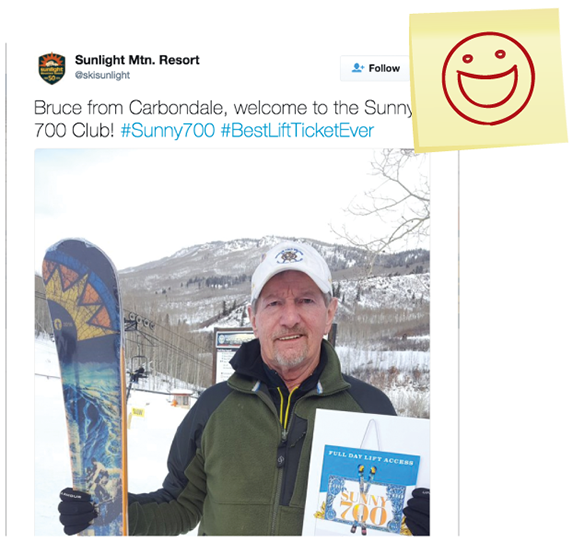 Worst Sticker Shock




Vail, Colo

.

Vail has a good product. Very good. As a result, demand for it is high. I guess you can get away with anything when it comes to a seller's market. However, the symbolism of a $179 single-day ticket reinforces the general public's perception that skiing is "too expensive." When a photo of the ticket window ended up online in January, Mountain Riders Alliance and Unofficial Networks both reposted it. That generated disbelief, disgust, and disappointment in some of the most commented shares of the season. If this is any indication of what the "mark it up at the window to mark it down online" trend will result in, we are all in trouble. —S.R.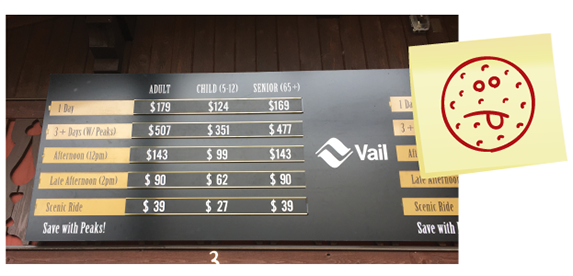 Best Season Pass Promo
Mt. Rose, Nev.
Spending money hurts. Literally. Behavioral economists call it the "pain of paying," and when it comes to core skiers, there's no more painful moment than forking over $500, $750, $1,000, or more for their season passes. But Mt. Rose wondered, what if it wasn't so painful? What if it was actually fun? The area's annual season pass renewal party combined a long list of really cool giveaways (vacations, skis, etc.), a barbeque, music, and a healthy dose of enthusiasm to turn a once-dreaded moment into something that locals could look forward to. Paying for a pass will never be truly painless, but Mt. Rose's renewal party is as close as we may ever get to transactional anesthesia. —G.B.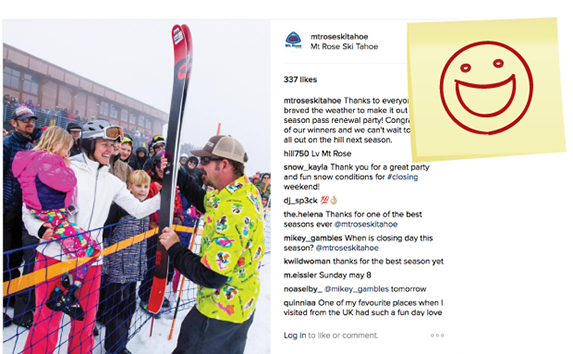 Best Millennial-Targeted Program
Breckenridge, Colo.
Many resorts have "Ladies Day"-type campaigns, but Breckenridge has added a reason for women to be interested in skiing, even if it's not the main attraction. "Women and Wine" starts with an afternoon, ladies-only lesson, followed by a complimentary glass of wine during après. Study after study shows the 21-to-30 crowd is driven by friends, alcohol, and events that are photo-worthy for Instagram or Snapchat. The cougar crowd is well suited to take advantage of this combo as well, and the right messaging can attract both. I'm not sure how successful this program was at Breckenridge, but I hope it continues—and others take note of the evolution in how we market. Traditional ski lessons need to adapt. —S.R.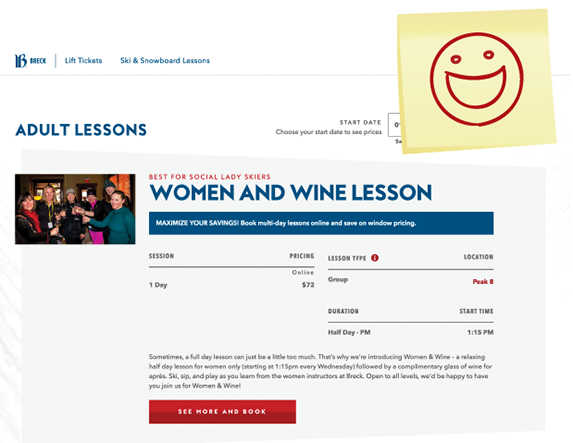 Best Use of a Tow Rope
Buck Hill, Minn.
Minnesotan professional snowboarders Jake Olson-Elm and Joe Sexton are part of a community-driven brand called 1817 that produces quality park edits filmed in the Midwest. This winter, the crew collaborated with Buck Hill near Minneapolis on a park bearing the group's name. The 1817 Park was a bright green and black oasis of rails with its own, dedicated towrope, providing riders easy access for constant park laps. Local snowboarders flocked to Buck Hill, and Joe and Jake brought filmers and photographers, turning The 1817 Park into an organic hub for content creation. The video edits and Instagram photos proliferated all season and offered additional imagery for Buck Hill to utilize. Riders from near and far were stoked to have a section of the mountain to call their own, and shared their stoke via a bevy of accounts and channels. Perfect partnership. —M.W.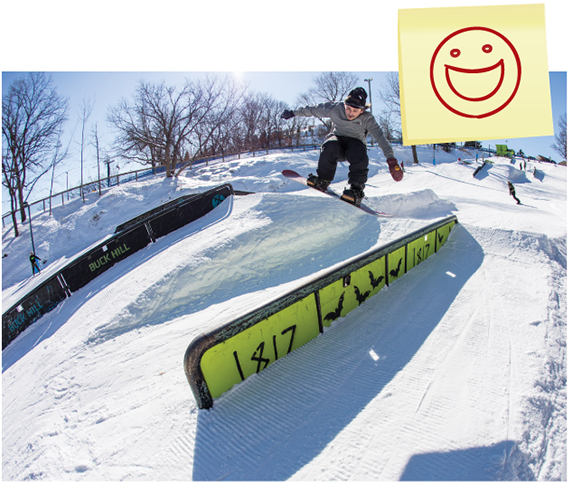 Worst Hashtag
Jerry of the Day
Collectively, our sport is trying to be Ellis Island—a place where anyone can find refuge. We want to grow. Yet at the same time, we make fun of beginners who unwittingly break our unwritten rules during their first days and months on our shores. Wear the wrong clothes, we laugh. Carry your skis differently, we take pictures. Leave too much space between your goggles and helmet, we point and snicker. Even worse, many of our most influential voices—resorts themselves—are joining in. Over and over again this year I saw pictures of paying guests tagged with #jerryoftheday or #gaper on resort social media accounts. To those newbies, and thousands like them, it's not funny. We may think of skiing as Lady Liberty beckoning to the uninitiated, but mocking the people who pay our bills is building a tall, off-putting wall around our collective slopes. —G.B.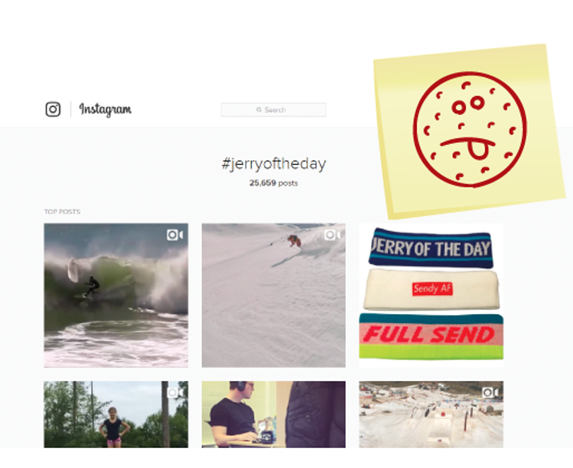 Best Summer Marketing
Revelstoke, B.C.
Between price and popularity, mountain coasters have been a revelation for many resorts. Revelstoke, known for its incredible steeps and big vert, decided to follow suit— but in a way that perfectly matched its brand. Simply known as The Pipe, its coaster rides on just one rail down a long and intricate track that gives riders spectacular views of the surrounding valley. A brilliantly made video revealed the ride to the masses and quickly earned nearly a half million views. The success was instant and led to multiple-hour wait times, even on weekdays. In response, Revelstoke introduced a take-a-number system and offered dining specials that allowed riders to wander the village (shedding disposable income along the way) while waiting their turn. —G.B.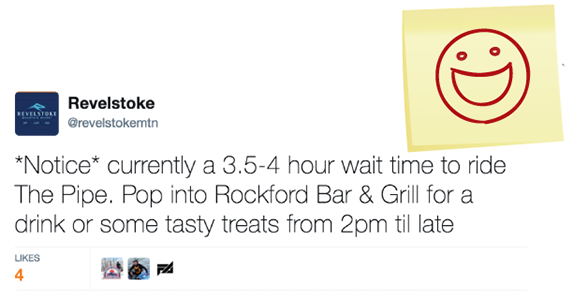 Best Recovery



Sugarbush, Vt.
Those real-time western snow-stake cams are super cool. They are placed in wind-protected locations and provide accurate snow recording for public viewing. Sugarbush invested in one of these before the 2016-17 season, becoming the first eastern ski area to have one. Prior to collecting any data, it was deemed that this new summit stake, located at 4000 feet in a depression, would be the official snowfall counting device. Silliness ensued. South winds delivered fresh inches to the stake on nights without precipitation, and large base-to-summit snowfall ranges became commonplace. After several weeks of defending the stake as scientific, Sugarbush adjusted its tack. The new reporting plan highlighted the stake cam as a stoke feature, not gospel. This minor tweak enabled it to maintain the value of the new stake for web traffic and storm stoke, while eliminating a guest service challenge and maintaining its transparent reputation. —A.K.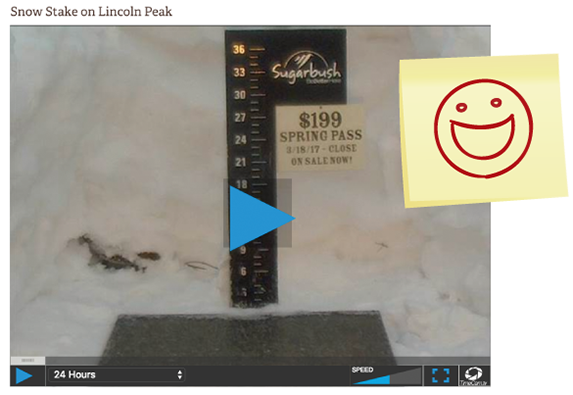 Best Weekender Deal
Boreal, Calif.
Boreal has a knack for offering accessible ticket deals to entice newbies and core skiers and snowboarders alike. For example, college students can purchase lift tickets for $15 dollars on Fridays; its "Take 3, Ride Free" package introduces riding rookies to the mountains by rewarding them with an unlimited season's pass upon completing three half-day lessons. Designated "Feel Good Fridays" combine snowboarding, humanitarianism, and apres by the way of a discounted lift ticket with a portion of proceeds going to local charities and a nighttime shindig in the baselodge bar. And this year, capitalizing on the snowmageddon conditions that besieged the NorCal region, Boreal introduced "The Weekend Ticket," a two-day, 9 a.m. – 9 p.m. lift pass for only $109, a steal for 24 hours of skiing. As if Boreal's Neffland Park, Woodward Tahoe indoor facilities and night riding weren't enough of a draw already. —M.W.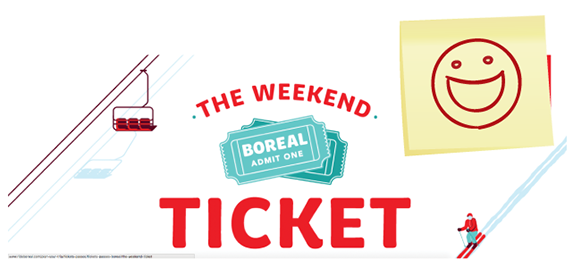 Best Mutually Beneficial Activation
Mammoth Mountain, Calif./Oakley
At the end of March, Oakley descended on Mammoth for a weeklong collaborative activation with grassroots events, consumer goggle demos, and photo shoots with the Oakley ski and snowboard pro teams. Oakley Week successfully married digital and in-person experiences. The Progression Sessions, a women's ski and snowboard park camp, kicked off the week. The Oakley Minipipe Challenge provided local rippers a chance to snowboard alongside the Oakley team. Plus, Jamie Anderson, Sebastien Toutant and the rest of the pros filmed a webisode in Mammoth's Main Park. The schedule was packed with both content creation and the skier experience in mind, a one-two punch that paid off immediately and resonated long after in the media. —M.W.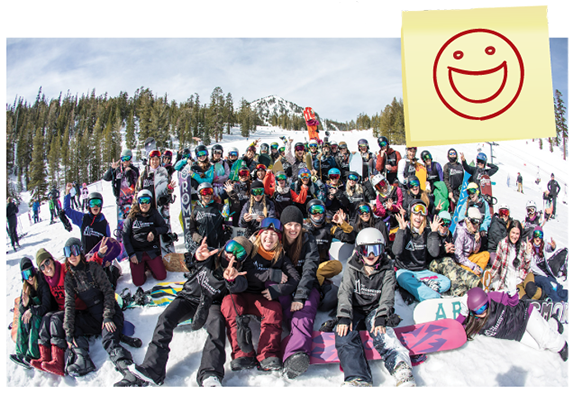 Best Marketing Campaign Masquerading as a Funding Pitch
Red Mountain, B.C.
Launching a marketing campaign disguised as a fundraising campaign has never been done before, at least to my knowledge. If it has, I doubt the goal was to raise a whopping $10 million for capital improvements in exchange for partial ownership of a big resort—especially through crowdfunding. Last August, Red Mountain launched "Fight the Man. Own the Mountain." It was a campaign that flexed Red's position as a wholly independent big mountain resort in the ever-evolving landscape of consolidation, and offered patrons a chance to raise their hand and say, "Yeah. I'm interested in owning a piece of Red," by making a "reservation" for a future real-money investment starting at just $1,000. To spread the word, the resort spent about $7k to boost some Facebook videos—the launch vid has more than 470k views—and sent a handful of clever emails to its database that linked folks to a nicely done webpage detailing the plan. By early February, the goal of $10 million had been surpassed, and CEO Howard Katkov's plan worked. Getting real money is the next step, but at the very least, more people now know of Red than ever did before—all for less than what most mountains spend on a single radio station for the winter. —D.M.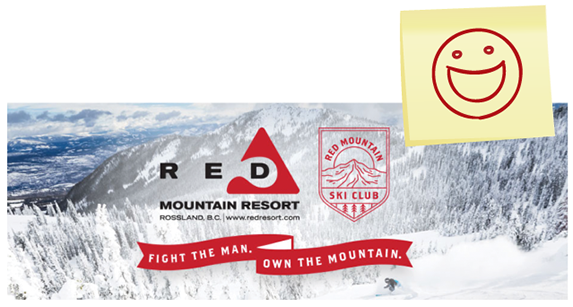 DIGITAL
Best Deep Snow Messaging
Sierra-at-Tahoe, Calif.
The snowfall out west this winter—especially Tahoe in January—was, by definition, historic. In many ways, it was a marketer's dream. In many others, it was a dangerous operational nightmare. By January 25, Sierra-at-Tahoe's snowfall for the month reached an otherworldly 255 inches. Its email messaging could've ignored the dangers that come along with such an event and lured people in simply by flexing the snow totals—but it didn't. Sure, the snow total led the email on this day, as it should've. But then, Sierra did the right thing: "While all this snow is extremely exciting, it also demands an extreme amount of respect. No pow turns are worth risking your life." And followed it with additional warnings, helpful tips and a link to the resort's deep snow safety page. It closed with an invite to come enjoy all the snow and that weekend's events, but the important message came first. —D.M.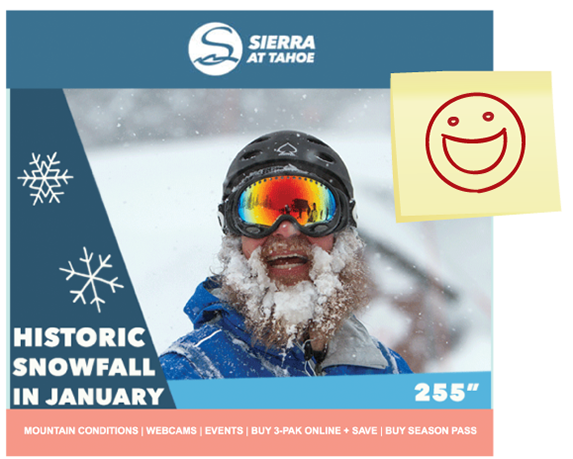 Best Tubing Promotion
Snow Trails, Ohio
Borrowing from the successful concept of disco bowling, Snow Trails stepped up its night tubing and brought in colored lights, fun music, and voila! Glow Tubing. Not only did the participants enjoy the party atmosphere, but it also created a very rich visual experience, perfect for sharing on social media. And by perfect, I mean the ski area's most-shared and most-read Facebook post ever. According to marketing director Nate Wolleson, the event started as a one-day thing three seasons ago, and expanded to three full weekends this past season. This has driven record tubing attendance, selling out every night of the event. Just by adding a new concept to an existing activity, and promoting it for free on social media, Snow Trails did wonders for its bottom line. —S.R.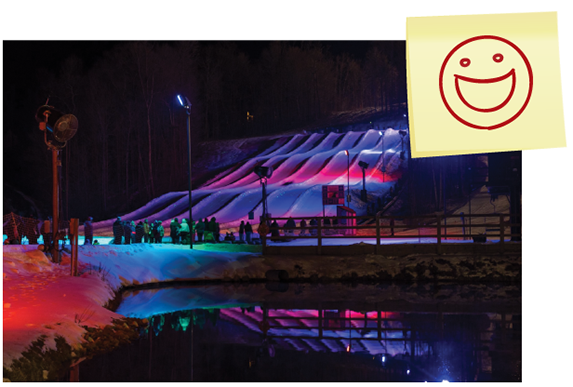 Best Use of Hashtags
Wild Mountain, Minn.
#overdone is what you could say has happened to hashtags. What started as a great way to organize a conversation on social media has become hashtag-stuffing of keywords in a lame attempt to try to nose into readers' feeds. Although there are no hashtag usage rules, doing a social media post with only hashtags and no actual sentences is like having a conversation with a toddler—hard to follow. That's why I was pleasantly surprised to see hashtags #doneright in Wild Mountain's posts. Kind of like the story of the three bears—Wild doesn't use too many or too few, but just enough hashtags coupled with humor and decent images to make me stop and read. —S.R.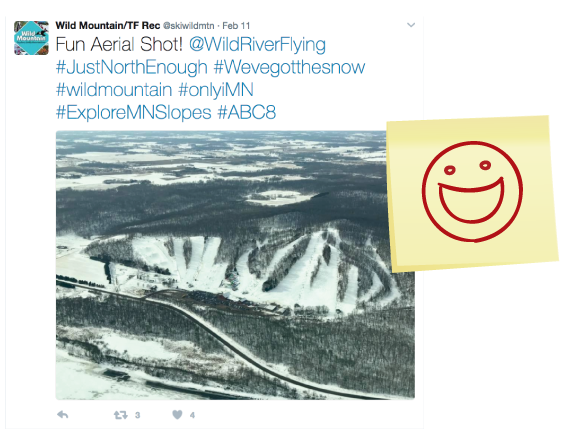 Worst Social Automation
FB->Twitter Autotweets
Over the years there have been hundreds of resorts that, at one time or another, linked their Twitter account to their Facebook page so every new post is automatically tweeted on their behalf. Taking this route is risky. There's value in saving time, but the bigger your following, the harder it is to justify, and the more it needs to be monitored. After all, you're trusting a block of code to do what a human normally would. Since mid-2016, autotweeted Facebook photos produce a broken link on desktop computers, and dozens of resorts have, unknowingly, been frustrating their followers as a result. Instead of a photo, they get an error. Over and again. Some large resorts have allowed Facebook to share hundreds of these broken links with their followers, resulting in thousands of dead-end
clicks. A few extra minutes to manually post these photos would have made a massive, real difference in social efforts and ROI. —G.B.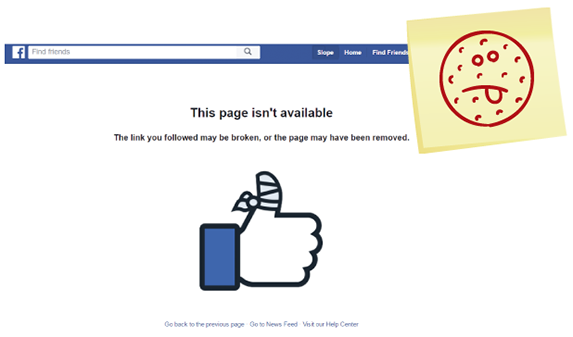 Best Use of a Crash
Brighton Resort, Utah
This year, Utah's Wasatch Range received the kind of snow that makes you want to quit your job, uproot your family, and move to Salt Lake City. Brighton surpassed 500 inches by mid-February, opening up the resort's prolific inbounds terrain, including some very sizable cliffs. In early March, Brighton's own @alpal_ sent himself off a particularly large drop while wearing a GoPro. He didn't nail the landing, but the attempt was valiant. The insane crash video spread through social media like wildfire—racking up more than 20,000 views on Brighton's Instagram alone—but also showcased the deep, deep snow that was available all over the mountain. That likely convinced even more folks to grab their powder boards and head to Utah. —M.W.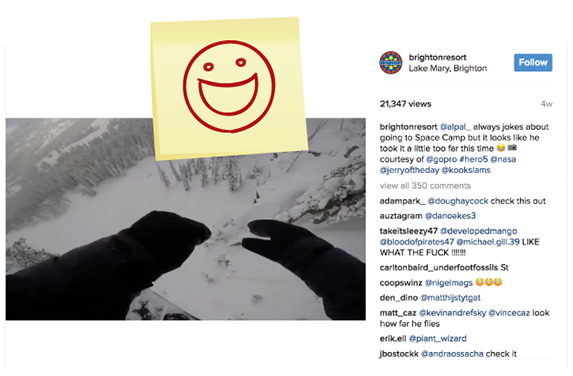 Best Use of Instagram
Big Boulder, Pa.
When your primary product is a terrain park, your primary channel of communication is not going to be your website or the newspaper. Big Boulder made sure to reach its guests where they spend their time, and made Instagram a pillar of its overall plan. Professionally produced edits from the parks, updates from staff, custom-designed event info, and a mix of snapshots and pro photography put this channel on a pedestal and hit the bullseye on its target audience. When staking out next year's budget, make sure that your "free" channels are getting the appropriate resources based on their reach with your guests. It shouldn't all go to your website if more folks are hearing from you elsewhere. —A.K.

Best Use of Intrigue
Trollhaugen, Wis.
Trollhaugen is a mountain short on vertical but big in presence. This past February, events company Snowboy Productions partnered with the crew at Trollhaugen for The Troll Project, the second installment of a three-year, three-resort event series that combines a creative, skateboarding-inspired park and a roster of invited riders. The Project is secretive until the day it begins, creating anticipation hard to come by in today's transparent, social-driven world. The content-takeover by all parties involved floods the airwaves once the ropes to the event drop. This year, The Troll Project created an unabashed sense of FOMO for anyone not in Wisconsin. After five days of shooting, the park was opened to the public, bringing in more riders to enjoy the unique playground, and furthering the reach of the experience. —M.W.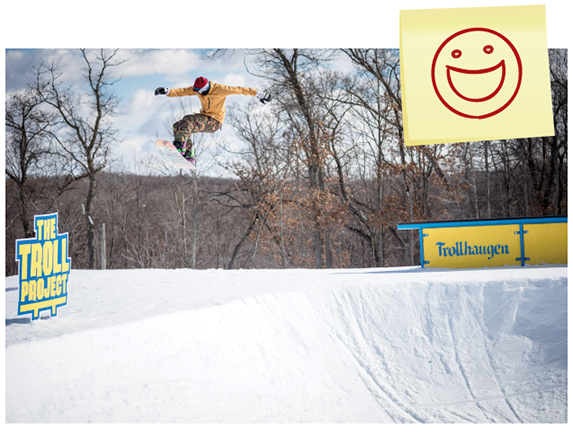 Most Questionable Catharsis
Squaw Valley, Calif.
Maybe your mountain and community are on the same page. Or maybe you're Squaw Valley. History is a blessing and a curse at iconic locales struggling with the economic winds of change and obvious conflicts deriving from development. Add the combustible known as social media, and you have a recipe for ongoing piss-poor community relations. There's very little you can do about it, short of convincing your ownership to become a cuddly teddy bear. Squaw's "Open Letter To Our Small Corner of the Internet" was surely cathartic to all marketers who've been tasked to manage the boo birds, but did it accomplish anything of value? I'm unsure. The Internet cannot be threatened into submission. Anything you publish that has an "or else" conclusion is unlikely to improve your community standing, no matter how much a group of keyboard commandos might deserve it. Think twice before launching similar smackdowns using your hard working staff as a shield against entrenched community angst. —A.K.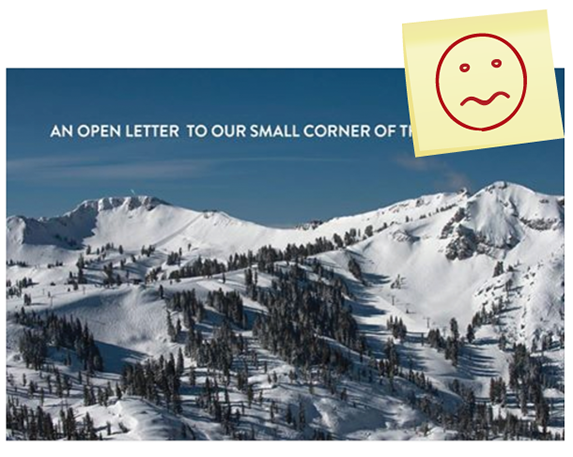 Best Email Campaign Recovery
GetSkiTickets.com
Do not open emails from an unknown source! Nowadays, I only need to say this to the technologically challenged people in my life (I'm looking at you mom). That's why it was mind-boggling that in November and December GetSkitickets.com was sending out marketing emails under spam-ish sounding names like "Get Ski Friends" or "Big Storms & Big Ski Deals." How many potential customers actually opened those emails? And of those daring (or naïve?) individuals, how many ultimately felt comfortable clicking through, and then actually making a purchase? The season had barely begun, but I quickly wrote them off and resigned myself to living in a world with only one viable option to buy on-line lift tickets. And then, mid-season, there it was—an email from "GetSkiTickets.com." Phew. Crisis averted. Even better, when I (fearlessly) opened the email, I found a significantly improved template. And, as an added bonus in the "help-me-help-you" category, the link to actually get ski tickets was moved to the top. —M.T.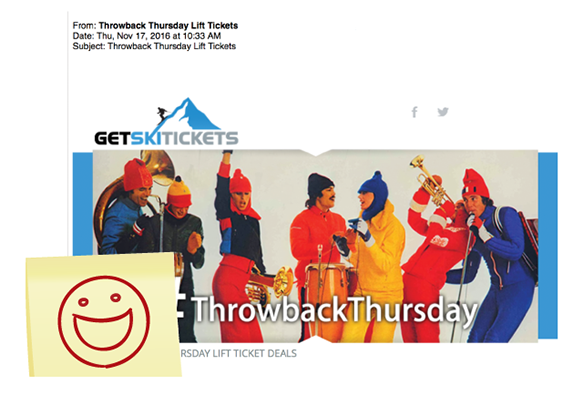 Most Convincing Photo
Grand Targhee, Wyo.
After a slow start out West, it was nice to see an email from Grand Targhee announcing it was 100% open. To celebrate, the resort offered a sweet midweek lodging deal, and the photo used to promote it was brilliant—a parked SUV that's clearly been there through a couple major storms with a few feet of snow piled on top of it. Seeing it didn't make me think "broken down vehicle." It made me think "stay and play in the pow." What true skier or snowboarder doesn't want to own this car? It's the parking lot version of having the last pair of skis on the rack, post-après, after an epic bell-to-bell day. This is a call to arms! Dust off your gear, forget about last winter, and get out here. It's also a bit of an inside joke. Knowing this midweek deal isn't geared toward anyone who would see this photo and think about snowbrushes or shovels makes it feel exclusive. If you don't get it you don't get it—that's the beauty here. Proudly, I do get it. I want that to be my car. Book me for an extra night. —M.T.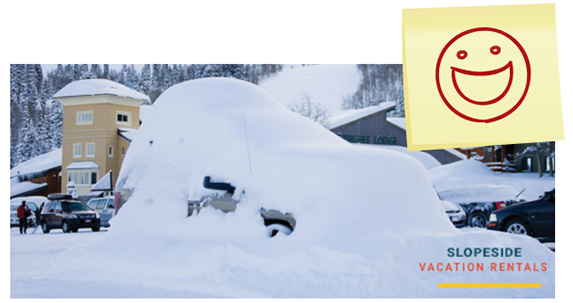 PRINT
Best Use of a Badge
Sun Valley, Idaho
The iconic brands of the Mountain Collective know how to market themselves. That's part of the reason they're on bucket lists. In perusing many of their print ads, however, I did find one element they might want to chat about on their next conference call: the logo. Many of these resorts do not feature it on their individual print advertising. They should—it's a badge of honor. Sun Valley has the logo in its ad, which sells the resort's status and shows the value of the pass in that single placement. It also doesn't get in the way. If you are in the Collective, why wouldn't you feature the logo when talking to a destination audience? You're in a badass club. You want skiers to join that club. Be proud of it. —A.K.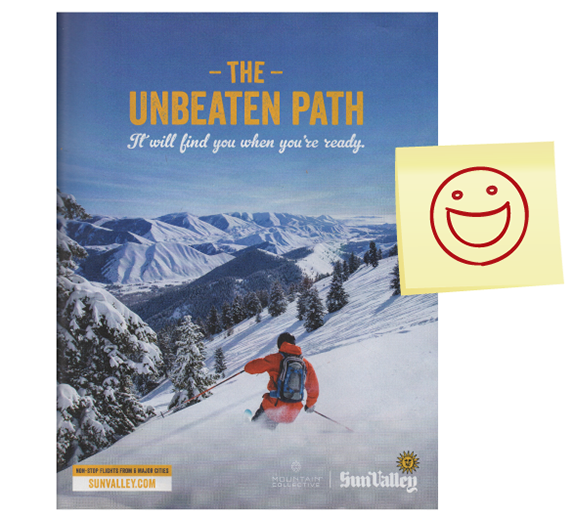 Most Creative Use of Team Riders
Bear Mountain, Calif.
Bear Mountain is known for its progressive terrain park and formidable team of pro riders. But while the resort takes its park and the riders who frequent it seriously, its yearly print ads usually focus on the fun. This season, Bear nailed the creative print campaign again with a double-page spread showcasing team riders Chris Bradshaw, Zak Hale, and Joe Sexton as boxed action figures on display, hitting various features in the park. The ad not only included impressive imagery of each pro and highlighted different terrain, but also tongue-in-cheek warning labels specific to each photo. The advertisement is interesting enough to make readers pause when flipping through the magazine, which is the goal of any print ad. —M.W.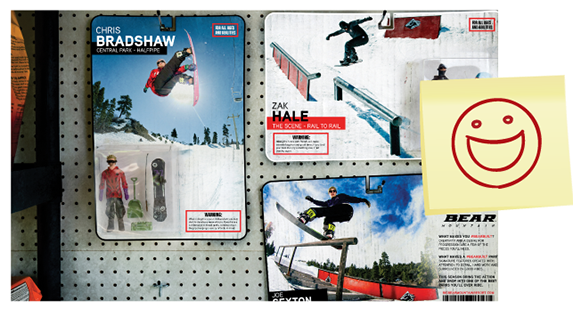 Best Brand Teamwork
Alyeska Resort and Chugach Powder Guides, Alaska
Heli skiing sounds fun. Maybe I'll do it someday. Or not. It also sounds expensive and risky, considering the weather might keep you grounded the entire trip. That's where the Alyeska + Chugach Powder Guides combo ad immediately made it sound plausible to this desk jockey dad from Vermont. Alaskan heli skiing combined with the more accessible resort experience in one package is a smaller leap for us regular folk, both financially and mentally. This bridge method can be applied to almost any highfalutin product you are selling. —A.K.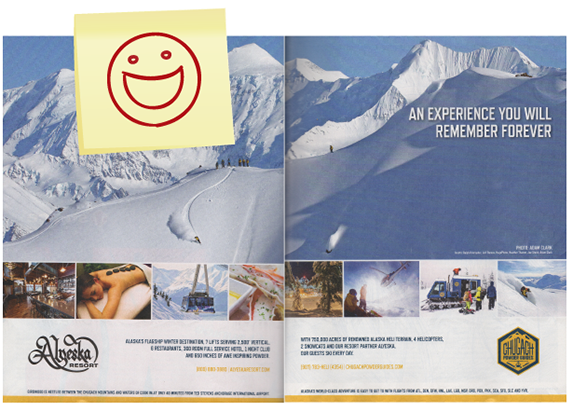 Most Awkward Quotation
Crested Butte, Colo.
Led by the Muellers, who are more known for grooming and family appeal than extreme terrain, Crested Butte is one of the gnarliest mountains on the continent. This juxtaposition often shows up in its print ads, which reach out to the core set with smart placements (this one was in Freeskier), but with creative that doesn't quite match the medium. This "badass" ad is a fine idea, and a visual step up from previous years. The quote overlaid on it, though, is worth a chuckle, considering who said it and the magazine it's in. "The most badass inbounds terrain anywhere," says Megan Barber, ski writer. Megan Barber is a very nice lady and quite accomplished in writing about food, wine, skiing, and travel (seriously). But for your ad in Freeskier, consider a quote from an athlete, filmmaker, or generally known badass. It would be easy to swap in, and would carry more weight with the age 13 to 35 males perusing Freeskier. —A.K.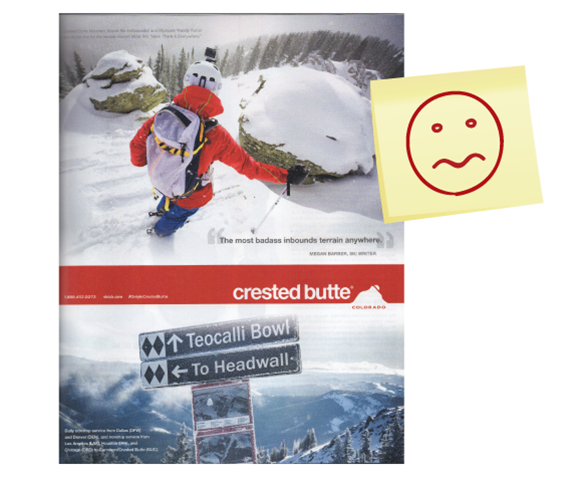 Best "Less is More" Campaign
Eagle Pass Heliboard, B.C.
When talking untracked fresh, marketing bells and whistles are not necessary to convince aficionados they need to make for the hills. Eagle Pass Heliboard, an operation based in Revelstoke, B.C., took a simple approach when designing its 2016-17 print campaign, highlighting blue skies, deep snow, and spectacular landscape in every single-page ad. Simple statements about the "pursuit of the perfect line," and "Small Groups. Big Difference" put things succinctly. The proof is in the powder. —M.W.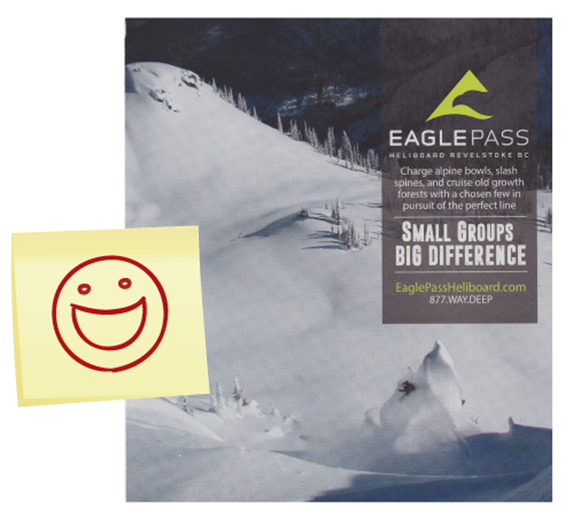 Biggest Need for an Introduction
Eldora, Colo.
In his quest to feel younger than he is, my husband reads Freeskier magazine. He lives his fantasies of launching off jumps and riding rails through its pages. I nabbed it for a quick flip-through, and found this ad for a place I'd never heard of—Eldora. The photo is cool, and flexing annual snowfall of 300+ inches is nice, too. Proximity to towns nowhere near where I live doesn't help with my confusion, though, and at first I wasn't sure if it was an ad or the first page of a story in the mag. So, what is it? A resort? A town? The ad makes it seem like I should know this. Sure, I could visit the website (which is included on the ad), but who has time for that? Kudos to a local ski area like Eldora for advertising in a national magazine, but a little clarification would be nice. —M.T.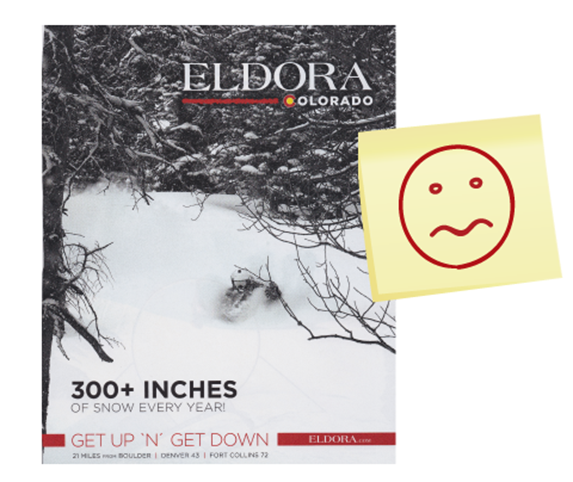 Worst Location for Important Stuff
Several Resorts

Let's face it, the first time we pick up a magazine our initial action is the ol' flip-through. We hold the mag by the spine, start at the beginning (or the end, depending on your dominant hand) and flip through the pages with our thumb. If something looks good and/or interesting, we stop and peek. Otherwise, we keep going. Then, when time allows, a thorough page-by-page run-through/read follows. It's this common practice that should inform the layout of magazine ads. All too often this winter during my initial flip, and even in my follow-up read, did I have to work to see what the ad is even for. That's because the resort's logo and whatever it was promoting was relegated to the gutter (i.e. the crevice formed by the binding in the middle of the mag). Perhaps these ads were meant to be on the opposite page? Either way, work with your magazine rep to make sure your brand and any important stuff isn't going in the gutter. —D.M.


Most Soulful Ad (tie)
Steamboat, Colo.
Several major destination resorts aimed for the "soul of skiing" theme this past year. All succeeded, but some better than others. Steamboat was one of the best, with a simple way of telling the story and a striking singular image across a two-page spread. It is pretty much a fairy tale. This presentation gets the idea across without going all philosophical on us, which is a common mistake. The text isn't perfect, but it ends well: "Welcome to a land far, far away." — D.M.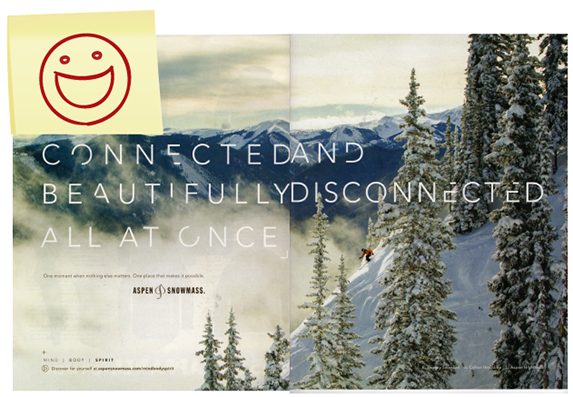 Most Soulful Ad (tie)
Aspen, Colo.
This spread captures the fully modern expression of the resort experience: the soul of skiing is no longer just about you and the mountain; it's about you and the mountain, and telling all your friends about it instantly if you want to. On the other hand, you can choose to be completely disconnected from your day-to-day routine and fully connected to the mountain. You really can have it all ways, and that's the story this ad tells without muddling it up with a bunch of explanation. — D.M.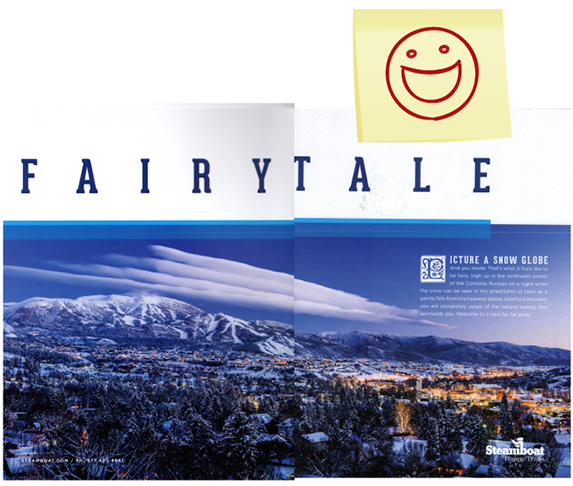 VIDEO
Greatest Profusion of Video
Waterville Valley, N.H.
Creating quality video is probably the hardest aspect of marketing. You need scripts, equip-ment, lighting, editing software, proper sizing for different social channels—and talented folks to pull it all off. So the sheer number of videos Waterville did this past winter is most impressive. Most of the area's Facebook posts are videos. Coincidentally, Facebook was at the same time trying to push people to post videos, so Waterville earned brownie points with Facebook and garnered more reach than resorts that were posting mostly images or text. Waterville produced top-notch video content on a variety of subjects, including some takes from the GM about mountain operations. One general bit of advice—consider closed captions/subtitles for those watching at work with the volume off. —S.R.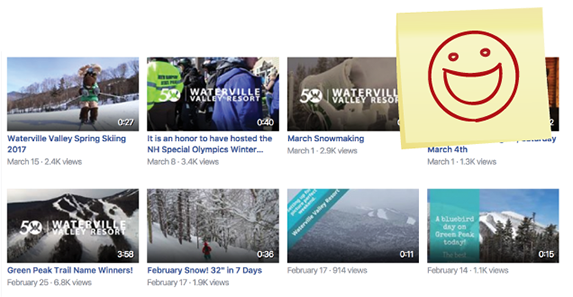 Best Spring Inspiration
Vail, Colo.
Spring skiing is everything. EVERYTHING. It's the reward for countless days spent wiggling fingers and toes on the lift in an attempt to stave off frostbite because the conditions are just too damn good to go inside. But spring: soft and sticky snow, skiing in my base layers, and a music festival waiting for me at the end of the day. I wait all winter for that. Vail had its timing down when it comes to making me want this even more. At the end of March, as my newsfeed was filling up with pictures of friends sprawled out on beaches for spring break, and a "wintry mix" was falling outside my upstate N.Y. office window, I received this video from Vail, showcasing spring groomers, on-mountain decks, and BBQ with friends. This had me longing to enjoy the spring scene with my ski tribe on a warm bluebird day. Part of the appeal, too, is that I could actually see myself in this video (but with better music). —M.T.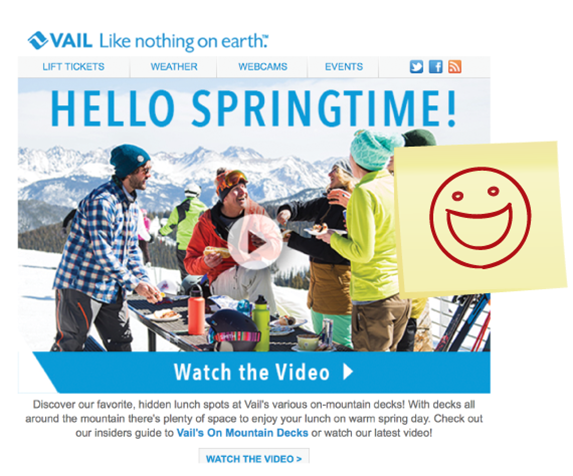 Best Documentary Series (tie)
Sunshine Village, Alberta
Some resorts hide their employees, because they worry they are transient and lack the finesse to be in front of the camera. Not Sunshine Village. The resort highlights its employees and their unique experiences while working at Sunshine. Transparency is genuine, and guests get a look behind the curtain in an interesting way with wonderful storytelling. The videos are also very popular with guests, judging by the number of views and shares they get. An added bonus: this rewards staff and highlights them as characters. A video series like this reaches beyond just marketing; it also benefits guest services and HR, too. That's something few marketing campaigns can do. —S.R.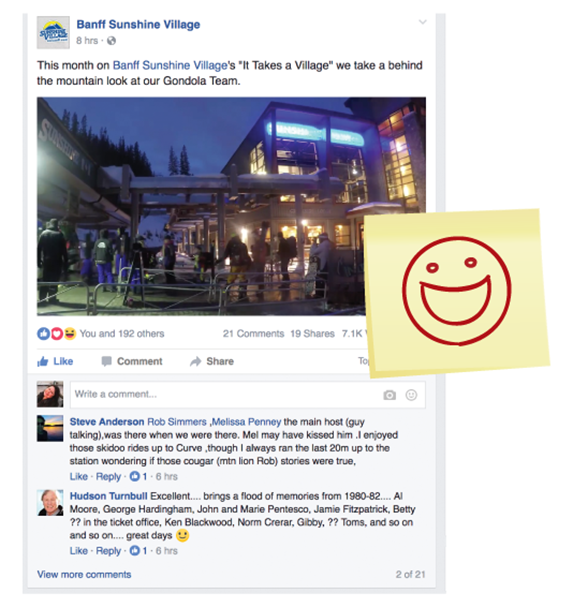 Best Classic Movie Parody
Killington, Vt.
Telling a story about snowmaking and the people who deliver that can be BORING. Guns and hoses don't necessarily make for entertaining video. But spoofing a well-known scene from a classic movie, and applying it to any kind of mountain operations, can be a hit. Killington did a fantastic early-season take on the classic "Apocalypse Now" scene of the shirtless Colonel Bill Kilgore doing his "smell of napalm" speech—in a vastly different environment. The marketing folks have now set the bar higher for themselves. —S.R.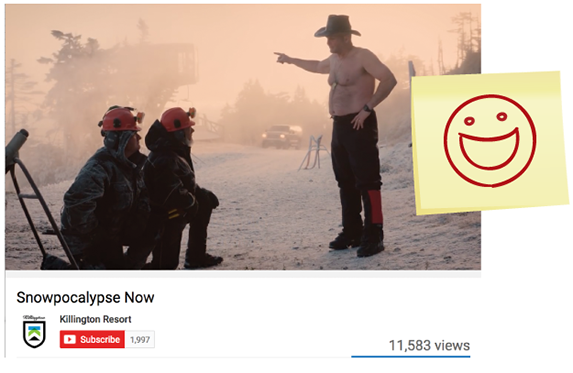 Best Guest Stories
Tamarack, Idaho
When you look at how resort guests describe themselves, there are remarkably few who actually self-identify as skiers. Instead, they're regular people who, among a long list of activities they enjoy, also happen to ski. It's in this idea that Tamarack's recent campaigns have truly shined. With almost a complete disregard for skiing ability, Tamarack has scoured its community for people with stories. From a local business owner to an interior designer and mom visiting with her family, these stories reach that audience of "people who happen to ski." The series portrays skiing as about being part of a community of people who are like them, not about dropping cliffs or carving groomers. —G.B.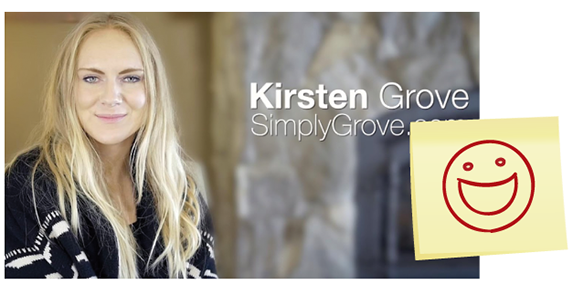 Biggest Reality Check
Whistler Blackcomb, B.C.
After celebrating its history last year as part of its 50th anniversary, Whistler Blackcomb looked forward in its 51st season. A compelling four-part video series called "The Big Picture Documentaries" focused on challenges that snow lovers currently face: environmental changes, indoor screentime vs. outdoor playtime, and the increasing pull of the backcountry. Whistler pros, including notable environmentalist Marie-France Roy, provide the dialogue. In addition to the enticing storytelling, the website rollout for the project provides calls to action to donate to non-profits that work on related causes, like climate change initiatives and avalanche safety. It's A+ content that provides a way for us to easily make a bit of a difference if we so choose. —M.W.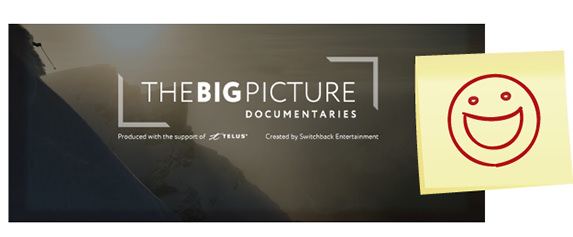 Best Use of a Sponsored Skier
Seven Springs, Pa.
When Seven Springs announced a partnership with local hero Tom Wallisch, it became a waiting game to see how they'd put this skills to use. It didn't take long, however, to find out. Combining SPT's rail building skills with one of those nerdy clipboard-wielding officials from the Guinness World Records, the concept of Tom trying to break the 440-foot rail-slide world record was strong enough for a World of XGames feature on national TV and online media that earned many hundreds of thousands of views. Without a single flip or 100-foot gap or life-and-death situation, a more realistic—yet still inspiring—message was delivered about the sport, and Seven Springs, to a global audience. – G.B.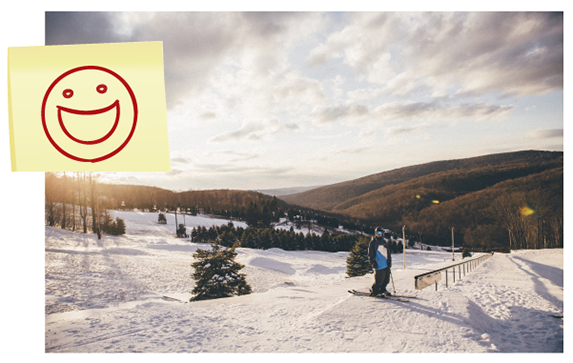 Best Documentary Series (tie)
Mt. Bohemia, Minn.
The rally cry of 21st century marketing sits at the intersection of authenticity and breaking through the noise. Achieving either takes some doing. Mt. Bohemia managed to check both boxes through a video series called, rather simply, "Mt. Bohemia TV." The videos were nothing more than a delightfully honest and awkward tale of the quirky staff that makes the mountain run. Ex-wives, buses that play nothing but Abba, permanently grumpy managers, and angry skiers demanding refunds all shared the spotlight in a narrative that earned 50,000 views and skiers across the country saying, "I've got to check this place out."—G.B.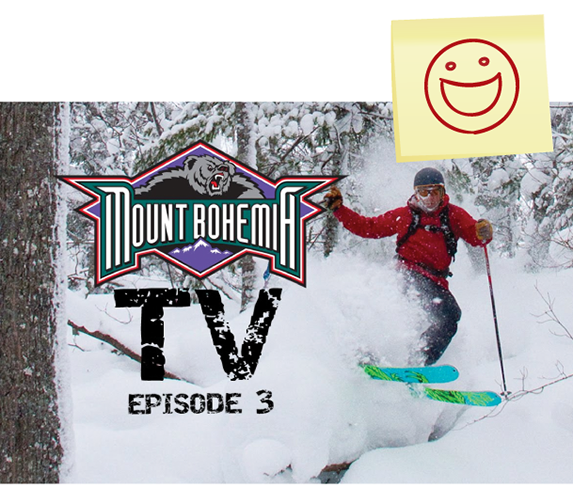 Best Building Huck
Mount Snow, Vt.
There are two types of video that work for us on the internet (other than blower powder): top-notch productions designed to engage and keep the viewers attention, and barely produced quick clips of an instantly gripping moment. Unable to get that amazing powder shot video due to wind, light, resources, or your hangover? Maybe you just need something different. So, go be ridiculous in the snow. For instance, ski down the roof of your base lodge. It takes about 10 minutes and requires very little editing. And it'll make people stop scrolling. Bonus points when the skier is an owner. That's what Mount Snow did after a storm in February, and it killed. Other ideas: speed-eating chili in the base lodge, long jumping competition in ski boots, or plow in the GM's car and videotape his reaction. The Facebook machine loves short and silly. —A.K.