Parking and traffic have always been issues on busy days at Snowbird. The limited parking spots at the mountain fill up fast, especially when single occupancy vehicles take many of them. And the environmental impact of too many cars on the road exacerbates Salt Lake City's chronic smog issues. Something had to be done.
That something turned out to be a mobile app that makes it easy to find a carpool rideshare or bus schedule, thus reducing traffic in Little Cottonwood Canyon. But that's just one aspect of how the app will benefit Snowbird—and a growing number of other resorts, too.

Initial Steps
For years, Snowbird has actively encouraged guests and staff to park at public-parking areas down valley and hop on the Utah Transit Authority's Ski Bus, which serves nine resorts along the Wasatch Front. However, that only works for folks who are willing to take public transit. Most people still love their cars.
So, two years ago, Snowbird director of sustainability and water resources Hilary Arens created a program called R.I.D.E.—Reducing Individual Driving for the Environment. R.I.D.E rewards guests who carpool and take the bus to the resort, and rewards employees who take rideshare vans or public transportation to and from work.
"We thought that people might change their habit of driving by themselves to the mountain if: 1) it's easy, and 2) they have incentive to do so," says Arens.
In its first year, the program recorded more than 22,000 carpool trips, reducing fuel consumption by 15,000 gallons of gas and cutting 290,000 pounds of CO2 emissions. But the program was logistically difficult. It required carpoolers to carry an ID card and get it scanned upon arrival. "It was laborious and tiresome for the guest, and required a fair amount of staff power," says Arens.

Let's Make an App
So the team at Snowbird sought a way to use smartphones to simplify the R.I.D.E. program's logistics. As a suburb of tech-heavy Salt Lake City, the resort has a fair share of available resources. The best resource just happened to also wear a Snowbird nametag.
Patrick Phillips—a longtime volunteer mountain host, technology guru, and mobile app developer—spoke with Arens and hashed out some ideas for a mobile app. Arens then presented the ideas to the team at Snowbird.
"That's when we decided we needed to make an app," says Dave Amirault, Snowbird's marketing director, who joined the effort early on. Arens also reached out to Powdr Corp to broaden the developer group, and brought in Powdr director of sustainability Laura Schaffer.
"Our long-term vision is to create an app that is easily scalable and transferable so it can benefit many other ski resorts," says Arens.
That vision is beginning to manifest itself. The app soft-launched at Snowbird in August for its multi-week Oktoberfest, and will have a full launch this winter at Snowbird as well as two Powdr-owned resorts, Eldora, Colo., and Lee Canyon, Nev.
How It Works
When the team got to work in summer of 2017, it knew what the app should do: make it easy to find and connect with other people who are heading up to the resort, provide users with data about their positive environmental impact, and dole out strong, attainable, and easy-to-fulfill rewards.
To broaden adoption of the app, it is available on both iOS and Android. It interfaces with Siriusware, but it can also be loaded with barcodes from RTP, for instance, for prize redemption and tracking, so resorts with either POS software can use it.
Users create an account and then input the number of extra seats in their cars, so the app knows how many other people you can fit, and the type of car—sedan, SUV, etc.—so the app can estimate the environmental impact.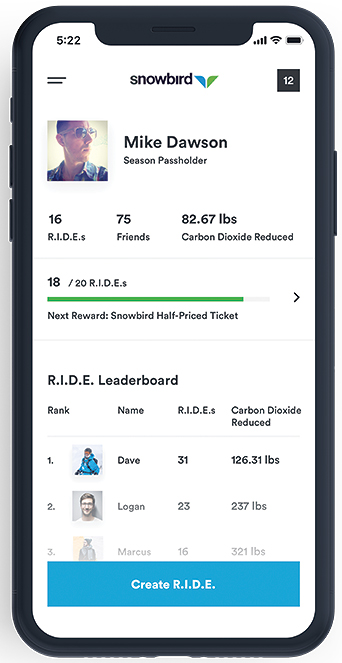 Each R.I.D.E. app user's profile shows stats for rides, carbon offset, and more.To create a ride, choose the day you're going to the resort, the time you plan to leave, and where you're leaving from—which can be from home or one of the many park and ride locations around SLC, for instance. Friends can find your ride after adding them using Facebook, or sending an invite via text or email.
The day of the ride, the GPS in the app recognizes that you and your passengers are traveling from the pickup spot to the resort. When the phones break through the geo-fence at the resort, the app recognizes that you've arrived and you and your guests can check in on the app. It loads points to everyone's accounts, and calculates carbon offset based on the type of vehicle and distance traveled.
This is where it gets fun. The first trip unlocks a prize, and points accumulate from there, with progress tracked on a chart in the app. A leaderboard of all users shows top miles carpooled, carbon offset amount, and volume of rides for the week, month, etc., all displayed in the app, and can also be shown on resort TVs.
On busy weekends, the resort can encourage more people to use the app by offering double points or a special prize for users who carpool or take the bus.
"It's modern, it's easy to use, and it's fun," says Amirault. "We're basically using gamification to try and solve a significant issue, while also doing what's right for the environment and hopefully improve our business at the same time."

One App for All Resorts
The app can be easily reskinned to incorporate other resorts' brands. It's as simple as uploading the resort logo, choosing light or dark, and providing the mountain.xml file so snow conditions can be displayed. Then resorts can set the reward mechanism, the accounting codes, etc.
That all happens in the backend of the app, which is just a website. So resorts can login and set up everything through that website portal. These partner resorts can also become part of the development cycle.
The cost to partner will be nominal, says Amirault, and all funds will go toward maintenance and development. "The idea is we all work together to make it better," he says. "We want to make sure anyone can get involved. We're not holding our cards tight to our chest, we're playing our hand in public."
What's the benefit? Wide use of the app could help maximize a resort's parking infrastructure. More passengers per car increases the value of each spot, because each passenger will spend something. For resorts within some proximity to metro areas with large populations of young people who don't have cars—and use rideshare services or public transportation (think: Boston, New York, L.A.)—how are they supposed to get to the mountain?

Making an App is Hard
Creating the R.I.D.E. app took more than a year, and it's in constant development to keep it up to date. The idea is fairly clear-cut, but the app's function involves several different departments—marketing, retail, IT, tickets, sustainability, legal, lifts, parking, and more—products, budgets, systems, and, of course, people. "It's like trying to steer a cruise ship like a speedboat," says Amirault.
Fortunately, the challenge wasn't getting department heads on board. In fact, everyone fully supported making it happen. The big challenge was to figure out how to execute everything and ensure a seamless guest experience.
"Every time we thought we solved something, another challenge was presented," says Amirault. Reward fulfillment is a good example. "We'd say to retail, 'OK, to unlock the free water bottle, someone needs to take two carpool rides to the resort. The geo-fence tells the app that person has done their second ride, so it puts a barcode in the app for the person to bring to you guys to scan so they can redeem the water bottle.' And retail says, 'Great, but we can't scan barcodes.' Crap. So the retail team goes and works on it and comes back with a solution that we then integrate into the app."
Eventually, all the backend stuff was resolved, and the team had a working version of the app. "But it didn't have the look or user experience it needed," recalls Amirault. "We needed an interaction designer, and a UX specialist. We needed someone who thinks like a user and can then design the experience around that."
That someone was Mike Dawson, of Steamboat. It took him a month or so to remove all the complexity from the app. Now, it takes about two screens to do what at first took about 20.

It's Important
Snowbird is promoting the app alongside the multi-million dollar capital improvements the resort is doing. That's how important it is, and how much the resort wants its guests to use the app.
In part, that prominence stems from the time and effort it took to put the app together. It's an example of floating an idea and actually executing on it, rather than not taking action. The collective nature of the project, now and moving forward, gives motivation to keep working at it and keep improving it.
The real benefit, though, is that carpooling is the right thing to do, for Snowbird and resorts everywhere.