Skiers and snowboarders can appreciate the fine dining, high-speed lifts, and Olympic-size half pipes of modern, high-profile winter resorts. But small ski areas are—and always will be—a storybook experience.
Not that it's an easy existence. From the consolidation of ski resorts and season passes to climate change and rising costs, the onslaught of today's market challenges means that the survival of small ski areas is achieved via relentless work and sacrifice.
One such success, Snowy Range Ski Area in southeastern Wyoming, has gone to hell and back.

Caught in Flames
One morning in January 2003, 30 firefighters rushed to the Snowy Range lodge at sunrise. A faulty pipe that vented a propane heating unit had sparked a flame, which grew and consumed the structure—a skeleton that was void of a sprinkler system—including the ticket office, restaurant, gift shop, bar, and lounge. The former owner of the ski area said the cost of damages exceeded $1 million. Despite being underinsured, the mom-and-pop operation rebuilt a 32,000-square-foot lodge.
Even with a rebuilt lodge, though, the ski area's fortunes didn't turn for the better. A few years later in 2009, visitation reached an all-time low. The number had plummeted from 45,000 skiers and snowboarders per season—which peaked years before the lodge burned down—to an average of 29,000 visitors.
In the face of foreclosure, the First National Bank of Wyoming took on the ski operation when a buyer didn't surface for the $2.5 million deal. Locals were concerned about the termination of their hometown ski area and the potential economic impact. Out-of-state dollars that were brought by the ski area rippled into businesses in Laramie. Pigeonholed, the community bank didn't want to run the ski area, but also didn't want just any buyer. In the best interest of the community, the ski area needed to remain in the locals' hands. It was the end of 2009, and the bank was looking for local capital.

A Family Investment
Fortunately, Aaron and Becky Maddox were eager to step up to the plate, with the help of an investment group comprised of close friends and family. Aaron was raised in Steamboat Springs, Colo., where he first clicked into skis at age four. Becky grew up in Laramie. Snowy Range was her hometown ski mountain.
"We did our due diligence, got approvals, and by a small miracle [buying Snowy Range] worked," Aaron explains. Initially, 10 investors joined the collective, including Becky and Aaron's parents, and the group closed on the purchase in July 2010. It was a true family ski operation from day one. Today, Becky, Aaron, and Robert Maddox—Aaron's dad—own 80 percent of the company.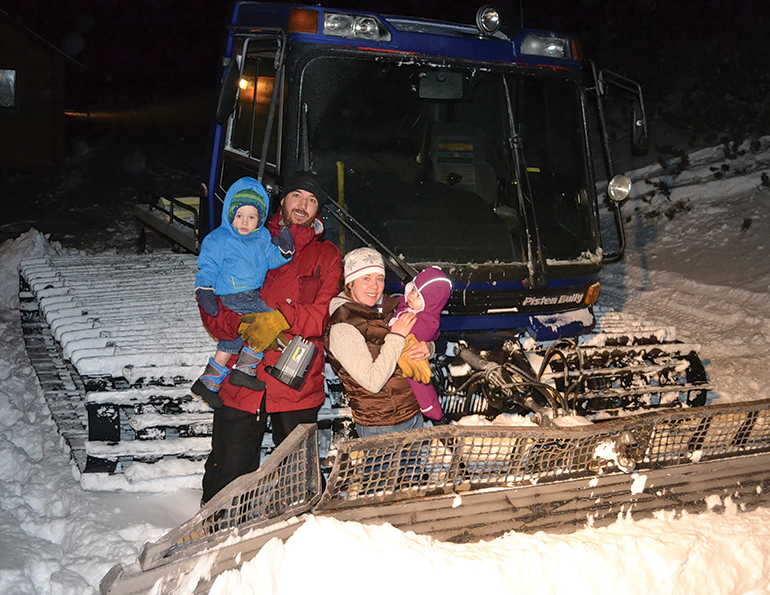 Nighttime grooming and snowmaking is a family affair.
Then 32 years old, Aaron had a Master's in accounting, a pilot's license, and co-owned another business with his family, Mountain Flight Service. Aaron and Becky had zero experience in the ski resort industry.
"Buying Snowy Range was a lifestyle choice about how we wanted to exist on this planet. It was a big risk, we didn't know where we would land, and we weren't sure if the ski area would support us. We've been lucky that it does," says Aaron.

100-Hour Weeks
After the acquisition, Aaron and Becky spent the first year wrapping up their careers in Walden, Colo. Aaron's late mother, Cindy, championed the company that inaugural year. Without her busi-ness leadership and management, the ski area wouldn't have succeeded.
Not a single policy or employee carried over from the previous ownership. Cindy set to work and created the employee handbook, cash handling system, and policies. All the while, she ran the ski area alongside one mountain manager. She simultaneously co-managed the family's aviation business
as well.
In year two, Aaron and Becky took over. The couple routinely worked 100-hour weeks. "Every system had to be discovered and figured out how to run. It was interesting with snowmaking," says Aaron, who is extremely hands-on with management and wants to improve task delegation to the 130 employees who now work at Snowy Range.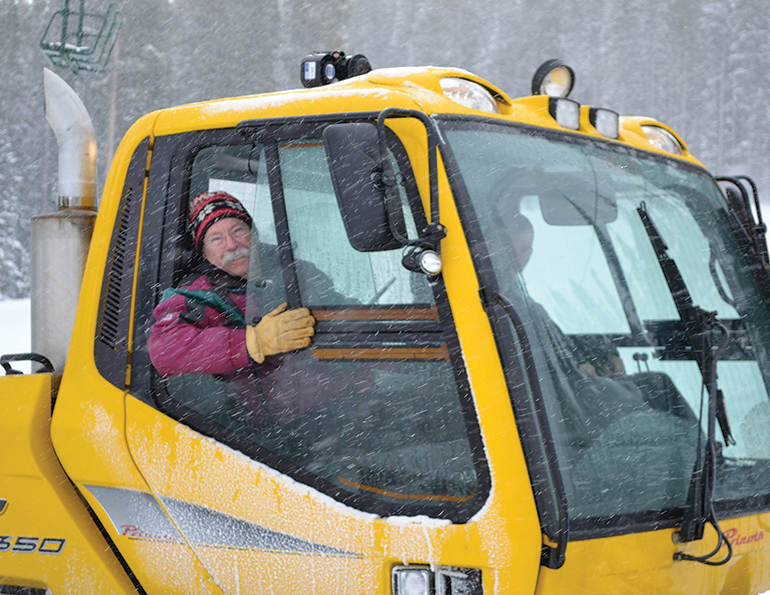 Aaron's dad, Bob, riding in the cat. He, along with Aaron and Becky, own 80 percent the company.
In the beginning, "Our mountain manager and I would make snow all night, do the grooming, and go right into HR, accounting, the lodge, or rentals the next day. My longest work 'day' was 42 hours. It was exhausting—and we had a new baby who was eight months old. Then, we had another baby," says Aaron.

Revival of Snowy Range
The Maddox family dusted the ashes off of Snowy Range and elevated the business to a new height. In less than a decade, visitation has doubled, revenue has tripled, and profits have increased six-fold. All the while, adult lift tickets maintain a price tag of less than $50 a pop. Their recipe for success is best encapsulated by a commitment to simplicity: They operate a lean business model.
"We haven't built any high-speed quads. We don't have a $7 million mountaintop restaurant. We didn't overpay for the resort. And, we had a really low overhead structure," explains Aaron. The area uses traditional forms of marketing to reach customers, including mailers, word of mouth, and showing up at events such as university orientations, wine and beer festivals, ski film premieres, and adventure sport competitions. It doesn't utilize social media—because it doesn't need to.
Still, resorts require a certain minimum of investment. "When the bank ran the ski area, the management team overlooked maintenance, which the bank didn't know. When we purchased the area, we basically needed to rebuild all four of the chairlifts," recalls Aaron. They also put capital into refurbishing the lodge, snowmaking systems, and snowcats. The accumulated investment was north of $1 million, wages included, he estimates.
And the resort had some assets. Situated within Medicine Bow-Routt National Forest, the ski area sits at the foot of 12,000-foot peaks. The mountain has 27 trails and nearly 1,000 feet of vertical. Four chairlifts—the highest of which reaches 9,665 feet—and one Magic Carpet provide access to an average snowfall of 245 inches. A vehicle maintenance shop, employee locker room, and ski patrol office all existed, in addition to the lodge. As a result, operation costs have not increased, which has fortified a strong business foundation.

Why Independent Areas Win
Location is key, too. Snowy Range is in a golden location among avid ski populations. Geographically, the ski area sits two hours from Fort Collins—the area's primary feeder market—and the town of Loveland, Colo. In Wyoming, the ski area is 45 minutes from Laramie, and a 1.5-hour drive from Cheyenne. "Local" skiers and riders come from as far away as western Nebraska.
Fort Collins is home to Colorado State University, and the University of Wyoming is located in Laramie, both of which bring student skiers and riders. However, families with kiddos who are learning how to ski are the core customers of Snowy Range.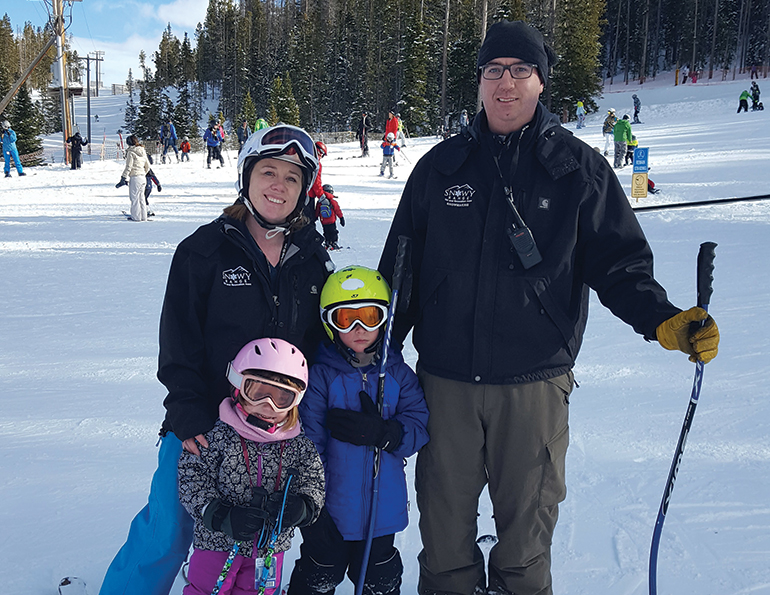 The Maddox family enjoying the fruits of their labor.
For all its customers, Snowy Range represents good value. "We are a cruise-control drive to a $49 adult lift ticket. We're affordable and it's perfect for families. They can pack a cooler lunch. It's not a hard sell," says Aaron. "We attract anyone who is looking to ski who doesn't want to hassle with traffic or spend a lot of money."

"The big ski areas do great and don't seem to have a problem attracting people at $150 a day for adult lift tickets. But, they do price out a certain segment of the population. I need a small fraction of their visitation to run a ski area: 70,000 skiers a year, which is not difficult to find," he says.
In fact, Aaron doesn't consider Snowy Range to be in the same industry as the big ski resorts.
"We won't be involved in the capital arms race to the top. We are competitive with them because we are so inexpensive. We stay cheap, friendly, and we focus on our core customer. They aren't going anywhere. We retain a portion of skiers who would otherwise be out of market," Aaron says.
That also allows Snowy Range to sit out the pass wars, even as dozens of smaller resorts across the country have started collective season ski passes similar to the Epic and Ikon offerings. For instance, in the Southwest, the Power Pass glues together five small ski areas in Colorado, New Mexico, and Arizona, plus limited skiing at more than a dozen other resorts.
Snowy Range plays at a much simpler level: it offers an add-on feature to its annual pass ($269) that includes five days at Steamboat for an additional $149.
"Steamboat benefits from the partnership, because we do marketing on their behalf. We draw in beginner skiers and then become a feeder to the Steamboat area with medium-level skiers who are far more budget-conscious than a typical Steamboat Resort passholder. Those skiers can then access ski tickets that they may not otherwise be able to afford," says Aaron.

Lessons for the Future
Across the nation, locally owned, independent ski areas face a slew of challenges. The number one piece of advice that Aaron offers: Know your identity.
"We love the big resorts and we ski there, too—but it's not Snowy Range. As long as we live in our own skin, we do great. A high-speed quad? We are absolutely not buying one. We're not that ski area. Our guiding policy is to know who we are and to stick to it," says Aaron.
Do not cave into social pressure to invest in additional infrastructure—be it a high-speed lift for the winter or a bike park for the summer—if those components are not congruous with your ski area's central market. Ergo, lesson number two: Maintain sustainable cash flow.
Lesson three: keep the management team tight. There's so much to do and too little time. "If Snowy Range was run by a board of directors, it would go bankrupt. I hope for families—and people with the inability to quit working—to step in and drive these small ski operations," says Aaron.

A Wider Impact
Snowy Range has survived its downfall and continues to thrive. Five years ago,
visitation at Snowy Range returned to the pre-fire level of 45,000 to 50,000. Last winter, the annual tally of skiers grew to 70,000 and the annual pass sales reached close to 3,000. The keys to this growth lie in loyal patronage, easy highway access, sustainable management, the ski area's geography, and a hardcore family effort.
The family's entrepreneurial spirit plays a role, too. Hunter—Aaron's brother—started the second-ever brewery on federal land, and the first permitted by the Forest Service. (The first one on federal land was in the White House under President Obama.) Snowy Range Brewery remains the sole brewery that exists on federal land in the country.
Beyond the ski area boundaries, the Maddoxes take a wide view of their role in the community as well as in the broader winter sports industry. They offer a $25 learn-to-ski package for local kids that includes the lesson, ticket, and gear rental, which ensures a future generation of skiers. Plus, a family of four with two children ages 4 and younger can enjoy a day of skiing at Snowy Range for $100.
And Aaron has worked for the greater good of the Wyoming ski industry, too. In 2017, he successfully lobbied for the state's skier safety act, which helps to protect resort owners and state dollars.
The Maddox family itself personifies the value of a local ski hill. Chloe Maddox is now six years old. Her favorite part of the ski day is drinking hot chocolate. Perhaps, her love for skiing will blossom with time. Her big brother, Charlie, 8, is on the local ski team, and already loves helping Aaron groom runs and make snow. He shows the snowmaking crew how it's done.
In a new age of consolidation, small ski areas continue to be far from a fable. With pluck, ingenuity, and the right business plan, they will continue to be a part of the larger winter resort family.