The Net Promoter Scores (NPS) for Crested Butte Mountain Resort's culinary experience last season were higher than average. Achieving a score of 33 took time, effort, and a great staff. As the team's leader, it's something I'm very proud of, and it reflects the way my family operated our ski areas for the last 36 years.
As ownership of our three resorts passes to Vail Resorts, this feels like a good time to share a little family history—and a few tips—so that you all see a boost to your culinary net promoter scores in the future.

Roots: Training and Education
In the early '80s, as I was learning to walk, my parents, Tim and Diane Mueller, purchased a majority of the community-owned shares of Okemo Mountain, Vt. They were inexperienced with ski operations and had little money for initial capital improvements, so they relied on the hardworking and dedicated crew at Okemo to get the ski area open that first winter in 1982. Our company's culture began, from day one, with our employees.
Going back even further, we have my mom's parents to thank. Both were immigrants just prior to the Great Depression. They arrived in New York City (one from Sweden, one from Germany) and were put into American schools, knowing no English, and told to learn—better yet, to thrive. And they did.
For that, my mother is forever grateful for the American Dream, and for our country's education system that gave her parents opportunity. With my mom's affinity for education (having served on the Vermont State Board of Education, among others), she sought to educate our employees and teach in meaningful ways.
My parents knew from the beginning at Okemo that exceptional staff made all the difference. Guests will have a better experience if they're made to feel welcome and at home. That goal organically materialized into a company-wide guest-service training program, across our three ski areas: Okemo Mountain, Mount Sunapee, N.H., and Crested Butte Mountain Resort, Colo.
Culinary services at a ski resort are challenging: high turnover, employees solely working for a season pass, four months of operation, menu dilemmas (guests have a newfound desire for salads on the menu, but still order burgers and fries). And these services are surveyed and critiqued differently than other departments, and the resort as a whole. People are picky about their food. They compare it to their favorite restaurants back home. They think we can always do a better job. It's ruthless. Wouldn't you agree?
So what can you do? Here are a few takeaways that can help your culinary department start to diminish the perception that ski resort food is expensive and not very good.
1. Change the department name from F&B to Culinary. We felt this elevated the perception of the department for employees, and the quality of the experience for the guests.
2. It starts with staffing. Put the right managers in the right positions. Match each manager's style to the culinary outlet's brand. We don't need a big branding discussion here, but think about it: A laid-back person who is not very clean-cut may not be the best fit to manage your fine dining restaurant.
3. Leave the hiring to the managers. After finding the right managers and putting them in the right place, we leave the hiring up to them. It allows them to choose their team based on who will work with them best.
4. Empower the managers. We found it is important for each manager to "own" his or her outlet. Empower them to run it like it is theirs. Make them develop and follow their own budgets, and develop an annual business plan. How do they plan to improve their guest service scores? What is their action plan to make that happen? They need to write it down and follow it, and refer back to the plan frequently. After all, it is their plan.
5. Train your staff. This is where my mom, Diane, shines. She developed most of the training materials for all three Triple Peaks resorts, alongside the company's vice president of human resources, Crystal Stokarski. Here are the main components:
Welcome Orientation. Every new hire is required to attend the one-hour welcome orientation/onboarding session. This gives our entire team the "why" behind what they are learning, educating them on who they are working with, what we as a family believe in, and why we are all here doing what we are doing. HINT: it comes down to passion.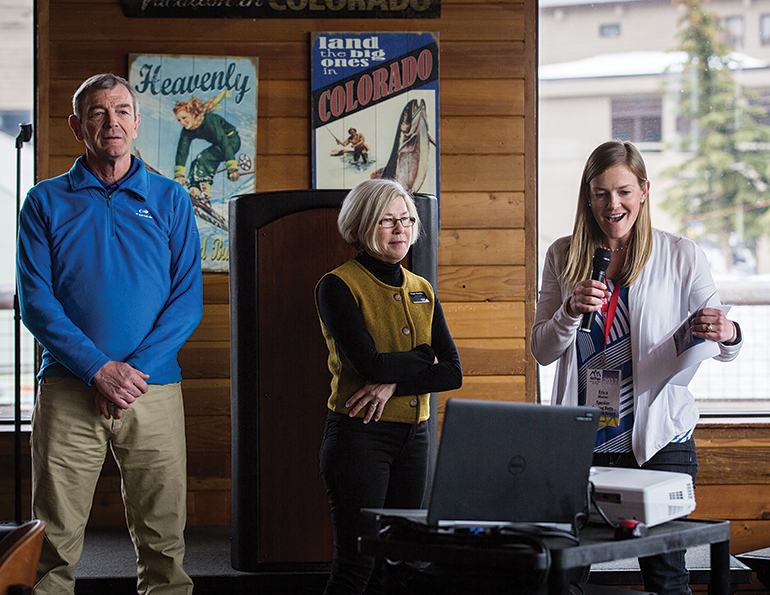 Crested Butte orientation with the Mueller family. Photos: CBMR
Manager training. New managers are required to attend 8-10 trainings on management topics. All returning seasonal managers and full-time year-round managers go through 2-4 trainings each year as a refresher.
One of our leadership training series is on "guest experience mapping" (thank you, Walt Disney Company). Years ago, we went through a company-wide guest experience mapping exercise. Each manager identified all the guest touchpoints in his or her department, and looked at what could be improved to better serve the guest—or even better, since we want to exceed guest expectations, how can we brand them and WOW our guests? For example, when looking at the burrito shop we operate, how can we interact with guests in a genuine and meaningful way that also speaks to the brand of this quick counter-service restaurant?
The goal behind all of these trainings is to ensure that our managers feel comfortable with our systems, have enough knowledge about the company, and understand how they fit into the big picture so they can take their departments to the next level.
Frontline staff. We leave this up to each culinary outlet manager. Our human resources department provides a book of guidelines that each manager must adhere to. Managers then get into the specific tasks and operations of their outlet and train to that. Hint: Again, empowerment.
Weekly team meetings. Guest service is always on the agenda at weekly team meetings, in addition to safety and other important company topics. There is always a different guest service topic, and each manager is asked to relate the topic to his or her department. We also encourage discussion at these weekly meetings. Did anyone have a great interaction with a guest? Did anyone have a miraculous guest recovery? How did it go and why? Engage the team and do so regularly.
Mid-season training. This is another training opportunity that we identified a few years ago. Every January there is a required one-hour Net Promoter Score/guest service presentation for all staff. Every employee who attends receives a $10 lunch voucher good at various locations at the resort, not only as an incentive to attend, but also as an appreciation of their guest service efforts and focus throughout the year.
6. Recognition programs. At all three Triple Peaks resorts, we had what we call "Difference Dollars." If a manager observes an employee providing excellent guest service, the manager can give him or her a $10 coupon ($20 value) to use at the resort in retail or culinary. Each Difference Dollars coupon must be filled out by the manager and include a description of what the employee did to deserve the recognition.
We also have a monthly "Peak Performer Party," where managers nominate employees who continually go above and beyond to exceed guest expectations, much like employees of the month. At the party, we serve appetizers and beverages and each manager gets up in front of the group to talk about why their employee is a Peak Performer. This is one of my favorite things we do. To hear all of the awesome stories throughout the entire company brings me such joy and pride. It also gives me the opportunity to further get to know the resort's "rock stars." Winners also get gifts and are entered into a drawing for a trip to the Caribbean.
Recognition from peers is also important, so in our bi-weekly newsletters employees can give kudos and thank you shout-outs to their co-workers in a published format for all to read.
Finally, we have a specific guest service recognition program, where each month we awarded a department that had the most improved department NPS year-over-year. The top team earned a pizza party and we posted a team photo on a plaque in the ticket office for guests to see.
7. Guest surveys. Each manager is required to regularly read through our guest surveys and their department scores and comment sections. Learn from them, speak to your team about them, keep NPS at the forefront of everyone's mind. If employees are specifically mentioned in a survey, they also get Difference Dollars. This reinforces our survey system, as employees also benefit from providing great guest service.
We were not perfect in our culinary outlets at Crested Butte Mountain Resort; there is always room for improvement. However, our guests noticed that we did some things right. We listened to our guests, we trained our teams, and most importantly, we put guest service at the forefront of our values to ensure our guests enjoyed their vacations and returned year after year.
Thank you to my parents for always focusing on guest service, and instilling those values in my brother, Ethan, and me at an early age. We know it will continue to pay dividends in the future in all that we do. And, of course, I'd like to thank our teams over the years at CBMR, Okemo, and Mount Sunapee for making our resorts known for genuine and outstanding guest service. We couldn't have done it without you.