In building summer business, it's the unknown unknowns—the things you don't know that you don't know—that can kill you. And the biggest unknown might just be who your customer will be.

In summer, vacationers set their sights on a bewildering range of recreational alternatives and travel destinations. Summer broadens their circle of participation. They go to special places, do new things. And since this audience is widely dispersed with plenty of options, your marketing—target, reach, and message—needs to adjust accordingly.

Compared to winter, says Christian Dufour, marketing director for Les Sommets, "It is a very different audience. We see very few skiers during the summertime. You've gotta figure out a way to talk to a much more diverse audience." An audience that's also not very familiar with—or committed to—your brand.

Competing for the summer guest's time and money is challenging, especially for mountain resorts that are first recognized as "ski areas"—a moniker that's even included in many a resort name. It requires a substantial amount of education to convince travelers your mountain is still hopping, sans snow. Summer should be approached as a new business, and, like anything new, it requires a fresh outlook. Not to mention a bigger budget.
Investing in Investments
Les Sommets is a consortium of five ski areas in Quebec. Its summer operations hub is at Mont Saint Sauveur, where the "off season" has been a major focus since its waterpark first opened in 1986. The attraction has stood the test of time, thanks to consistent investment into new features. "You've gotta continue to invest in new things for people to do in summer. If you slow down, you'll fade away," says Dufour.
In addition to waterpark upgrades, since 2007 the resort has built a "dry park" to draw visitors during the shoulder seasons, as well as days that aren't so great for swimming—something its competition has been slow to do. Attractions include an alpine coaster, zip-line ride, million-dollar mini-golf layout, and five Zamperla rides.

That aggressive development strategy applies to marketing as well. Dufour says his winter marketing budget constitutes about 3 percent of the resort's winter revenue; Sauveur's summer marketing budget is 6 to 7 percent of summer revenue. That's what it takes to reach summer's more diverse audience, and to compete with other summer options. And Sauveur has been successful; summer provides 40 percent of the resort's annual revenue.

Cranmore Resort, N.H., is located in the popular summertime destination of North Conway. Cranmore first opened for non-winter activities in 2011—but is all in now. It has invested more than $2.3 million in an aerial adventure park, mountain coaster, giant swing, bungee trampoline, and more.
Marketing director (and 2016 SAM 10 Under 30) Becca Deschenes says summer now accounts for more than 13 percent of the resort's annual revenue, and that number is growing. To drive growth, five percent of Cranmore's summer revenue is budgeted for marketing.

It doesn't always take a big capital investment to boost summer revenues, but there's always a marketing expense. For instance, Big Sky, Mont., has spent a modest $500,000 on products and activities that align with its brand of outdoor adventure, such as a zip line tour, climbing wall, giant swing, and gemstone mining sluice. To support non-winter visitation, though, summer accounts for a hefty 30 percent of Big Sky's annual marketing budget. "That's true of anything you want to grow. You have to invest in it," says public relations manager Chelsi Moy. It takes an investment in marketing to drive awareness.

Boyne Highlands, situated in the competitive market of northern Michigan, also commits a large portion of its marketing budget to summer. With four championship golf courses, plus a long list of activities ranging from mountain biking and horseback riding to zip lines and Segway tours, the resort's summer business is more robust than most.

"Our resort is pretty unique in comparison to other resorts, in that we are close to a 50/50 revenue split between summer and winter," says marketing director Bobbie Rathjens. Also unique is how marketing responsibilities are divvied up. The task of marketing golf, the largest revenue driver in summer, falls under one person, who has a separate budget and is focused on increasing golf related revenue. Rathjens is in charge of growing the other aspects of Boyne Highlands' business. About 30 percent of her annual marketing budget (3 to 5 percent of projected summer revenue) is used to promote summer.
Marketing Mindset
For some resorts, summer marketing is a bit of a conundrum. Compared to winter, the audience is more diverse and less familiar. And winter business continues to garner a majority of marketers' time and effort. As a result, marketers can get stuck in the winter way of thinking, and the only difference in their approach come summer is the content. A shift in mindset, message, and target will yield more positive results.

One of the universal differences between winter and summer guests is the timeframe in which they decide to make a purchase. Summer visitors typically buy very close to time of use, whereas winter guests often commit several months in advance.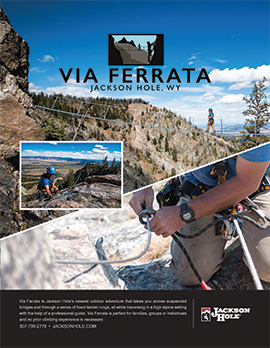 A major push for JHMR is its new Via Ferrata, which is promoted through local traditional media and some digital channels"In winter, we are required to market far higher up in the purchase funnel, as the majority of our guests and prospects are destination visitors," says Jessica Milligan, Jackson Hole Mountain Resort VP and chief of product, sales, and services. "In summer, Jackson enjoys a large volume of visitors to Jackson Hole already, driven by the National Parks, so our task is to market to visitors locally—further down the purchase funnel."

Milligan says the winter purchase window can be six months or longer, and the window in summer closes to as little as 24 hours. This makes the marketing dynamic completely different. "Our interaction with [summer visitors] has to be more transactional," she says. So, Milligan focuses on more transactional local media, including newspaper, radio, point of sale, and also digital channels that aren't necessarily used in winter.

Like JHMR, Cranmore is located in an area with a huge summer draw, so it also focuses most of its summer marketing locally. "Most of the time, we're capturing the guest once they're in the valley, and they put us on their schedule of things to do once they're here," says Deschenes. "A lot of what we do for summer marketing is traditional: billboard, print (summer guides, maps, etc.), radio, and local TV."

At Mont Saint Sauveur, Dufour says online sales for summer activities peak 24 to 48 hours out. "You rarely see people booking as much as four days out. If it's going to be nice tomorrow, the place will be packed," he says.

To spur more advanced sales, flexibility is key. When a guest purchases a discounted Sauveur waterpark ticket online, the ticket isn't for a specific day. "Buy your ticket at a discount now, pick your date later," is the message. In winter, people know when they're coming and purchase far in advance for that date to get the best price.

Partnering with local businesses is another tactic. Cranmore's consignment program allows area lodging properties to offer a special rate on activity tickets to overnight guests. In addition, other businesses post merchandising displays and distribute coupons for the resort. Deschenes says all these efforts have proved successful.

Hunter Mountain, N.Y., mixes a variety of summer activities and anchor attractions with major festivals and concerts. But its Scenic Skyride is one of the big attractions, and one marketing director Katie O'Connor emphasizes. For city folk who flock to the Catskills in summer, riding a chairlift is a novelty. Hunter promotes it to those who are already in the area, or on their way, through rack cards placed along the New York Thruway, a little radio, and nearby billboards.

"The rack cards off the mountain include a Skyride coupon. The ones we distribute on-mountain, of course, do not," says O'Connor. What has worked? "Last year we had a couple of billboards for the Scenic Skyride, and it ended up being our busiest Skyride summer." There is no metric to measure the impact of outdoor advertising, but she thinks the billboards brought in additional riders.

Socially Speaking
Social media conversations shift in summer, too. In winter, your followers are your buds. In summer, most, even your winter core, are basically new acquaintances. What you're trying to promote is still relatively new to just about everyone.

"Summer attractions are more complicated," says Deschenes. "There are height requirements, age requirements, forms to fill out." Summer attractions just require more explanation, she says.

Investing time and ad dollars on social media hasn't worked for Mont Saint Sauveur. "We realized that trying to talk to summer guests on social media isn't the way to go," says Dufour. "People need to have some sort of vested interest in you to interact with you on social media, which our summer guests don't. We have to capture a broader range, so we've moved our summer marketing strategies more toward traditional media, and it's been very successful for us."

For some, travel review sites, such as TripAdvisor, can be an effective means to generate visits. These sites suit the short-term planning of summer activities.
Cross Promoting
Typically, winter brings a critical mass of people who may not have any idea that your resort even exists after the snow melts—like a mirage. Raising awareness of summer ops to this group seems elementary, but is easier said than done.

At Hunter, though, this is a primary focus. The resort publishes an "Adventure Guide" that features its four-season events and activities. Year-round, an array of on-site signage and digital displays in the base lodge and ticketing areas promote everything from zip lines to festivals.
One of the most effective promotional vehicles? Staff. "Guests ask about what we do when the slopes close, so our staff are well-versed in all of our four-season happenings," says O'Connor.

Dufour says Les Sommets' efforts to promote winter programs, such as learn to ski, to summer guests just haven't hit like they should. But he also admits that the effort deserves more attention. "In our winter brochures, we should have a page promoting the waterpark. In the winter we should have summer pictures on the wall; and in summer we should have winter pictures on the wall," he says.

At Boyne Highlands, it's more important to stick with what guests are interested in, Rathjens says. If guests are there to golf, they're interested in what's happening at the resort during their stay, not what will be happening in winter—and vice versa for winter guests.

So, consider winter marketing like wearing ski boots, and summer marketing like wearing flip-flops: each is normal footwear in its respective season; you walk a little differently in one than the other; and if you wear one during the wrong season, it just looks funny.

>> Learn more about the summer guest, the activities they want, and how to make the most of it at Summer Ops Camp, Sept. 5-7, Killington, Vt.
CLICK HERE FOR AGENDA HIGHLIGHTS AND REGISTRATION