When Davey Pitcher procures potatoes for the fries and beef for the burgers served at his Wolf Creek Ski Area in southern Colorado, he goes to the nearby farm-rich San Luis Valley. Now, with the installation of a new nearby solar project, he can source his power locally, too.
Electrical generation at the Penitente Solar Project, just 50 miles away from Wolf Creek, began in November. The resort was one of the first area businesses to jump onboard and now sources 100 percent of its electricity solar-generated by Penitente. It was a lengthy process that required a bit of back-and-forth with the local energy co-op, but in the end, Pitcher, Wolf Creek's chief executive—and also the master plumber and sometime snow groomer—can claim his to be the first ski area in the United States to be entirely powered by solar.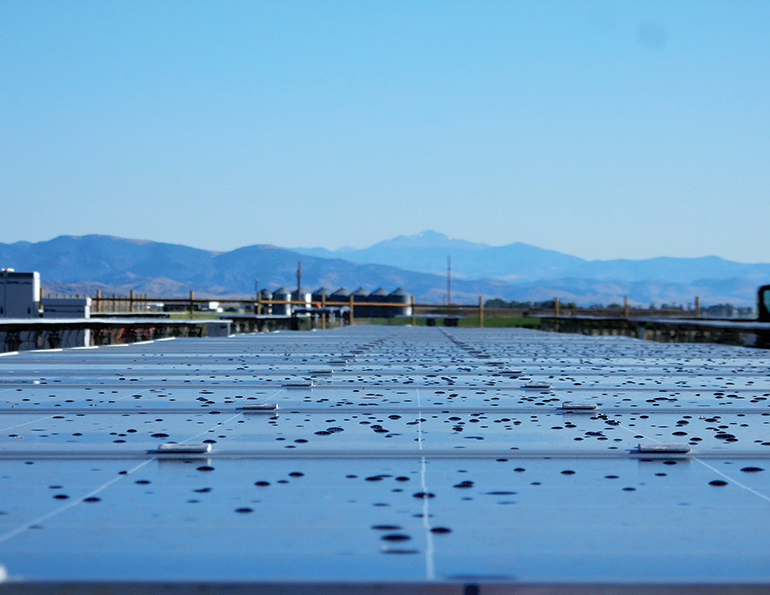 Wolf Creek, Colo., resort owner Davey Pitcher was one of several local businessmen who pushed the local power co-operative to add renewable energy to the grid. Photo: REC-America.
Ski Resorts and Renewable Energy
Wolf Creek's story is part of a growing push by ski area operators for the development of local sources of renewable energy. Other resorts are close behind. At Squaw Valley Alpine Meadows in California, chief executive Andy Wirth believes the area will achieve 100 percent renewables by the end of 2018, with the installation of batteries being manufactured 70 miles away at Tesla's Reno-area "gigafactory." Vail Resorts, the largest ski company in the nation, has vaguer goals of what it calls zero-net energy by 2030. Certain ski towns are also stepping up with 100 percent renewable electricity goals.
The notable shift began in 2007, when the ski industry began pushing for renewables via the purchase of renewable energy credits (RECs), also called offsets. In a quest to offset some or all of their energy with clean, renewable power, many ski areas jumped into a REC purchasing program offered by the National Ski Areas Association. Others struck independent deals—Vail Resorts got huge headlines for what was then the second-largest REC purchase in the country, behind only that of Whole Foods.
In theory, the money paid for RECs is supposed to reflect the environmental attributes of the wind or other renewable energy generation, no matter where it is produced. But over time, Pitcher and other ski area execs began having doubts about their purchase of RECs. Did it really result in new renewable generation? Though RECs are a legitimate way to support the development of cleaner energy, it was hard to make a "100-percent-renewable" assertion, since funding renewable energy projects doesn't guarantee your energy is coming from those sources. "It felt a little bit like a false claim," says Pitcher.
Solar Farms
In 2010, Pitcher began seeing the path to a more solid claim: solar farms in the San Luis Valley, an arid stretch between the San Juan Mountains and the Sangre de Cristo Range that runs 122 miles long and up to 75 miles wide. The National Renewable Energy Laboratory in 2005 proclaimed the valley "one of the premier sites for photovoltaic in the country." Researchers concluded that the same array at Phoenix would produce 4 percent less electricity than at Alamosa, for example.
Wolf Creek was well situated to benefit from this science. While the ski area is among Colorado's snowiest, the San Luis Valley is among its driest. From 1981 to 2010, Wolf Creek averaged 391 inches a year in snowfall while 26 inches fell on Alamosa, the valley's largest town.
In 2010, the valley got its first solar farm. The San Luis Valley Solar Ranch boasted approximately 110,000 photovoltaic (PV) modules, guaranteeing more power in and more power out of the valley. Denver, four hours away, was quickly getting electricity from the new farm, but Wolf Creek was not. "It bothered me that the local power company was not making any big effort to do something locally," says Pitcher.
That local power company, the San Luis Valley Rural Electrical Cooperative, delivers electricity to Wolf Creek and other co-op members in the valley. The co-op gets its electricity from Tri-State Generation & Transmission, which serves a broad swath of mostly rural areas from New Mexico to Wyoming, including Telluride, Crested Butte, and Winter Park. And while it has invested in both wind and solar in recent years, Tri-State, says Pitcher, has moved sluggishly to develop local renewable resources.
Flipping the Power Switch
Pitcher was antsy to look into other options. Frustrated by the apparent lack of interest from the co-op, he began talking with Solar City, a major developer that's now part of Tesla, about building a solar farm to directly supply the ski area. It wasn't his preferred option. For one thing, he would have had to pay the co-op for use of transmission lines, what is called a wheeling fee.
In the meantime, several changes occurred to provide an opening for more local solar generation in the San Luis Valley. Cost of installed solar has dropped substantially, 70 percent since 2010, according to a February 2018 posting by the Solar Energy Industries Association. Federal air pollution laws are also crimping coal plants. Tri-State has divested itself of production from one coal-fired power plant in New Mexico and plans to shut down two of its units in Colorado in coming years.
Pitcher's conversations with Solar City may have forced the hand of his local co-op, though Loren Howard, the general manager of San Luis Valley Rural Electrical Cooperative, says his group had been looking for a solar developer for five years, and other co-op members were looking for solar power, too. In addition to Pitcher, there were a number of large farms who sell to mass retailers such as Whole Foods, who were itching for farms using renewable sources of energy. All these co-op members helped drive the move. So, as prices for solar declined, a project started to make sense.
In the end, "We are glad to be part of a cooperative that has taken the bull by the horns and done something locally," says Pitcher.
A Bright Future
A recent study by Bloomberg New Energy Finance concluded that, globally, wind and solar will work cheaper than coal by 2023. In Pueblo, Colo., 120 miles away from Alamosa, Xcel Energy—a supplier to Breckenridge, Keystone, and indirectly to Aspen and Steamboat—in December reported jaw-dropping bids for solar-plus storage from renewable energy developers.
Solar projects remain a weave of financing. Penitente was developed on 25 acres of land purchased by the co-operative west of the town of Center. AEP Onsite Partners, a Midwest-based company, owns Penitente. As the financier, it has the ability to benefit from the federal government's investment tax credits that the co-operative, as a non-profit, cannot. The company will sell the electricity to the co-operative for seven years, when the tax advantage disappears.
Byron Boone, a spokesperson for RES-America, the English company that developed Penitente, says the 2.75-megawatt AC (alternating current) project qualifies as a smaller distribution-scale project by his company, unlike the larger utility-scale solar projects. Despite the Trump administration tariffs on Chinese photovoltaic panels, utilities remain interested in new projects, he says.
The Penitente solar farm can produce 7,000 megawatt-hours per year; Wolf Creek averages demand of about 1,000 megawatts. Currently, Wolf Creek is paying about 20 percent more for electricity from the solar farm than it had been through the RECs. That number may decline. The energy, after all, is free, unlike the generation from coal or natural gas that it replaces.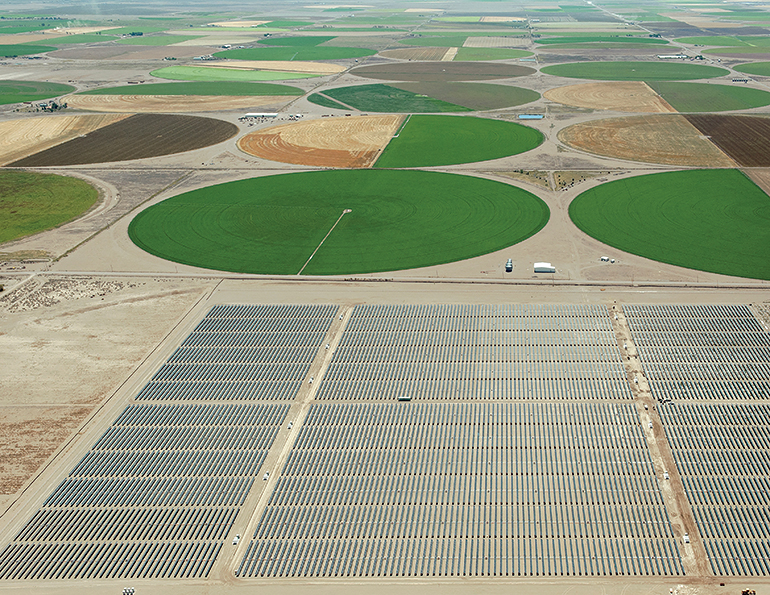 The Penitente solar farm sits on 25 acres of land in the heart of Colorado's farm-rich San Luis Valley, where the high-desert climate is ideally suited to solar power generation. Photo: John Wark.
Can Pitcher really say that Wolf Creek is 100-percent solar powered? The co-op's Howard says it's a fair claim. "It's as close as you're ever going to get to be able to say, 'my electricity comes from renewable sources,'" says Howard.
That's a mark few have reached. But this small ski area in Colorado that didn't get snowmaking until decades after many of its peers may just be at the front end of this industry trend.
A Work in Progress
The sun doesn't always shine, even in the San Luis Valley—and never at night. To account for that nighttime use of electricity, Pitcher continues to pay for wind energy offsets, even if the money trail remains uncomfortably murky.
For Pitcher, this drive to clean up the source of his electricity is a matter of responsibility and self-interest. "We have a pretty direct relation to global warming," he says. "If it continues to warm, there's more rain, less snow. People don't ski on rain."
Ski areas, he says, have a responsibility to push for renewable generation, even paying for it, if necessary. Ski areas have enormous energy demands in snowmaking and other operations.
"It's not a hospital," says Pitcher. "People are just goofing off on the mountains. We really should be able to figure out a way to goof off without burning carbon."