Ski areas of all sizes agree that adding a snow-tubing park is a fast ride to financial success, particularly when evening operations are bedazzled with light shows that add a festive atmosphere to this family friendly activity.
"It snows money down there," says Dru Brooks, director of sales and marketing at Camelback Mountain in Tannersville, Pa., home to the largest snow-tubing park in the U.S. Launched with a half-dozen lanes, Camelback's park has grown into a 42-lane "monster," says Brooks, pulling in more than 150,000 visitors annually from the New York City area.
"We really needed something different in terms of the guest experience," recalls Brooks. "We were looking at other ways to insulate ourselves besides skiing."
The ski area has spared little expense in growing its tubing park to match demand, including dropping $1 million on a lodge, $100,000 on lighting, and having a special groomer built exclusively to serve its tubing lanes. "That would be a major investment for any ski area—for snow tubing it's unheard of," he says. "But it's been very fruitful."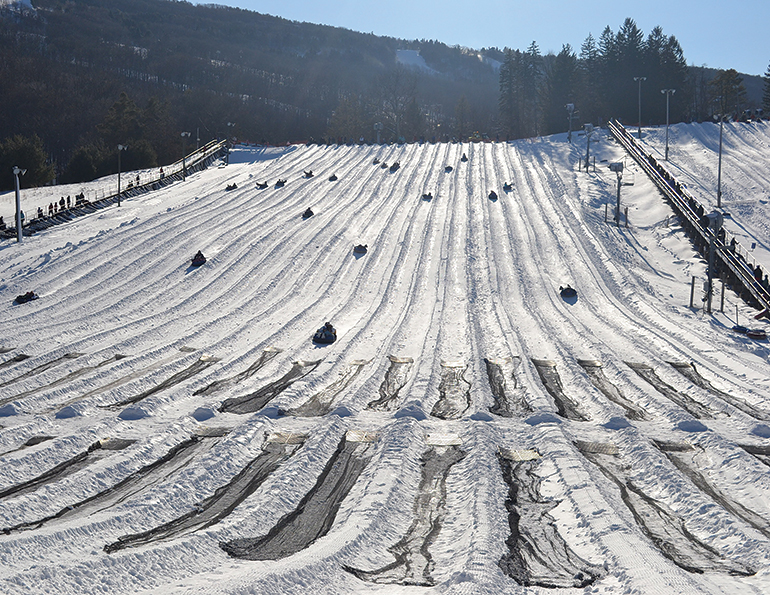 Camelback, Pa., has the largest snow-tubing operation in the country, with 42 lanes drawing upwards of 150,000 tubers a year.
Camelback is an extreme example, but ski areas don't need to spend a fortune to get into the snow tubing game—or to upgrade their existing operations to include after-dark activities. Rebecca Kullberg, director of operations at Mt. Peter in Warwick, N.Y.— another resort that draws heavily on the metro New York City area—says the area's total investment in snow tubing has been about $350,000 to date.
"We always wanted to do it, but didn't think we had the space," says Kullberg. "The phone would ring and people would ask, 'Do you have tubing?' 'No.' Click. We said, 'We're crazy if we don't do this.'"
Kullberg says the investment has paid for itself already. "I wish we had done it years ago. I wish I could make the whole mountain tubing," she laughs.
Mt. Peter's tubing operation was built by the mountain's own work crews, helping to keep costs down. At Snow Trails, Ohio, the area saved on costs simply by making the tubing lanes the same width as the blade on its PistenBully 100 groomer, and for night tubing it used light poles repurposed from a Wendy's restaurant parking lot.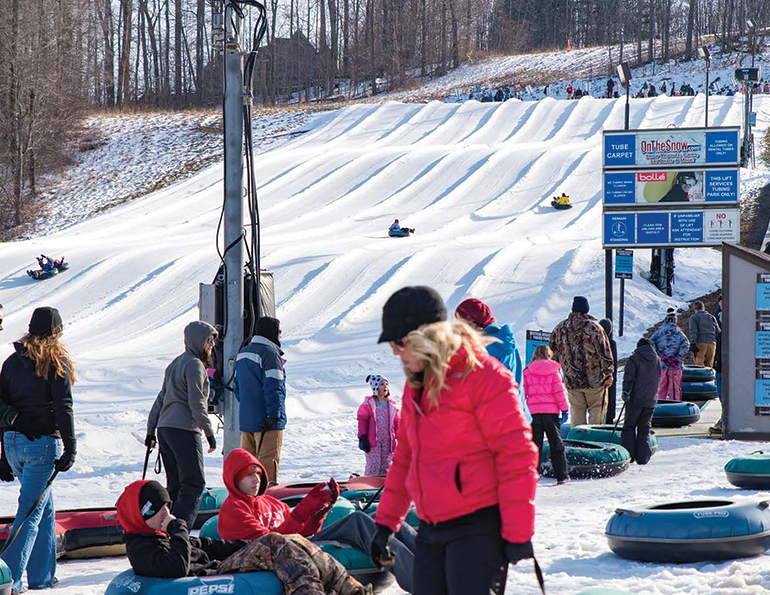 To help manage crowds, Snow Trails, Ohio, takes online reservations for tubing.
A Different Crowd
Big crowds consistently turn out for snow tubing, but they tend to be very different than the skiers and snowboarders who typically populate the slopes at ski areas. Families (both nuclear and multigenerational) and big groups are far more prevalent.
"There's not a huge crossover between the ski and snow tubing guest," says Brooks. "This is our summer crowd coming out to experience a winter sport. It's the most diverse crowd in winter sports—nobody shows up alone or in twos to go snow tubing."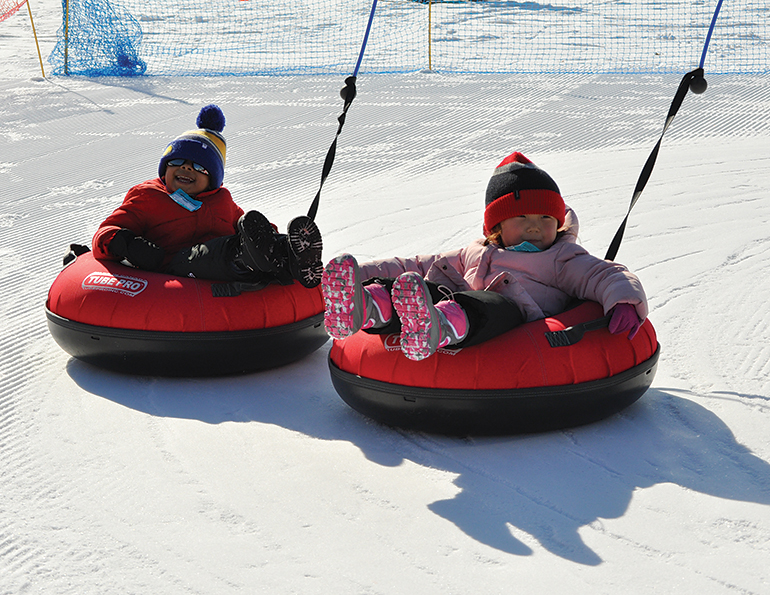 Snow tubing will always be a family activity at Mt. Peter, N.Y.
Mt. Hood Skibowl has built its snow- tubing park into a full-fledged family experience, offering single, double, and quad tubes so families can ride together, a Sunkid tube carousel, a maze, and a 2,400-square-foot indoor play area called Frosty's Playland. All are included in the price of a tubing ticket, while a kiddie snowmobiling experience is available for a $12 upcharge.
"We're all in," says Karen Norton, head of marketing and corporate group sales at Skibowl. "Having all these other attractions allows people to stay in the park all day; you can only tube for so long."
Tubing's Universal Appeal
The fact is, anyone can tube. As Brooks points out: "For skiing, you're marketing to 7.7 percent of the population; for snow tubing, it's 100 percent."
This universal appeal has advantages and drawbacks for ski area operators. While it has potential to attract a larger crowd, it can also draw visitors who are unfamiliar with the great outdoors. "It brings out all kinds of people, people who know nothing about winter or snow or doing things that require physical ability," says Kullberg.
From an operations standpoint, that means paying close attention to tuber safety, starting when they show up at the ticket window. "We have to make sure people have appropriate footwear," she says. "We actually train staff to look at people's feet."
Mt. Peter has done a good business renting snowboard boots at $20 a pair to guests who show up in their "city shoes," Kullberg adds. Gloves and toe warmers are big sellers, too.
Skiers in the Making?
It's possible that some of these neophyte snowsports fans could become skiers someday. "We really want to introduce people to the sport of skiing and introduce them to our summer operations," says Norton. Skibowl, which has four snow-tubing hills with a total of 14 lanes, encourages crossover between sports by applying 100 percent of the cost of a tubing ticket as a discount on the resort's $99 learn-to-ski package, usable anytime.
"We are a learn-to ski area; we want to turn tubers into skiers," agrees Kullberg. Mt. Peter has a built-in marketing advantage because the snow-tubing base is located adjacent to the ski area's learning slopes. "Tubers watch the skiers on the beginner hill and say, 'That doesn't look so hard,'" she says. "I don't know that we would have attracted them to come skiing first."
Snow tubing still tends to be a smaller operation than skiing at most areas; even Camelback gets about four skiers for every one tuber each season. However, tubers can be a more reliable crowd, especially when resorts implement an advance-reservation system. Like skiers, "when it's really cold, tubers don't come," says Kullberg. "But they will come if it's raining if they are prepaid."
"Tubers will come out in all kinds of weather, unlike skiers who are waiting for the right conditions," agrees Skibowl's Norton.
"Skiers know snow conditions," says Scott Crislip, general manager of Snow Trails, Ohio, which operates a seven-lane tubing park. "Over there [the tubing hill], it doesn't matter if it's icy." Plus, Norton notes, "Tubing takes a lot less snow, so it can help in a low-snow year."
There's one more intangible-but-important difference between skiers and tubers, says Kullberg: Tubers generally tend to be more satisfied customers. "They don't have huge expectations, or have to wrestle with the idea that they might fail," she explains. "They're not here that long, and there's not that much of a financial commitment" compared to the price of a lift ticket. The resorts we spoke with charged between $18 and $35 for tubing.
Online Booking Brings Higher Returns
Tubing is sold by time slot; a typical session is two hours. Snow Trails, for example, sells up to 125 tubing tickets per hour, so the maximum number of tubers on the hill at one time is 250. A typical tuber will get in about 10-12 runs per session, estimates Crislip.
Many resorts take online advance reservations, while setting aside a limited number of slots for walk-up customers. "The reservations help manage the crowds and definitely generate more traffic," Crislip says.
"We do sell out during peak times, so we definitely encourage people to book online in advance," says Norton.
Some resorts have been able to build on their existing reservation systems for ski lift tickets and ski school, while Powder Ridge, Minn., adopted a commercial booking engine from FareHarbor for its tubing operation. "It's the only thing we presell," says resort owner Jerry Wahlin. Refunds on reservations are offered up to 24 hours in advance.
Ironically, the resort with the biggest tubing operation hasn't automated its reservation system: Camelback does no advanced tubing sales, with all business booked on a walk-up basis. "It's very hard to get people to show up on time," acknowledges Brooks.
Let There Be Lights
Ski areas with night skiing and snow-tubing parks have an obvious interest in extending their tubing operations into the evening hours as a means to boost business. For many, the key to success has been to use lights and sound to make night tubing a distinctly different experience, much as bowling alleys turned to "cosmic bowling" to attract a more youthful crowd on weekend nights.
"It's like cosmic bowling, but you are the ball," jokes Brooks. Camelback added a laser light show last season and extended its tubing schedule two hours further into the evening.
Skibowl unveiled the first Cosmic Tubing experience in 2011. "The popularity has been amazing," says Norton.
The resort charges a $4 premium over its regular daytime tubing rates, but that's a small price to pay for the experience. Half-a-million colored LED lights were initially installed at Skibowl's tubing park, along with black lights, lasers, and fog machines.
Two years later, another 500,000 LEDs were added, along with additional laser lights. In addition to the tubing hill, a nearby lodge and zip line tower are also illuminated. Reflective material is stitched onto tubes by Skibowl's on-site upholstery shop so that they also glow under the black lights. A live DJ provides the soundtrack for Cosmic Tubing on Friday and Saturday nights.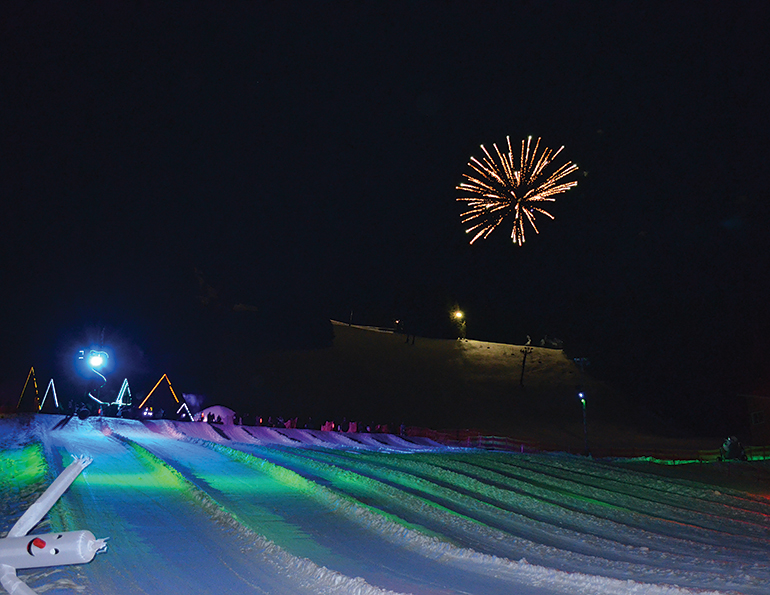 Mt. Hood Skibowl, Ore., introduced "Cosmic Tubing" in 2011, and now licenses the concept to other areas.
The program has been so successful—night tubing now accounts for half of Skibowl's tubing schedule—that the resort licenses the Cosmic Tubing concept to other areas.
Both day and night tubing are popular with families, but programs like Cosmic Tubing skew more toward teens and young adults, says Norton.
Snow Trails, which offers night skiing until 2 a.m. on peak weekends, added Glow Tubing three seasons ago with a modest investment, placing boxes with colored cellophane film over its light towers. Since then, the setup has expanded with $10,000 in additional lighting, including LED hoops that arch over the tubing lanes. Glow Tubing nights also include a DJ, bonfire, and a lodge selling food and drinks, including beer. Staff and guests are all provided with glowing accessories. "It's been unbelievably well received," says Crislip. The made-for-social-media visuals help amplify the resort's marketing of Glow Tubing even further.
Powder Ridge has spent less than $10,000 on Laser Light Tubing to date, according to Wahlin, but that has yielded a big ROI. "This season we sold 4,000 tickets at $20 each, so do the math," he says.
Laser Light Tubing is $2 more than day tubing, and is offered on 21 dates each season (Fridays, Saturdays, and a few Sundays). "We virtually sell out every time we do it," says Wahlin.
In addition to colored LEDs, Powder Ridge projects snowflakes, birds, and other winter images onto its tubing hill, wraps rope lights around snow guns, and has a DJ, bar, and fire pit. "It's a little bit of a party atmosphere, but still family friendly," says Wahlin.
Initially, Powder Ridge offered two Laser Light Tubing sessions, from 8 p.m. to 10 p.m., and 10 p.m. to midnight, but decided to drop the later session because tickets were harder to sell. Instead, the plan is to expand the number of Laser Light Tubing dates next season.
Even a million LEDs can't make a tubing hill as bright as daytime, so Powder Ridge increases its staffing for the night sessions. "Maybe it adds some more labor costs, but it certainly brings in more than that," says Wahlin.
And that's the point: Snow tubing is bringing in more—visitors and revenues—at ski areas across the country.