Table of Contents

DIGITAL








Campaign that Best Stands Out Amid the Clutter
POW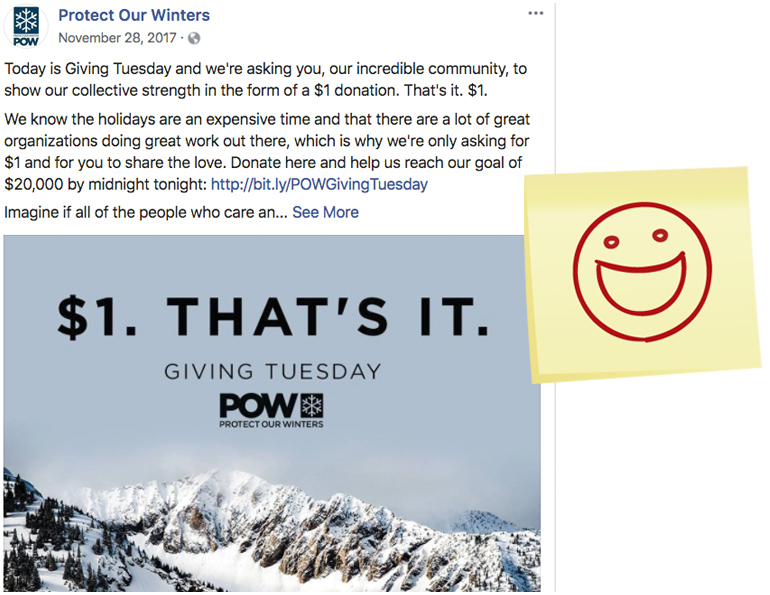 Black Friday, Cyber Monday, Giving Tuesday: 'tis the season to spend, and to filter through an insane number of holiday offers and donation requests online. It's a challenge for anything to catch my eye during that stretch. However, this post from Protect Our Winters did, after it was liked and shared by a few snowsports-loving friends on Facebook. First of all: $1? I can get behind that. More importantly, though, I had never heard of POW before. My ski crew's likes and shares piqued my interest, so I dove deeper to learn more. I discovered a cool climate advocacy group for winter sports fans, with some pretty large industry partners and a sweet reminder that "We All Need Winter." I started following POW on Facebook and am regularly inspired by our awesome snowsports community. Getting donations ($33,000 on Giving Tuesday alone) and new followers from one post: priceless. —M.T.



Best Use of Locals
Sun Valley, Idaho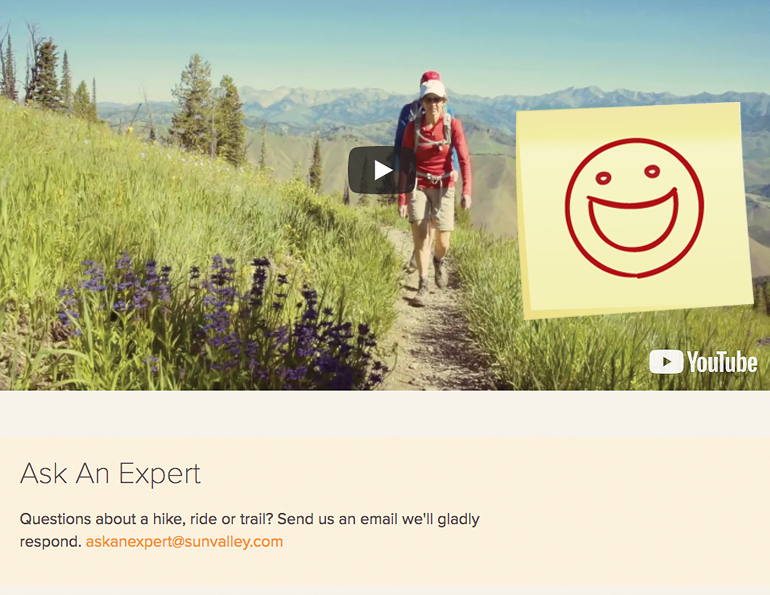 Our family loves to hike, but we recently had some close calls with slightly out-of-control mountain bikers on the trail. So when planning a trip to Sun Valley, we hoped to find trails that were both kid-friendly and mostly free from our friends on two wheels. The great library of maps and info online didn't quite tell us what we wanted to know. And then we saw it. A yellow box that read, "Ask an Expert." It was after 9:00 p.m., but we gave it a try. By the next morning, a knowledgeable local guy had already sent back a personal, thorough reply. He shared suggestions on the best trails near our hotel, included a link to a map we could use on our adventures, and encouraged us to reply if we had more questions (we did, and his follow up was just as useful). Technology is helpful, but kudos to Sun Valley for leveraging the human touch. —G.B.




Best Pre-Arrival Email
Camelback, Pa.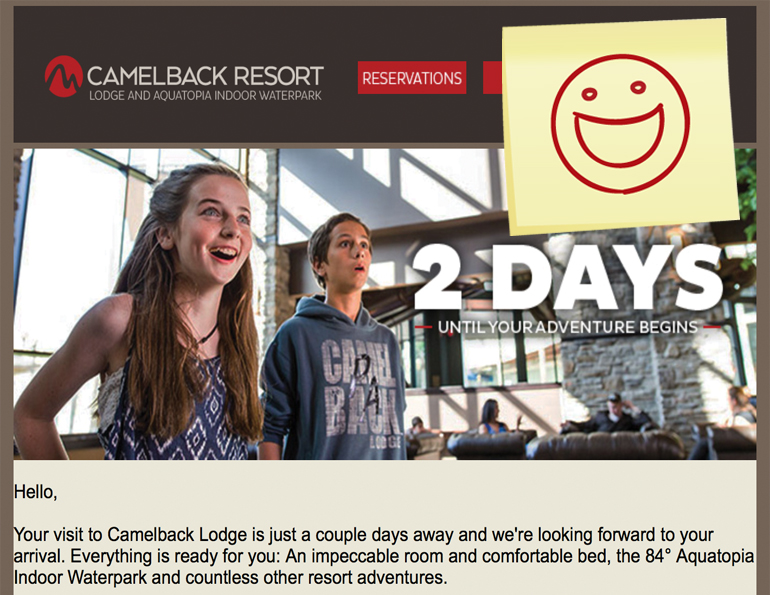 Pre-arrival emails can go one of two ways: thoughtful and informative, or useless. Camelback's pre-arrival defines the former. Last fall, fam and I checked out Camelback's famed indoor waterpark. As never-evers to the place—and with two little kids ready to play—we spent lots of time on the resort's website. Then the email came, two days before our arrival. "We're looking forward to your arrival," the headline said politely and sans exclamation point (thanks!). The banner photo is of two kids looking genuinely amazed, and the intro is short and sweet. The best part, though? "Here are the top 5 things you need to know in advance of your visit." Details about check in, what to do, where to eat, how to check out, and a call to reach out if we need anything. We already felt welcomed and informed before we even showed up. That's what a pre-arrival should accomplish. —D.M.



Most Premature Snowmaking Message
Sunday River, Maine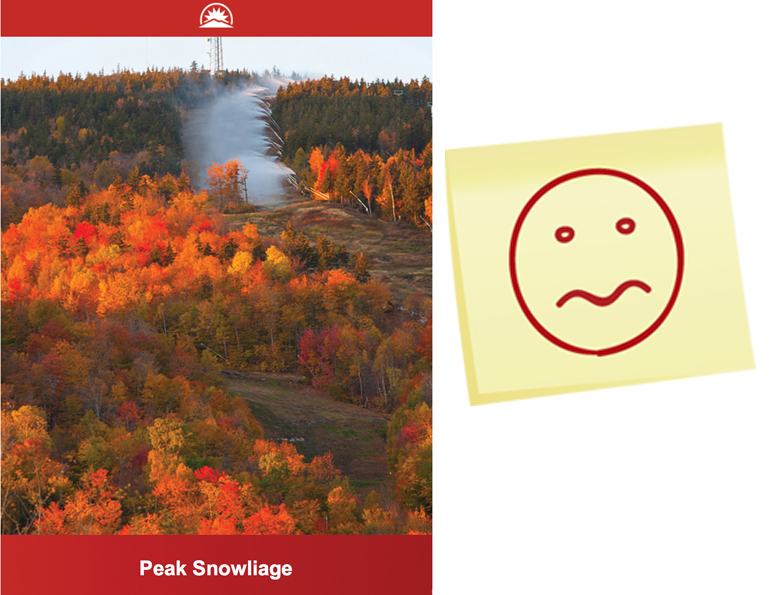 In mid-October I received an email from Sunday River simply titled, "We Made Snow." What? Really? I haven't even finished picking apples, and a ski resort in Maine is making snow? When I opened the email, I saw a very cool image of Locke Mountain in peak fall foliage with snow guns blasting as if it were mid-December. The nice image and the clever tag line "Peak Snowliage" were a win. However, the more I looked at the photo the more I wondered, "What is the point?" The email readily admitted it was warm and the snow wouldn't last. Suddenly it all felt so wasteful. I appreciate the heads up that ski season is near, but at the end of the day, this one left me wondering if the PR overhead would affect my ticket price. —M.T.




Best Pop Up Program
Boreal, Calif.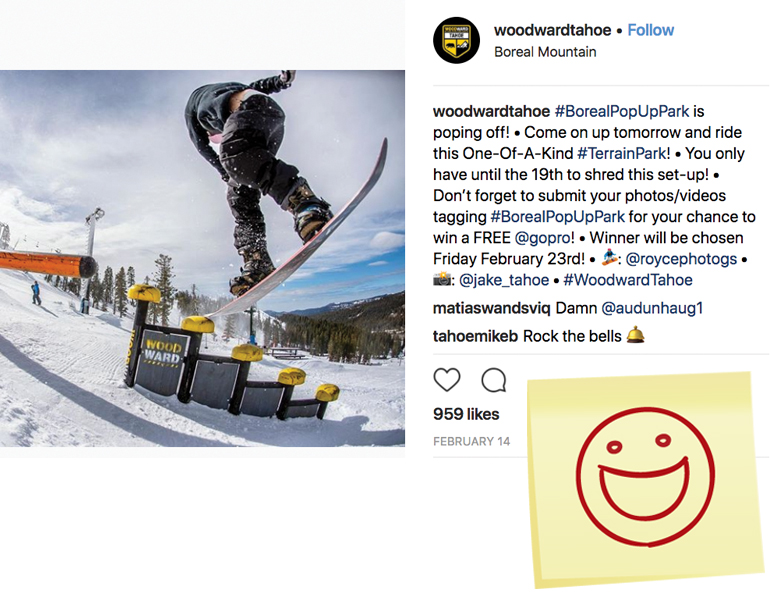 Boreal Resort in Tahoe has a devoted following of freestyle phenoms. The resort harnessed both the onhill skills and digital prowess of its regulars with a special, limited-time setup, the Boreal Pop Up Park. Boreal invited a select group of pro snowboarders and skiers, brands, and media to a one-day photoshoot in the surprise Pop Up Park. The resort broadcast snippets of the action on its social channels, and attendees posted stories, videos, and photos in real time, all collected under the hashtag #BorealPopUpPark. The fun continued over four days before the park was open to the public, who contributed to the social frenzy. A month later, a new Pop Up Park bolstered the success of the first, creating an exciting and recurring—yet still surprising—program. Boreal scored an A+ with organic content genuinely shared by the strata of snow opinion leaders, striking a chord with its entire audience and beyond. —M.W.




Most Awkward Cut and Paste Job
SnoCountry.com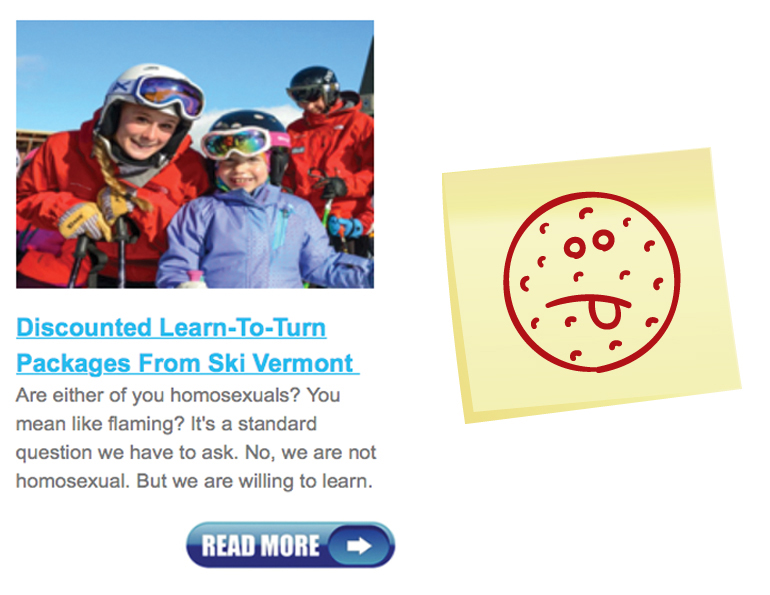 Sorry, SnoCountry. I love you, but this one was just too good an example of what can go bad, accidentally. Somehow, an excerpt from the 1981 movie "Stripes," in which Bill Murray and Harold Ramis are applying to join the army, became the caption copy for learning to ski in Vermont. It's a funny scene in the film, but less funny in the context of the email. Cut-and-paste goblins can strike any of us. Be on the lookout. Once you hit send, there are no backsies. Or…intentionally put some crazy, but maybe less sexual, copy into your newsletters to keep readers on their toes and maintain open rate. —A.K.




Most Consistently Good Branding
Sunday River, Maine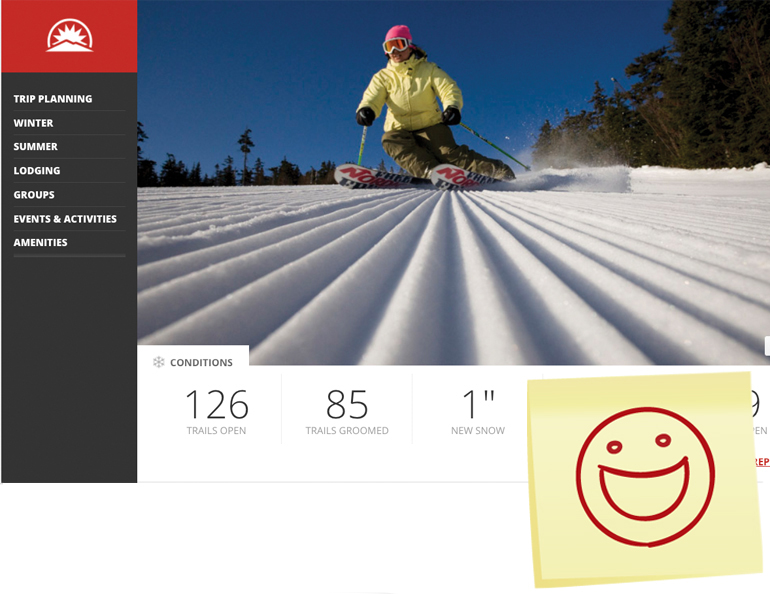 A new website can be an incredible boost, but it can also be a huge time suck that takes you away from working on other things. Same with a new tagline. Dozens (if not hundreds) of resorts change one or the other every year, but not Sunday River. With the exception of a few cosmetic updates, its website has remained largely the same for about four years—an eternity in the world of design, but a testament to the original effort. The tagline, "Find Your Happy Place," has celebrated more birthdays than most taglines do. I love this. Not only is the brand strong and established with consistent messages to its market, but consistency frees up massive amounts of time, resources, and budget for doing other things and chasing new ideas. —G.B.


Best Snow Report Sharing
Mountain Creek, N.J.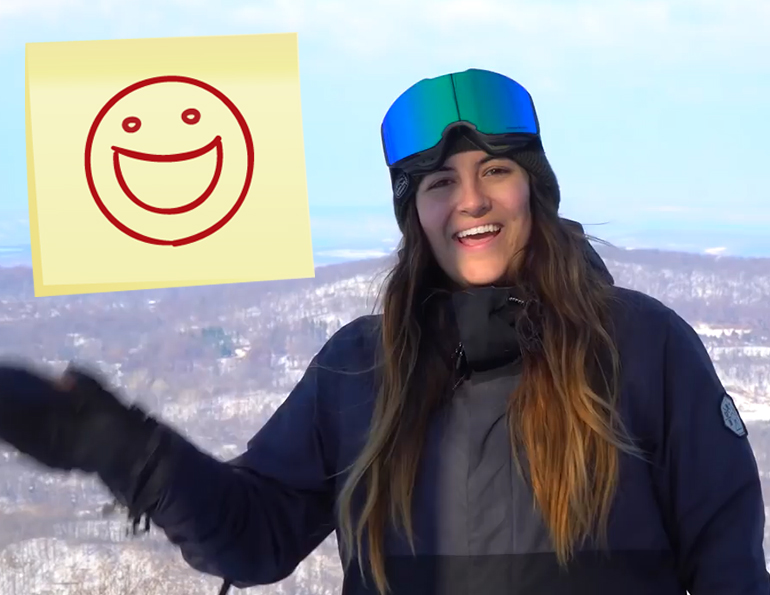 Mountain Creek showcased its social media savvy by utilizing Instagram stories to share snow conditions and park updates. In the current, fast-paced digital landscape, Insta stories have emerged as a very effective way to communicate with a growing segment of the ski and board population. Using stories, Creek gave its customers up-to-the-minute reports—particularly beneficial in a region where temps and snow conditions can go from spring-like to powdery in 24 hours (gotta love the East Coast!). The posts make it easier to get the attention of a person on the fence about heading to the mountain and create excitement when conditions align. —M.W.


Best Email Subject Line
Ski Utah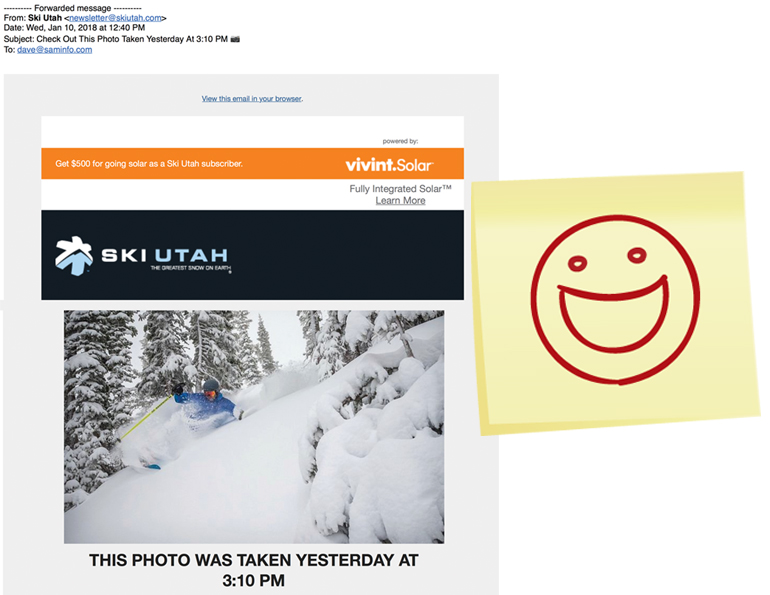 On January 10, things hadn't been going all that well for much of the nation's ski areas. In Vermont, we went from a string of sub-zero days into a forecast for hot rain. Out West, snow was scarce. I needed a glimmer of hope. It came in the form of an email from Ski Utah. The most striking takeaway was how straightforward the call to click was. Ski Utah certainly had license to yell about the foot of snow that fell. After such a dearth of powder, it took restraint not to write an email subject in all caps, complete with snowflake and explosion emojis. Instead, "Check out this photo taken yesterday at 3:10 PM" was what I got. The single powder shot was all the reminder I needed. Subtle, straightforward, and confident beats overzealous, excited, and loud every time. —D.M.


Worst Mid-Season Call to Action
Vail Mountain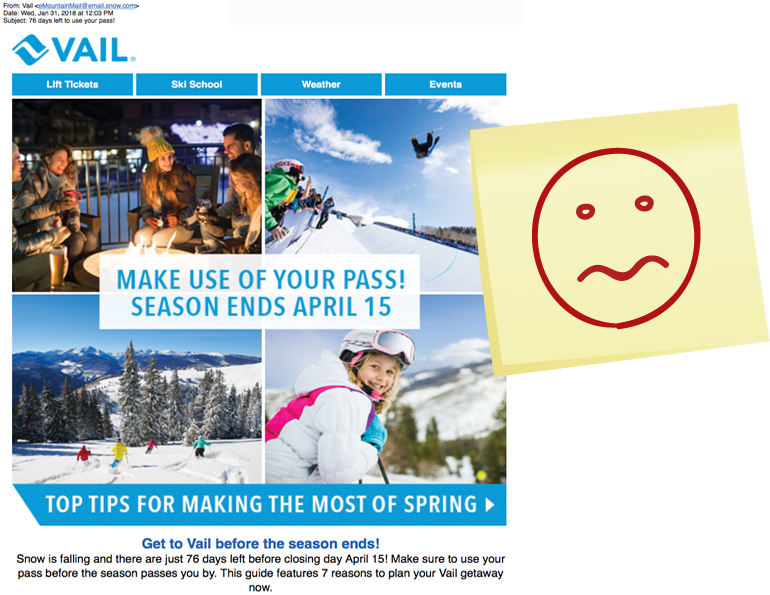 At the end of January, Vail circulated an email blast with the subject: "76 days left to use your pass!" However, I read that as: "ONLY 76 more days to use your pass." Huh? It's January! Is there really a countdown clock on the season already? And am I the only person who cannot easily convert 76 days into weeks or months? After opening the email, I learned 76 days from then was April 15. I'm still not sure what the goal of the message was, but I assume 76 days means absolutely nothing to most people quickly going though promotional emails on their phones. Why not say that I have until mid-April to use my pass? Or point out that there are two and a half months of primo skiing left? Or, if you must use 76 days, at least let me know that there are STILL 76 days left to use my pass. —M.T.


Best Lemonade Made From a Real Lemon
Powder Mountain, Utah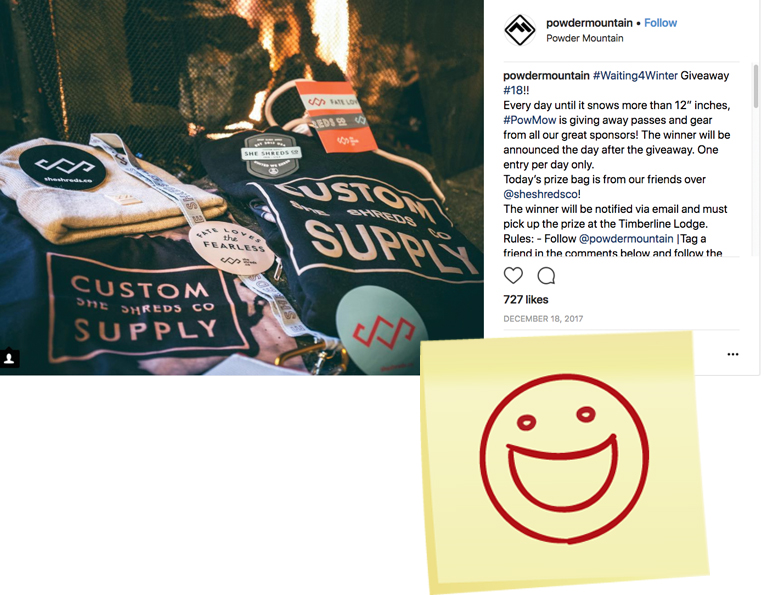 When your tagline is "preserving the pow" but it's not snowing enough to get open and you have no snowmaking because you usually have pow, what's a resort to do? Suck it up, face the music, and shower your customers in gifts. Powder Mountain eventually got plenty of snow, but during November and December it ran non-stop retail "giveaways until we get snow" across its channels. The effort kept its customer base engaged during the long wait for Powder's powder, and didn't beat around the bush of the low-snow scenario. When things are shit, admit it and do something else fun to you maintain some credibility and share of mind. The alternative would have been two months of fart-in-the-wind sales messages. Don't be a fart in the wind. —A.K.


Best Digital Photography
Jackson Hole, Wyo.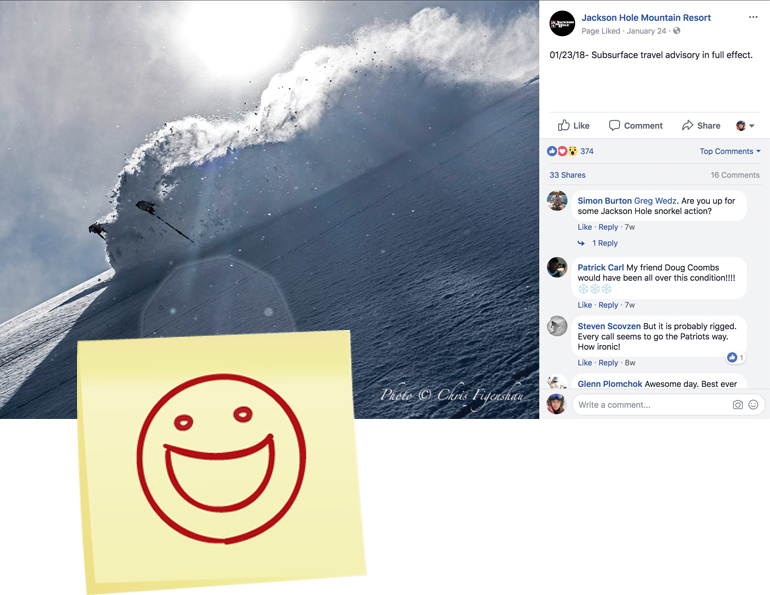 Facebook has become a cluttered and busy hybrid of Tumblr, Vine, and its old self, so it's difficult to stick out in the crowd. But Jackson Hole's photography does just that. JHMR is no ugly duckling, of course, and some would argue anyone can point a camera and take a beautiful shot there. However, the resort has established a unique brand voice and style by consistently capturing and sharing one high-quality photo at a time. It's usually so stunning, it stops your thirsty thumb from scrolling in an instant. Then there's the nuance of pairing that image with a simple, laid-back, understated caption. The caption inevitably complements the main dish, the photo, and never overpowers it. It's not salesy, it's not trying too hard. It simply tells a story and lets you get lost in the beauty of Jackson Hole. —H.O'B.