Table of Contents

PRINT









Best Case of Playing to the Audience
Carinthia at Mount Snow, Vt.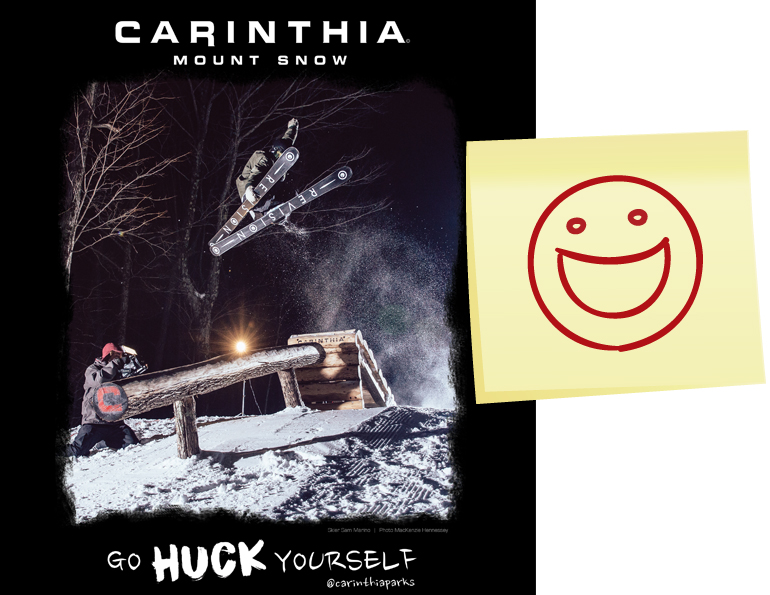 The young followers on the Carinthia Parks Instagram feed love to curse, talk smack, and be generally inappropriate. These keyboard tough guys (and girls) have a say in where the family goes on vacation, but they're not searching Travelzoo for great deals like mom and dad are. They're staring at Instagram and flipping through ski and snowboard magazines to see which place is raddest (ugh). Big ups to Mount Snow for recognizing this and speaking their language. If mom saw the "Go Huck Yourself" Carinthia Parks ads in Freeskier or Snowboarder mags, she wouldn't be too impressed. Nor would she understand why the ad has no website URL, and only @carinthiaparks. Junior, however, has all he needs. —D.M.




Most Inclusive Park Philosophy
Sun Valley, Idaho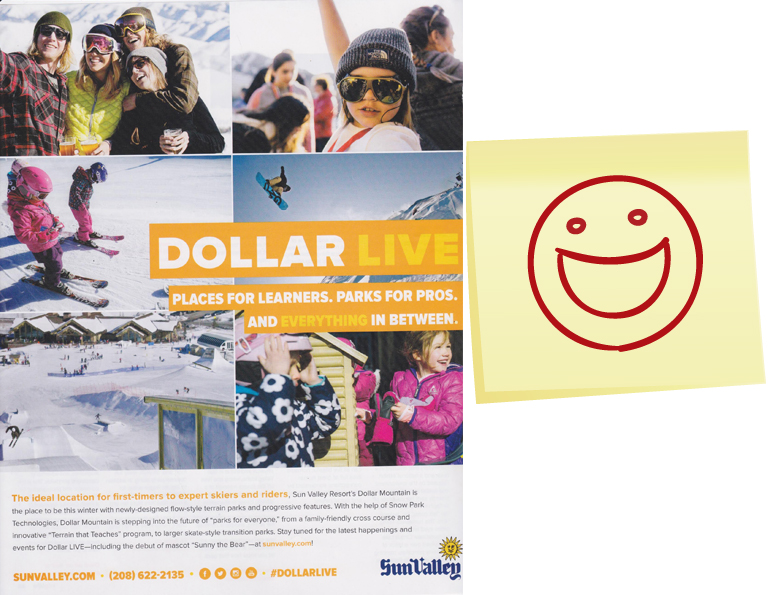 It's truly music to our ears: "Places for learners. Parks for pros. And everything in between … Dollar Mountain is stepping into the future of 'parks for everyone.'" Sun Valley's 2018 print campaign for its new park program at Dollar Mountain featured a two-page spread explaining its philosophy on freestyle terrain for all abilities. As such, the photos and info are inclusive. Sun Valley's stance is a powerful one, staking a claim in the ever-expanding interest in park riding and acknowledging that hitting jumps isn't just for X Games hopefuls—parks can be fun for everyone. This outlook is a surefire way to stoke out a wide customer base. —M.W.





Most Enticing Ad for a Ski Deprived Mom
Grand Targhee, Wyo.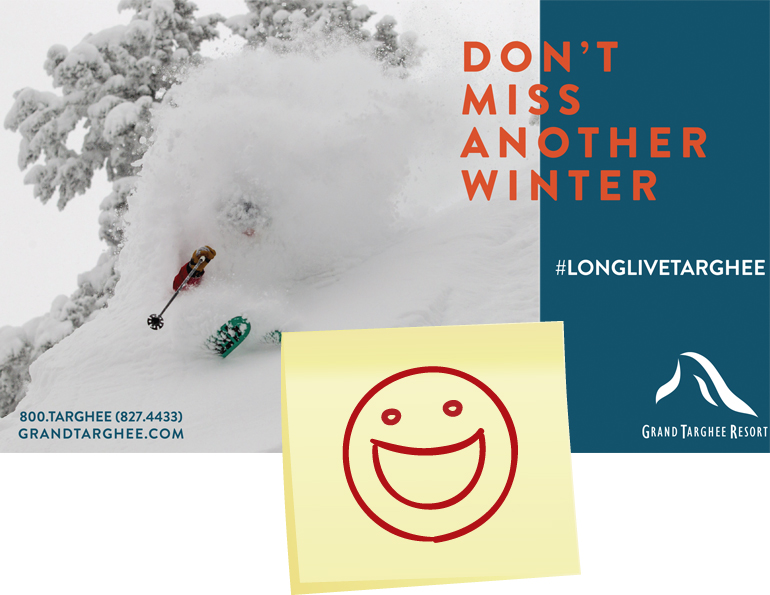 The 2017-18 season started slowly out West, our family is expanding, and for countless other silly reasons, it just did not feel like a great year to commit to a full-fledged ski vacation. Fast forward to March, when I am experiencing some major ski envy. Every single member of my ski tribe is enjoying copious amounts of fresh powder. Those in Vermont and New Hampshire are gleefully posting photos of 2+ feet of snow, and friends who traveled to B.C. are sharing photos that look like they were taken inside a snow globe. Why oh why didn't I plan a trip this year? I know that no matter how patchy, scratchy, or slushy the conditions, I've never once regretted a ski vacation. So I sit here, staring at this ad telling me not to miss another winter, nodding my head in agreement, Googling the conditions at Grand Targhee. Agreed: I will not miss out next year. —M.T.





Most Honest Print Campaign
Magic Mountain, Vt.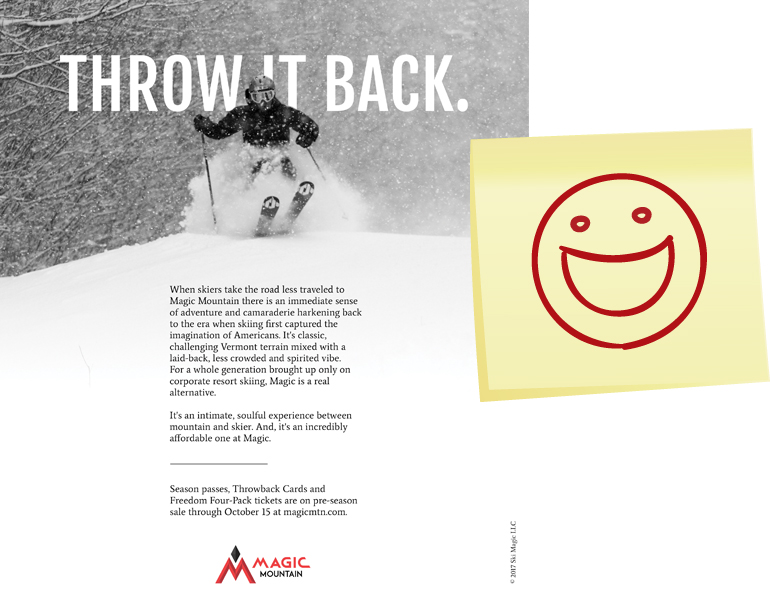 Magic Mountain, located in southern Vermont just minutes from a handful of major resorts, is one of those operations falling behind in the "pimp my resort" games—and that's exactly where it wants to be. Since new ownership took over a couple years ago, the ski area's resurgence has been the result of a marketing message that's less about keeping up, and more about staying the same. Heading back in time, even. As one of its print ads states: "Throw it Back." That has as much to do with the old-school vibe and fixed-grip lifts as it does the mountain's proper, no-frills après scene. Magic embraces what it is, "Where skiing still has its soul," and makes no apologies for it. Others in a similarly capital-constrained situation may find success taking a similar approach. —D.M.




Best "Wish You Were Here" Ad
Big Boulder Park, Pa.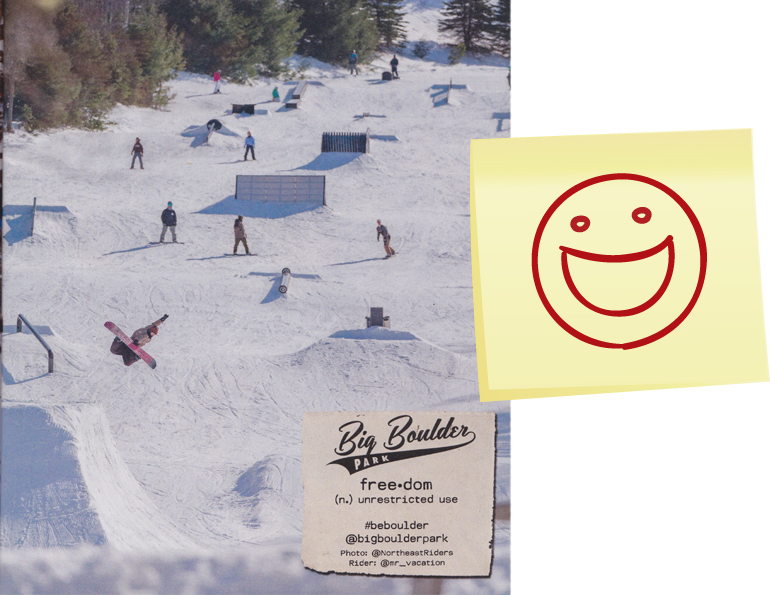 Print ads should inspire readers to take action, and imagery plays a big role in that. Big Boulder accomplished this with an image that combines a great trick (a classic method), a great scene (sunny day, soft-looking snow), and an expansive terrain park brimming with jibs, jumps, and bonks that fill the page. The imagery played deftly to the "wish you were here" mentality, with a heavy dose of choose-your-own-adventure-esque inspiration. The tube-to-rail, wallride, flat-down tubes, and rider's right hip are fuel for daydreams about which lines readers would take. For the past few winters, Boulder has nailed it with straight-to-the-point advertisements that showcase its high- quality terrain park assets, and this year's campaign was its best yet. —M.W.


Best Connection to Busy People
Deer Valley, Utah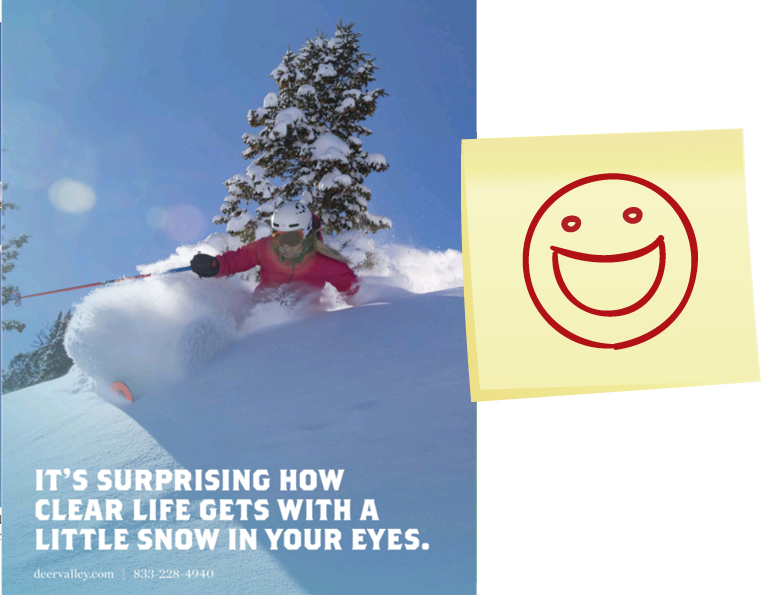 The phrase "skiing is freedom" is easy to recite, but rarely, if ever, do resorts make the effort to specify what skiing is freedom from. That's because us resort folk live the skiing experience, which skews our view a little. But Deer Valley nailed it. The print ad, which I saw in SKI, had just one line of text: "It's surprising how clear life gets with a little snow in your eyes." Our guests are good people who live hectic lives in cities and suburbs, far from the solitude of a tree-lined trail. Their lifestyle can leave little room to just take a breath and clear their heads. For many, that's exactly the role skiing plays. It's an escape from the mental clutter of daily life. Deer Valley created an ad that simply and succinctly speaks to this crowd on a level they truly understand and, so doing, created one of the best print ads of the season. —G.B.



Drunkest-Sounding Therapist
Crested Butte, Colo.
It's not intentional that I end up writing about Crested Butte's print ads. I feel bad for doing this more than once. This ad is not a "best" or "worst," it's just one I want you to read with me. Here is the copy: "What is life if not to be lived uniquely as you? Find yourself in the heart place that will forever find a place in your heart. Welcome to the life you were meant to live. Yours." Imagine with me the team of advertisers workshopping that copy, sending it to the client, making changes, revisions, more changes, then deciding to run with the final version. Let's all find each other in the heart place and welcome ourselves to the life we were meant to live. Ours." That copy was in Freeskier magazine. Advertising is fun. —A.K.


Most En-Lightened Advertising
Carinthia at Mount Snow, Vt.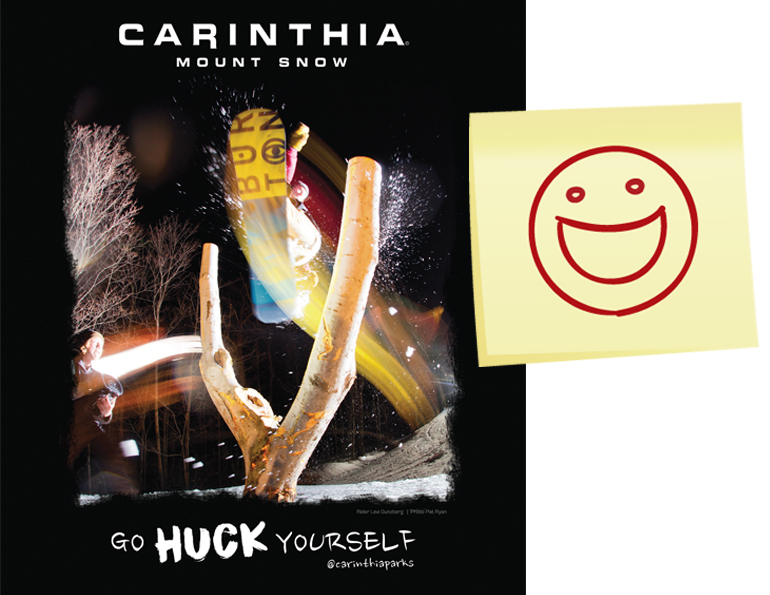 Carinthia at Mount Snow's 2017-18 print ad campaign was far from a shot in the dark. It's clear that Carinthia knows the value of a proper snowboarding shot to excite its freestyle following. The resort's well-deserved reputation for having some of the best terrain parks in the U.S. shows in its dedicated messaging. This ad, which depicts a really unique feature (a large, Y-shaped tree), a talented snowboarder (Levi Gunzberg), and a stylish trick, further reinforces the values Carinthia communicates to its customers: we build parks that you will have fun riding. While Mount Snow kept the premise simple, the photo used is anything but, with strikingly lit trails and dynamic action. The result is a beacon calling all park rats to visit Carinthia. —M.W.