SAM Magazine—Terrebonne, Quebec, Jan. 12, 2023—Quebec ski areas welcomed 6.3 million skier visits in 2021-22, the second highest total in the last 10 seasons and a 2.7 percent increase compared to the previous year, according to financial results released today by the Quebec Ski Areas Association (ASSQ). The organization attributed much of the success to the easing of Covid restrictions levied on ski area operations since 2020, with 17.7 percent of visitors coming from outside the province, mostly from neighboring Ontario.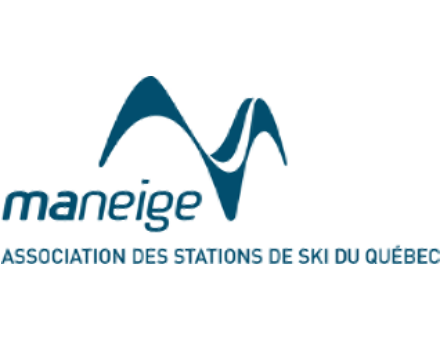 Jean-Michel Ryan, president of the ASSQ board of directors and president of Mont Sutton, said he is proud to have overcome the last two seasons in a difficult operating environment. 
"The challenges remain great for our industry, especially in dealing with climate change issues, integrating new technologies into our operations, reducing operating costs, and implementing new ways of doing things to answer labor challenges," said Ryan. "The entire province of Quebec is stronger when our resorts achieve good results like those of the last season."
In addition, season pass sales increased by 44 percent, and tubing revenue at the 27 ski areas that offer 
the activity was up 33 percent year-over-year. Alpine touring posted 35,600 paid visits to the 36 resorts that offer it, an increase of 22 percent. The major resorts in Quebec averaged 130 operating days.  
While winter operations account for 84 of the revenue generated by ski areas, summer activities also did well in 2021, with warm season revenue up 14.6 percent compared to the pre-pandemic summer of 2019.
After two years of limited capital investment, 2021-22 saw a total of $54.5 million in capital expenditures at 40 resorts, an increase of 146 percent. Improvements were stimulated primarily by two Quebec government programs designed to help subsidize development projects at tourist attractions in the province. Investments related to buildings and other winter equipment represented 43 percent of the amount invested. Improvements to snowmaking systems ranked second at 23 percent, followed by grooming equipment at nearly 10 percent. 
"The improvement of the financial health of ski areas paves the way for the continued modernization of ski area infrastructure," said ASSQ president and CEO Yves Juneau. "There is a greater need for improved snowmaking systems that now allow more efficient snowmaking with reduced energy consumption. The challenges we face with Mother Nature are more significant, and the optimization of snowmaking systems is one of the most viable solutions to allow ski areas to continue to act as the main economic development tool for winter tourism."
The 2021-22 edition of the Economic and Financial Study of Quebec Ski Areas was once again conducted by Michel Archambault, Professor Emeritus of Tourism at the Université du Québec à Montréal, and his team.