SAM Magazine—Ludlow, Vt., Nov. 12, 2020—The 2020-21 ski season has begun, with more resorts confirming opening dates even as COVID-19 cases surge across the U.S. SAM has been tracking the virus. This week, we spoke to several operators, and all are confident in the operating plans they've developed in accordance with local, state, and federal guidance.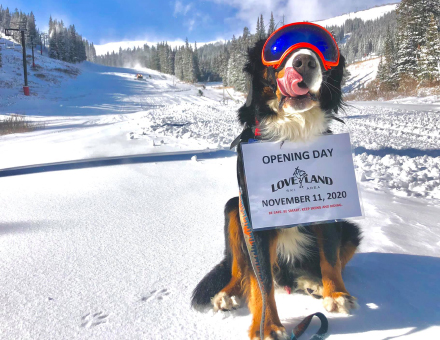 The plans aim to keep staff and guests as safe as possible. It's a team effort, though. The success of these operating plans relies heavily on guest behavior. In other words, everyone needs to follow the rules for the plans to be effective.
West
Mountain High, Calif., is getting its first taste of virus management this week. The resort was scheduled to open today, but that opening has been delayed after an employee contracted COVID-19. Mountain High was transparent with the news, tweeting it out to the public, and is following all contact tracing protocols. The resort will open for the season once it deems the environment safe for all.
California is enjoying quality early season conditions. Temps have been holding for snowmaking up and down the state—a turnaround after a warm, dry October. Several resorts are slated to open Nov. 20, with others following after Thanksgiving and into early December. Most are on track with their historical openings, said Ski California's Michael Reitzell, noting that some resorts are choosing to open late to better prepare for COVID-19.
Mammoth Mountain, Calif., which recently saw 12" of fresh, with more in the forecast this week, will open this Friday, Nov. 13, a day ahead of schedule. The resort will spin five lifts. Tickets must be purchased in advance, per Mammoth's updated protocols, and the resort is already sold out of day tickets for the weekend. Ikon passes are still on sale.
Productive storms have been moving through the Pacific Northwest and forecasts look snowy, said Pacific Northwest Ski Areas Association president Jordan Elliot. He predicted that the region will start seeing openings the weekend before Thanksgiving. Apart from varied approaches to ticketing and reservations, resorts across the region are adopting similar protocols, said Elliot. The 13-point Guide to Winter from Summit at Snoqualmie, Wash., outlines a number of those protocols, including mandatory masks, physical distancing, limited indoor access, singles won't mingle, and arrive together, ride together.
Colorado now has four resorts operating: Wolf Creek, Keystone, A-Basin—which opened quietly on Monday—and Loveland, which dropped ropes yesterday. The coming two weeks promise more openings, said CSCUSA's Melanie Mills. Warm temps (and in some cases, like that of Winter Park, wildfires) meant that the typical slew of early October openings in the state never came to fruition. That's not such a big issue this year, said Mills, noting that the warm fall allowed resorts to complete their operating plans.
"Colorado has taken a locally-driven approach where each area develops their own COVID operating plan based on their size, customer base, location, etc., reviews that plan with their local public health authority and gets local approval to operate," said Mills. That was a big win because it is allowing resorts to control access in the way that best suits their individual business models.
However, "It means that we all have to be supercommunicators with our prospective guests and passholders to be sure that everyone knows what to expect before they travel to the ski area on any given day," said Mills.
Speaking of communication, Breckenridge, Colo., sent out an email blast yesterday reminding guests that the resort is opening Friday, Nov. 13. A Vail Resorts property, Breck is using a corporation-wide reservation system. The Friday of the system's launch saw more than 120,000 people queued up in a virtual waiting room. Keystone's opening weekend booked in under an hour. Reservations for Breck opened yesterday, Nov. 11.
Arizona Snowbowl is on track to open Nov. 20, said GM Rob Linde. Snowmaking operations began this week, and a projected cold front promises good snowmaking conditions over the next two weeks. There are no state or county mandated overall capacity limitations, but the ski area will be managing visitors according to voluntary guidelines. Additionally, indoor space will be capped at 50 percent occupancy. Employees and guests will be required to don face coverings, and physical distancing and increased sanitation protocols will be in place.
East
Warm weather is making for a slow start on the East Coast. In Quebec, Sommet St-Sauveur opened a single run on Oct. 30. The resort stayed open until Nov. 10, but closed as record highs were recorded across the province. Temps are forecasted to return to normal next week, said Quebec Ski Areas Association president Yves Juneau.
Despite Sommet St-Sauveur's early start, most resorts in the province are delaying their openings, primarily for COVID-related reasons, said Juneau. "The trend here is that ski areas are waiting to have more terrain available before opening trails to the public. We expect that social distancing will be easier to maintain with more lifts and trails available."
Bromont, Sutton, Tremblant, and Mont-Sainte-Anne are all expected to open one to two weeks later than normal, and there has been a trend toward low-key midweek openings instead of high-profile weekend opening days, noted Juneau.
While the Farmer's Almanac is forecasting a cold and snowy winter in the Northeast, unseasonable weather has prevented New Hampshire resorts from kicking off snowmaking operations. With snowmaking on hold, resorts are focusing on finalizing their COVID operating plans, said Ski NH's Shannon Dunfey-Ball.
"No one is really looking to be that traditionally coveted first-to-open ski area this year, as that scenario could invite large crowds to just one ski area," she said. Instead, like Juneau, Dunfey-Ball predicted quieter midweek openings. Still, she said, "New Hampshire ski areas are very much aiming to be open well before those December holiday weeks in order to fine-tune their new and adjusted operating procedures."
Based on forecasts, Pats Peak, N.H., is hoping to get snowmaking started as early as next week. Pats Peak is implementing a number of COVID protocols. Indoor lodge time will be limited to less than 45 minutes at a time. Plexiglass barriers will be in place at points of purchase. Volume in certain outdoor areas may be controlled. Masks will be mandatory. Additionally, lesson sizes are shrinking, and all tickets must be pre-purchased online.
New Hampshire's state guidance has been less restrictive than neighboring states, and that more relaxed guidance looks likely to continue, said Dunfey-Ball.
Conversely, Vermont has issued the most stringent ski area regulations in the country. After releasing an initial set of strict guidelines, Vermont health officials added further operating stipulations last week. As reported by SAM, Vermont ski areas will be required to reduce lift capacity to 50 percent except for parties traveling together. Resorts have been directed to limit their reliance on out-of-state staff. The new rules also require that ski areas collect contact tracing information for every guest. Perhaps most challenging to business, guests must attest that they are in compliance with Vermont's stringent travel and quarantine restrictions.
New York released state guidelines back in October, and those have been helpful, according to I Ski NY's Scott Brandi. He said ski areas have been busy addressing operational changes to best comply. "For the most part we are satisfied with the guidance, and all areas both large and small should be in good shape in this regard," says Brandi.
New York has suffered from the same mild weather plaguing the rest of the East Coast. Temps were expected to drop today, and many New York resorts are targeting Nov. 27 to open.
Those colder temps are expected to hit down south as well. Sugar Mountain, N.C., is expecting cool weather next week. Historically the ski area opens in mid-November. That it's not open yet is far from unusual, though, said resort vice president Kim Jochl.
The North Carolina Ski Areas Association (NCSAA) has released its COVID operation guidelines, which align with NSAA's Ski Well, Be Well guidance. Sugar and the other five areas across western North Carolina will be adopting physical distancing and mandatory masks in spaces where physical distancing cannot be maintained, as well as allowing guests to request to ride the lifts alone. Guests will be allowed in lodges but will be required to maintain physical distancing or mask up.