SAM Magazine—Jeffersonville, Vt., Nov. 3, 2021—With weather across North America still quite variable, some resorts have been able to start the season ahead of schedule while others still eagerly await the colder temperatures that will allow them to meet their opening day goals.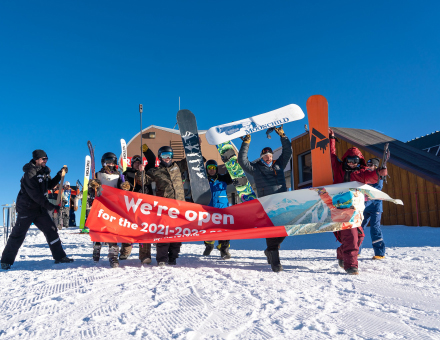 Opening day at KeystoneResorts like Palisades Tahoe, Boreal, and Mammoth in California, and Loveland, Keystone, and A-Basin in Colorado took advantage of natural snowfall to drop ropes. Wolf Creek, Colo., nabbed the title of first to open in North America on Oct. 16. For those who have started spinning lifts, limited staffing was a hurdle, but not unclearable.  
West
In northern California, a late-October bomb cyclone event dropped more than 3 feet of snow on the Sierra. Despite the snow, summer wildfire damage has left opening day in limbo for Sierra-at-Tahoe.
Boreal was able to capitalize on the storm, opening its Castle Peak and Accelerator lifts Oct. 29 with a 35-inch base depth. 
Matt Peterson, director of marketing and brand for Boreal/Woodward, is grateful for the efforts put forth by the resort team. "Our industry is unlike others I have worked in where our employees and leadership were both optimistic that we could compress three weeks of prep time into 72 hours if it meant we could shred by Halloween—all for the love of the game," he said. "We still have all the challenges we had before we opened, but at least we have a lot more positivity from our guests and employees alike." 
That same weekend, Palisades Tahoe enjoyed its earliest opening since 2004. With the passing of the storm, the recently rebranded resort mobilized operations in four days to drop ropes Oct. 29, a month ahead of schedule. This is only the third October opening for the resort in 72 years.
For Mammoth Mountain, which opened two weeks ahead of schedule, also on Oct. 29, this was the 10th October opening in its history. The boost of natural snowfall allowed the resort to open the Broadway Express, Face Lift Express, Discovery Chair, and the Panorama Gondola to McCoy Station.
As SAM reported earlier, Wolf Creek, Colo., was the first ski area to open in North America, spinning lifts on Oct. 16 this year with a base depth of 11-15 inches. The ski area is operating a limited schedule and will switch to daily operations around Nov. 12.  
Technology has changed the ability of ski areas to open at the drop of hat. First chair went up only two days after Wolf Creek announced its intentions to open, and CEO Davey Pitcher said a spur-of-the-moment decision like that is much easier since word can spread so fast nowadays.  "All it really takes these days to have a successful opening is to use all the available social media outlets to put out some current photos (not file photos), and the storm chasers and early season enthusiasts do the rest by passing this information along to all their friends." 
As a result, Wolf Creek's opening day clientele has shifted as well. "It seems that while we used to just see locals, now we see folks travel from quite far away in order to get on the snow early," said Pitcher.
Arapahoe Basin, Colo., opened Oct. 17, right on Wolf Creek's tail. The ski area, which is open for daily operations, was able to leverage early snowmaking efforts and 17 inches of fresh snow to get its High Noon trail ready for sliding. 
Other earlier openers include Keystone and Loveland, Colo. Both are operating seven days a week. Keystone started spinning three lifts on Oct. 22. The resort reports a base of 18 inches, with two trails and one terrain park open. Loveland opened Oct. 30 with one top-to-bottom run and an 18-inch base. 
Meanwhile, in the last few days, parts of Alaska have been hit with a record-setting storm. An atmospheric river, as it's called, has dropped 20 inches of rain in parts of Alaska, and prolific snow at higher elevations. In the Chugach range, a popular heli-ski destination, some snow total estimates are around 180 inches, or 15 feet. Alyeska Resort, on the Anchorage side of the Chugach Mountains, isn't open yet but is reporting 22 inches of snow in the last 24 hours and 136 inches so far this season. 
Midwest
Most Midwest resorts are patiently awaiting cold enough temps for snowmaking before setting opening day expectations. However, Granite Peak, Wis., kicked-off its snowmaking campaign this week thanks to a $2.5 million investment in snowmaking upgrades and favorable overnight lows. 
Michigan's Upper Peninsula resorts are hopeful about firing up snowmaking systems soon, and recently saw their first dusting of snow. While that region typically receives more snow than neighboring states, it's important to resort leaders like Big Powderhorn GM Bruce Noren to have a strongly established frost in the ground before turning on the guns, as an insurance policy for spring. 
Noren was optimistic about business this season. "We anticipate a sort of echo effect from last season as we expect to see many of the people who rediscovered skiing come back again this season," he said. He attributed much of last year's growth in numbers to Covid-induced cabin fever and more people joining the Indy Pass, of which Big Powderhorn is a member.
East
East Coasters are keeping eyes on competitive early-openers Killington, Vt., and Sunday River, Maine. Both resorts have begun making snow but are battling fickle temperatures to find sustained snowmaking windows.
The higher peaks of New York like Whiteface (scheduled to open Nov. 26), northern Vermont resorts like Sugarbush, Stowe (scheduled to open Nov. 19), and Jay Peak, and New Hampshire's Cannon Mountain have all seen their first dustings of snow, but most Eastern resorts are still playing the waiting game. 
Opening day plans are underway, though. Jay Peak will kick off its season with a new Day for the Devoted. The first 1,000 guests to contact the resort will receive free lift tickets, hot dogs, and mini-instructional clinics on Jay's first day of operations. 
"Last year wasn't easy on anyone—employees, guests, or locals," said Steve Wright, Jay Peak president and general manager. "Acknowledging how much devoted Jay Peakers mean to us by returning some small measure of that devotion back to them feels like the right way to step into winter 2021-22." 
Jay Peak has tentatively set opening day for Nov. 27. Promisingly, the resort reports being as much as two weeks ahead of its snowmaking schedule from last year. 
Further south, Snowshoe, W.Va., began making snow in earnest this week. It plans to open Nov. 24, weather permitting.
Canada
For Canadian resorts, much of the same weather patterns are in place as the U.S., causing projected openings to remain generally in the mid-November to December range. Canadian resorts faced a rocky 2020-21 season amid the Covid-19 pandemic, with late starts in some regions and early midseason closures in others to allow for a flattening of the curve. As the Canadian resorts head into the 2021-22 season, they are seemingly doing so with caution. 
Covid Protocols
While most North American resorts are loosening their Covid policies as much as they safely can, some level of Covid protections will still be in place almost everywhere. 
Snowbasin, Utah, recently communicated via social media its updated mask policy: "We're working diligently to provide a safe & fun ski season. Face coverings will be required in all indoor locations, regardless of vaccination status. They are not required outdoors, but encouraged in areas with limited distancing. This is subject to change based on guidance." 
Many resorts will not be requiring reservations this year, but some resorts shifted full-time to a purchase-in-advance setup, and some, like A-Basin, will continue to limit total numbers of tickets sold. 
Resorts of the Canadian Rockies ski areas will require proof of Covid-19 Immunization Record to access all chairlifts and indoor facilities this winter. 
While many are still finalizing their plans at this time, other Canadian resorts may follow RCR's lead. Alberta's Restrictions Exemption Program says that businesses requiring proof of vaccination and indoor masking may operate at normal capacities. Those who do not adopt those requirements will be limited to a maximum of 33 percent of capacity with no indoor dining permitted. 
Specific to the ski industry, the Quebec government will require proof of vaccination for people age 13 and older to use ski lifts and access certain services offered in day lodges at the province's ski areas this winter. 
Report by Mike Chait
Opening Dates:
Canada
Big White, BC - 11/25
Cypress Mountain, BC - 11/24
Hudson Bay, BC - 12/04
Panorama Mountain, BC - 12/10
Revelstoke Mountain, BC - 11/27
Silver Star, BC - 12/03
Sun Peaks, BC - 11/20
Whistler Blackcomb, BC - 11/25
Canyon, AB - 11/11
Castle Mountain, AB - 12/03
Lake Louise, AB - 11/05
Marmot Basin, AB - 11/12
Blue Mountain, ON - 12/9
Mount Tremblant, QC - 11/25
Mont Sutton, QC - 12/8
Mont Sainte Anne, QC - 11/29
Le Massif, QC - 12/11
Northstar, CA - 11/19
Heavenly, CA - 11/19
Sugar Bowl, CA 11/26
Kirkwood, CA - 12/3
Homewood, CA - 12/10
U.S.
Aspen Highlands, CO - 12/11
Aspen Mountain, CO - 11/25
Breckenridge, CO - 11/12
Buttermilk, CO - 12/11
Cooper, CO - 12/8
Copper Mountain, CO - 11/22
Crested Butte, CO - 11/24
Echo Mountain, CO - 11/26
Eldora, CO - 11/19
Granby Ranch, CO - 12/10
Hesperus, CO - 12/17
Howelsen Hill, CO - 12/27
Kendall Mountain, CO - 12/17
Powderhorn, CO - 11/26
Purgatory, CO - 11/20
Silverton, CO - 12/30
Snowmass, CO - 11/25
Steamboat, CO - 11/20
Sunlight, CO - 12/10
Telluride, CO - 11/25
Vail, CO - 11/12
Winter Park, CO - 11/17
Alta, UT - 11/20
Brian Head, UT - 11/19
Deer Valley, UT - 12/4
Eagle Point, UT - 12/17
Schweitzer, ID - 11/26
Sun Valley, ID - 11/25
Tamarack, ID - 12/10
Jackson Hole, WY - 11/25
Snowy Range, WY - 12/03
Angel Fire, NM - 12/10
Red River, NM - 11/24
Ski Santa Fe, NM - 11/25
Taos, NM - 11/30
Mount Bachelor, OR - 11/26
Mount Hood Meadows, OR - 11/29
Timberline, OR - 11/20
Crystal Mountain, WA - 11/26
Mount Baker, WA - 11/29
Stevens Pass, WA - 12/3
Marquette, MI - 11/26
Ski Brule, MI - 11/19
Mount Brighton, MI - 12/03
Afton Alps, MN - 11/19
Detroit Mountain, MN - 11/26
Lutsen Mountain, MN - 11/13
Granite Peak, WI - 11/20
Wilmot Mountain, WI - 12/03
Beech Mountain, NC - 11/20
Cataloochee, NC - 11/15
Snowshoe, WV - 11/24
Liberty, PA - 12/17
Roundtop, PA - 12/17
Jack Frost, PA - 12/03
Big Boulder, PA - 12/17
Whitetail, PA - 12/17
Powder Ridge, CT - 12/15
Crotched, NH - 12/11
Mount Sunapee, NH - 11/24
Wildcat, NH - 11/19
Gore, NY - 11/26
Holiday Mountain, NY - 12/23
Hunter, NY - 11/19
West Mountain, NY - 12/04
Bolton Valley, VT - 11/26
Jay Peak, VT - 11/26
Mount Snow, VT - 11/19
Okemo, VT - 11/20
Smugglers' Notch, VT - 11/26
Stowe, VT - 11/19
Loon Mountain, NH - 11/23
Waterville Valley, NH - 11/26
Mount Sunapee, NH - 11/24
Black Mountain, ME - 12/28
Saddleback, ME - 11/23
Sugarloaf, ME - 11/22