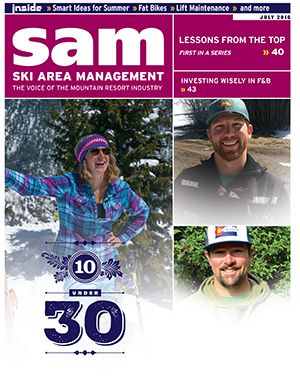 The ski industry is on the cusp of a major shift. Nearly 40 percent of U.S.-based resort general managers are age 60 or over, according to NSAA. When all of these leaders retire, they'll take about 3,000 years of experience with them.

Enter the young guns. Our industry has long thrived on superstars in supporting roles, but perhaps more than ever, the focus is on the crop of enthusiastic and passionate Millennials who are gearing up to assume leadership roles at ski areas. If this year's 10 Under 30 is any indication, the future is in good hands.
SAM received more than two dozen nominations this year, diverse in geography, position, and sector. They came from marketing, guest services, snowmaking, retail, sales, admin, rental, retail, and mountain ops. Interestingly, nominations didn't come only from coworkers—ski area suppliers and subcontractors also jumped in. One person received a whopping 11 nominations. Yet this group represents just a fraction of the young talent at resorts across North America.
Congrats to all the nominees, and a big "thank you!" to our readers who took the time to put them on our radar.
Subscribers can read their full profiles in the SAM Digital Archives.
charles "Freddie" Bacon


Training and Quality Control Manager, Thaiwoo International Snowsports Academy, China
Race and Parks Head of Department, NZSki LTD., Coronet Peak, New Zealand
Age:

27

StIrling Cobb




Marketing and Communications Manager, Mt. Bachelor, Ore.


Age:

25

BEN COLONA




Bike and Ski Shop Manager, Killington, Vt.


Age:

29

DUSTIN COMBS




IT Operations, Perfect North Slopes, Ind.


Age:

29

BECCA DESCHENES




Marketing Director, Cranmore Mountain Resort, N.H.


Age:

29

Kaela gillun


Events Manager, Taos Ski Valley, N.M.
Age:

29

SAGE Mcdermott




Ski Patroller, Steamboat, Colo.


Age:

27

IAN NAUDAIN




Water Operator; Slopes/Snowmaking Supervisor, Eldora Mountain Resort, Colo.


Age:

28

BRENDAN RYAN


Director of Special Projects, Peak Resorts
Age:

29

BRITTANY SMITH


Multicultural Sales and Marketing Representative
Age:

28