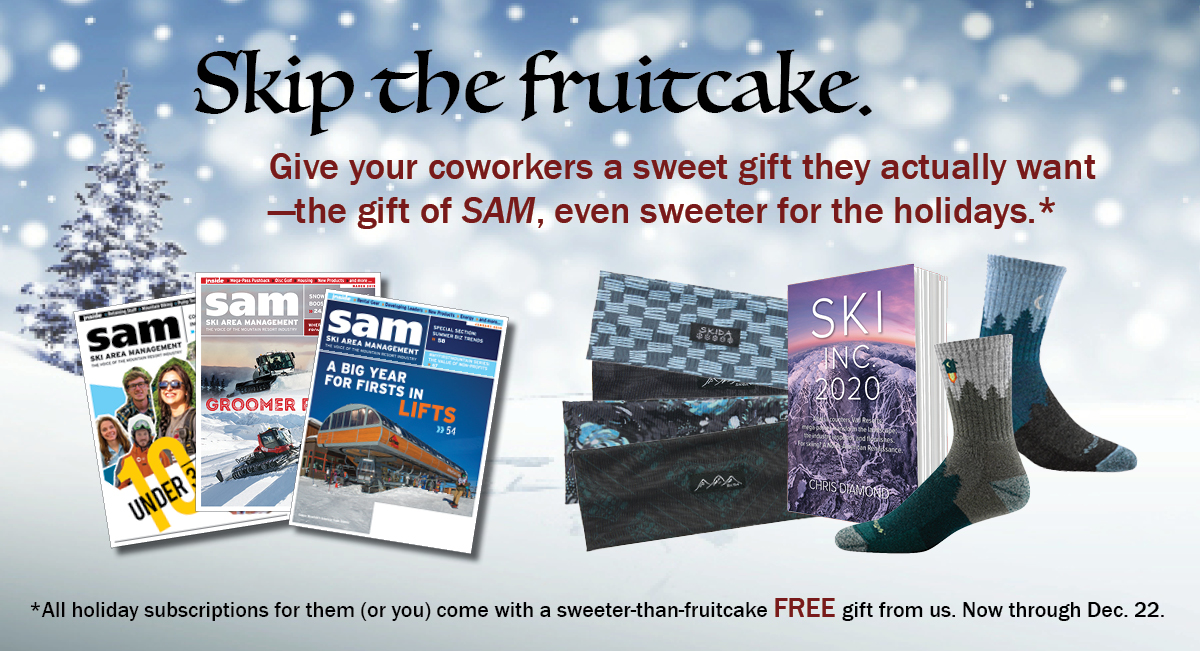 Skip the fruitcake. Give your coworkers a sweet gift they actually want—the gift of SAM, even sweeter for the holidays.
Let's be honest, the holiday season at a mountain resort isn't a time when you can put your feet up and relax. You're still training new hires, managing the holiday crowds, and making sure that each and every guest has an amazing experience.
You got this and we've got something special for you. Now through Dec. 22, all new subscriptions and renewals* to SAM Magazine will receive a sweeter-than-fruitcake gift from us to you. Plus, the huge January issue of SAM will arrive in your mailbox right after the holiday craziness has passed.
Your choice of a complimentary copy of Ski Inc. 2020 by Chris Diamond, a Skida headband, or a pair of Darn Tough socks. So get your secret Santa a gift they actually want this year, or treat yourself to news, articles, trends, podcasts, boot camps, and more, all from SAM.
Psst, by "more" we mean:
Six issues of SAM (Ski Area Management) Magazine
Headline News e-newsletter
Access to the SAM Digital Archives
Special offers from industry partners
Your choice of stocking stuffer:

Ski Inc. 2020
Skida Headband
Darn Tough Socks

| | | |
| --- | --- | --- |
| | | |
| Actual socks may differ from image shown. | Acutal headband may differ from image shown. | This is what the book actually looks like, just in 2D. |
*Cannot be combined with other promotional offers.
Tell us about yourself! I am looking for:


| | |
| --- | --- |
| | |
---
What subscribers say about SAM:Mike Kaplan, General Manager of Aspen/Snowmass, CO

"The ROI [of a SAM subscription] is typically realized with the implementation of one small idea, or the reduction in research time spent by staff on items that are covered by articles such as summer activites, the lift survey, or something else we are working on that has been covered by SAM."

Steve Kruse, General Manager of Timberline Lodge, OR

"I want my staff to see what is currently going on in the entire industry--trends, comparisons to ourselves, etc. We often talk about articles in the latest SAM at our ops meetings, which often leads to research from the appropriate department head. I don't question the reorder requests, I just approve them because I feel that it's a valuable investment to be informed, no matter how the season was. "

Kris Blomback, General Manager of Pats Peak, NH

"SAM is a great forum where people can "trade" stories back and forth. I use the magazine and website almost everyday to help smooth our operation. As soon as that new issue hits my mailbox, everyone knows not to come interrupt me until I have finished reading it!"

SAM Subscriber

"Cutting edge information, fresh and informative! Much more then a magazine, a large contributing partner to our industry."

SAM Subscriber

"SAM serves as a touchstone for ski area operators. It reminds us of our successes and failures -- opportunities that have been capitalized upon and also those that have slipped through our fingers. It remindss us to value our people, which I think is important."

Greg Goddard, General Manager of Gunstock Resort, NH

"As a boss, I consider a SAM subscription an important tool for a manager to have, and it is short money for what each individual gets out of it. A conversation will start with "Did you see that SAM article about…" I think it provides some recognition that if we're buying you a SAM subscription that you've "arrived" and are important to the resort. I also believe that reading about other resorts in the magazine motivates some to try to accomplish things that are worthy of publication."