---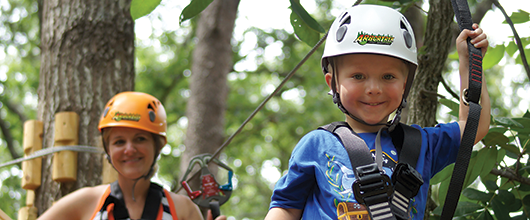 If you build it, they will come. But will they come back? As resorts' summer adventure parks mature, managers are analyzing how they can draw return customers and keep offerings fresh. The obvious answer—to add activities and update infrastructure—isn't the only one. More and more, resorts are tweaking their programming to grow visits.
Pennsylvania's Camelback Mountain opened its Mountain Adventures Park in 2010 with a host of features, including tree top courses, zip lines, Segway tours, and a climbing wall. Like other areas, the majority of elements were installed when the park opened, and the resort has spent the last few years making changes but adding few major items, says general manager Charles Blier.
The challenge, says Blier, is mostly in filling the park. "It's more about getting people to come back and bring other people, rather than adding something every few years. It's a different business model than an amusement park, which attracts millions of people who expect something new. Sooner or later you'll have to expand, but not over a short period of time."
Family Focus
Creating return customers can be tough for adventure parks, which often offer somewhat static experiences. So some park marketers are exploring ways to generate more return visits. Some have extended the audience by targeting families with young children.
Mike Smith of ArborTrek Canopy Adventures, which operates the park at Smugglers' Notch, Vt., says that the first adventure parks catered mainly to ages eight and up. Today, they're targeting kids as young as four.
"A lot of park operators realized that they're missing out on families who have younger children," says Smith. "It's not really about altering courses to accommodate a younger demographic, but looking at summer-based family programming."
Smith says Smuggs has worked hard to create programming for kids, including discounts of up to 50 percent for ages 4-7 in its aerial park. The park now features a mascot—a frog named Arbor—that plays with kids, and now hosts birthday parties. Smith says it's a way to differentiate the course for younger children.
Jiminy Peak, Mass., CEO Paul Maloney says his resort has learned similar lessons. "We found that you have to entertain at all levels," says Maloney. "We started out with some stuff that seemed good, but a lot of little kids couldn't do it because of manufacturer restrictions."
So the resort got rid of laser tag, a clay pigeon thrower, and joystick-controlled cars that kids had a hard time navigating. It added a "jungle gym," in which younger kids in harnesses slide across a track eight feet off the ground, in addition to bounce houses, sandboxes, and other activities.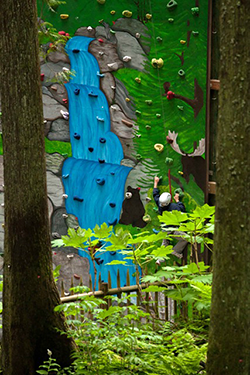 Called Mountain Top, this climbing wall at Sky Trek Adventure Park, Revelstoke, B.C., has pictures of animals that live in the area. Behind the pictures is a recording of the animal sounds with motion sensor and all the animals make sounds as guests climb past.
The Sky Trek Adventure Park in Revelstoke, B.C., has found similar success with kids' programs, including a netted aerial obstacle course for kids as young as two that starts at around six feet off the ground and two interactive climbing walls.
Operations manager Veronika Stevenson says the biggest advantage to creating activities for younger ages is that it brings people back. "Any time you're using kids' activities, parents love to see them progress," she says. "You have to make sure you have different levels, but families will be coming back because they want to see their children progress."
The biggest challenge, says Stevenson, has been convincing parents that climbing in the trees is another activity kids can do on a regular basis, like going to the swimming pool. This marks a distinct contrast to other activities at the park, like zipline tours, which she says don't see many return visitors.
Experiential Focus
To avoid this issue, Smith has worked hard to make sure that Smuggs' and other ArborTrek sites offer a better-rounded experience. He says that the most successful parks focus heavily on staff development and less on infrastructure. An engaging, interactive group of guides goes a long way in differentiating an activity and creating a memory, says Smith.
"If the value of the experience is a zip line, and somebody wants to come back and have a new experience, you pretty much have to change the structure," says Smith. "However, if the experience is coming out and spending a great day in the woods with a guide and your family, that experience is easily adaptable."
Smith says that, ultimately, Smuggs is in the business of selling the "Green Mountain experience," so guides at the park are trained to be knowledgeable about local activities, and can discuss a range of topics, from local flora and fauna to how the adventure course was built. He cites Disney as an example, where one ride will have a different spiel each time, depending on the guide. Customers return for the guide, not the activity. It's this "customizing novelty" that brings people back.
"There are two different ethoses in the market," says Smith. "Remove staff and let the structure speak for itself, or train staff and have a dynamic staff. The tours that are most successful invent heavily in staff, not just infrastructure."
Vail Resorts has adopted a similar philosophy at its five parks at Heavenly, Calif., and Vail, Colo. The company has retrofitted some elements, but the real changes are in programming and how products and services are offered.
Last year, Heavenly took one of its existing aerial courses and added a guided experience alongside its traditional pay-to-play option. Jamie Barrow, director of operation, training and risk management, says this harkens back to the more traditional educational challenge course model, on which the aerial park industry was founded.
"We get a different clientele with these types of (guided) courses," he says. "Typically, we're getting individuals who are reticent to go on an aerial park, whereas with pay-to-play, they either want to do it or they don't. We're bridging the gap between these two types of courses."
Throughput is lower with guided tours, but the resort is able to charge a higher price for the extra support and engagement, he adds. After a successful first year, Vail is looking to expand the guided program—which Barrow calls a hybrid concept of a canopy tour and a challenge course—to its other sites.
The parks have also started selling team-bonding experiences through their group sales offices during non-peak times. During specific non-peak times, the team experience is facilitated by resort staff, and operates on the principle that there must be a task a group or groups are working together to accomplish. "This is truly taking aerial adventure parks back 20 years to how challenge courses used to be used," says Barrow. "It's new for ski areas, but commonplace to the rest of the industry."
Parks must be adapted in minor ways to implement these challenges, like adding removable objects such as foam balls or clip-and-grab money that can be used later at a casino night. Barrow says these are easy adjustments that a number of third-party vendors could help with, if necessary. And he adds that though Vail hasn't done it, these types of challenges could easily be incorporated into pay-to-play courses to keep things fresh.
Vail, too, is being cautious about expanding the parks' features. Barrow says Vail has plans to expand, but wants to make sure to do it smartly. "We continually ask ourselves, 'How do we continue to create more guest interaction points during their time on the course?' whether that be with a staff member or a family member while doing the activity," he says. "We want to engage them on more than a physical aspect—we want to create a social and an emotional connection. For us, that goes back to our roots of why we're even putting these things on: connecting guests and the mountain environment and learning through play."
New Features
Of course, plenty of ski areas have and will continue to modify and add elements to provide new experiences or improve existing ones. Camelback, for example, recently added a new trolley system to its two 1,000-foot ziplines, to get riders on and off faster and increase throughput. The resort also repurposed equipment when it moved an airbag originally purchased for winter ski jumping into its summer park. Camelback built a wood tower and two jumping platforms and now charges for jumps into the bag.
Other resorts, like Jiminy Peak, have modified and added new routes to aerial courses to improve the flow of traffic. Jiminy's Maloney says people have responded well and come back more often because of it.
Jiminy also adjusted ticket pricing and created an "all park pass" that allows entry to both its aerial and mountain adventure parks. Before the adjustment, customers who wanted to visit both areas had to wait in line twice, which was annoying and caused confusion, says Maloney.
Whether through infrastructure or programming, Smith cautions ski areas to make sure they know their demographic and truly define objectives. "Ski resorts need to be aware when building and buying a product what experience they're creating," he says. "A lot of resorts look at structures like they do their ski terrain—they forget that what makes skiing interesting is that the surroundings change, and visitors change their experience each run."
For example, he says, some resorts market a feature, like the length of a zip line, as a main selling point. In the short run, "just going further and faster is the easier, simpler way" to establish a marketing niche, he says, but the long-term goal should be "defining objectives and creating a really dynamic experience" to build return business.
The summer side of resort business is still somewhat new, and ski areas will continue to test various ideas to see what sticks. Some will be successful and some will fail, and resort marketers will learn in the process.
"In the summer, it's more about a mosaic of products and experiences. It's not just one thing that attracts people, like winter marketing," says Camelback's Blier. "It's important to ask yourself, 'what's our mosaic going to look like?"
---
Learn more about summer operations at mountain resorts
at SAM's Summer Ops Camp. Click here.
---