SAM Magazine—Natick, Mass., Jan. 11, 2021—Online voting for the 2021 HKD and SAM "I AM a Snowmaker" contest is now open, and continues through midnight (EST) on Monday, Jan. 18. Since it debuted in the winter of 2013-14, the annual I AM contest highlights the hard work, determination, and camaraderie of snowmakers, and recognizes how critical they are to the success of the mountain resort industry.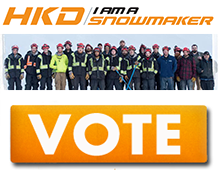 This season, I AM a Snowmaker is celebrating the legacy of Herman K. Dupré, a co-founder of HKD and a true pioneer in the world of snowmaking. Each contestant chose a card from a deck of "Hermanisms" and showed how their team exemplifies that particular phrase. Each video is unique, and all are great testaments to the grit and undying dedication of snowmaking crews across North America.
The four final teams that are competing in this season's I AM a Snowmaker contest are:
Blue Mountain, Ont.
Eldora Mountain, Colo.
Okemo Mountain, Vt.
Squaw Valley Alpine Meadows, Calif.
"It couldn't be a better time to celebrate the grit, humor, and passion snowmakers have for one of the hardest jobs on the mountain" said SAM Magazine publisher Olivia Rowan. "They continue to step up and perform even in tough conditions, whether that be weather or a pandemic. SAM is proud to be a part of this important recognition of their dedication. Now sit back and enjoy watching these amazing stories."
"We at HKD are excited to showcase these dedicated crews with the 2020-21 I AM a Snowmaker challenge, and also honor my father-in-law and our co-founder, Herman K. Dupré" said HKD President Charles Santry. "Herman shared the same passion for snowmaking that our nominees demonstrate. This year has provided a host of challenges for the resort community and beyond. The fact that there is a tremendous amount of enthusiasm around the I AM contest is a testament to snowmakers' commitment to their jobs."
"This season's participants exemplify the enthusiasm these crews put behind their daily work, preparing the mountain for much-needed recreational outdoor space," Santry continued. "I encourage everyone to watch the videos, vote for your favorite crew, and support the hard-working snowmakers who make our industry possible!"
Each team chose a "Hermanism, "and submitted a profile and short video for the contest. To view the profiles, videos—and most importantly, to vote—please visit: www.saminfo.com/i-am-a-snowmaker or click on the images below.