By Paul Thallner, High Peaks Group
"This is the lesson: never give in, never give in, never, never, never, never—in nothing, great or small, large or petty—never give in except to convictions of honour and good sense. Never yield to force; never yield to the apparently overwhelming might of the enemy." - Winston Churchill
Many of us are experiencing the damaging effects of chronic stress in the wake of an overwhelming enemy: Covid-19. It's been an immensely challenging year that grows more difficult and exhausting by the day.
While the majority of our guests are respectful and try to abide by the rules, not everyone is. Some visitors are coming to our resorts and confronting us, challenging us, and making it personal. They're stoking the embers, fanning the flames, and spilling the gas.
Layered on top of that is the prospect of many more months of Covid restrictions, economic uncertainty, and social and political unrest. You're exhausted, you feel like you're about to crack, and you have to keep going.
Chronic Stress Is on the Rise
You're not alone. The World Health Organization (WHO) defines burnout as a syndrome resulting from "chronic workplace stress that has not been successfully managed." WHO also says burnout is characterized by these three dimensions:
feelings of energy depletion or exhaustion;
increased mental distance from one's job, or feelings of negativism or cynicism related to one's job;
reduced professional efficacy.
Even before the tumult of 2020-21, roughly two-thirds of full-time workers reported feeling burned-out at work at least sometimes. And according to Gallup's most recent annual survey, Americans are reporting the lowest levels of workplace mental health and wellbeing since Gallup started studying the topic nearly two decades ago. Recent research from advisory firm Great Place to Work found that working parents in particular are experiencing burnout, as they wrestle with job demands, shuttered child care centers, and virtual schooling.
A Model for Building Resilience
Despite these headwinds, there's hope. With the right mindsets and practices, we can begin to give oxygen to a different fire that enables us to grow through tough times. The latest research into resilience, team effectiveness, and organizational success shows a positive path forward. In fact, it is possible to treat today's crises as opportunities to grow.
The High Peaks Group resilience model (co-developed with our colleague Tanya James at Positive Change & Development Pty Ltd) focuses on balancing staunch realism and personal agency. That is, to grow during a tough time, it's important to see the situation for what it really is, and to be very clear about the things you can/cannot control.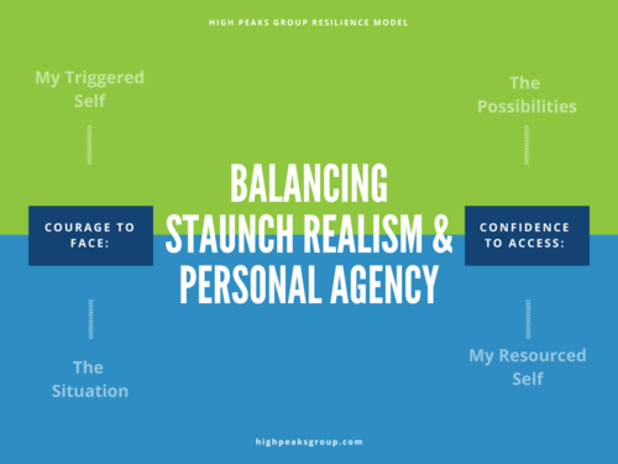 In our work with clients—and in our ski industry-specific training—we walk through a number of exercises to get clear about the reality of their situation. It typically starts with understanding what we call "My Triggered Self." That is, what are the inputs (or patterns of inputs) that have your brain in reactive mode and not in rational mode?
We then help folks build a picture of "My Resourced Self" by identifying and cataloging things they already have on hand to support their growth through challenges. We define resources as: self-qualities (such as values, attitudes, and mindsets), skills and knowledge (such as expertise or experience), and social supports (such as family, friends, and community).
When people are grounded in their best, resourced self, we ask them to bring "The Situation" into clearer focus by stating reality in plain, objective terms. Finally, they are ready to move forward on their growth path by imagining new—and realistic—possibilities for the future.
Resilience In Our Industry
By seeing the year through the lens of learning, by balancing clear-eyed realism with a focus on what they control and by building the muscles of mindfulness, ski industry leaders have learned collectively.
Ski Area Management magazine (with early support from High Peaks Group) hosted weekly industry-wide Huddles where leaders could share their plans, concerns, and needs with each other. These Huddles have been instrumental in helping the entire industry grow through tough times, and are still being held when important issues arise.
Our organizations then worked together to create a first-ever industry-wide resilience training. The Summit Series Bootcamp: Resilient Leadership Training is a self-paced online learning experience that provides leaders at all levels of an organization with tools to keep going during very challenging times. The program debuted in the fall, and received exceptional reviews.
---
High Peaks Group helps organizations create workplace greatness where the business and its people thrive.
---
Summit Series Bootcamp: Resilient Leadership Training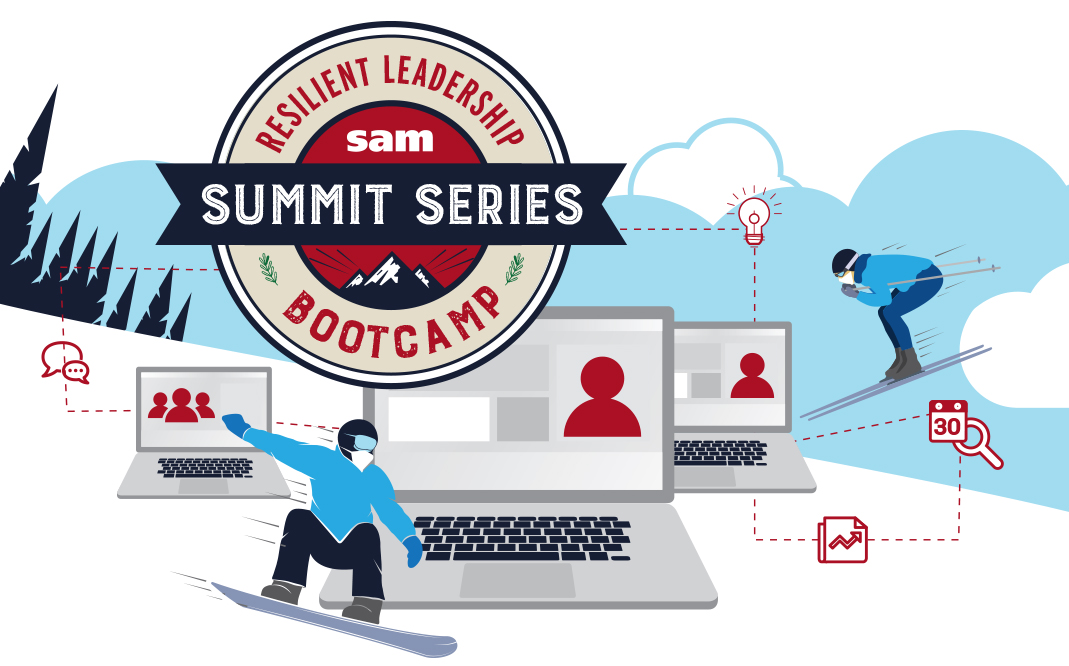 Given the challenges the people in our industry are experiencing right now—and the need for resilience is greater than ever—SAM and High Peaks Group have relaunched the Summit Series Bootcamp: Resilient Leadership Training program to provide leaders at all levels of an organization with the tools and mindset to successfully navigate the rest of this winter, and beyond.
It is a self-paced online learning experience, so participants can do it when time allows—a vital feature during this busy time of year.