SMART CATS
Technology has spread throughout the resort world as suppliers and operators seek to improve efficiency. In the grooming world, there have been two key arenas.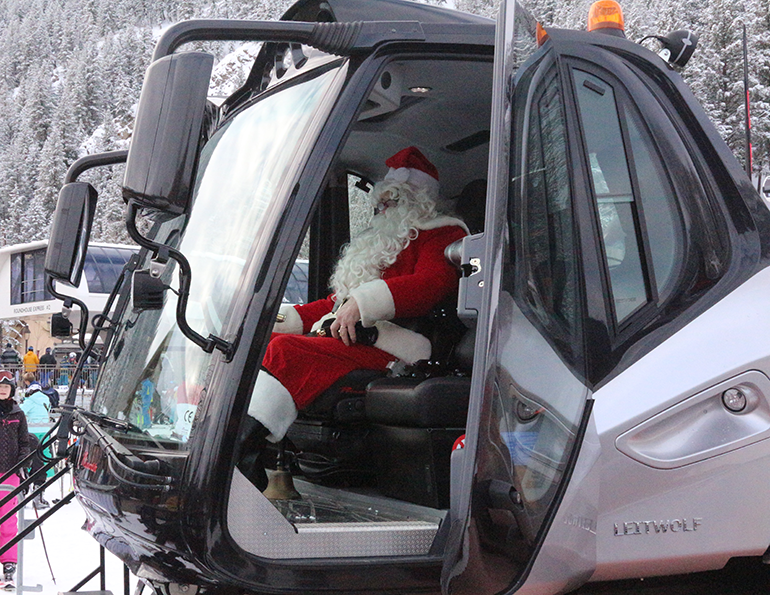 Sun Valley's big present: a Prinoth Leitwolf Tier 4 cat.First, engines. New EPA Tier 4 final engines are being introduced in North America at a growing rate. Aspen enters its second season with four more Tier 4 Prinoth Bisons, and in December, Sun Valley, Idaho, took delivery of the first two Tier 4 Prinoth Leitwolf groomers to operate in North America. The 530-horsepower Leitwolf uses less fuel and produces 90 percent less exhaust emissions than the previous engine technology.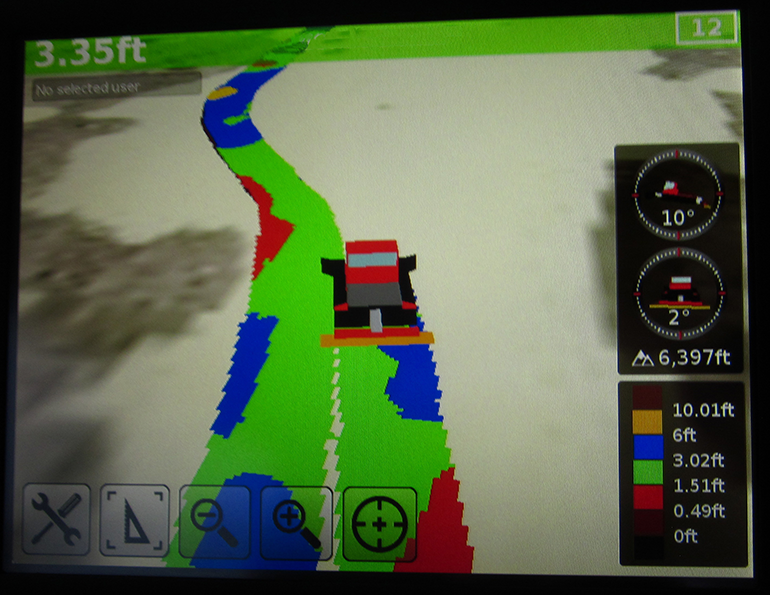 PistenBully's SNOWsat provides snow depth in real time.Second, snow depth. Jiminy Peak, Mass., is the first resort in the East to implement PistenBully's SNOWsat system, joining a handful of other resorts. This satellite-based fleet management system measures snow depth in real time. So, wherever Jiminy's snowcats are traveling, the operator and snowmaking control can see how deep the snow is underneath the cat. This data enables the resort's groomers and snowmakers to know exactly where they need to push or make more snow, and conversely, where they don't.
DIFFERENT BALLGAME
When Fenway Park was built back in 1912, it's likely the designers didn't have "Big Air Competition" on the list of possible uses for the stadium. Nonetheless, the winter sports world will revolve around the iconic home of the Boston Red Sox Feb. 11-12 when Big Air at Fenway comes to town. After nearly two years of planning, the same place where Big Papi launches home runs during the baseball season will be transformed into an aerial extravaganza featuring some of the world's best skiers and riders. Competitors will speed down a 140-foot snow ramp—more than three times the height of the Green Monster—that towers above center field and launch over a 70-foot gap, pulling ridiculous tricks before landing near home plate. With a $150,000 purse up for grabs, you better believe the who's-who of freestyle will be paying Beantown a visit.
Big Air at Fenway is one of the most unique stops in the 20-year history of the U.S. Grand Prix Tour, and is also a stop on the FIS Snowboard World Cup tour. There are also Olympic implications. Big air will make its debut as an Olympic event in 2018, but only on the snowboard side. According to Eric Webster with USSA, the more high-level big air ski events that are hosted by the FIS World Cup, the better chance big air ski has at becoming an Olympic event. Big Air at Fenway will be nationally televised on NBCSN and organizers expect between 15,000 and 25,000 spectators each day.
HI! MY NAME IS ...
Just as P Diddy recently reverted to Puff Daddy, some ski resorts have reclaimed their old names, too. After opening in 1965 as Purgatory Ski Area, the name was changed to Durango Mountain Resort in 2000. After Durango, Colo., local James Coleman purchased the resort in February 2015, one of the first things he did was change the name back to Purgatory. Similarly, after gambling with changing its name to Las Vegas Ski & Snowboard Resort in 2003, the Nevada ski area went back to its roots this fall and is once again called Lee Canyon, as it was originally named when it opened in 1963.
Which resort has gone through the greatest number of name changes? That might well be the Canyons portion of the newly-created Park City. The area has been known as Park City West, ParkWest, Wolf Mountain, The Canyons, and Canyons Resort. It's now referred to as Canyons Village at Park City. For how long is anyone's guess.
TO THE MOUNTAINS, UBER!
Uber is moving up. Into the mountains, that is. In Salt Lake City, you can now specifically request an Uber equipped with all-wheel-drive and a ski rack. UberSKI is the rideshare company's foray into offering gear-heavy downhillers a lift to their favorite ski resort, and Utah is its testing ground. For a measly $4 surcharge skiers and riders can get proper rides to all the major resorts along the Wasatch Front, including Park City and the two Cottonwood Canyons. Uber is launching the service in collaboration with online gear retailer backcountry.com. We'd wager that Utah won't be UberSKI's last stop.
EMPLOYEES LOOKING FOR A GOOD HOME
As a result of an employee housing shortage in Summit County, Vail Resorts in December asked workers in its Keystone, Colo., employee housing to share rooms with fellow staff. Predictably, the request stirred anger in many of those already living in the units. They cited the practical and personal complications arising from 5 people living in 600 to 700 square feet, and with all of them trying to get ready for early-morning shifts in the one-bathroom residences. The program was voluntary, and those who accepted more tenants had their rents reduced, but even VR admitted it was far from a perfect solution.
Employee housing has been a smoldering issue in many Western resort towns. In response, several communities and resorts have launched housing programs. Jackson Hole recently completed a three-building, 94-person project, and VR plans to spend $30 million on employee housing solutions across its resorts over the next several years. But that's no comfort to those who are living in cramped quarters this year. Or next year, even.
One culprit for the shortage: the rapid rise in short-term rentals, fueled by Airbnb in particular. Short-term rentals have been popular for many years, thanks to HomeAway and Vacation Rentals By Owner (VRBO), and took off in the last year or two as the sharing economy ramped up. Now, though, it's about more than sharing: more and more homeowners are opting to rent not just the spare bedroom short-term, but the whole house. A study by the Colorado Association of Ski Towns (CAST) released last June revealed that long-term rental housing losses, and resulting changes to neighborhood character, have supplanted tax collections from by-owner rentals as their top concerns.
NSP CREATES A VISION FOR ITS FUTURE
This past fall, the National Ski Patrol approved a strategic plan that distilled NSP's mission to a simple but revolutionary statement: "To help keep people safe on the mountain and during other outdoor activities." That last, crucial phrase reflects the broadening of not only winter activities at resorts, but also the increasing popularity of summer operations such as mountain biking and aerial adventures.
Equally revolutionary is NSP's "Vision 2020," which calls for, among other things, meeting "the changing needs of our principal customers (ski resort operators)."
As NSP executive director John McMahon notes, naming resorts, not skiers, as NSP's principal customers represents a "paradigm shift." To back it up, the board stated NSP must "increase its outreach, engagement, and data collection with ski area management."
"It's very clear that for the NSP to be relevant, we need to be in sync with ski area management and making sure that we develop products that meet their needs," said McMahon. One immediate test will be NSP's response to a request from smaller resorts for a streamlined version of OEC, focused strictly on the skills patrollers need for the care and handling of winter guests. Stay tuned.