In SAM's monthly Snow People, we highlight recent personnel moves that have been made in the mountain resort industry.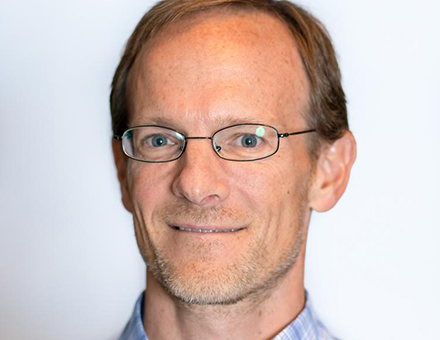 MIKE FERGUSON, ALTERRA MOUNTAIN COMPANY
Alterra Mountain Company named Mike Ferguson as chief human resources officer. Ferguson will lead the development and implementation of attracting and retaining talent. His responsibilities include: compensation, benefits, recruiting, staffing, HRIS, employee development, succession planning, and performance management. He comes to Alterra with more than 20 years of experience, most recently serving as head of people support for Denver-based Chipotle Mexican Grill, Inc.

JAMES O'REILLY, DEER VALLEY RESORT, Utah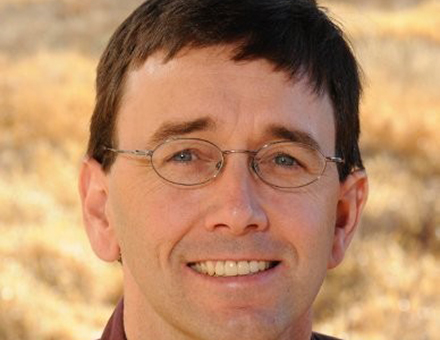 James "Jamo" O'Reilly will serve as the new director of lodging operations at Deer Valley Resort. He replaces longtime director Kim McClelland who retired at the beginning of April. In 2013, O'Reilly joined Deer Valley and was the general manager of Black Diamond Lodge for five years. In his new role, O'Reilly will oversee operations of all residences and homeowners associations managed by Deer Valley Resort lodging and reservations. O'Reilly got his start as a housekeeper at Alta's Rustler Lodge. He was at Rustler for 20 years, eventually becoming the assistant general manager.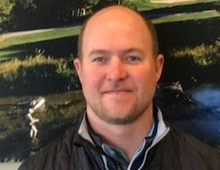 JERRY ROMAN, SUNDAY RIVER, Maine
Sunday River Resort hired Jerry Roman as the head golf professional for the Sunday River Golf Club. Since 2008, Roman has served at the head golf pro for Hidden River Golf & Casting Club in Michigan, and most recently was named general manager of that course in April. Previously, he was the assistant golf pro at the Bay Harbor Golf Club in Michigan, which is owned and operated by Sunday River's parent company, Boyne Resorts.

DAVE GIBSON & JASON PATERSON, MARMOT BASIN, Alberta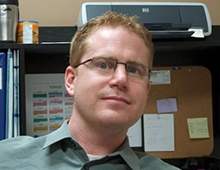 Marmot Basin's longtime president and CEO Dave Gibson will retire at the end of June after 32 years at the resort. Jason Paterson will succeed him. Paterson has served as the vice president of operations and maintenance at Marmot Basin since 2012. He previously served in various roles, including four years as GM, at Nitehawk Ski Area in Alberta.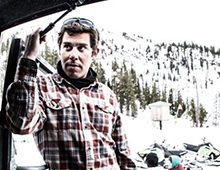 TJ DAWOUD, BOREAL RIDGE CORPORATION, Calif.
TJ Dawoud will join Boreal Ridge Corporation (BRC) as the director of mountain operations for Boreal Mountain Resort. Dawoud has 14 years of industry experience. He most recently served as the director of Unbound terrain parks and event operations at Mammoth Mountain, Calif. Dawoud brings a high level of slope and terrain park planning and management to his new role with BRC.

SVERRE CALDWELL, STRATTON MOUNTAIN SCHOOL, Vt.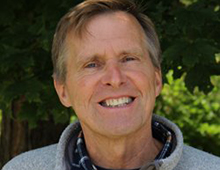 Veteran Stratton Mountain School Nordic coach Sverre Caldwell will retire at the end of this school year. He was a U.S. Ski and Snowboard Coach of the Year in 2001, 2003 and 2009. Caldwell sent 15 cross-country skiers to the Winter Olympics during his time at SMS.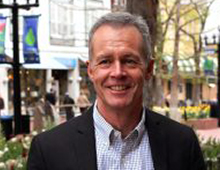 SEAN MAHER, RRC ASSOCIATES, Colo.
Mountain market research firm RRC Associates has named Sean Maher chief executive officer. For the last 10 years, Maher was the CEO of Downtown Boulder Partnership, and he previously served as the executive director of the Boulder Economic Council and Small Business Development Center for the Boulder Chamber of Commerce. Maher joins RRC's 15-person staff with an eye toward expanding and diversifying RRC's services.

DAREN COLE & RICK SPEAR, LEITNER-POMA OF AMERICA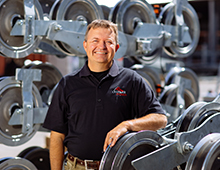 Daren Cole has been promoted to president of Leitner-Poma of America. Cole brings more than 25 years of experience to the position, including stints with some of North America's largest ski resorts.

Cole will assume the role previously held by Rick Spear. Spear, who is retiring after a long and successful tenure with Poma and Leitner-Poma, will continue to serve on the board of directors. He started his career more than 40 years ago with Poma Aerial Tramways in Woodstock, Vt . During his tenure with the company, Spear was also integral in the transfer in ownership and moving the North American headquarters to a new 90,000-square-foot, 18-acre manufacturing facility in Grand Junction, Colo.

AWARDS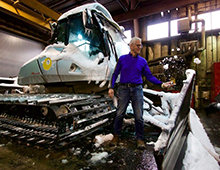 DAVE CRISLER, COLORADO SKI COUNTRY USA, Colo.
Longtime Steamboat Resort employee Dave Crisler was honored with a Lifetime Achievement Award at the 39th annual Colorado Ski Country USA Snow Conference in Grand Junction, Colo. The award is given to an individual for contributions and dedication to the ski industry and is voted on by a 25-member committee of snowmaking and management veterans. Crisler retired this spring after a 50-year career at Steamboat. He got his start in 1969 in lift operations and has served as the director of slope maintenance there for the last 24 years.

PSIA-AASI AWARDS
The Professional Ski Instructors of America and the American Association of Snowboard Instructors (PSIA-AASI) recognized six professionals for their commitment to snowsports education during the closing ceremony of the year's National Academy in Big Sky, Mont.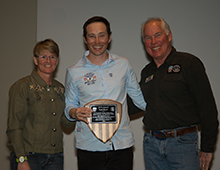 Scott Birrell received the Three C's Award, which recognizes members who have demonstrated positive leadership using collaboration, communication and cooperation. Birrell is the children's program operation supervisor and training supervisor at Beaver Creek Resort, Colo., and a member of the PSIA Rocky Mountain division children's education staff.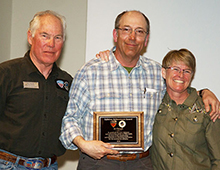 Examiner and former Alaska Division board president Al Clough was presented with a Lifetime Achievement Award for his leadership in the Alaska and Northwest Division merger. "His leadership and actions truly embody PSIA-AASI's commitment to communication, collaboration and consolidation," said board chairman Ed Younglove.
The Angus Graham Rising Star Award was given to Christian Leuning of Bogus Basin, Idaho. The award recognizes a member who shows extraordinary promise charting a career path within the snowsports industry.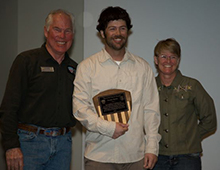 Chantry Marble of Snowbasin, Utah, received the Top of the Course Award presented to a member pursuing Level III certification who scores in the highest percentile and empowers other candidates in the process.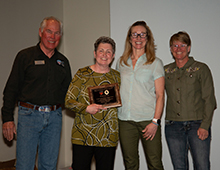 Nick McDonald and Wendy Schrupp were both awarded for Educational Excellence. McDonald has contributed to the Northwest Technical Team for more than 27 years. He has previously served as a team coach and as the Northwest Division Education vice president. Schrupp is the executive editor of 32 Degrees. Her nomination was endorsed by current and former National Team members and board chair Ed Younglove.

CWSAA AWARDS
The Canada West Ski Areas Association (CWSAA) recognized three individuals for their contributions to the snowsports industry at the 51st annual CWSAA conference. Each individual was nominated by peers and then scored and selected by the board of directors.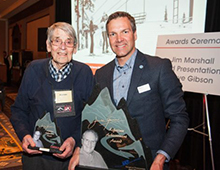 Peter Alder received the 2019 Jimmie Spencer Lifetime Achievement Award. The award recognizes vision, dedication, and contribution to the industry. Alder was the first professional manager of Red Mountain, and Red Mountain became one of the founding members of CWSAA. He served as GM of numerous resorts, including Big White and Whistler. He was an adviser to the Government of Alberta and a consultant with Ecosign. Although retired, Alder continues to act as a mentor to others in the industry.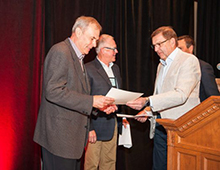 Danny Cox was awarded the 2019 Jim Marshall Leadership Award. The Marshall Award recognizes an individual for his vision, dedication, and contribution to snowsports. He served as the operations manager at Mt. Norquay and then Cypress before joining mountain insurers Marsh McLennan. Cox currently works with risk management firm MountainGuard as a consultant and has been a key CWSAA committee member. Cox has a background in engineering, and in his early career was involved in the installation and maintenance of tows on Whistler Glacier.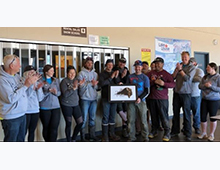 Dan Wilson earned the 2019 Lars Fossberg Excellence Award. The Fossberg Award celebrates accomplishment and future leaders of the industry. Wilson was recently named GM of Vista Ridge. He came to Vista Ridge in 2012 to work with Leitner Poma on a chair installation, and was quickly recruited. In 2016, Wilson oversaw $1.25 million CAD in wildfire-related repairs at the resort. Under his leadership, Vista Ridge has developed an innovative approach to terrain and a reputation as a leader in the field.

OBITS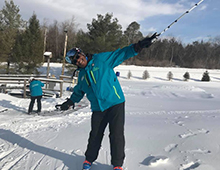 CHARLES FLEMING, LIBERTY MOUNTAIN, Pa.
Charles "Russell" Fleming died unexpectedly while on a ski trip in Colorado with his life partner Shelley Shepherd. Fleming had been teaching full time at Liberty since 2007 and was much loved by his peers. He was a huge advocate of PSIA-AASI and was in the midst of pursuing his Level III certification. "We will all miss his incredible laugh and love for our sport and organization," said Liberty Mountain director of golf and mountain services Steve Martin.

RICHARD WOOD, POWDER MOUNTAIN, Utah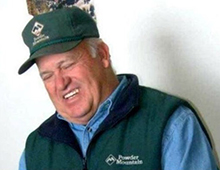 Legendary Powder shuttle driver Richard "Woody" Wood died at the age of 81. Wood was instrumental in developing the free shuttle service on Powder Mountain Road that allows access to 1,000+ acres of skiing and riding. Wood later became the resort's night manager and spent his summers on and off the resort operating heavy equipment. Even in retirement, Wood could still be found driving the shuttle along Powder Mountain Road.