SAM Magazine—Olympic Valley, Calif., Jan. 17, 2020—A variety of important topics and current issues were presented, pondered, and discussed at the 2020 National Ski Areas Association (NSAA) Western Winter Conference and Trade Show, held at Squaw Valley, Calif., Jan. 14 and 15. A crowd of 687 ski area operators, suppliers, and speakers were fully engaged in the agenda, which included several standing-room-only sessions, lively trade show gatherings, and a bluebird morning of skiing and riding Squaw Valley's expansive terrain.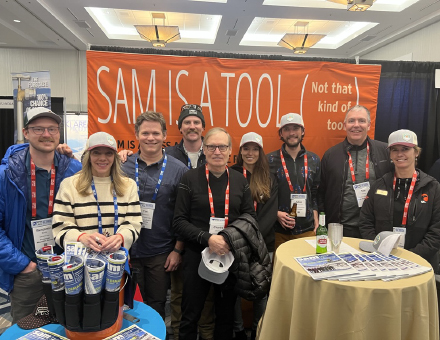 View more images from the western NSAA show on our Facebook page.

The programming highlighted several themes, including staffing—in particular pay, benefits, and training—engaging core skiers and riders to spur growth, communication, technology, terrain parks and learning programs, and the usual slew of risk management topics, from employee fitness and contracts to avalanche control and loss control.

Many of the sessions turned into roundtables, of sorts, with the audience chiming in to share experiences, ask questions of the panelists, and discuss ideas mid-session. On day one, terrain park managers and snowsports school leaders talked about the importance of parks being an integral part of the lesson experience, especially for kids. As park crews begin to understand that terrain parks are a business, they're realizing how vital it is to cater to the largest user audience, which most often is not pro-level skiers and riders. And ski schools see a growing demand from lesson takers to go in the park. Accommodations are being made, and parks departments and snowsports schools are communicating more and more.
Speaking of communicating, capacity and weather issues have been a hot topic at many ski areas, which prompted a session about communication in times of distress. Using social media and other channels to deliver honest, timely accounts of challenging situations is important, the panelists said. But the biggest challenge at resorts seems to be effective internal communications, a sentiment shared by many in the room.

With technology becoming more and more vital to efficient operations, a panel of snowmaking and grooming suppliers that all offer tech solutions sat side-by-side with the aim of learning what operators want from snowmaking control and fleet management software. A huge topic, for sure, and the general sentiment from the audience was they'd like to see developers work together so integrations are easier. The suppliers were all ears, noting it takes work and cooperation to make that happen—and it isn't an inexpensive proposition.

Another difficult and expensive proposition involves addressing the related issues of staffing and housing.

Outside the educational sessions, the prevailing topic of discussion was consolidation and the various impacts it's having on the industry. Operators and suppliers alike have their concerns and theories for what the future holds.