SAM Magazine—Government Camp, Ore., July 14, 2021—After a months-long search, Timberline Lodge, Ore., has promoted two longtime staff members to general manager roles: Rose Phillips will serve as GM of ski area operations, and Scott Skellenger will be the GM of hotel operations.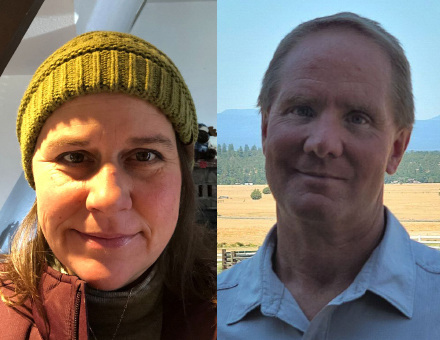 Rose Phillips and Scott Skellenger
"The results of this extensive search led to an obvious decision, which will lay the foundation for solid management and constant improvement for years to come," said Jeff Kohnstamm, president and area operator. "Scott and Rose will cultivate a unified company culture and work closely together with a one team approach to operating all of our outlets and activities."
Phillips has been Timberline's lift director since 2017. She began her ski industry career in 1998 at Stevens Pass, Wash., where she held a variety of lift operations roles. Timberline recruited Phillips in 2008 to serve as its lift operations manager. In 2018, she also assumed responsibility for Timberline's newly acquired Summit Ski Area. Included in her responsibilities as GM of ski area operations are guest services, rental, and ski and ride school. 
"Timberline is truly a special place, I am honored," said Phillips of her new role. "If you have a passion for the industry; work hard, keep at it, find opportunities to grow and, most importantly, never give up."
Scott Skellenger has been with Timberline since 1989, when he started as an employee in the Cascade Dining Room kitchen. Skellenger climbed the ranks, and he was named assistant general manager, hotel operations, in 2003. As GM of hotel operations, his responsibilities include retail, facilities maintenance, and Timberline's Summit Chevron convenience store.
"I came to Timberline in pursuit of a career and adventure. What I found was a family who prides itself in providing lifelong memories to our guests and team members alike," said Skellenger. "I will continue to cherish and foster these relationships and culture with Timberline's vision and mission of delivering the best guest experience to be found anywhere."