SAM Magazine—Grand Junction, Colo., April 28, 2016—Leitner-Poma has acquired Salt Lake City-based chairlift builder and retrofitter Skytrac, a company established by legendary liftbuilder Jan Leonard and former CTEC employees, with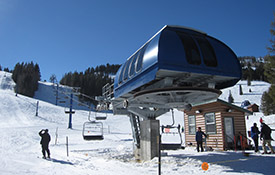 roots in aerial lift technology that extend back nearly five decades. The purchase was completed this week.
The acquisition solidifies the two companies' position in the market. "This acquisition will allow Leitner-Poma to better serve ski areas of all sizes," said Leitner-Poma of America president Rick Spear. "By purchasing Skytrac, we will continue to care for all existing customers and expand our base." The purchase adds a cost-efficient production capacity to Leitner-Poma's portfolio.
Skytrac will maintain the niche it has established in the market, providing modifications and upgrades to all types of lift systems as well as engineering, manufacturing, and installation of new fixed-grip lifts. "Given the aging of the lift systems across North America, replacing and retrofitting older lift infrastructure has been a key element of Skytrac's success," Spear said.
Skytrac will continue to serve its loyal customers, who are in line to benefit the most from the acquisition, according to the company's general manager, Carl Skylling.
"Our loyalty and support to our long-term customer base has always been of the utmost importance," Skylling said. This focus was part of the vision of Skytrac's Leonard, who died less than a year ago.
"We would like to welcome Skytrac to our family," said Anton Seeber, CEO of Leitner-Poma Group. "Like Leitner-Poma Group, Skytrac also will be managed autonomously and independently to make sure the Skytrac team can focus on its strengths and hone its skills, all while having access to the Group ́s resources to be able to benefit from particular synergies."
Skytrac will remain in Salt Lake City, keep its brand name and continue to operate independently, using 100 percent made-in-the-USA products.