SAM Magazine—Wildwood, Mo., Oct. 5, 2017—Christopher Bub has transitioned into the role of chief financial officer for Peak Resorts after serving as the company's vice president and chief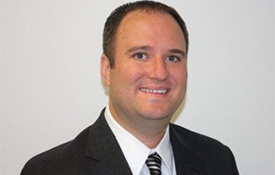 accounting officer since 2016. Bub succeeds Stephen Mueller, who is stepping down as CFO, a position he's held since joining Peak Resorts in 2001.

Peak Resorts CEO Timothy Boyd commented, "I am thrilled to welcome Chris as our new CFO. His appointment to this role underscores his leadership, demonstrated experience in finance, and his deep understanding of the business. I am highly confident in Chris's capabilities and look forward to continuing to partner with him as we enter the next chapter of our journey."
Bub has more than 15 years of experience in corporate finance and accounting. Before joining Peak, he served as senior director of finance for Nortek Global HVAC, a manufacturer of heating and cooling equipment. Prior to that, he held a variety of managerial and leadership positions at The Boeing Company and Deloitte & Touche, LLP. Bub is a registered Certified Public Accountant.
Mueller will remain with the company for an initial period of three years as executive vice president to assist in the transition of financial reporting matters and provide assistance with special projects and growth initiatives. He will also remain a member of the board of directors.
"Steve has been an invaluable asset to Peak over the last 16 years," Boyd said. "Through his financial and strategic leadership, he has played an integral role in shaping the evolution of the company, including guiding us through significant periods of expansion, growth, and investment. We are extremely grateful for his many contributions to Peak and look forward to working with him in his new role."