SAM Magazine—Lakewood, Colo., Oct. 9, 2017—The board of directors of the National Ski Areas Association (NSAA) has named Kelly Pawlak as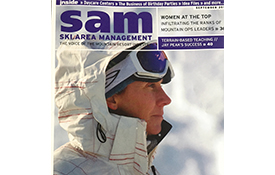 NSAA's new president and CEO. Pawlak, who is vice president and general manager at Mount Snow Resort, Vt., will assume the position Jan. 1, 2018.
"Finding someone with Kelly's experience and knowledge of ski area operations as well as an appreciation of the challenges ahead will be a true benefit for the association and ski resort operators," said Tim Silva, general manager at Sun Valley Resort, Idaho, and chair of NSAA's board of directors.
Pawlak has been Mount Snow's VP/GM for the past 12 years, and has worked at the resort for more than 30 years in a variety of executive positons, including VP of operations, human resources, and marketing and sales.
In a statement, Peak Resorts senior VP Jesse Boyd congratulated Pawlak on her position, and said, "Kelly has been a passionate champion of the ski lifestyle and a respected leader in our industry during her tenure at Mount Snow. We know she will continue to affect change for and open the doors to this sport on an even greater scale in her new role," he said.
"I am honored and excited for this tremendous opportunity," said Pawlak. "At Mount Snow my love of skiing quickly grew into a passion for the ski industry, and now I look forward to putting my experience to work on the national level."