SAM Magazine—Denver, Oct. 20, 2017—Overall occupancy at western mountain destinations for the six summer months, April through October, was boosted by bookings made in September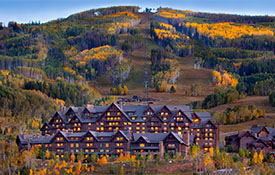 for arrivals in September and October. With the last-minute uptick, as of Sept. 30, aggregated summer occupancy edged up 0.1 percent, while revenues are up a robust 7.2 percent compared to the same time last year. For the month of September alone, occupancy was up 1.4 percent, with a 7.3 percent increase in revenue. Inntopia released the results in its monthly DestiMetrics Market Briefing, which tracks 20 destinations across several states.

Last month's report showed summer occupancy figures dipping for the first time in six years. "A summer season that seemed likely to miss a seventh consecutive occupancy record is now almost certainly going to finish with a positive gain, thanks to October growth," said Tom Foley, vice president of business intelligence for Inntopia. "Although the increase in occupancy is very slight, with gains in May, September, and October and declines in June, July and August, the average daily rate (ADR) continued to increase resulting in revenue increases for all six months."
The Briefing also provided a look at winter bookings. As of Sept. 30, aggregated winter occupancy for November through March is down 1.1 percent compared to the same time last year. ADR is up five percent.
"The trend of nearly flat occupancy and year-over-year increases in rate that emerged last winter and carried through the summer appears to be continuing into the upcoming winter," observed Foley. "Lodging properties are pursuing their revenue goals with rate increases with the expectation that higher rates will offset lower occupancy figures. In an industry that depends on new visitation and growth for long-term sustainability, it will be interesting to monitor the effectiveness of this strategy, but it is certainly working for them in this robust economy," Foley continued.
The DestiMetrics report released at this time a year ago told a different story for what was then the upcoming winter. A year ago, reservations for the winter months through March 2017 were up 8.9 percent year-over-year. Revenues were up a whopping 11 percent. A late start for many Western destinations offset the early booking strength.
"Economic stability and consumer confidence have served the mountain destinations very well for the past several years, and preliminary indicators of the coming winter suggest the trend will continue for the foreseeable future," concluded Foley.