SAM Magazine—Boyne Falls, Mich., March 13, 2018—Boyne Resorts has entered an agreement to acquire six mountain resorts and a scenic chairlift attraction that the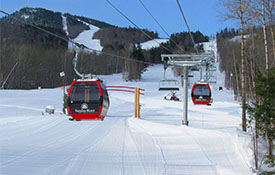 company currently leases from Ski Resort Holdings, LLC, an affiliate of Och-Ziff (Oz) Real Estate.

Included in the transaction are Brighton Resort, Utah; Cypress Mountain, B.C.; Gatlinburg Sky Lift, Tenn.; Loon Mountain, N.H.; Sugarloaf and Sunday River, Maine; and The Summit at Snoqualmie, Wash. The transaction is expected to close later this year, well ahead of the 2018-19 ski season, once regulatory approvals are granted.
Oz Real Estate acquired a total of 13 mountain resorts, including the six it is selling to Boyne Resorts, and the Gatlinburg Sky Lift from CNL Lifestyle Properties for $374.5 million in April 2017.
"Our intention all along has been to regain and acquire ownership of these resorts," said Stephen Kircher, president and chief executive officer of Boyne Resorts. "We are pleased to see this come to fruition and also really proud of our long-term achievements and diligence that primed us for this acquisition. Boyne Resorts has been a long-term operator of these assets—some for decades. This transaction therefore poses no business interruption or integration risk. This opportunity now at hand will enable us to accelerate and fine tune the execution of our reinvestment plans for these spectacular properties, which will boost our competitive advantages and support our focus on continuous enhancement of the guest experience."
"Boyne Resorts is a world-class owner and operator of ski resorts and attractions," said Steven E. Orbuch, founder and president of Oz Real Estate. "We have enjoyed our association with them during our ownership of these properties and wish them continued success in the future. We look forward to the consummation of this mutually beneficial transaction as it allows for Boyne Resorts to again fully control these resorts while resulting in a positive outcome for our investors."
This is the second transaction involving the properties Oz acquired from CNL—Mountain High Reunited (MHR) purchased Mountain High in California from Oz in October 2017. Oz has now returned half of the properties CNL had purchased to the entities that sold the resorts to CNL in the first place.
Boyne Resorts also owns Big Sky Resort, Mont.; Boyne Highlands, Boyne Mountain, and the Inn at Bay Harbor in Michigan.