SAM Magazine—Marco Island, Fla., May 8, 2018—The National Ski Areas Association (NSAA) presented its 2018 Lifetime Achievement Awards to Jerry Blann, the former longtime president of Jackson Hole Mountain Resort, Wyo., and Onno Wieringa, the longtime general manager of Alta, Utah, at the National Convention and Tradeshow here.

Jerry Blann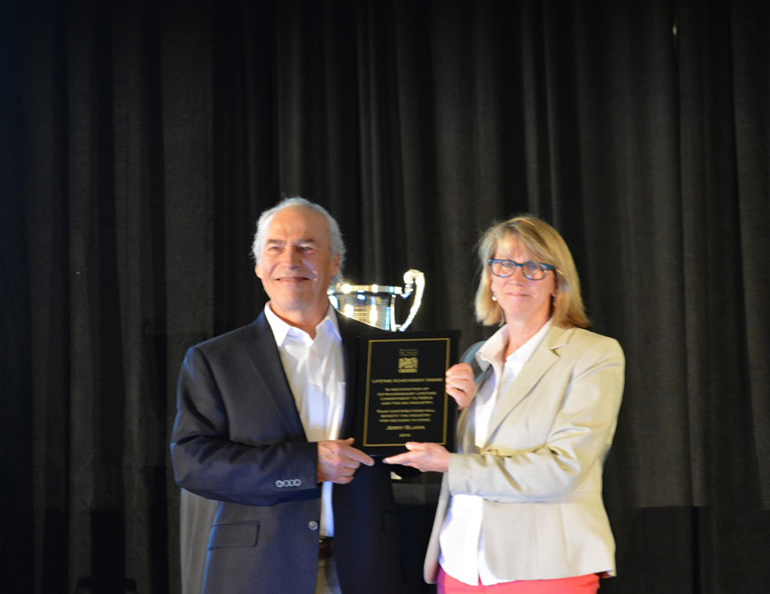 Blann has been one of this generation's most influential and accomplished leaders. While leading Jackson Hole, the area has more than tripled visitation, setting new attendance records repeatedly. His leadership at Bear Mountain, Calif., launched the careers of several high-profile resort leaders, John Rice, F. Scott Pierpont, and Brad Wilson among them.
The ski business is in his blood. His father, Cliff, spent 25 years as general manager of Mt. Bachelor ski area in Oregon. As a 10 year old, Jerry's first job was painting new lift towers for his dad, and by 14, he was blasting tree stumps and cutting new trails.
After earning his business degree in college, Blann gained a management training position at Aspen Mountain. By 36, he had become president of Aspen and led the resort for 18 years. He then moved on to become president at Bear Mountain for four years.
When Jay and Connie Kemmerer purchased Jackson Hole in 1993, the family hired Blann to be president. The resort was barely averaging 200,000 skier visits. Blann and his team added infrastructure and broadened the variety of terrain while preserving the resort's independent, iconic western flavor and commitment to guest services. In Blann's 23 years as president, skier visits have on average tripled to more than 600,000, hitting 730,000 visits last season. JHMR invested more than $200 million in infrastructure, replacing its legendary aerial tram in 2008 (to the tune of $31 million), adding the new Sweetwater Gondola and Teton high-speed quad, as well as the beautiful Rendezvous Lodge. The resort also developed the first via ferratta rock challenge course at a U.S. ski area (and the first approved by the Forest Service).
Blann served on the NSAA board of directors and spent 10 years as the chairman of NSAA's Environmental Committee. In 2011, JHMR received NSAA's prestigious Golden Eagle Award for best overall sustainability.
Onno Wieringa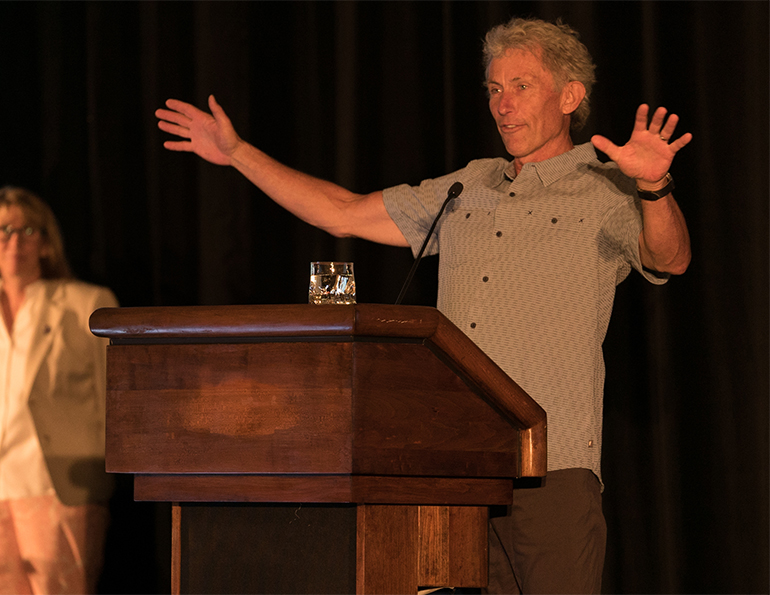 Photo credit: Dave GibsonDuring his 45-year career at Alta—the last 29 years as the resort's general manager—Onno Wieringa was known as an innovator, environmental steward, and major contributor to the ski industry.
Onno grew up in Montana skiing at King's Hill (now Showdown Ski Area) and Big Mountain (now Whitefish Mountain Resort). He was a ski instructor at Marshall Ski Area in Missoula during college and a ski patroller at Rainy Mountain (now Maverick Mountain) and Bridger Bowl.
In 1972 he arrived at Alta, working as a bartender at the Rustler Lodge and as a ski patroller. He headed Alta's snow safety department from 1978 to 1988, serving under Chic Morton, the area's second general manager. When Morton retired in 1988, he tapped Wieringa to serve as the resort's third GM.
Wieringa embraced technology. He was responsible for putting a "bend" in the Collins lift and installing a Magic Carpet at Supreme lift—innovations that met the unique needs of the ski area. He spearheaded the design of Alta's chairlift restraint bars, which were aimed at keeping kids in the chairs. He made Alta an early adopter of RFID technology.
Wieringa has long displayed expertise and leadership in snow safety. He was a pioneer in avalanche control and the use of military weapons and explosives. He was an artillery gunner from the 1970s all the way through 2017, applying his expertise on behalf of the ski area, the Forest Service, and the Utah Department of Transportation. He served as president of the National Avalanche Foundation for more than a decade.
In recognition of Alta's heritage of conservation, he created the Alta Environmental Center in 2008, to foster sustainability initiatives. As one of the founding members of NSAA's Climate Challenge, Alta under Wieringa's leadership set a target of reducing its carbon footprint 20 percent by 2020. Alta and Wieringa have received a number of environmental awards, including the SKI Magazine Golden Eagle Award and Hero of Sustainability Award.
Wieringa served on the NSAA Board of Directors, Public Lands Committee, and Environmental Committee, and on the Utah passenger Ropeway Safety Committee, ANSI B-77 Committee, and the National Tramway Safety Board.