SAM Magazine—Wildwood, Mo., Sept. 24, 2018—Peak Resorts has entered into a definitive agreement to acquire Snow Time, Inc., which owns and operates Roundtop, Liberty, and Whitetail in Pennsylvania, for $76 million in total consideration. The transaction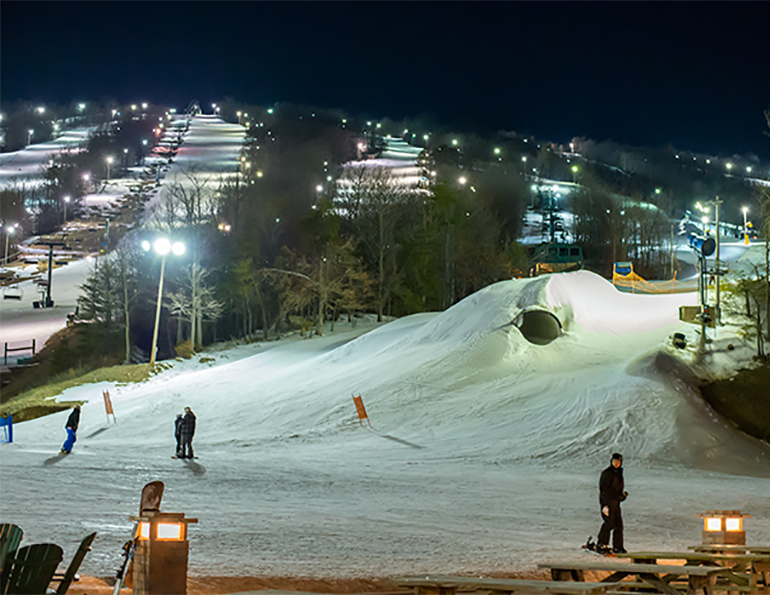 is expected to be completed prior to the start of the 2018-19 ski season, subject to closing conditions. Upon closing, Peak Resorts' portfolio will include 17 ski areas in the Midwest, Mid-Atlantic, and Northeast.
Snow Time generated approximately $50 million in revenue and approximately $11 million in adjusted EBITDA for the twelve-month period ended March 31, 2018, resulting in a purchase multiple of approximately 6.8x. Peak Resorts' 14 existing properties generated $25.6 million in adjusted EBITDA for the same period.
Peak Resorts CEO Tim Boyd said the acquisition of Snow Time offers a rare opportunity to expand the number of properties in the Northeast, and also grow the company's presence "in the very attractive and densely populated markets of Baltimore and Washington, D.C."
The three Snow Time resorts tallied more than 600,000 visits during the 2017-18 ski season. All are within driving distance of the Baltimore-Washington D.C. market, which is home to nearly 10 million people. The resorts offer a combined 65 trails, more than 325 skiable acres, and an average of approximately 700 vertical feet of terrain. Snow Time also operates two 18-hole golf courses, a 115-room hotel and 22,000-square-foot conference center at Liberty, and more than 20 food and beverage locations across its three resorts.
Snow Time founder and chairman Irvin S. Naylor said, "I am extremely pleased to pass along the stewardship of Snow Time and our three mountain resorts to Peak Resorts. Having watched the progress they continue to make at the formerly family-owned Hunter Mountain, I view Peak Resorts as the perfect operators to take Liberty, Roundtop, and Whitetail to the next level. For more than 50 years, my team and I have grown these three resorts into the magnificent properties they are today, and we are delighted that Peak Resorts will continue to grow their appeal for the next generation and beyond."
Liberty, Roundtop, and Whitetail will be included on the Peak Pass, which currently provides access to seven of Peak's Northeast properties. Passholders who have already purchased their 2017-18 season passes for any of the three Snow Time resorts will have the opportunity to upgrade to the Peak Pass. Boyd said more details, including pricing options, would be provided in the coming weeks.
The $76 million in total consideration for the proposed acquisition includes $70 million payable in cash and $6 million payable in shares of Peak Resorts common stock, which Peak will issue to Snow Time's stockholders. The cash portion of the purchase price consists of a $50 million, two-year senior secured term loan from CAP 1 LLC, which will accrue interest at an annual rate of 6.95 percent, and $20 million in proceeds from the sale of 20,000 shares of Series A cumulative convertible preferred stock and issuance of accompanying warrants to CAP 1 LLC pursuant to an existing securities purchase agreement.