SAM Magazine—Pagosa Springs, Colo., Oct. 11, 2018—After a storm this week deposited 18 to 20 inches of snow at Wolf Creek, the ski area will open for business at 9 a.m. on Saturday, Oct. 13, making it the first area in North America to open to the public for the season. The resort will open the rental shop, ski school, main lodge and three lifts.
Wolf Creek plans to run a weekend-only schedule until Nov. 2, when the area is projected to open full time.
While Wolf Creek leads the pack, resorts across the country are gearing up for early openings. Patrollers at Silverton Resort, Colo., snagged the first lift-served powder turns earlier this week, on Oct. 8. Although the resort is not scheduled to run its chairlift until Dec.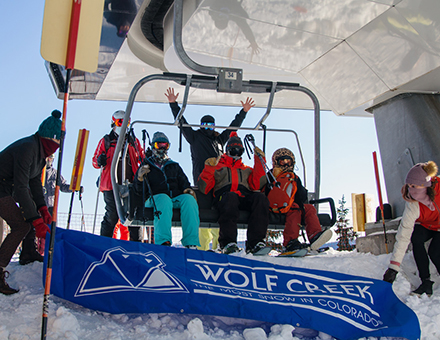 27, it plans to offer heli skiing by reservation on its upper mountain terrain starting Nov. 24.

Arapahoe Basin and Loveland Ski Area, Colo., both received a good helping of natural snow this week and have taken advantage of their 10,000+ feet of elevation to kick snowmaking operations into high gear. A-Basin first made snow on Friday, Sept. 21, and things really got going as of Monday, Oct. 8. Loveland tested its system in late September, and has been making snow in earnest since Monday.

Both resorts have said they won't open this weekend, but continued auspicious weather could mean opening isn't far away. It seems likely that one of these two will be the first resort in North America to open for every-day operations. In a blog post yesterday, A-Basin COO Alan Henceroth said, "The forecast is very encouraging." And it's too early to call when the resort will open, but, "For now, go enjoy a weekend of skiing at Wolf Creek (kudos to those guys)."

Mount Rose Ski Tahoe, Nev., won't be far behind. The ski area recently invested in 17 new snow guns as part of a $2 million capital improvement and expects to open Oct. 26.

Over in Vermont, Killington Resort aims to once again be the first ski area to open in the Northeast, with a projected starting day of Nov. 7. Killington is ready to utilize its multi-million-dollar investment in snowmaking enhancements as soon as the weather permits.