SAM Magazine—Woodbury, Conn., Nov. 30, 2018—Voting closes for the 14thannual SAMTerrain Park Contest on Dec. 6, 2018, which means time is short for participating resorts to encourage their fans and followers to cast their votes online. Entries that earn the most votes in each category—Features, Events, and Bread and Butter—will win pride, bragging rights, and a box of goods courtesy of Burton.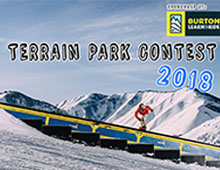 This year's contest includes entries from ski areas around the world that are keen to show off their terrain-park best from the 2017-18 season. The contest debuted a new category, called Bread and Butter, aimed at celebrating the often unheralded, yet most popular features in terrain parks. The overall response from park builders everywhere was the best in the contest's history.
"We started the Terrain Park Contest to showcase the creativity of park builders at ski areas of all sizes," said SAM publisher Olivia Rowan. "It's been fun to watch how parks have progressed. And the contest has progressed, too, with a new category and growing participation from around the world."
SAM has plans to expand the Terrain Park Contest to further highlight the hard work of park builders everywhere as this important aspect of the industry evolves.
In the meantime, all of the 2018 Terrain Park Contest entries can be found and voted on at: www.saminfo.com/terrain-park-contest. Winners will be revealed on SAM's social media channels and in Headline News.